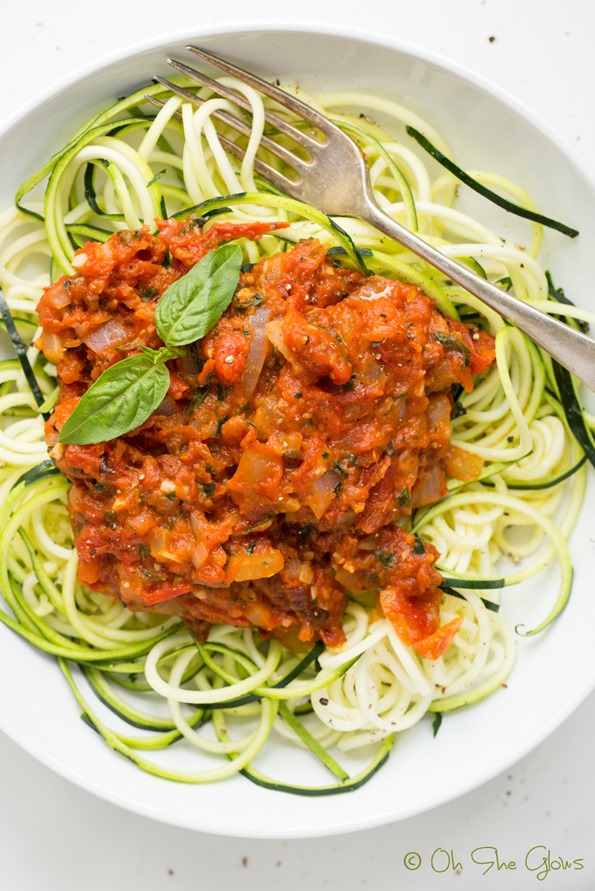 At the end of August, without fail, I get this crazy urge to organize, declutter, and donate things. The rest of the year I'm usually content to overlook my own chaos and disorganization, but once the back to school season hits, I turn into that domestic goddess I always wanted to be. I can do anything! Even if it doesn't last very long, it feels good to start a new season with a clean slate.
Eric has always been the tidy, organizer in our relationship, so whenever he sees me tearing stuff apart he follows suit creating an equally large mess on the floor beside me. A natural born organizer can never pass up the chance to organize, you know? So this past weekend we spent a full day giving our office an overhaul, which led to furniture reorganization, which led to an Ikea trip to buy a cabinet. Why does organization always seem to lead to an Ikea trip? And more importantly, why do we insist on going the busiest weekend of the year? We are suckers.
Feeling on top of the world after our office clean-up, we went through the bedroom closet and donated a bag of clothing and then we semi-solved my kitchen storage issues. Total organizer's high. I can see why some people become addicted to organizing. If only it would rub off on me a bit longer.
This is the year I change for the better and stay organized. I say this every September. Oh well.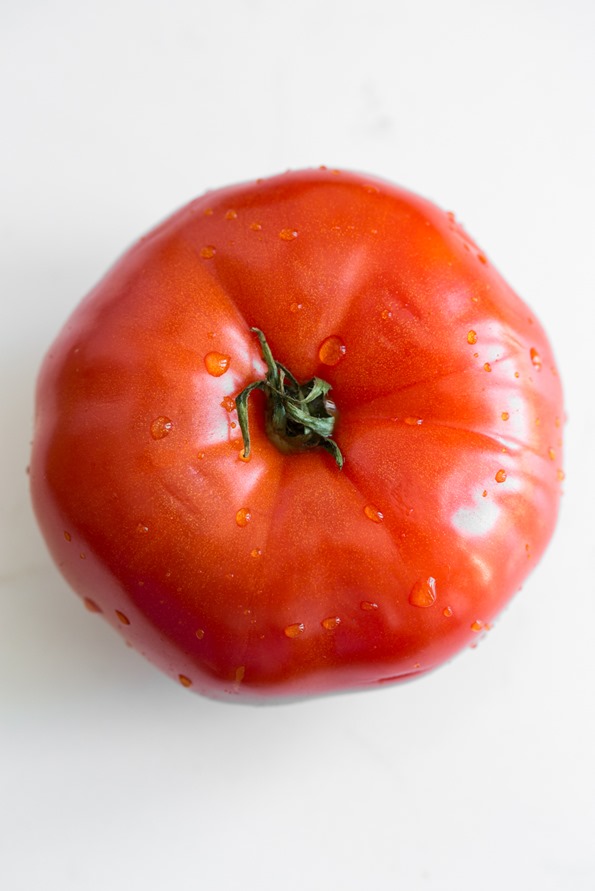 In food related news, I don't know why it took me so long to make my own tomato sauce from scratch. Shame on me! I don't want to jinx it, but I feel like my kitchen mojo is back now that I'm only creating recipes for the blog again. It's such a great feeling not to be zapped of creativity. I just have all this renewed energy to create, create, create.
The secret to this sauce? Sun-dried tomatoes. Gosh, I love them so. They turn a run of the mill fresh tomato sauce into a rich and creamy concentrated sauce with so much depth of flavour. I really couldn't believe the difference in taste before and after adding them in. Instead of just stirring the chopped sundried tomatoes into the sauce, I decided to puree them and emulsify their flavour throughout. Oh my lanta. Once I stirred the sun-dried mixture back into the sauce it was transformed into something only dreams are made of. You really have to try this!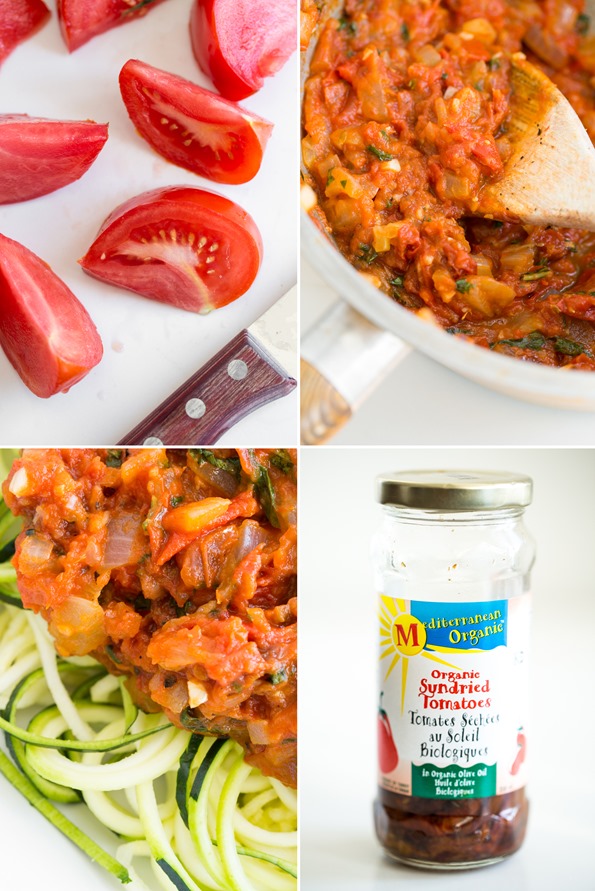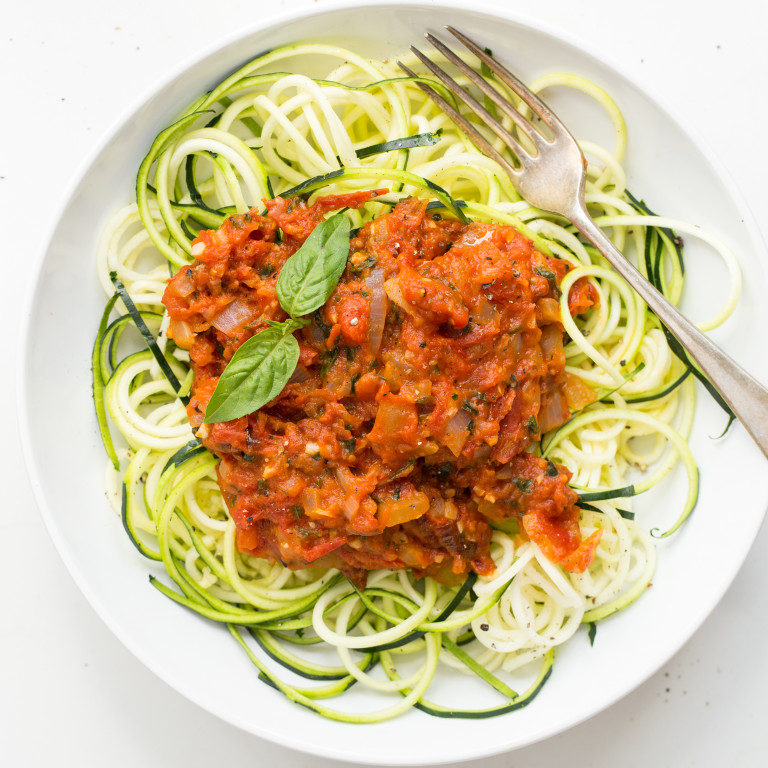 Thick & Chunky Tomato Sauce from Scratch
Vegan, gluten-free, grain-free, nut-free, refined sugar-free, soy-free

Yield

1 large or 2 small servings
Prep time

Cook time

Total time

A few simple ingredients can create the most delightful homemade tomato sauce! The secret to this recipe is blending sun-dried tomatoes with a scoop of sauce and then stirring it back into the pot. The result is a thick and creamy tomato sauce with a ton of flavour unlike any other tomato sauce. There's no need to skin the tomatoes for this recipe, but I like to quickly discard the seeds before using. Chop the tomato into 4-5 large wedges and then push the seeds out from both sides and discard. Proceed with dicing as usual. If you don't have oil-packed sun-dried tomatoes, feel free to use dried - but be sure to soak them in water until soft and drain before use. You might want to bump up the olive oil to 1.5 tablespoons to make up for the reduction in oil. Lastly, this batch only makes 1 & 1/4 cups - I would suggest doubling it because it doesn't last long!
Ingredients
For the sauce (makes 1 + 1/4 cups):
1 tablespoon extra-virgin olive oil
1/2 large sweet onion or 1 small yellow onion, diced (about 1 cup)
2 large garlic cloves, minced
3 large tomatoes, seeded and diced (about 3 cups diced)
1/4 cup fresh basil leaves, minced
1/4 cup oil-packed sun-dried tomatoes (about 6)
1/2 teaspoon dried oregano
1/4-1/2 teaspoon fine grain sea salt, to taste
Freshly ground black pepper, to taste
red pepper flakes, to taste (optional)
For the noodles:
1 medium zucchini, spiralized or julienned or 1 serving cooked pasta or 1/2 cooked spaghetti squash
Directions
Add the oil, onion, and garlic into a medium pot and stir to combine. Season with salt and pepper. Saute over medium heat for about 5 minutes, until the onion is translucent.
Stir in the diced tomatoes and increase heat to high-medium to bring to a low boil. When the mixture boils, reduce the heat to medium and simmer for about 15 minutes, uncovered, until most of the water cooks off. Watch closely, reducing heat if necessary and stirring often.
Add sun-dried tomatoes into a food processor along with a ladle of the tomato sauce. Process until mostly smooth. Stir this mixture back into the tomato sauce in the pot.
Stir in the minced basil, oregano, salt, and pepper, and optional red pepper flakes to taste. Continue cooking until thickened to your liking and then remove from heat.
Serve sauce over a bed of pasta noodles, zucchini noodles, or spaghetti squash noodles.
Tip:
Note: For how to julienne or spiralize zucchini (and the tools I use for the job), see this post.
Nutrition Information
(click to expand)