Helllooooooooo.
Last night, Eric and I tested out the Farmer's Market canopy tent…there were no water leaks after several hours of rain, so I am hoping that this is a good sign. One of my readers Michelle also said she used the same canopy tent for a market last summer and it worked like a charm. Hopefully we have the same experience too.
I also picked up some baskets to put the Glo Bars in at the market. They are from Michaels. Have I mentioned that Michaels is one of my favourite stores in the world? I am like a kid in a candy store in Michaels! I used to be a huge 'crafter' when I was young and I always loved picking out crafting projects with OSGMOM.
Eric has learned to avoid going to Michaels with me for his sanity's sake, however for some crazy reason he decided to come with me last night and I think he regretted it….
*dramatization…*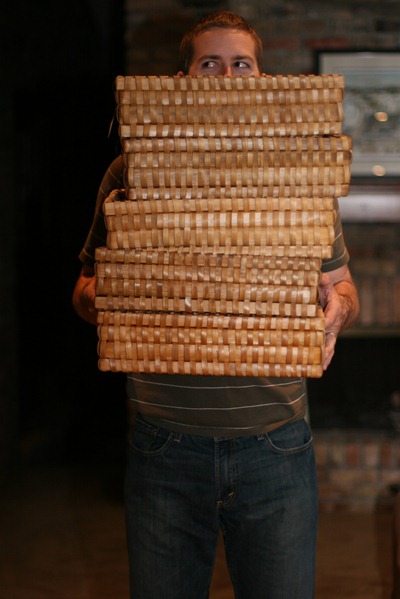 I think these baskets will look cute on the table filled with Glo Bars! Either that, or all the farmer's will laugh at my Michaels baskets. It could go either way.
I am hoping to have 9 flavours of Glo Bars at the market (time pending of course). There will be 2 flavours per basket and the Gluten-Free and Raw Liberate Glo Bars will get their own basket.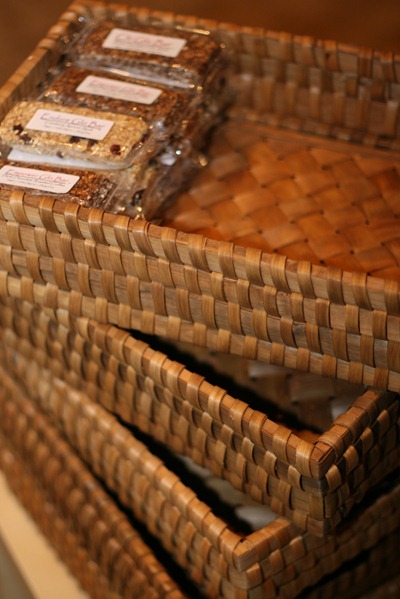 I threw a bunch of flavours in just to see how many I could fit per row.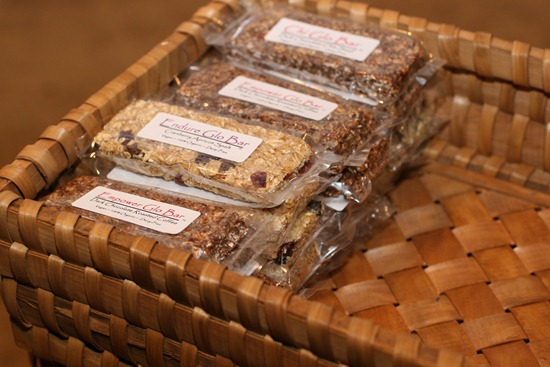 I'm not sure how many Glo Bars I should bring to the market on opening day. Any suggestions?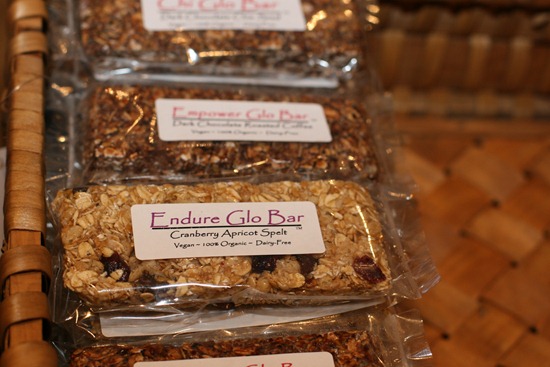 I am also thinking of selling cookies or muffins each week (time pending!). What flavours do you think I should sell?
I got this container for the cookies/muffins…It has a latched lid that will be great for keeping them fresh.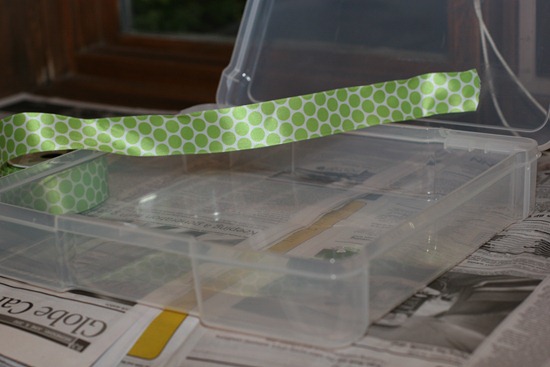 and I am going to decorate the lid with this ribbon…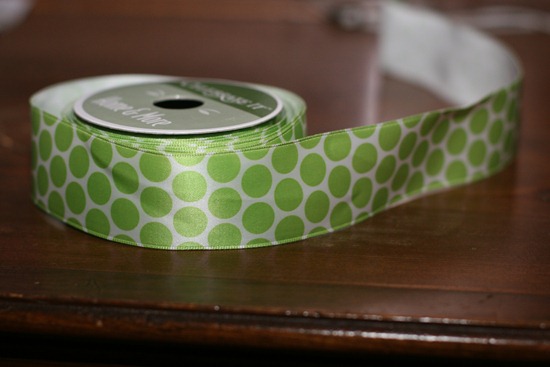 Michaels has two aisles full of just ribbon! Poor Eric. I did let him make the pick on the ribbon though. He could not contain his excitement.
I also need to find some containers to put samples in…I want to have samples chopped up for each flavour! I think samples really draw people in.
Ok, let's get to breakfast…
'Ice Cream' Pan-wich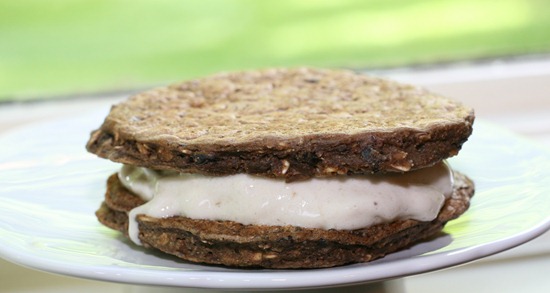 This is a fun and healthy twist on the ice cream sandwich, only it is made with vegan breakfast pancakes and banana soft serve!
Ingredients:
2 T regular oats
1/3 cup spelt flour 
1 tbsp chia seeds
Tiny pinch sea salt
1 tsp baking powder (I use aluminum-free)
1/2 scoop Amazing Grass Chocolate Amazing Meal Protein Powder (optional)
1/3-1/2 cup unsweetened almond milk (or more if necessary)
1-2 tbsp shredded dark chocolate (optional)
Banana Soft Serve (1 frozen banana, processed until smooth)
2 tsp maple syrup
Directions: Preheat a skillet over medium heat and 1/2 tsp of oil. In a medium sized bowl, mix the dry ingredients (oats, flour, chia seeds, salt, baking powder, protein powder, chocolate). Add the milk and mix with a whisk. Add more milk as necessary if the chia seeds make the batter too thick (I had to do this once). Don't worry it will turn out! After mixing, pour batter onto skillet to form 4 inch pancakes. Flip when the bubbles have popped and cook for another 3-5 minutes. Makes 2 large pancakes that will serve as your 'pan-wich'! Place the pancakes onto a plate and set aside. Now make your Banana Soft Serve by processing 1 frozen banana. Add a bit of almond milk if necessary. Take the BSS and plop it onto one of the pancakes and then take the other pancake and place on top to make the pan-wich! Drizzle maple syrup over the pan-wich and serve.
I made these last night and threw them in the fridge and had my pan-wich cold. I think I would have preferred the pancakes hot though because they were a bit firm for my liking.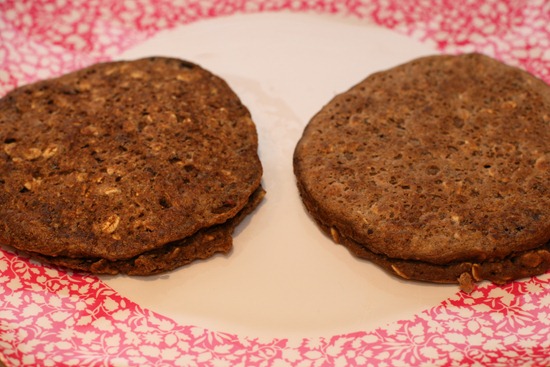 It was also easier to eat it open-faced with a bit of soft serve spread on each pancake!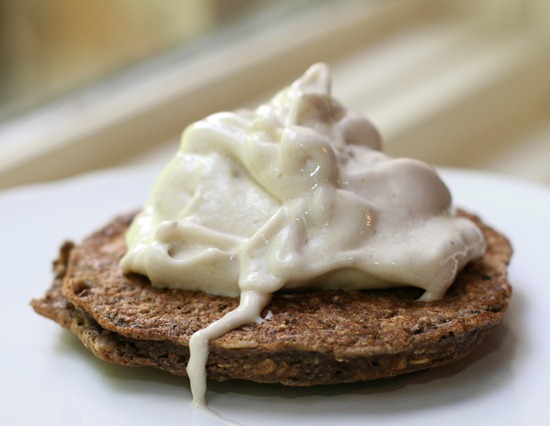 I drizzled some maple syrup on top after taking the photos and it tasted amazing.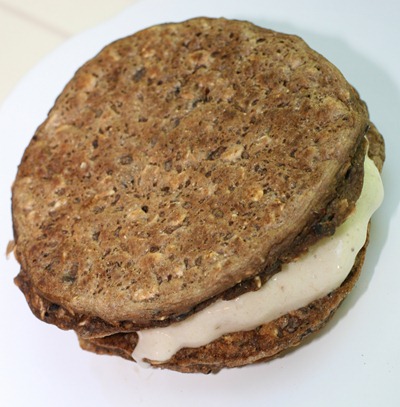 Coming up later today- my thoughts on the try-a-tri race and whether we have any desire to do another one!
Have a great Thursday!