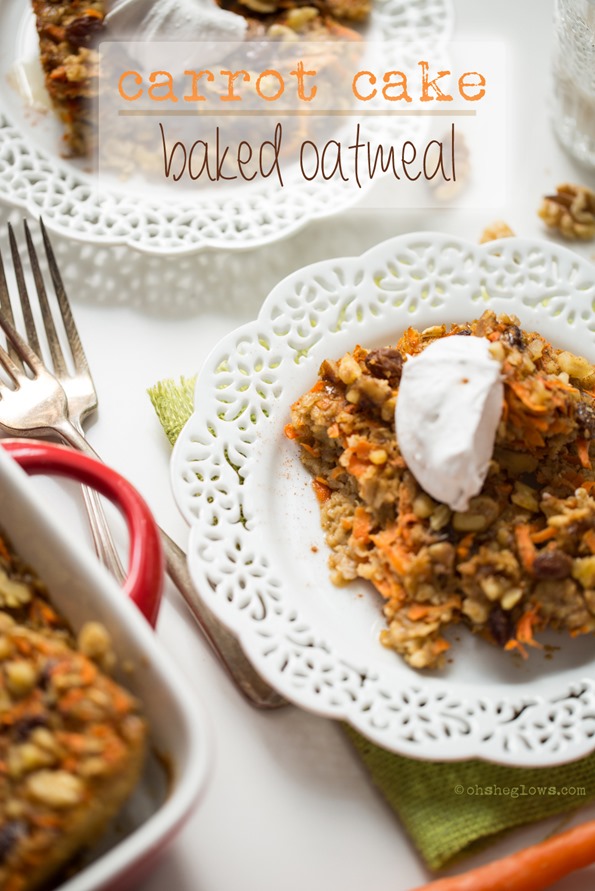 I'm still digging up cookbook recipes that I didn't include in the final book. It's like finding buried treasures in my Google document! The beauty of all the recipe testing that went down over the past 2 years is that I have so much inspiration leftover to tweak and share here – such as this baked carrot cake oatmeal. It was a big hit with my recipe testers, but ultimately I decided to go with the baked apple and pear oatmeal for the book, knowing I would eventually share this version on the blog anyway. My stove-top Carrot Cake Oatmeal has been popular over the years, so this baked version was a natural next step. And boy, is this baked version incredible. It tastes so much like carrot cake I almost thought I was eating the real thing. Add a dollop of coconut whipped cream on top and you are well on your way to breakfast nirvana. I'm thinking it would be a great addition to an Easter brunch too!
/ Behind the Scenes: Cookbook, Part 1: Recipe Testers /
I haven't written much about the behind the scenes of cookbook creation, but I thought I would share the process a bit more now that I'm not juggling both things at once. Initially, I wanted to share the process in real time, but I quickly realized that I needed to get through it once before I felt like I could share anything helpful. It took a long time before I felt like I had a good system in place. I felt like a crazy person most of the time. Lots of trial and error. If I write a second cookbook, I hope that the organizational flow goes a bit more smoothly. Wishful thinking, maybe!
Anyway, I'm going to first tell you about my cookbook angels, otherwise known as my recipe testers. Writing a cookbook is much different than blogging, I soon found out. On the blog I have immediate feedback (some of you make my new recipes within the hour and let me know how it went!) and it's easy to know if I'm on the right track, but with a cookbook there's always that sense of unease and doubt. I felt like I was blindly trudging along each day hoping my instincts and taste buds were not leading me astray. I always asked myself, "Would my blog readers enjoy this? Would someone who's not into vegan cooking enjoy it too?" And once it's in print…well, it's in PRINT! An intimidating thought. Two and a half years proved to be a very long time to wait for feedback from you (and other vegan-interested/healthy food/glow-seeking peeps!); that's why my recipe testers are so important. They let me know if I was on the right track or veering off course; at least, when it came to the recipes. My editor helped me with the written portion of the book (intro, chapter openers, headnotes, and overall flow) and pushed me to keep digging deep to allow my story to flow into words.
At first, I felt overwhelmed because I didn't know how I would find the time to organize a recipe testing group while doing everything else, but we eventually came up with a system that worked for us. Eric created a private blog just for my recipe testers. Once I gathered my group of recipe testers (family, friends, and blog readers/bloggers), I gave them the password to the private blog. I started posting potential cookbook recipes 2-3 times a week (with a photo for each) to the site for over 6-8 months. The recipes took a long time to get through as you can imagine. Even though my posts on the blog dropped a lot some weeks, I was actually posting double or triple the content than what you saw here. In the comment section of each post, my recipe testers responded to a series of questions after they made the recipe. I wanted to know everything from recipe clarity to enjoyment rating (on a scale of 10) to whether their kids or husbands approved. And, of course, I only wanted honest feedback! No sugar coating. The beauty of using a private blog is that everything is in one tidy spot and all of the feedback for each recipe is posted directly below it. Anything that makes life a bit easier is a plus in my books.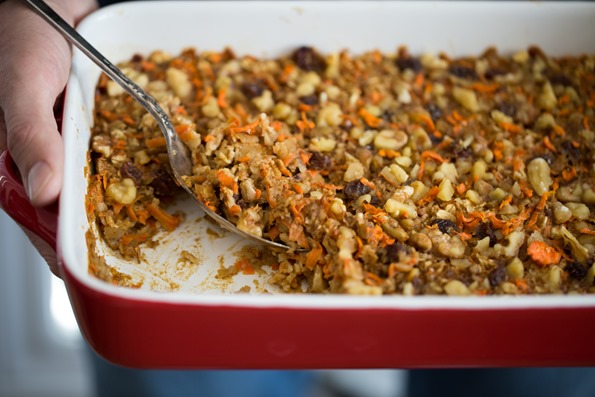 Here are some of the questions I asked my recipe testers:
How long did it take you to prepare the recipe (prep time)?

Rate this recipe on a scale of difficulty (1 – Easiest, 10 – Most Difficult)

Were the directions clear and concise? If no, please describe.

Did you do something different from the directions? If so, what did you change?

Were the ingredients readily available?

Were the "number of servings" correct? If no, please describe how many servings you got.

Rate how much you enjoyed the recipe on a sale of 1 to 10 (1 = didn't like it at all and 10 = best recipe ever)

Is this kid/partner approved? (Yes/No/Not applicable):

Would you make this recipe again (yes or no) and why?
I'm sure these questions felt tedious to answer over and over and over, but it was personally so helpful, and it let me know if I needed to re-vamp a recipe or move forward.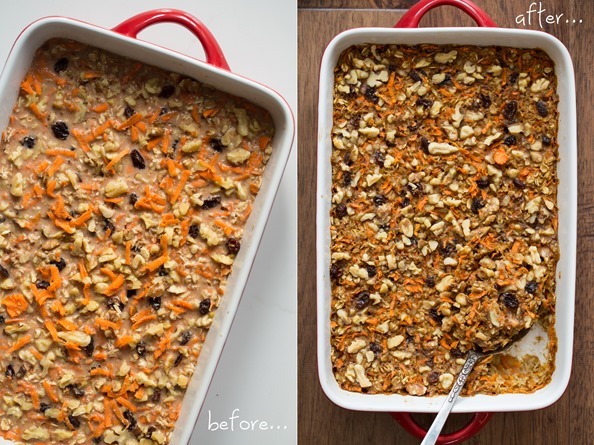 When I dug up this oatmeal recipe and re-tested it recently, I thought it would also be fun to share some of the comments my recipe testers left about this carrot cake baked oatmeal. These comments are from over a year ago in February 2013!
"Grandpa liked it and even helped me make it (he grated the carrots). This recipe is a breakfast dish, but I think it is so tasty that it could be a pudding/cake dish too!"

"I'd say the number of servings is 6 because it's the kind of recipe you can't stop eating."

"Healthy enough for breakfast, but tasty enough for dessert!"

"Yes, good variation on oatmeal. I would increase the raisins in my kid version to increase the sweetness for them."

"My 9-month daughter seem interested in trying this and she loved it!"
Thank you, my dear recipe angels. And that goes for all of you who leave valuable feedback here on the blog each week! Your comments are not only helpful for me, but for others thinking about making the recipe or adapting it in various ways.
Here is the photo that I originally shot for the cookbook. At least, it gets to see the light of day! I'm glad this recipe does too. It's a good one.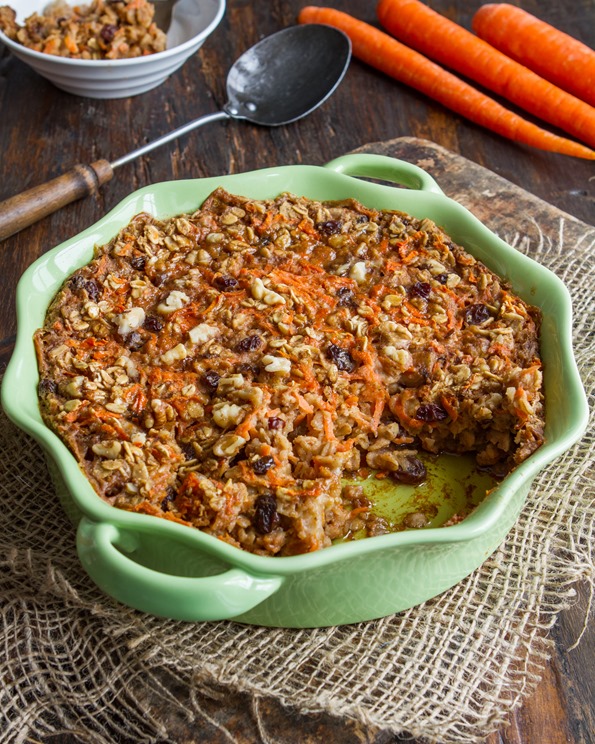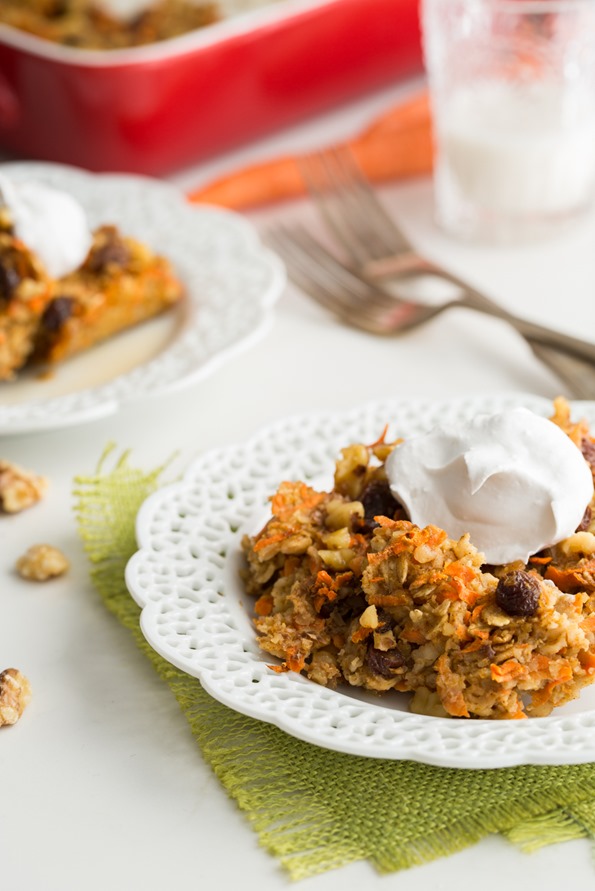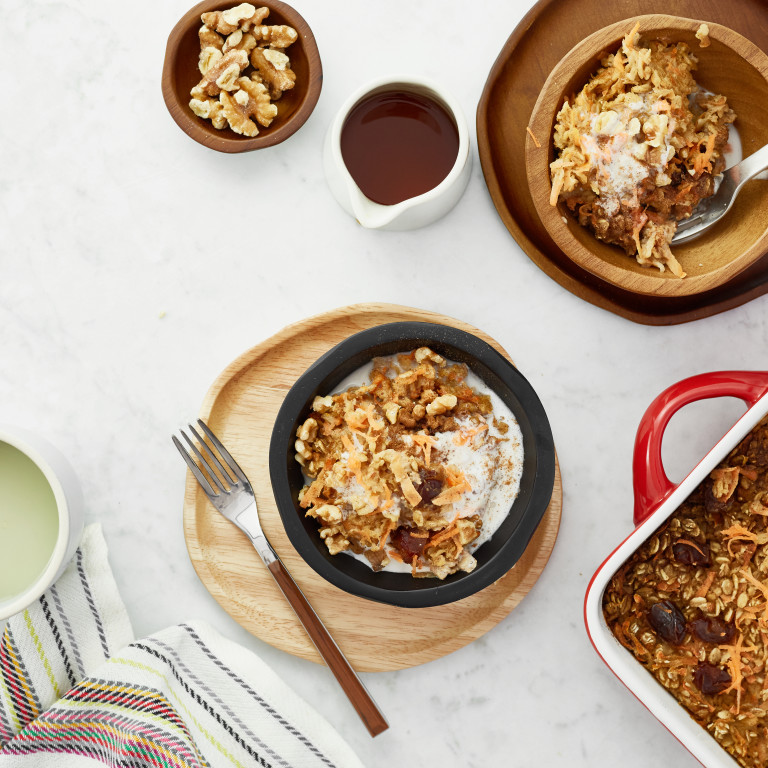 Heavenly Carrot Cake Baked Oatmeal
Vegan, gluten-free, oil-free, soy-free

Yield

6 large servings
Prep time

Cook time

Total time

Carrot cake lovers, this one is for you! Refined-sugar free and packed with carrots, this baked oatmeal has all the taste of the popular dessert with a healthier whole-grain twist. Try it for a lazy weekend breakfast and enjoy the leftovers in the days to come. I love this served with a dollop of my coconut whipped cream and a sprinkle of cinnamon. Heck, it even makes a nice snack or dessert too. Actually, there isn't a time of the day when I won't eat this oatmeal. Baked oatmeal isn't just for mornings anymore!
Ingredients
2 1/4 cups (225 g) gluten-free rolled oats
1 1/2 teaspoons baking powder
2 teaspoons ground cinnamon
1/4 teaspoon fine grain sea salt
1 1/2 cups (130 g) lightly packed grated peeled carrots

*

2 1/2 cups (625 mL) unsweetened almond milk (or milk of choice)
1/3 cup (80 mL) pure maple syrup
2 teaspoons (10 mL) pure vanilla extract
1 1/2 teaspoons freshly grated ginger (or 1/2 tsp ground ginger)
1/4 cup (36 g) raisins or pitted chopped dates
1/2 cup (35 g) chopped walnut halves
Directions
Preheat oven to 375°F (190°C) and lightly grease a 10-cup/2.5 qt. casserole dish. I use an 8" x 11" rectangular casserole dish.
In a large bowl, mix together the rolled oats, baking powder, cinnamon, and salt.
In a medium bowl, whisk together the wet ingredients: shredded carrot, almond milk, maple syrup, vanilla, and fresh ginger.
Add the wet mixture to dry mixture and stir until combined.
Pour mixture into prepared casserole dish and smooth out with a spoon. Press down on the oatmeal with a spoon (or your hands) so the oats sink into the milk. Sprinkle on the walnuts and raisins (or dates, if using) and press down lightly again.
Bake, uncovered, for 32-37 minutes until lightly golden along the edges. The oatmeal will still look a bit soft or wet in some spots when it comes out of the oven, but it will firm up as it cools.
Let cool for about 5 to 10 minutes before serving. Garnish with Coconut Whipped Cream, a drizzle of maple syrup, or some vanilla non-dairy yogurt. When the baked oatmeal is fully cool, it will firm up enough to be sliced into squares.
Leftovers should keep for 3 to 5 days in the fridge or 3 to 4 weeks in the freezer. Enjoy it warm or chilled straight from the fridge!
Tip:
* If you don't mind visible, chewy strands of grated carrot in the baked oatmeal feel free to use the standard-sized grate hole. If you want the carrot to be virtually undetectable (this is sometimes a nice thing when feeding picky eaters), then use the smallest grate hole size.
For a nut-free option, replace the almond milk with a nut-free non-dairy milk, such as coconut milk. Also, omit the walnuts (you can try sunflower seeds or pepita seeds for a crunch).
If you'd like to save time in the morning, this can be prepared the night before. Simply cover the casserole dish with foil and place it in the fridge overnight. In the morning, remove the foil and bake. I find it needs about 5 minutes LESS bake time when the mixture sits overnight in the fridge.
Nutrition Information
(click to expand)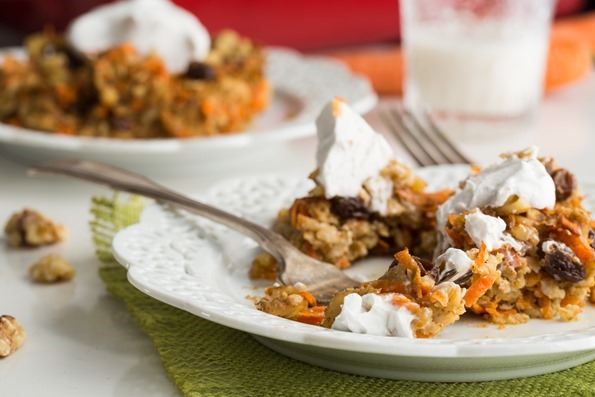 / OSG Virtual Cookbook Tour Reviews /
Lastly, I have more cookbook reviews to share with you. Thanks again to all the lovely bloggers who took part. You can find the full list of reviews on my book page.