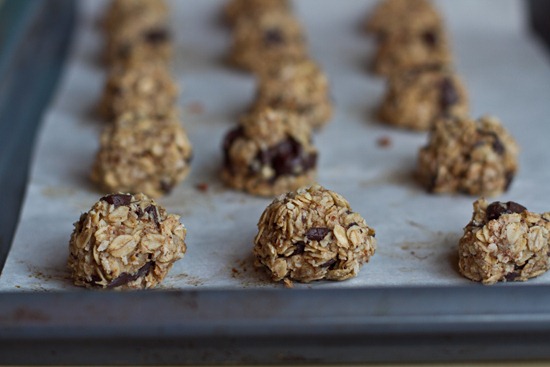 It is no secret that I looooove me some cookies.
In fact, Eric calls me the vegan cookie monster.
Almost every night after dinner I take a couple cookies out of the freezer while Eric boils some water in the kettle. We enjoy a cookie with our piping hot tea and we catch up. This has become a nightly ritual as the weather gets chilly and we resist every urge to crank up the heat. Our NCIS-a-thons now require a couple extra blankets and a furball who is content to sleep at my feet.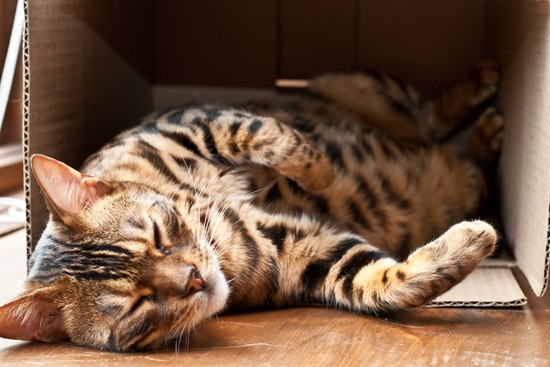 Or in a box…
I'm not just any cookie monster though, I like delicious and wholesome cookies. [Eric always did say I have high expectations…]
Glancing at my recipes page, I have made plenty of healthy cookies over the past two years, such as…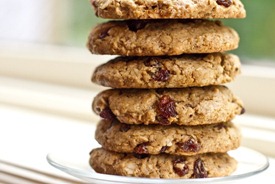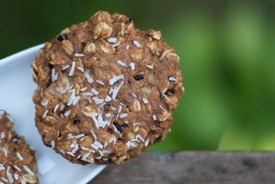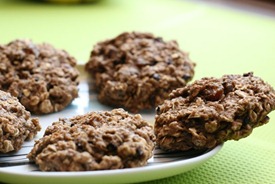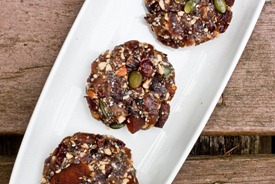 All delicious, all wholesome.
Last night, I whipped up a healthy cookie recipe from 101 Cookbooks that I have been meaning to try for a while.
I will not rest until I have made every healthy cookie alive! muhauha.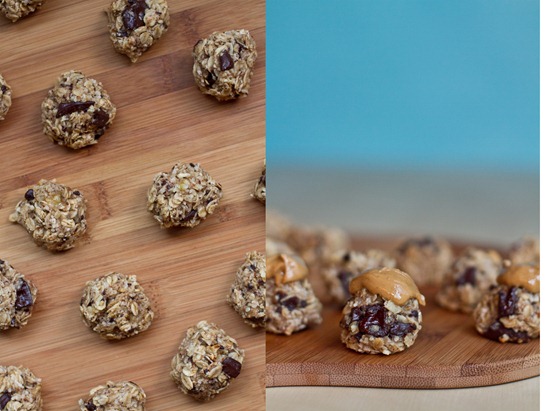 Healthy Cookie Bites
These bite-sized cookies do not contain any added sugar, dairy, flour, or eggs. Because they are not overly sweet, they make a wonderful everyday cookie and pair well with almond milk, tea, or hot cocoa. No sugar crashes here!
Adapted from 101 Cookbooks.
Ingredients:
1.5 large, ripe bananas, mashed
1/2 teaspoon vanilla bean paste or 1 tsp vanilla extract
2 tbsp coconut oil, warm (or olive oil)
1 cup rolled oats
1/3 cup almond meal (ground almonds)
3 tbsp coconut, finely shredded & unsweetened
1/2 tsp cinnamon
1/4 tsp fine grain sea salt
1/2 tsp baking powder
1/3 cup chocolate chips or dark chocolate bar chopped
Directions: Preheat oven to 350F. In a large bowl mash the bananas, and then mash in the vanilla and softened coconut oil. Set aside. In another bowl whisk together the oats, almond meal, shredded coconut, cinnamon, salt, chocolate, and baking powder. Add the dry ingredients to the wet ingredients and stir until combined. The dough is very loose and does not hold together well, but don't worry about that. I took a couple tsp of the dough in my hand and gently formed a ball and squeezed it together as much as I could. Place 1 inch apart on baking sheet. Bake for 14 minutes until bottoms are golden. Let cool for about 20 minutes to set. Makes about 17 bite-sized cookies.
Nutritional info: (Approx. per bite, makes 17 bites): 59 kcals, 2.8 grams fat, 1 gram protein, 2 grams sugar, 1 gram fibre.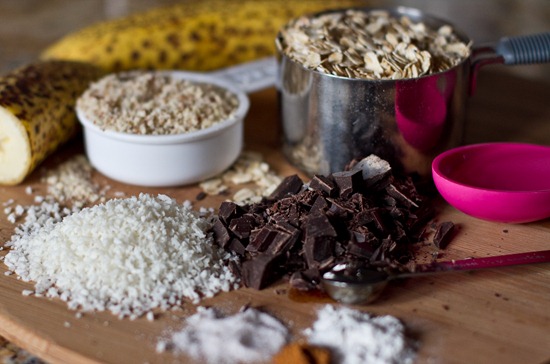 Gather up the beautiful, wholesome ingredients…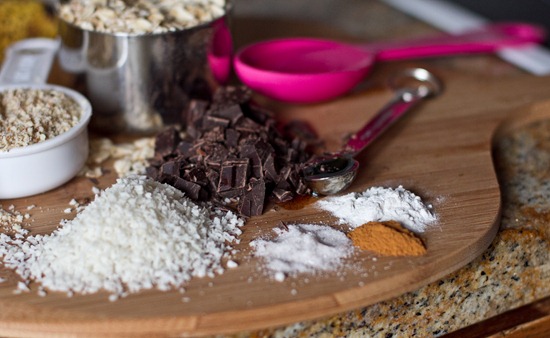 Bonus points for spotty bananas!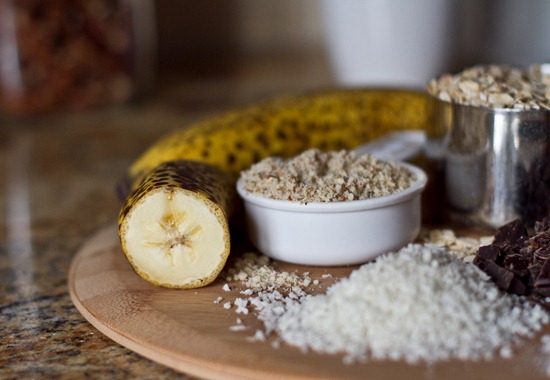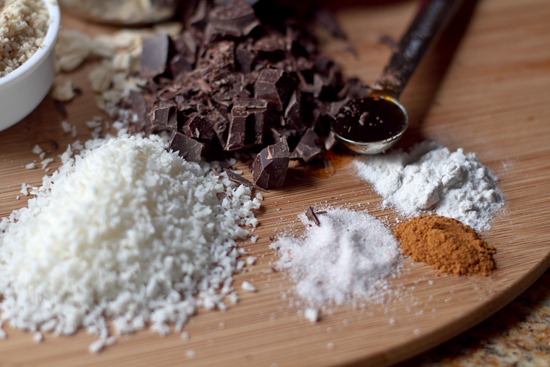 First, mash up the bananas with the softened coconut oil and vanilla.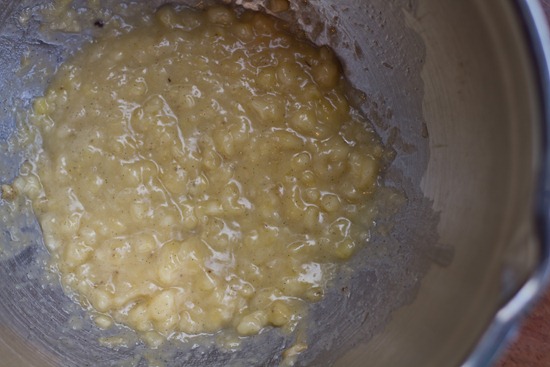 In a separate bowl, whisk together your dry ingredients.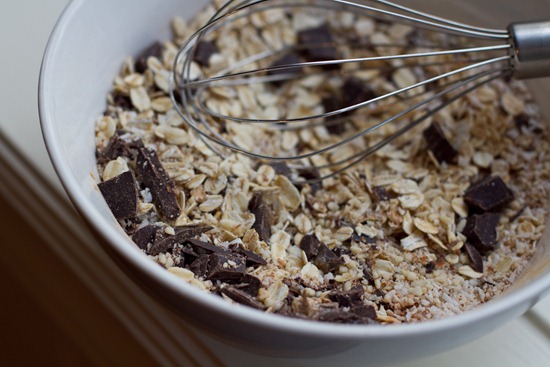 Add dry to wet or wet to dry. It really makes no difference here.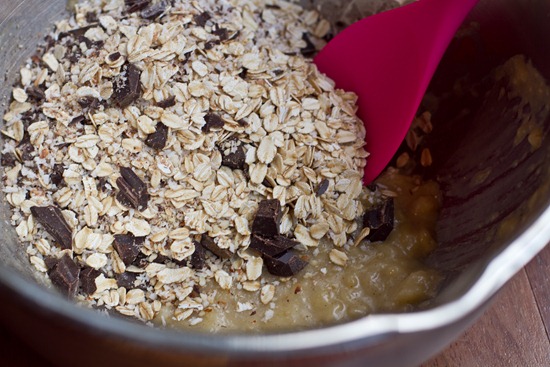 Mix.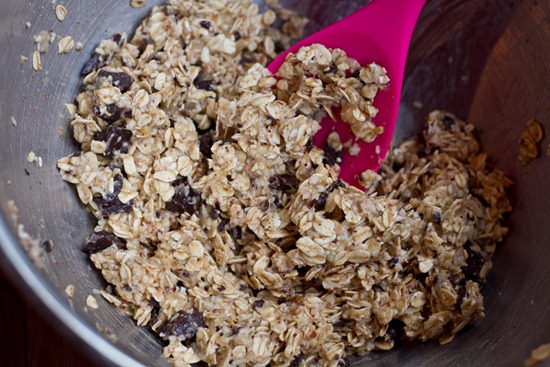 After mixing, you will notice that the mixture does not stick together like traditional cookie dough.
Fear not!
For You, are a baking goddess.
I took a couple teaspoons of the oat mixture and gently pressed it into a ball with my fingers. The oat mixture falls apart a bit, but all will work out in the end.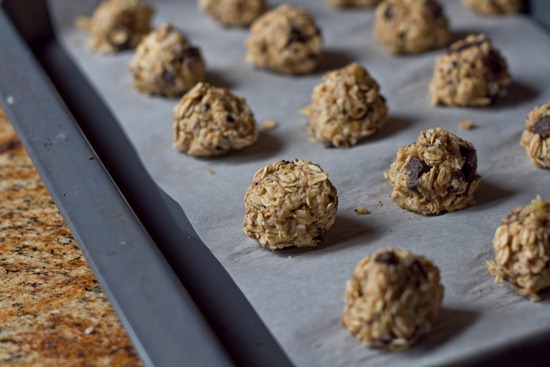 I made 17 cookie bites.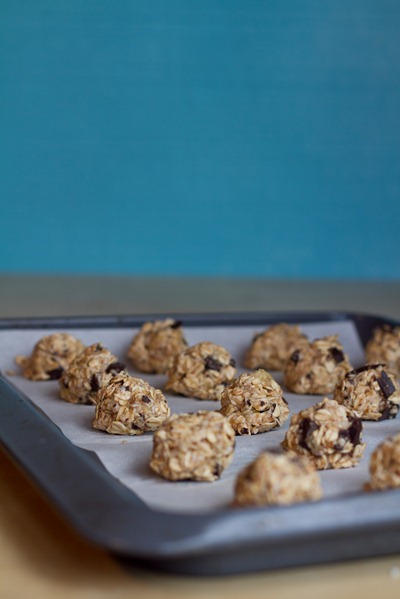 Bake for about 14 mins. at 350F. The bottoms will be slightly golden brown.
Let them cool for about 20 mins. so the cookies can firm up a bit. These are delicate bites!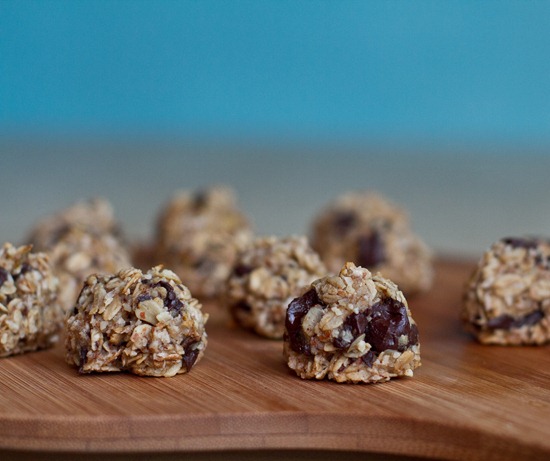 They are irresistibly cute.
At first taste, I wasn't sure if I loved the cookies, but they grew on me after I got used to the subtle sweetness. The chunks of chocolate are key in this recipe and add a little oomph. After my second bite, I was hooked and really appreciated that they were more of a snack cookie and not a dessert cookie.
I say, there are times for snack cookies and there are times for dessert cookies.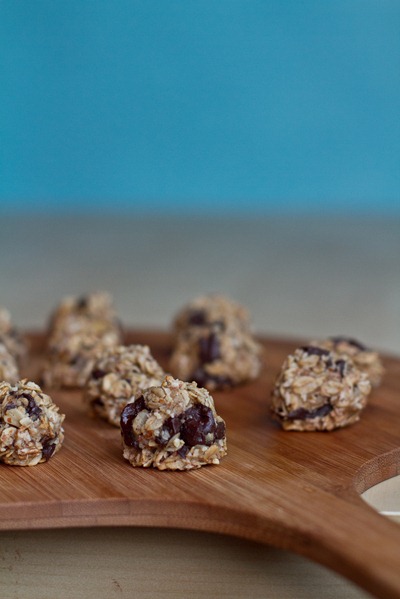 When I told Eric I made cookies 'without sugar', he said, 'That is disturbing.'
After trying them, he said they were 'good, but could be a bit sweeter'.
While I agree that they aren't your typical sweet cookie, I think they serve the purpose of an everyday, healthy cookie. For that reason, I wouldn't change them too much! if you can appreciate a wholesome taste, you will enjoy these bites a lot. :)
After I enjoyed a few, I popped these into the freezer for quick snacks during the week.
By the way, they are fun vehicles for nut butter hats too!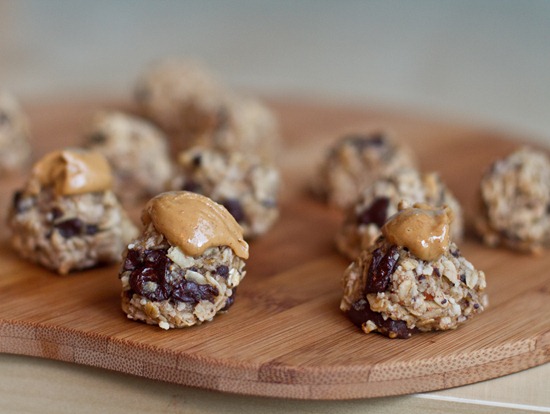 Do you have any 'go-to' cookie recipes that you make time and time again or do you tend to try something new each time?
I tend to try a new recipe each time, mostly for the sake of new blog content. ;) But, I often look at recipes in my archives and I always find myself saying, 'It has been way too long!'