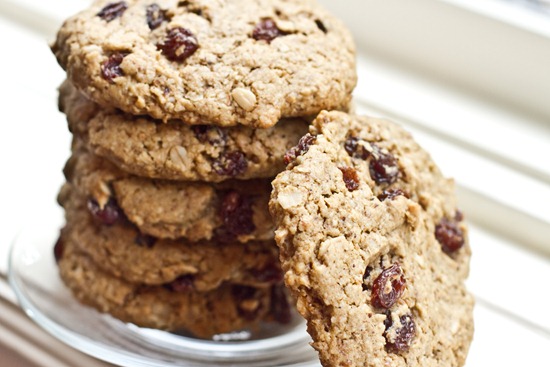 This week I had a request from a local customer who wanted to purchase vegan oatmeal cookies. He said that he has been looking for a vegan oatmeal cookie that would obtain the approval of his children.
The only specification was that they could not have chocolate chips which is normally how his kids prefer oatmeal raisin cookies.
Not wanting to crush his dreams and tell him I actually didn't have a vegan oatmeal cookie recipe in my 'baking holster', I smiled and said, 'Of course I can make you some oatmeal raisins cookies. No problem!'
I knew I had some work to do. *gulp.
Batch #1 was an excellent attempt, but not quite there yet.
Batch #2 had me hook, line, and sinker.
That wasn't as bad as I thought it would be.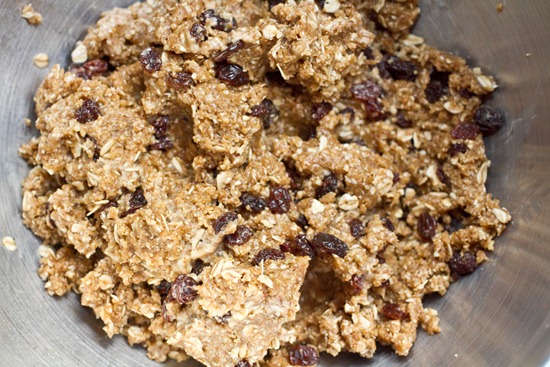 The Ultimate Vegan Oatmeal Raisin Cookie
Inspired by Salt Kissed Chunky PB Chocolate Chip Cookies & Vegetarian Times.
Ingredients:
1 & 3/4 cups walnuts, toasted
2 cups regular oats, divided
3/4 cup white Kamut flour (other flours probably work!)
1/2 cup Sucanat (or brown sugar)
1 tsp baking soda
1/2 tsp cinnamon
1/2 cup pure maple syrup
2 tbsp almond milk
3.5 tbsp coconut oil
2 tsp pure vanilla extract
2/3 cup raisins
Directions: Preheat oven to 350F and grease a baking sheet. Place 1.75 cups of walnuts on the baking sheet. Toast walnuts in oven for about 10-12 minutes, until golden in colour. Watch carefully so as not to burn. When walnuts are toasted remove from oven and cool for a few minutes. Dump walnuts into food processor and process until just finely ground, no more. In a medium sized bowl, mix together the flour, baking soda, 1 cup oats, cinnamon, and Sucanat (or brown sugar). Now add the dry ingredients to the food processor and process for about 20-30 seconds until mixed. In a small bowl add the coconut oil and microwave for 20 seconds to soften (if necessary). In the same bowl, stir in the maple syrup, almond milk, and vanilla, and pour into food processor. Process until the mixture is thoroughly combined. Remove bowl from processor and dump contents into a large bowl. Mix in the remaining 1 cup of oats by stirring or with hands. Fold in the 2/3 cup of raisins. Take about 2 tbsp of dough, make a ball, and then flatten with fingers. Place on cookie sheet. Repeat. Bake for 10 minutes at 350F and no longer. Remove from oven and let sit on baking sheet for 2 minutes before placing onto a cooling rack for 10-15 minutes. Makes about 16 large cookies.
This was my first time baking with Kamut flour!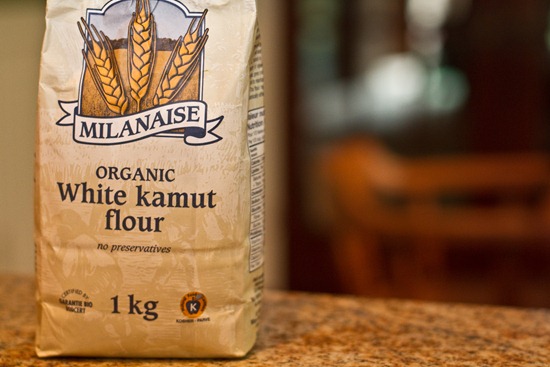 Kamut (pronounced ka-moot) is an ancient whole grain cultivated by the Egyptians in 8,000 B.C.
Like spelt, it may be a healthy alternative for people who are sensitive to wheat products. The benefit of Kamut over spelt flour is that Kamut is much lighter than spelt and won't weigh the baked goods down. I have been excited to try it out ever since my friend Heather told me about it!
I bought some white Kamut flour and some whole grain Kamut flour. I started with the white Kamut flour first to 'test the waters'.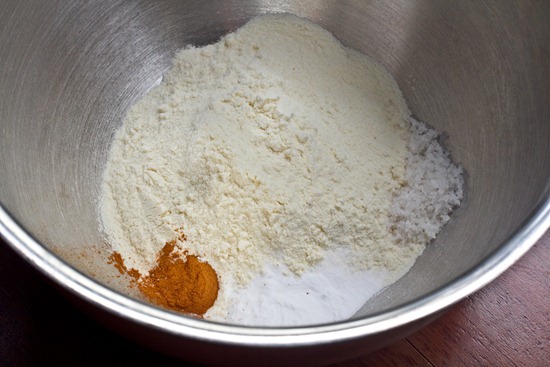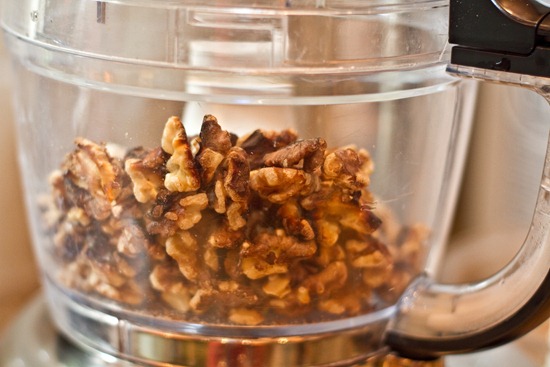 After grinding the toasted walnuts and then processing with the dry ingredients…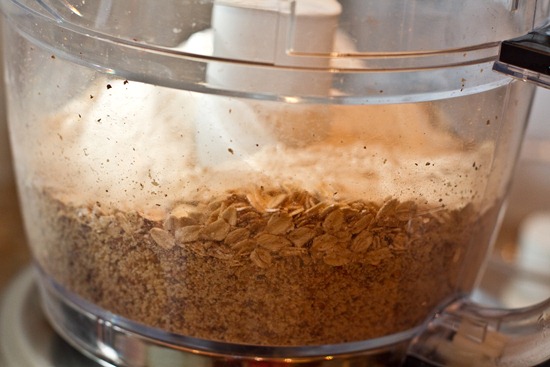 Next, I processed in the wet ingredients and then folded in the oats and raisins…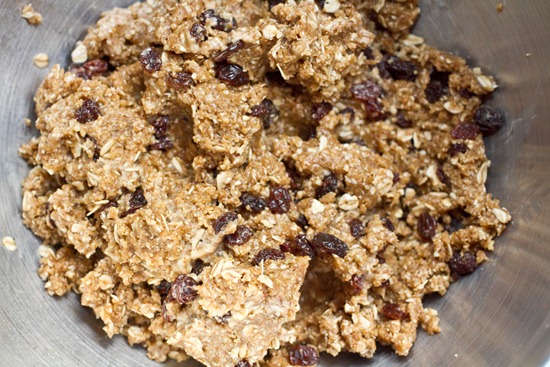 => the most delicious & rich & buttery cookie dough in the world.
Baking for just 10 minutes (not a second longer!) at 350F.
Damn.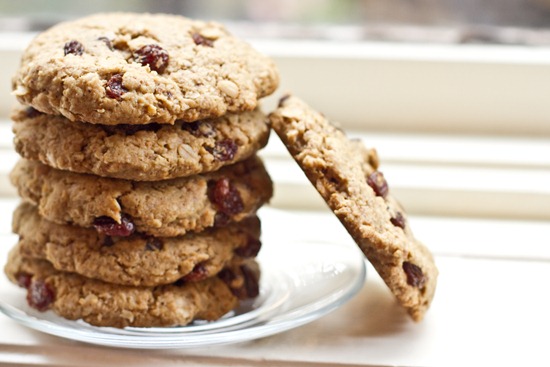 The result was the most delicious oatmeal raisin cookie I think I have ever tasted. The toasted walnuts were magnificent and I am so glad I toasted them. The recipe is slightly 'fussy' but well worth the effort and it still didn't take longer than about 35-40 minutes or so.
I have a feeling my customer's kids will love these cookies.
Eric was silent for a while as he ate one and his eyes went into a far off daze. After snapping him out of it, he said, 'These are incredible…mmmm…..' and then he went back into a daze as he ate them.
He hasn't been the same since.
I'm going to give my customer this batch on the house so he can test them out and see how they all like them.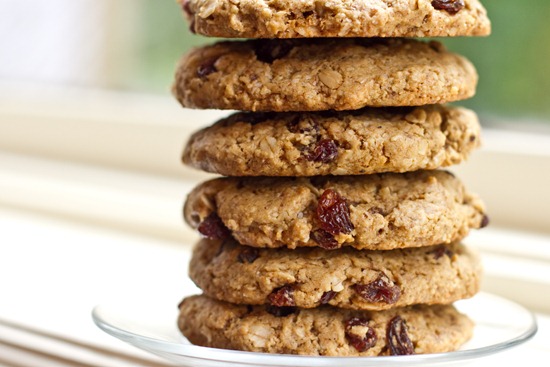 I also made some mini cookies- just 1 inch in diameter (but they look much bigger in this deceiving picture!)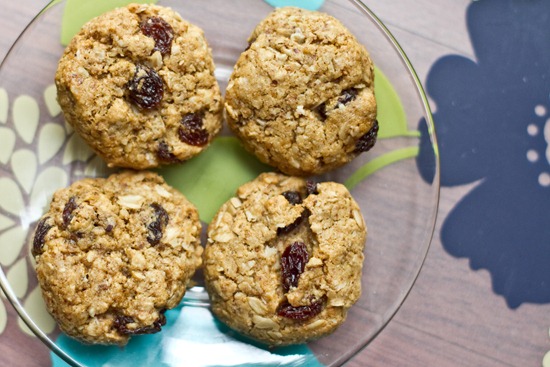 Mini cookies are fun for lunches when you want just a little something sweet.
Or you can go big or go home. ;)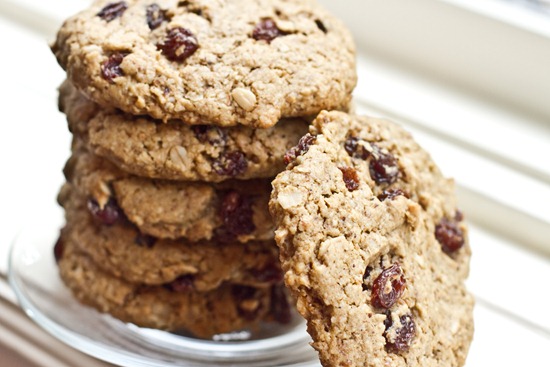 Food for thought: If you could have one recipe made healthier and/or vegan what would it be?