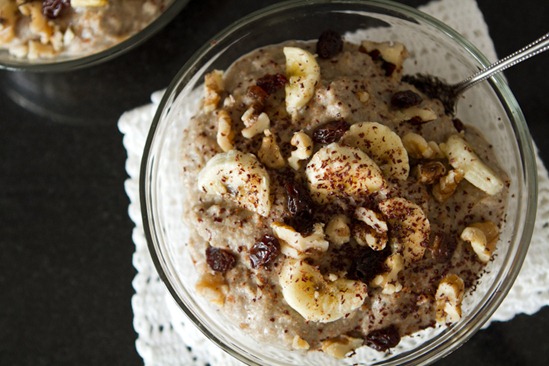 As I was flipping through Let Them Eat Vegan the other day (yup, still obsessed), I came across an interesting way to prepare steel cut oats. Dreena's "Instant Steel Cut Oats" caught my eye because it claimed I could enjoy a hot bowl of steel cut oats in just minutes.
I love steel cut oats, but I don't make them often unless I prepare my Make-ahead Steel Cut Oatmeal for several breakfasts worth. It takes a bit of planning in the evening (and planning is so not my forte), but the upside is that the recipe will last for at least a few breakfasts. That is, if I can keep myself from spooning it into my mouth all day and night. Outlook not promising.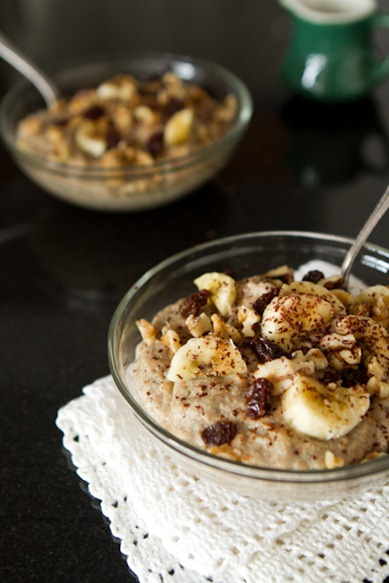 With this method, you simply blend the steel cut oats into a flour. Yes, you will lose the chewiness of steel cut oats that us fans tend to love, but by grinding them you slash the cooking time by over 80%! I wouldn't say this method is for all the time (unless of course you prefer a porridge like consistency), but it's great in a pinch when you want the nutrition of steel cut oats, but don't have the time.
Here's how you make them:
1. Grind the steel cut oats and chia seeds in a high-speed blender.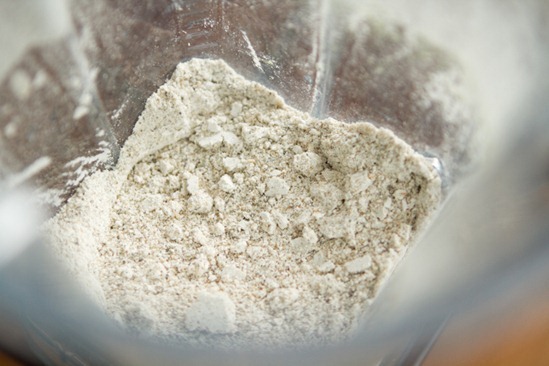 2. Once the oats and chia seeds are ground into a flour, add them into a pot.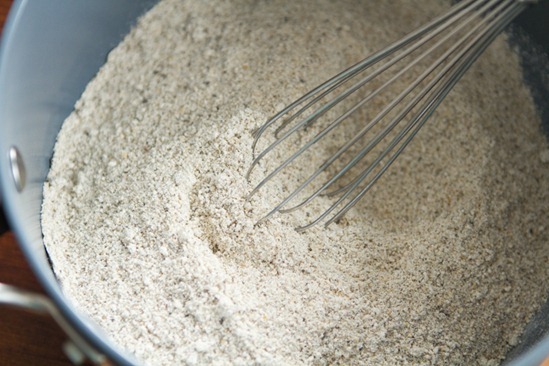 3. Add some almond milk (or milk of your choice).
4. Now stir in some mashed and chopped ripe bananas, vanilla, spices, and sweetener for this batch. My goal was to make an ultra gooey banana bread flavour.
5. Heat this mixture for only about 4-5 minutes! You now have virtually instant steel cut oatmeal with all the nutrition that we love, but in a fraction of the time.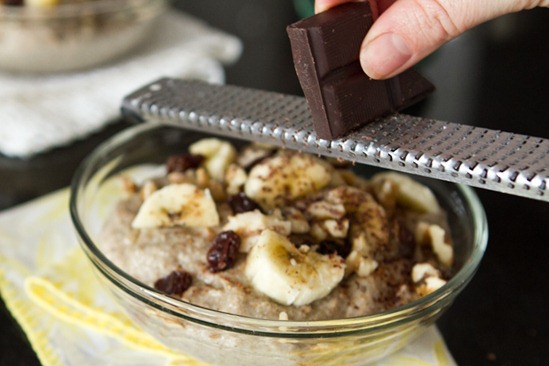 Served with walnuts, raisins, maple syrup, and a touch of shaved chocolate…you are left with a crazy gooey oatmeal that reminds me so much of banana bread batter! It's to die for. This batch makes a few servings and I should also tell you that it tastes absolutely wonderful straight from the fridge, cold, in a vegan overnight oats sort of way. Serving it chilled is perfect for all these warm mornings we are having lately.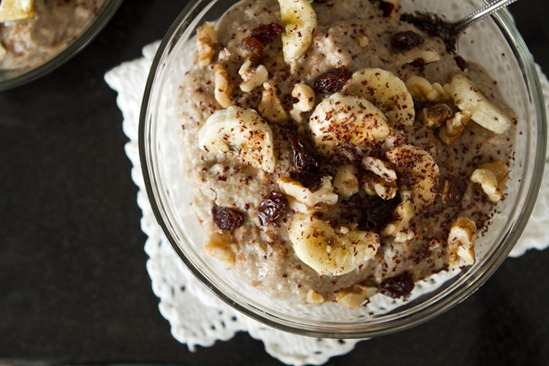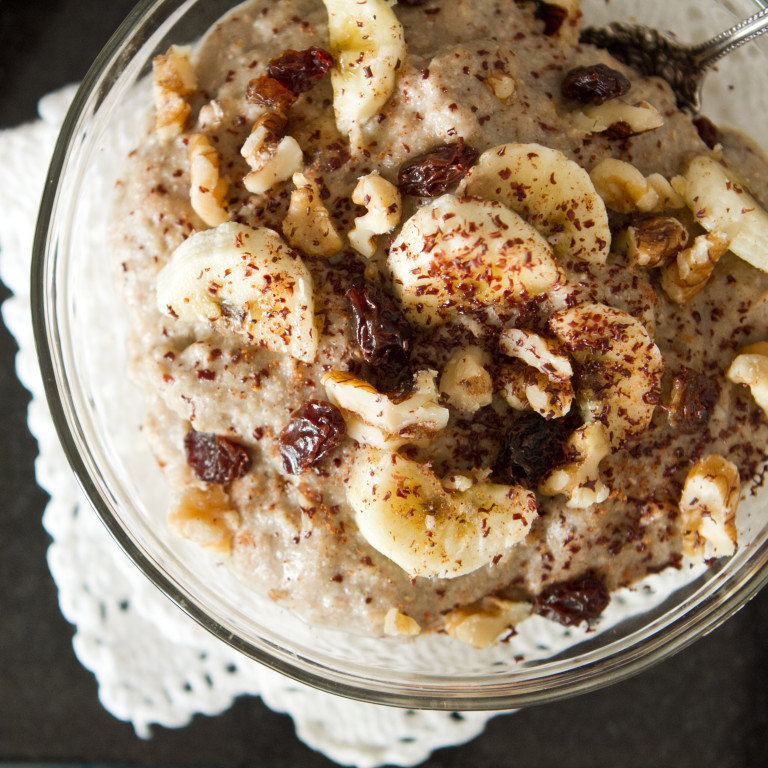 Gooey Banana Bread Batter Instant Steel Cut Oatmeal
Vegan, oil-free, soy-free

Yield

3 servings
Prep time

Cook time

Total time

Just like eating a big bowl of gooey banana bread batter, only better for you! If you like gooey, porridge-like breakfasts, you will go crazy for this one.
Inspired by Let Them Eat Vegan.
Ingredients
3/4 cup steel cut oats, ground into a flour
2 tbsp chia seeds
2 ripe medium bananas (1 mashed and 1 chopped small)
2 1/2 - 3 cups almond milk, as needed
2 tbsp pure maple syrup, divided
1/2 tsp cinnamon
pinch of salt & dash nutmeg
2 tsp pure vanilla extract
2 tbsp chopped walnuts, toasted if preferred, for garnish
2 tbsp raisins, for garnish
Shaved dark chocolate, to garnish
Directions
In a high-speed blender, grind the steel cut oats and chia seeds into a flour. Remove and place into a medium-sized pot.
Stir in 2.5 cups of the milk and increase the heat to low-medium. Now stir in the mashed banana, the chopped banana, and 1 tbsp of maple syrup. Heat for 4-5 minutes, adding more milk if desired and reducing temperature if necessary.
Remove from heat and stir in the cinnamon (to taste), a pinch of salt, vanilla, and dash of nutmeg (optional).
Portion into bowls and top with chopped walnuts, raisins, and 1 tsp of pure maple syrup per bowl.
Nutrition Information
(click to expand)
I encourage you to enjoy it cold, especially during warmer mornings, as I think I liked it even better served cold!
Looking for more oatmeal recipes?
Check out the top 5 most popular oatmeal recipes on my blog.
And if it's too warm where you are to enjoy a hot bowl of oats, you can try one of my 12 Vegan Overnight Oats parfait recipes which are great on warmer mornings.
~~~
Well, we're on the cusp of the Victoria Day long weekend here in Canada. Yippee. I don't know about you guys, but our weather forecast is calling for sunshine all weekend and highs of 26C! Absolutely crazy and unexpected for this time of the year. We're heading up to the in-laws to spend the entire weekend playing outdoors. I'll be Instagraming a bit and I might even do a quick blog recap if I get a chance. Cheers to the weekend!