Despite lingering throat soreness and a tickly cough that keeps me up in the night, I am feeling a bit better each day. I'd say I am about 80% healed. The flu just seems to be leaving my body very. very. slowly.
My flu fighting plan includes:
Juicing first thing every morning (ginger, lemon, grapefruit, carrots, cucumbers, beets- are my go to's)
Gargling with warm salt water 3 times a day (now I'm down to 1-2)
Neti Pot (1-2 times a day, as needed)
Oil of Oregano drops (few drops, 1x a day) + Echinacea drops (1ml, 2-3 times a day)
Continue with usual Vitamins (what I normally take: Probiotic, vegan vitamin, B12, Calcium/magnesium, Vit D)
Fresh lemon and ginger tea (Grate 1" piece ginger and steep with a tea steeper + juice half a lemon + hot water + maple syrup to taste)
Japanese Sencha tea
REST (This is the hardest part for me…I am not a 'rester')
Whether actual physical healers, or mental placebo healers, it's probably a bit of both. I'm just happy to be feeling better.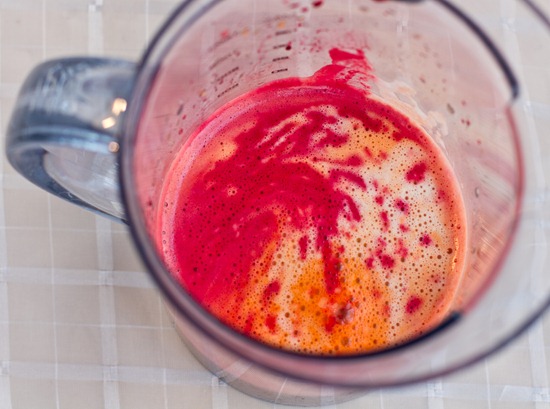 I'm really ready to bid farewell to April though. It was not a stellar month for me. An injured sciatic nerve, a bad flu, and a record amount of rainfall all knocked me off my course.
I've been feeling pretty down lately because my exercise has been totally side-lined and I'm feeling really out of shape. I keep telling myself that this is just another pothole or obstacle along my journey and it will pass. I miss running. I miss Body Pump. I miss endorphins. I miss the Hot Yoga class that Ange and I planned to try out. But it will come…in time.
I think I'm going to call the month of May 'getting my groove back' month. :)
Despite a crummy April, this breakfast was a good way to end the gloom and doom! And we woke up to sunshine for the first time in 2 weeks.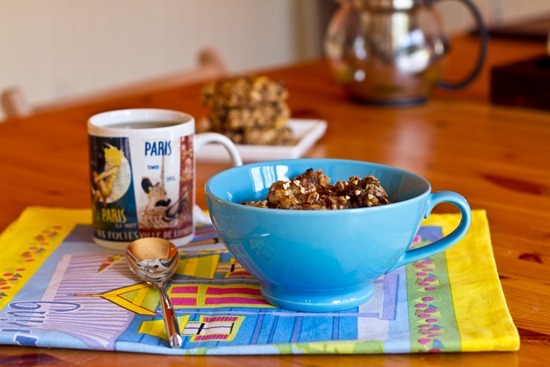 My breakfast inspiration came from Tina's hot off the press Carrots 'N' Cake book. I was sent this book as a review copy from the publisher last week.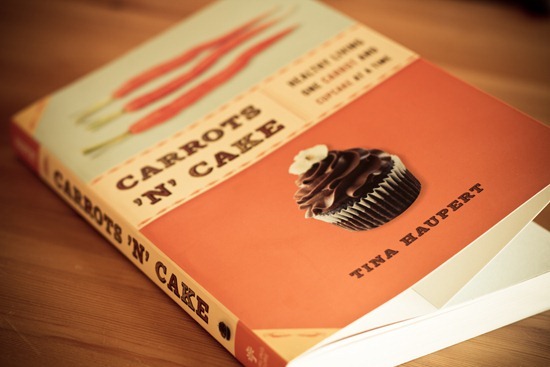 Tina Haupert, who has been blogging at Carrots 'N' Cake for a few years, wrote this book to share her healthy living journey. The book contains over 50 of her go-to recipes (many of which are vegetarian and a few of them are vegan), as well as her workout and healthy eating tips.
I took it as a sign that the very first recipe in the book happened to be vegan. :)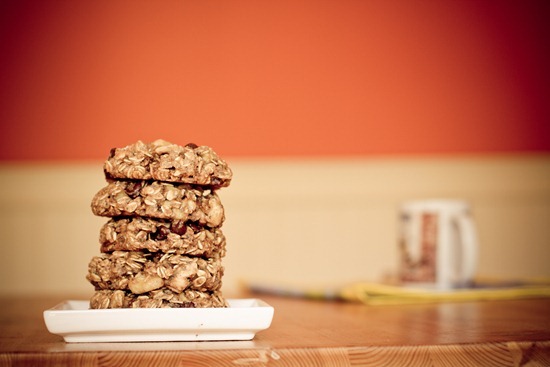 And cookies.
And quite healthy cookies at that!
So I whipped them up this morning and made it into breakfast.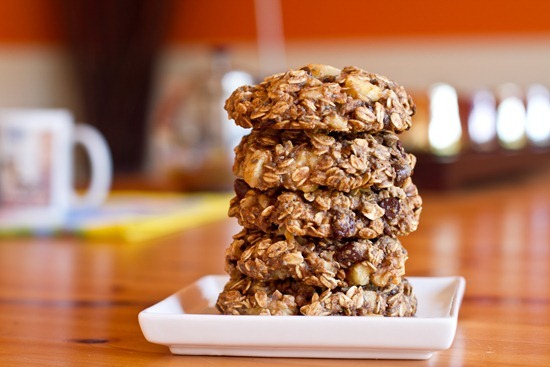 [print_this]
Banana Oatmeal Chip Cookies
Lightly adapted from Carrots 'N' Cake book.
Ingredients:
1/2 cup whole wheat flour (I used spelt and added 1 tbsp)
1 cup rolled oats
1/2 tsp baking powder
1/2 tsp baking soda
1/2 tsp cinnamon
1 tbsp chia seed
1 tbsp ground flax seed
1/4 cup non-dairy milk
1/4 cup maple syrup (or other liquid sweetener)
1/2 tsp vanilla extract
1 tbsp coconut oil (or canola or olive oil)
1/2 banana
1/4 cup chocolate chips
1/4 cup chopped walnuts
Directions:
1. Preheat oven to 350F and line a baking sheet with parchment or a non-stick mat.
2. In a large bowl, mix together the dry ingredients (flour, oats, baking powder, baking soda, cinnamon, chia seed, ground flax). Now add in the liquid ingredients (milk, maple syrup, vanilla, oil) and stir well.
3. In a small bowl, mash the banana. Stir in the mashed banana, chocolate chips, and walnuts into cookie mixture.
4. Spoon onto prepared baking sheet, leaving 2 inches apart. I made 6 large cookies and baked them for 14-16 minutes at 350F. You will likely need to adjust the time based on the size of the cookie you make. Cool on rack for 10 minutes before serving.
[/print_this]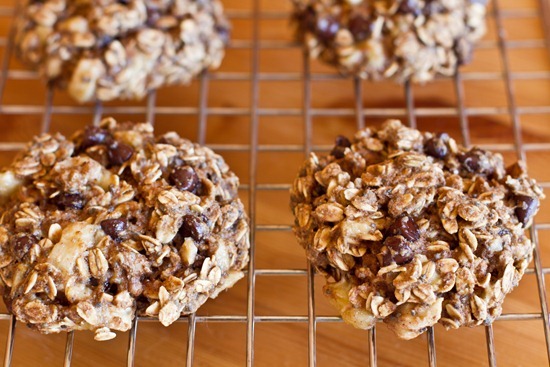 I adapted this recipe lightly based on what I had lurking in my pantry…
I added a tbsp of chia seeds
I used spelt instead of whole wheat
I used maple syrup instead of agave or honey
I used coconut oil instead of canola
I used 1/2 a banana instead of 1
I reduced the chocolate chips down to 1/4 cup
They turned out delicious- big, pillowy soft, fluffy, and lightly sweet. Like a bowl of oatmeal in cookie form. Thanks Tina!
For breakfast, I had a bowl of Nature's Path Spelt Cereal, with almond milk, buckwheat groats, and a cookie crumbled over top. And some Japanese Sencha on the side.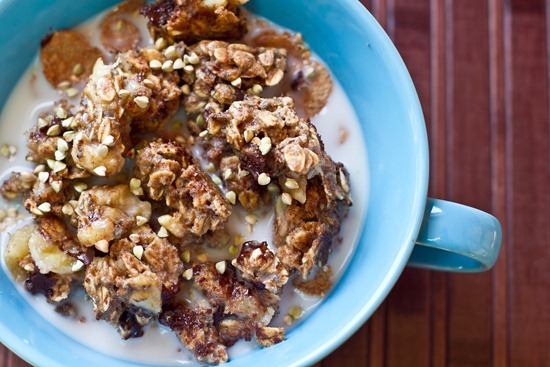 Shortly after breakfast, the deck guys arrived to install the deck beams around 8am. Not having the experience or equipment to do it himself, Eric hired the pros to install the 22-24 deck beams.
The rest of the deck, Eric plans to do on his own, with the help of myself & friends here and there.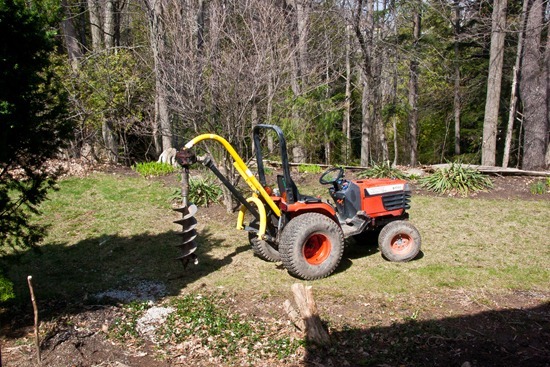 We were really worried when they dug by the well, but thankfully no pipes were broken!! Here's hoping that everything goes smoothly today!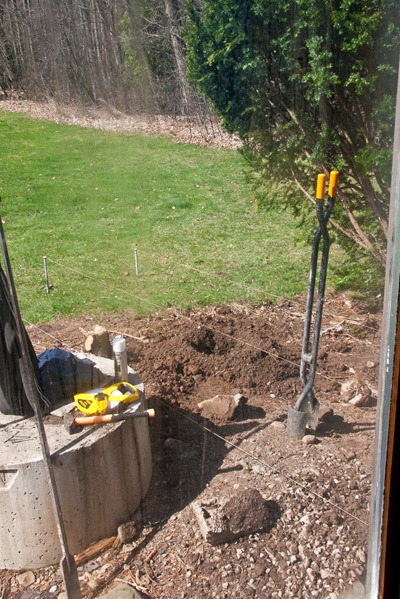 I hope the sun is shining where you are!
Giveaway!
If you'd like a chance to win a copy of the Carrots 'N' Cake book, leave a comment below and I will select 1 random winner on Monday. Goodluck :)