Hi everyone!
When Beth and Aaron proposed the guest post idea of going vegan for a day, I thought it was such a fun idea. Below, you will read about their day as they tried to eat completely vegan. I found it fun to read and can completely relate to their struggles with finding hidden animal ingredients in products.
I hope you enjoy their post as much as I did. Also, check out their awesome website Cross Border Cravings!
While I leave for Leah's wedding early afternoon today I will still be posting as regular over the next couple days (our hotel has wireless internet). So be sure to check back for all the fun!!
~Angela :)
~~~~~~~~
Cross-Border Challenge: Vegan for a Day
Hi Oh She Glows readers! I'm really excited to be here today as I am a huge fan of Angela's site! My name is Beth and I share a healthy living blog with my friend Aaron over at CrossBorderCravings.com. Aaron and I met in Canada while both in University and have been great friends since. Now that I live in Washington DC and Aaron is up in Ontario, one way we stay in touch is through our blog. We both have a great interest in healthy food and activity and enjoy sharing our ideas on both with one another and anyone else who might feel the same.
Aaron and I both eat a diet consisting of all of the major food groups, including meat and dairy. However, we thought it might be fun to challenge ourselves to eat vegan for an entire day. Here's everything we ate, and our thoughts on the whole experience. Enjoy!
Breakfast:
Aaron:
Before I begin, I want to give you an idea of what products I usually consume. Having dabbled in vegetarianism I have a few habits that I have kept, so I don't really eat a lot of animal products. The products that I would normally buy are tuna, salmon, margarine, cheese, and yogurt. Chicken and eggs find their way into my fridge maybe once every few months. The products I never buy are cow's milk and red meats.
I started the day off with toast and jam! Not just any jam, but homemade jam! The left is blackcurrant and the right is rhubarb marmalade… Mmm!! Around lunch time, I realized that bread is not actually vegan! I'm off to a bad start, apparently!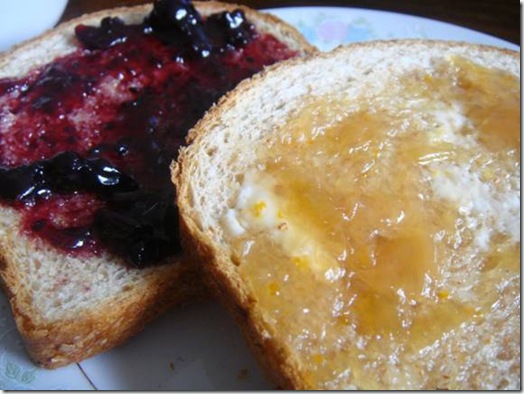 Beth:
This morning I realized what a challenge today was really going to be! After a hard work-out at the gym, I came home in need of something filling – fast! I considered an energy bar and found milk products in the ingredients. Then I considered organic cereal and found milk and egg products! It's obvious when eating vegan to stay away from eggs, dairy and meat, but not so obvious that many foods contain traces of these things.
Finally I settled on a soy yogurt bowl. It contained:
· 1 peach soy yogurt
· 1 tbsp. ground flax
· 1 chopped apple
· 2 tbsp. nut and raisin mix
· 1 tsp. peanut butter
· cinnamon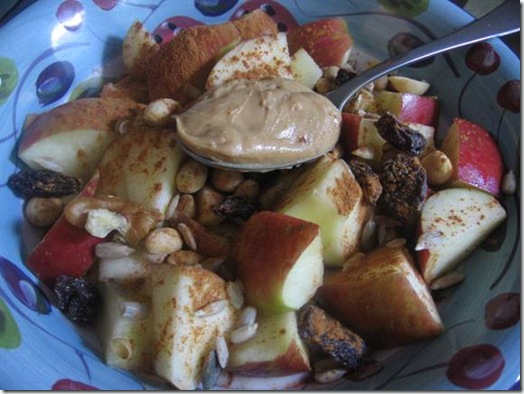 Lunch:
Aaron:
I did better when it came to lunch – butternut squash soup! Definitely vegan J And a few cherries on the side.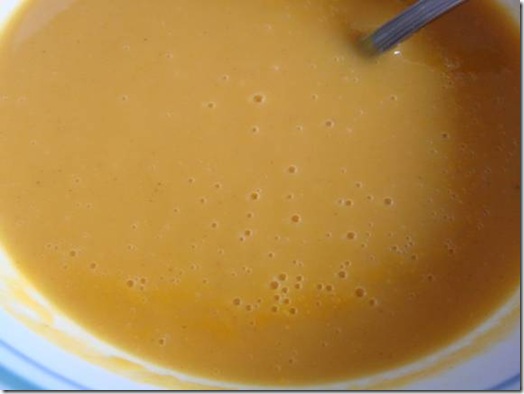 Beth:
For lunch, I headed to JavaGreen, a mostly organic vegan/vegetarian café in downtown DC. JavaGreen also offers a lot of raw food and I decided if I was going to try it, I may as well go all the way! I ate vegan and raw for lunch with the raw pizza. It was my first time eating raw and I didn't mind it at all! It was nothing like real pizza but the taste of the veggies was excellent. For dessert I had a vegan peanut butter cookie. I don't usually eat sweets after lunch but they looked too good to resist!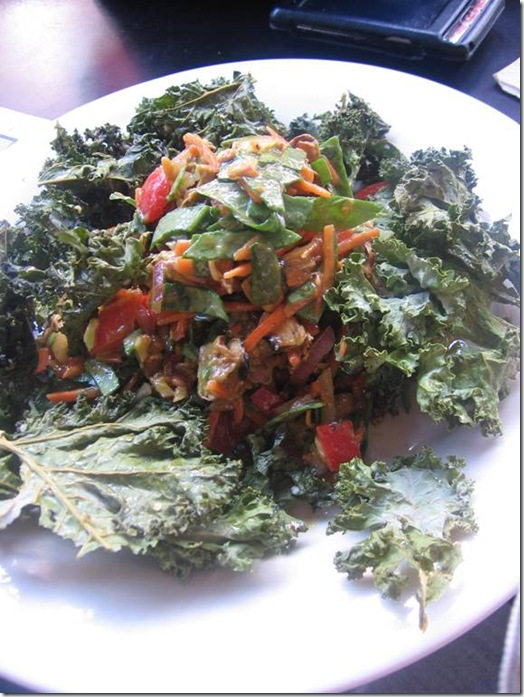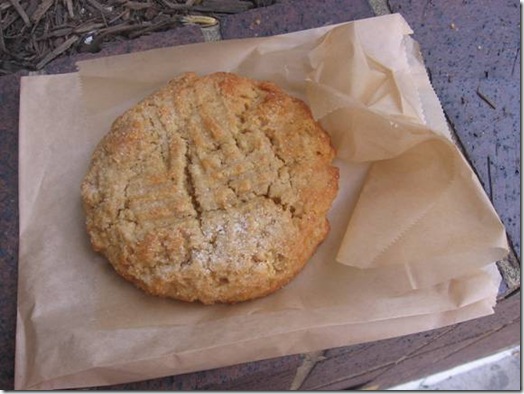 Dinner:
Aaron:
For dinner I had some stir-fried veggies over rice. I think the sauce was vegan, but some of those ingredients I wasn't sure about!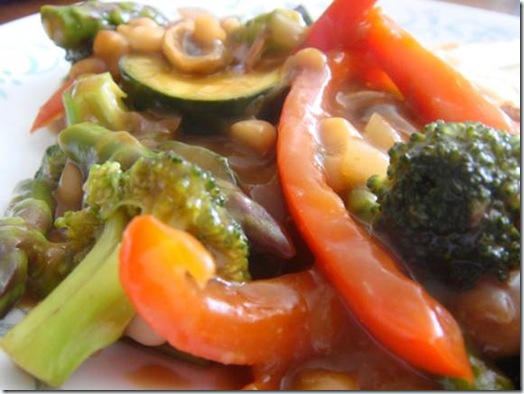 Beth:
For dinner I also had stir-fried veggies over rice! I checked on my sauces and found meat or dairy traces in all of them! I ended up seasoning my dish with soy sauce, mustard, salt and pepper. I also added a little hummus and salsa to top it off.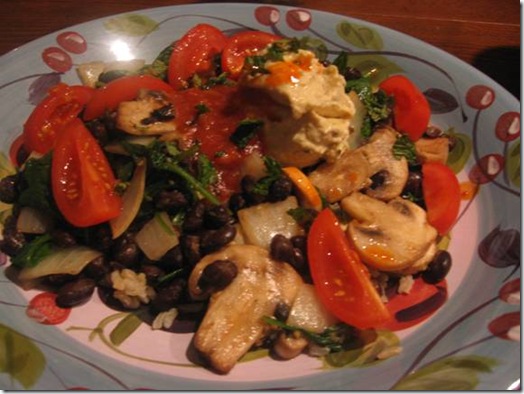 Snacks:
Beth:
This was my pre-workout snack – a rice cake with raspberry preserves.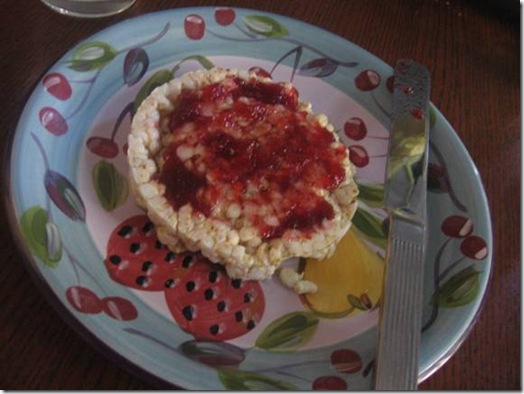 In Conclusion:
Beth:
I had a lot of fun with today. It was really educational to see how many foods really do contain some form of animal products. I am a huge foodie and like to enjoy as much of a variety of tastes and foods as possible. As a result, I don't think I will be turning vegan anytime soon! However, I do think that eating responsibly is important and I hope that this experience today has taught me how to implement some positive changes in my own habits.
Aaron:
The results? Vegan Tuesday was harder than I thought! Because I don't eat a whole lot of animal products, I thought it would be a breeze… I was wrong! A couple meals were a bit of a struggle because I didn't have a big variety of food to choose from (needed groceries!). I definitely think that if I had shopped with the intention of preparing only vegan meals then I would have had an easier go with it. I found I had to cut out some of the major staples in my meals. Yogurt and cheese I think are the hardest to part with. Luckily, there is a lot of soy yogurt out there. Cheese on the other hand, I just can't stomach the vegan stuff!
Thanks so much to Angela for having us on Oh She Glows! We'd love to hear your feedback and see you over at www.CrossBorderCravings.com!
– Beth
Today's question:
Have you ever tried eating vegan/vegetarian for a day? What was it like?
Would you try it?