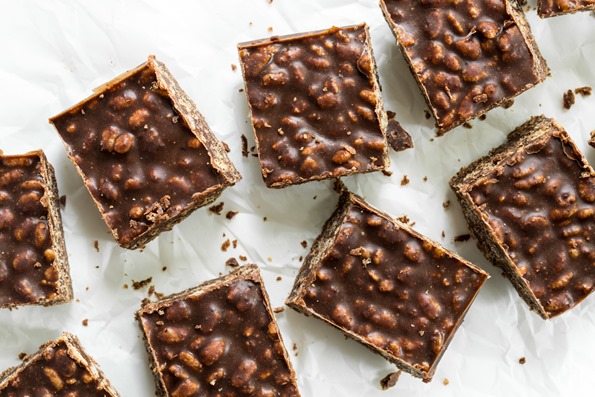 Howdy and happy Friday! This seems to be the theme of the summer, but each week is passing at mach speed. This week was filled with interviews and planning blog posts for the fall. We also sent out the next issue of In The Glow (#9!) so hopefully you enjoyed it! (Just in case you're curious, we send out one newsletter every 3 or 4 weeks on average…so no risk of flooding your inbox.) Eric is also helping me get set up to start shooting some cooking videos, and I'm really excited to start sharing those in the near future!
Before I forget, I just want to send a huge thank you to everyone who applied for the Social Media Specialist position. The hiring process is taking longer than expected due to the high volume of resumes we received…so many talented applicants! If you're selected to move on in the interview process you will be contacted in the next few weeks. A huge thanks again to everyone who applied.
Q1. Do you have a lactation cookie recipe for after baby arrives? I love all of your recipes and am struggling to find a lactation cookie recipe I like (and feel ok having multiple cookies a day!). Thought about reworking your Jumbo Chocolate Chunk Cookies but would love a foolproof recipe if you have one. Thank you!
A. Hey Rachel, Oh, this is such a great idea! I've tried developing lactation cookies in the past, during my first breastfeeding experience, but never settled on something I was head over heels for. It's on my list to tackle again soon, and will definitely share if I create a recipe I like! In the meantime, you might consider checking out my Flourless Thumbprint Breakfast Cookies. I found the oats and flax in those really helped boost my supply while nursing Adriana and they are just so darn healthy!
Q2. I added corn to the Easy Avocado and Lime Black Bean Salad, which was delicious. Your recipes have literally changed my life. I LOVE them. Can't wait for Sept. 6. One thing I am tiring of, however, is rinsing and chopping cilantro. Is there a way I can do it faster?
A. I'm so happy you're loving the recipes, Christine! To be honest, I rinse herbs quickly and I'm not really picky about getting every little speck off them. For cilantro, I simply eyeball how much I think I'll need (measuring only if necessary), and rip the leafy top part off of the thicker stems. Then I quickly rinse the leaves under the tap, shake off excess water, and give it a pat with an absorbent towel. It's okay if it's not bone dry. Then I throw it onto my cutting board and chop it with my favourite chef's knife. The entire process only takes a minute; I'm all about saving time in the kitchen!
Q3. Hi Angela, HELP: I made 4L of this almond milk but I have been told that it can only last a few days… Can I freeze the extra? Do you think I can freeze it in a mason jar?
A. Hey Nadine, Great question! When I have homemade nut milk leftover, I will often freeze it in ice cube trays. My experience is that the homemade nut milk doesn't thaw overly well (it will separate even when freezing) so I prefer to simply toss the frozen cubes into smoothies in lieu of regular ice cubes. Another idea, which I admit I haven't tried yet, is to whisk together a quick chia seed pudding with the homemade milk and try freezing that. I find chia seed pudding freezes very well, so my hope is that it would thaw okay with the homemade stuff. Let us know if you try anything out!
Q4. Hi Angela, Do you have any uses for leftover marinara sauce?
A. Hey Samantha, When I wind up with a lot of extra marinara sauce, I like to freeze the leftovers so I don't have to eat it all within a few days. Then, I can simply thaw it and use it on pasta or zucchini noodles, add it into soup, chili, or stew (as a substitute for tomatoes), use it as a sub for pizza sauce, or serve it with Eggplant Parmesan (for an awesome recipe see page 173 in Oh She Glows Every Day) or as a topping for avocado toast!
Q5. Angela, what is the best substitute for coconut oil in your Chilled Chocolate Espresso Torte [The Oh She Glows Cookbook p. 241]? My guest has a coconut allergy.
A. Hey Kristin, Unfortunately, this is one of those recipes where the coconut oil's ability to reach an almost solid state when chilled is pretty integral. I've never tried the torte with a substitution myself, but I worry the filling wouldn't set quite right without the coconut oil.  The only thing I can think of might be melted cacao butter, but I haven't tried this before and the flavour would change greatly. I'd suggest trying my Chilled Double Chocolate Torte as an alternative dessert or filling option. Or, if you decide to try a coconut oil swap, please let us know how it goes!
Comment of the Week
"Hi Angela! I preordered your new cookbook and am excited to receive it this fall! And I just had to tell you that I have made A LOT of vegan gravies over the years and I tried your All Purpose Vegan Gravy from your app over the weekend and my husband (who isn't vegan) took one taste of it and exclaimed, "Now THAT tastes like gravy!"  I just had to tell you that your recipe is non-vegan husband approved as well ;) Thank you for your hard work in always coming up with amazing recipes for us to enjoy! Kind regards, Jaime"
Hey Jaime, It's so exciting to hear the gravy recipe is a hit with everyone (non-vegan husbands included!). We're pretty obsessed with that recipe too! Thanks so much for taking the time to send such a sweet message, and I hope you enjoy Oh She Glows Every Day when it finally arrives on your doorstep!
PS—The recipe featured at the top of this post is my Easy Carob Almond Freezer Fudge! Yummmm.