Rise and shine!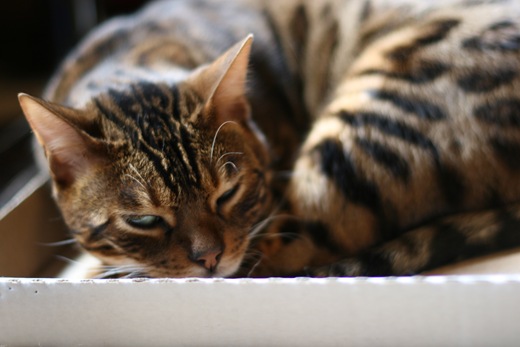 Let's just say Sketchie is not a morning person! ;)
Here are the delicious eats I ate on Friday :)
My morning started off with a successful waffle mission!
Breakfast: 8:30am
1 huge whole wheat banana waffle with 2 T maple syrup + 2 T coconut oil (SO good!)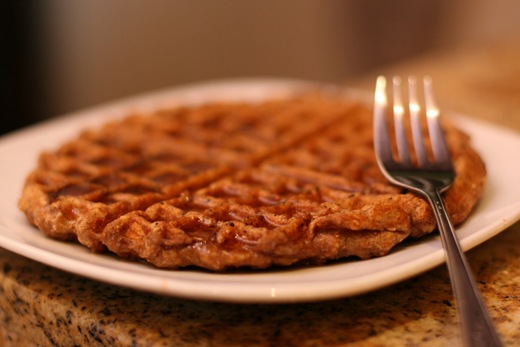 Vegan Whole Wheat Banana Waffles
Ingredients:
1 ripe banana
2 cup water
1/2 cup oats
1.5 cups w/w flour
1 t cinnamon
pinch nutmeg
1 t vanilla
1-1.5 t baking powder
Directions: Mix dry ingredients in a large bowl and mix wet ingredients in a medium sized bowl. Add wet to dry and stir until just incorporated.
I used coconut oil to grease the waffle pan and it worked quite well. :)
It was soooooo yummy!
Snack: 11am
For a mid-morning snack I had a green monster because no day is complete without one!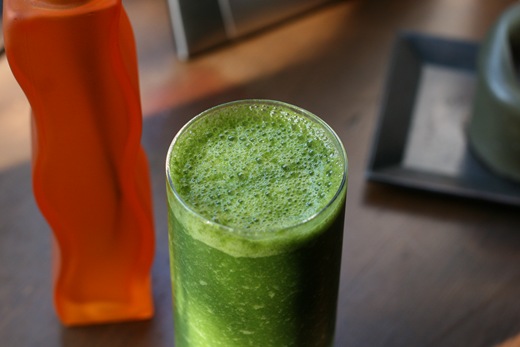 It was just a simple one as I was short on time (kale, hemp milk, ice, liquid garlic, wheatgrass, and a tiny brown banana). Green Perfecto.
Lunch was another late one (seems to be a theme this week!!!) since I was bogged down in my work and I had a run outside around 1pm. The good news is yesterday I got caught up on almost all of my paperwork! I probably have about 3 hours left to finish this weekend.
Lunch: 2:45pm
This is something I whipped up that I like to call …
Baked Burrito Pizzas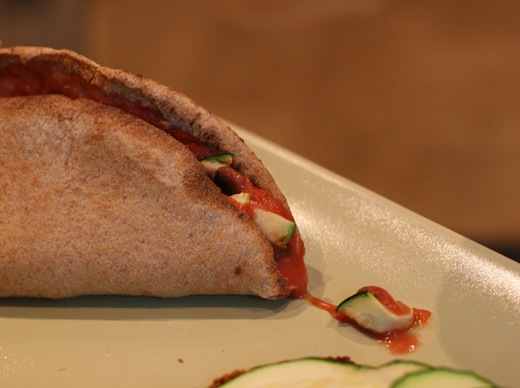 Ingredients:
1 pita
'Pizza' Sauce (2 T soy yogurt and 1/2 cup tomato puree)
1/2 cup black beans, cooked
1/2 zucchini, shredded or sliced (I did both)
Parsley
Directions: Line a baking sheet with parchment or tin foil to catch drippings. Carefully divide pita in half. Mix sauce together and cover the pitas with sauce. Sprinkle with beans and zucchini. Bake for about 5 mins at 350. For the final few minutes broil on low-med, but watch it very carefully as the pita burns easily. Remove with a spatula from baking sheet and place onto a large plate. Fold into a burrito and enjoy!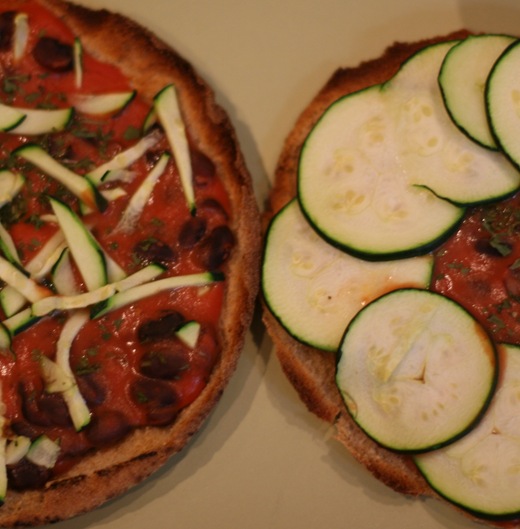 This was really fun and quite tasty!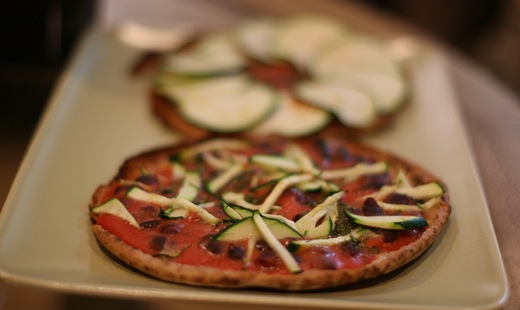 Dessert was another Power me up apple crisp. I used spelt flakes instead of Glo-nola since I am out of it (note to self- make more asap!!!). I microwaved the cereal and to my surprise it got really chewy and had a nice texture.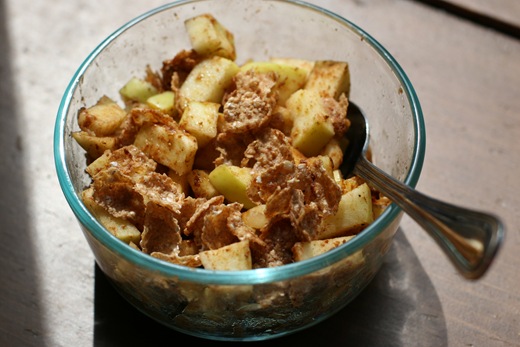 Late afternoon snack was a small cup of cereal with almond milk: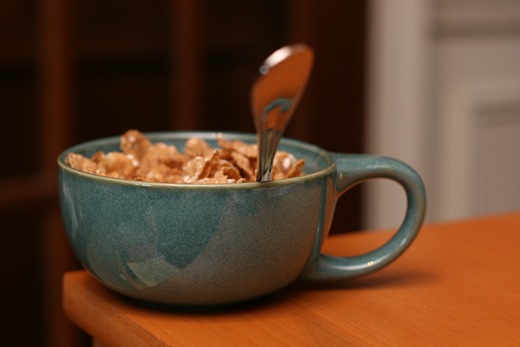 And I had some crackers and salsa that were not photographed.
Dinner: 7:30pm
Friday's dinner was another first for me– I made pesto!
I mixed 3.5 T pesto + 1 T EVOO + 1/3 cup water.
Then I cooked some whole wheat pasta. Such a simple yet delicious dish with so much flavour! I had about 2 cups of the pesto pasta and 3/4 of a zucchini.
I also had some pan-seared Zucchini (just divine on its own!)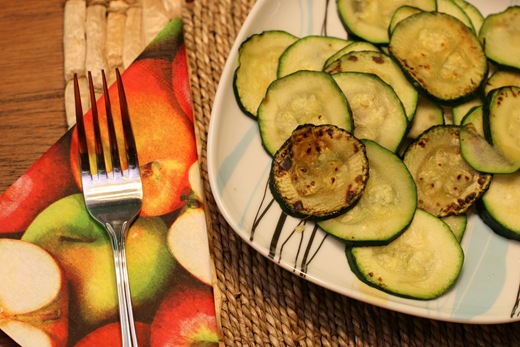 Sometimes the most simple meals are the best!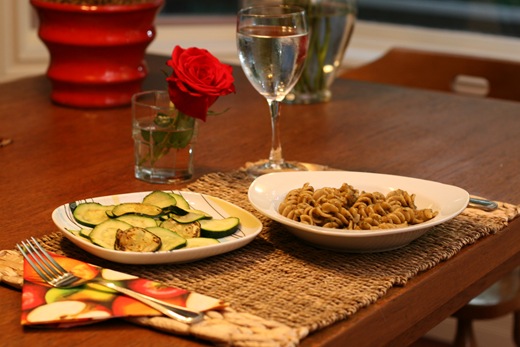 Dessert was one of my new obsessions!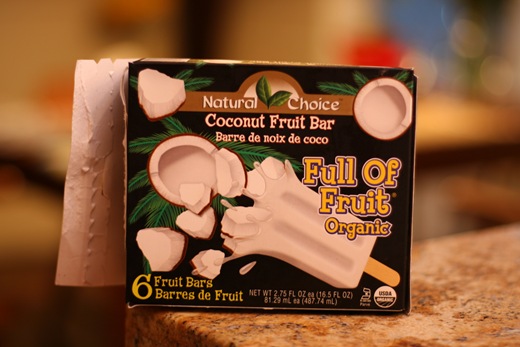 I found these last week in Loblaws/Superstore in the organic freezer section. I was really craving candy, but since it has been so long since I have bought candy, I wanted to keep my good streak. When I found these coconut bars I knew I had to have them!!
It is made mostly from organic coconut, water, and evaporated cane juice. As you can see in the picture below, there is actual shredded coconut in the bar! OH MY, I almost freaked out when I tasted it. So delicious and really chewy from the coconut.
Best popsicle I have ever had!
I also had about 3 of these teas today…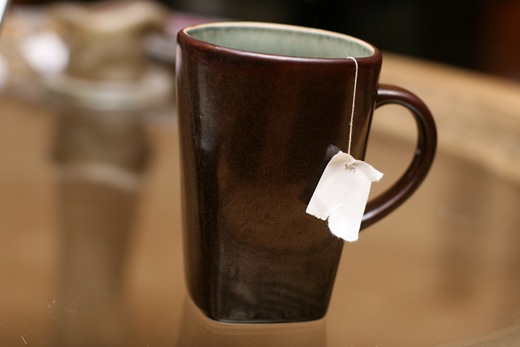 Nighttime snack: 9pm
An Endure Glo Bar (My favourite flavour)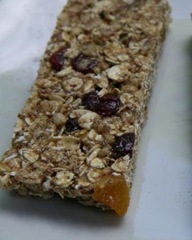 And that wraps up day 4!
~~~~~~
Sketchie waves hello to his peeps. ;)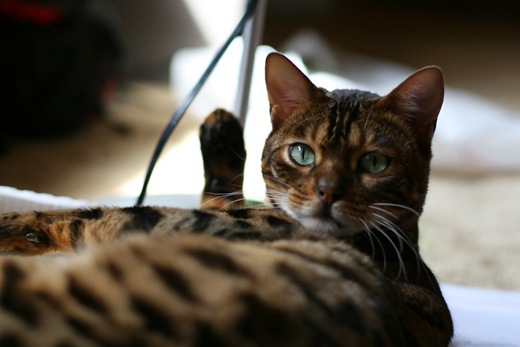 Enjoy your day!
We're off for a special excursion :)

PS- I read online last night that many knee sleeves are made with neoprene and that neoprene is a fairly common allergy. Has anyone tried a cotton-elastic knee sleeve before?