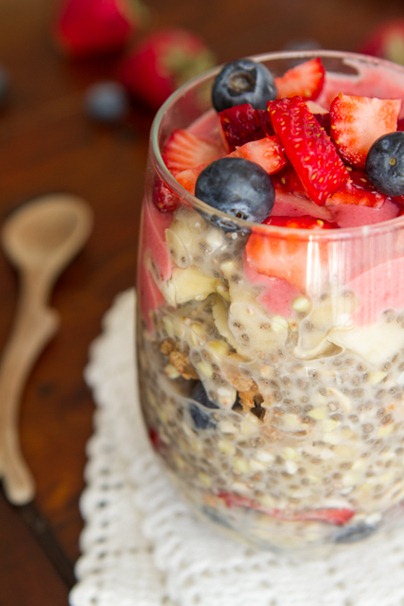 All of these warm spring mornings have brought back my cravings for no-cook parfaits. Parfaits are one of my favourite summer foods because they are virtually effortless, don't require a stove, and are different every time I make them.
Lately, I've been enjoying this breakfast quite a bit and it only dawned on me recently that maybe I should share it with you. Ok, well I knew I wanted to share it with you, but my real problem was stopping myself from inhaling it before I could snap some pictures! It was nothing short of a miracle that I restrained myself enough this morning to snap a few pics.
At night, I soak raw buckwheat groats in water separately from the chia seed, almond milk, and banana mixture. I did this because buckwheat groats get super slimy when soaked and I wanted to be able to rinse them very well before adding them to my breakfast. Soaking also makes it more digestible, but be sure to really chew the buckwheat. It's easy to just swallow it down and then it doesn't digest well, if you catch my drift.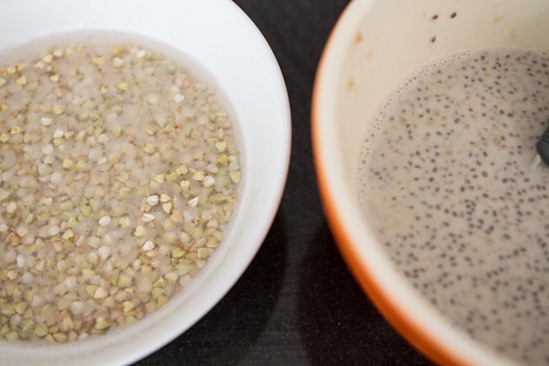 After rinsing the buckwheat in the morning, I stirred it into my chia mixture. The soaked buckwheat remains crunchy and gives the overnight mixture a completely different texture than regular overnight oats. Mind you, it's not crunchy in a break-your-tooth kinda way, but crunchy-soft if that makes any sense.
If you want, you can throw your toppings on and enjoy it in a bowl or you can layer it into a parfait like I did this morning. Whatever floats your boat!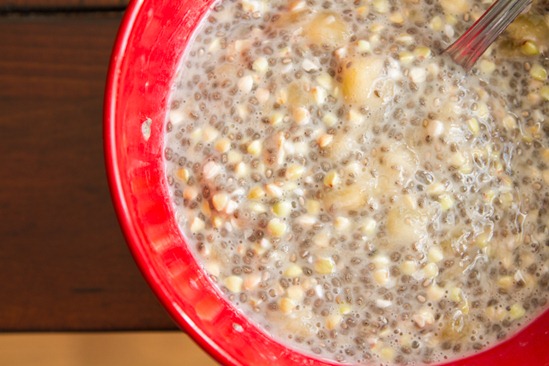 In today's parfait:
overnight buckwheat mixture
blueberries
strawberries
sliced banana
crumbled up Rustic Banana Oat Cake (made it yesterday and thought it would be nice in here…it was!)
cashew nut butter
Maple syrup drizzled on top
I tried hard to make my layers pretty for the camera. :)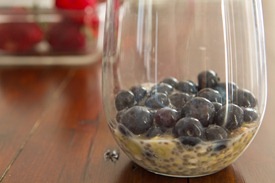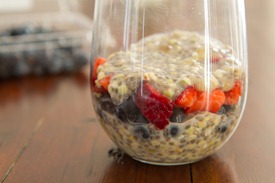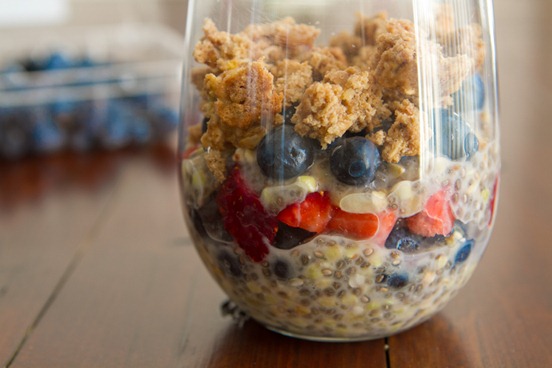 Other things you can add into your own parfait:
granola
crumbled up muffins/loaves
crumbled up granola bars
nuts/seeds
nut or seed butter
apple/pumpkin butter
dried fruit
shredded coconut
other fresh fruits
smoothies
banana soft serve
carob powder
mini dark chocolate chips
homemade chocolate sauce
protein powder
etc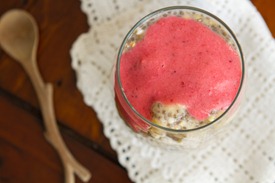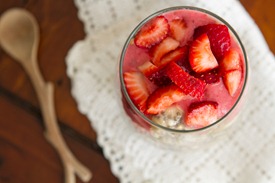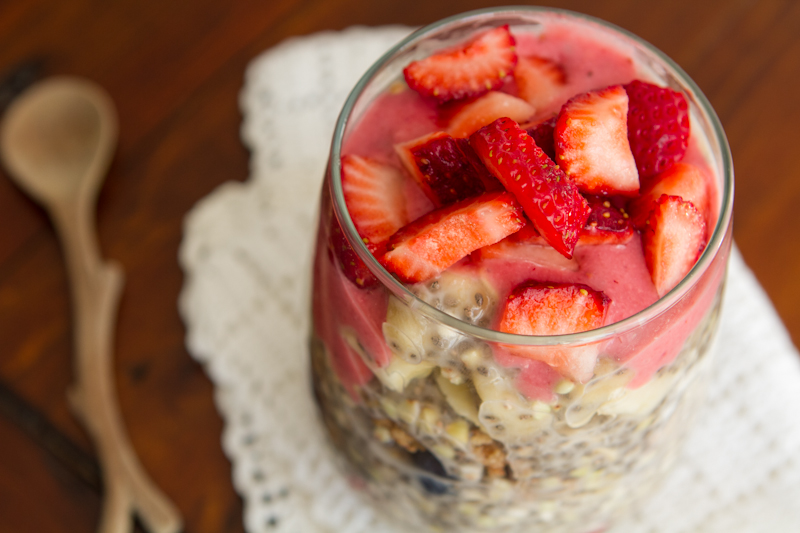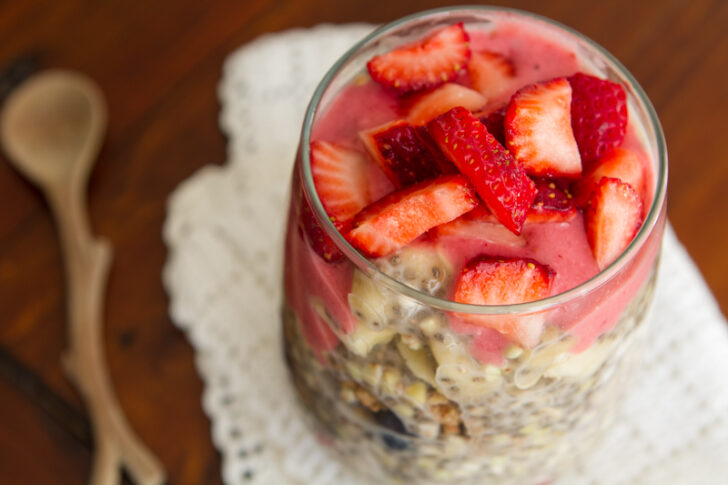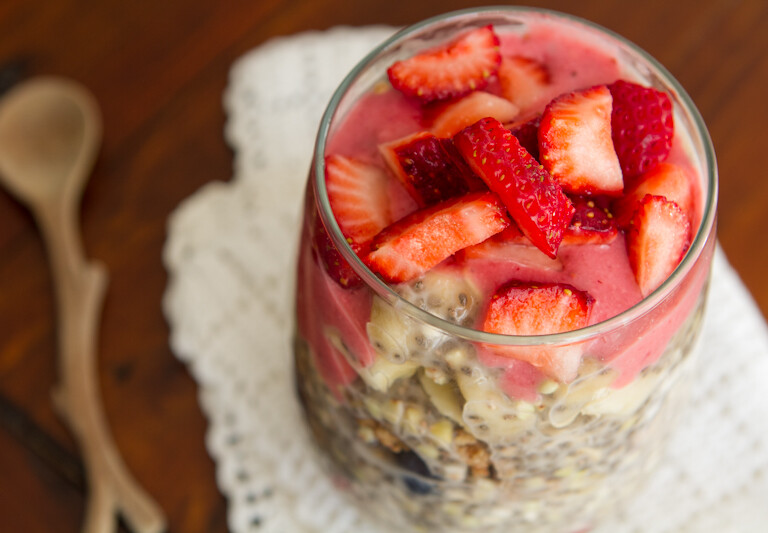 Easy Overnight Buckwheat Parfait
Vegan, gluten-free, no bake/raw, oil-free, soy-free

Yield

1 serving
Prep time

Cook time

0 minutes
Total time

Similar to vegan overnight oats, but with a fun, crunchy texture. Roll out of bed and enjoy this no-cook parfait all summer long with barely any effort at all. Buckwheat and chia seeds are both high in protein and fibre and chia seeds contain all kinds of healthy omega fats. Add in some fruit and you have yourself a well-balanced breakfast.
Ingredients
1/4 cup raw buckwheat groats (I buy them at Upaya Naturals and Whole Foods bulk bin), soaked in water overnight
3/4 cup almond milk (I used 1 cup, but it was a bit too liquid-y)
2 tbsp chia seeds (no subs)
1 ripe large banana (mash half, chop other half)
1/4 tsp cinnamon and vanilla extract, optional
rolled oats (optional)
Directions
Add the buckwheat groats into a bowl and cover with water. Stir. Place in the fridge overnight, or for at least a few hours, uncovered is fine.
In a separate bowl, whisk together the chia seeds, almond milk, banana, and optional cinnamon and vanilla. Whisk well until no chia clumps remain. Place in fridge overnight, uncovered is fine.
In the morning, rinse the buckwheat with cold water in a strainer until no slimy bits remain. Add rinsed and strained buckwheat into the chia mixture and stir well. Top with your desired toppings or make a parfait. Just before serving, drizzle a small amount of pure maple syrup on top to bring it all together.
Nutrition Information
(click to expand)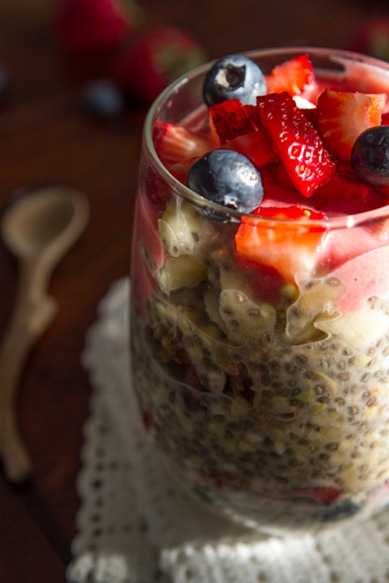 Feel free to make this into a breakfast, snack, or even jazz it up for dessert.
Then grab a spoon and dig in!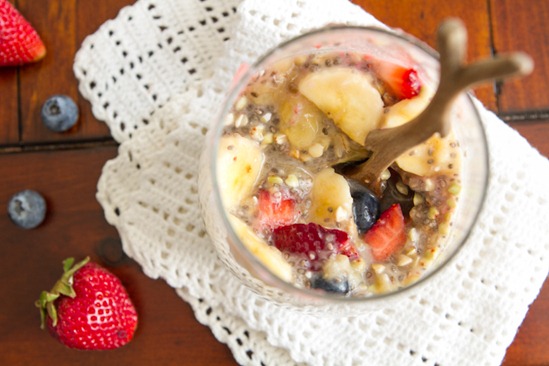 Ok, so maybe I couldn't wait after all…
For other no-cook summer breakfast recipes, check out my Raw Buckwheat breakfast Porridge (a big batch made in the processor), easy vegan overnight oats, and VOO Parfaits.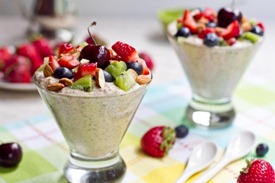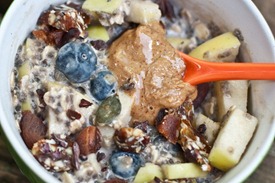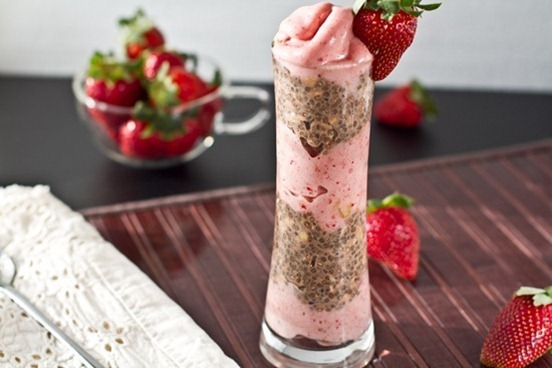 Happy breakfast!