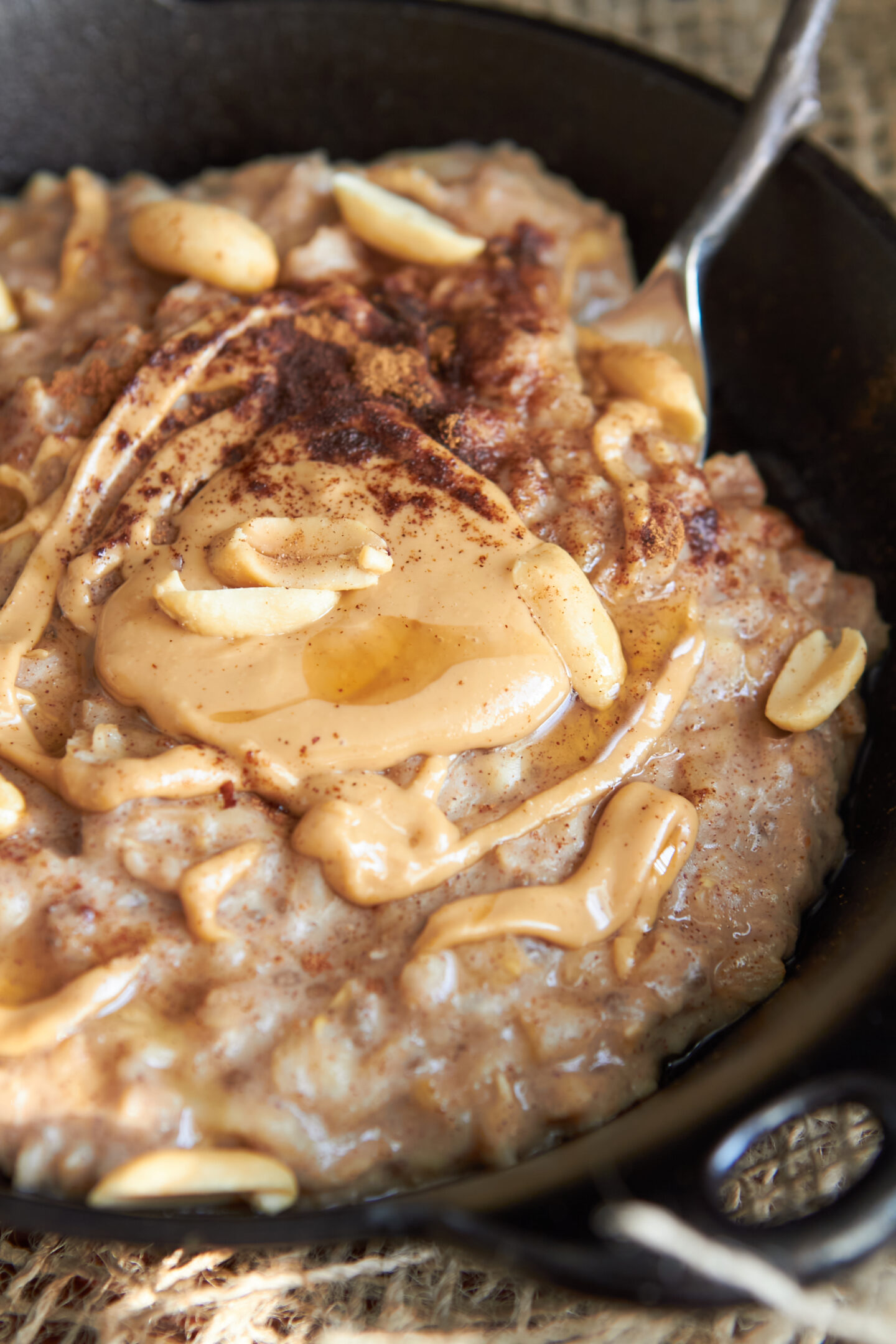 Every morning around 6am my alarm clock goes off. It starts quietly and gets progressively louder and more annoying if I try to fall back to sleep. I'm usually in the middle of some random dream and I think about it for a few minutes as I try to will myself back to sleep.
If my alarm clock fails to rise me, it has no choice but to resort to other methods: walking up the length of my body, kneading my stomach and chest with sharp nails (ow!), purring – inflected as if it's a question, and shooting laser beams through my eyelids to will them open. No matter what, do not open your eyes. I repeat: Do not make eye contact with the alarm clock!!!
If you do, it's over.
Meet my alarm clock – highly reliable with a 0.000001% fail rate.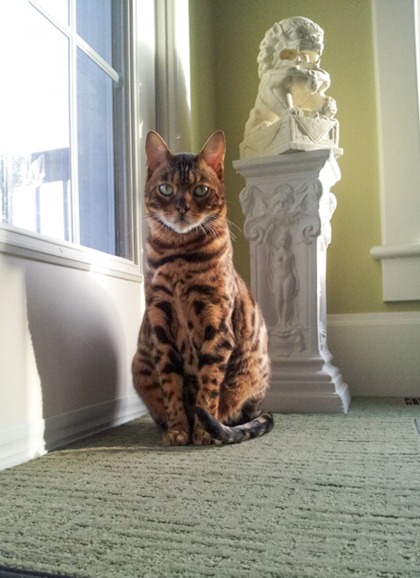 [This is Sketchie's "I'm HUNGRY and haven't had breakfast yet AND I happen to hate you right now" face. I snapped this while we were away over the long weekend. Sketchie was particularly unhappy that we slept til about 7:30 that morning!! gasp]
After 5 or 10 minutes of playing dead, I give in and stumble downstairs ever so slowly as Sketchie rubs his head along the staircase railing. He has now morphed back into Happy Cat and he's prancing along to his feeding spot.
After I feed him, he ditches me and goes back to sleep (how nice), leaving me alone until Eric gets up.
I notice the morning feels a bit chillier than usual and make my first batch of hot oatmeal in a long time. The weather is dreary and creamy peanut butter oats sound like the perfect solution!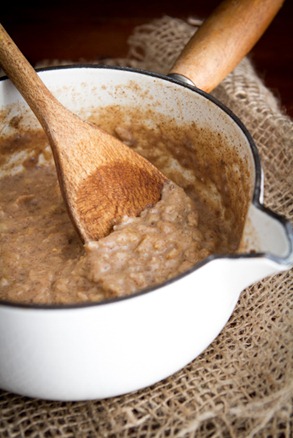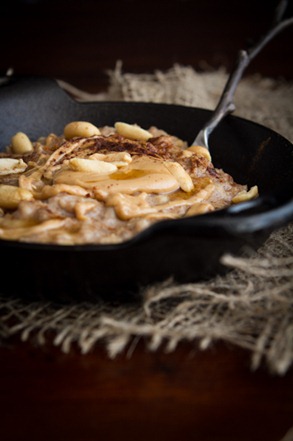 To add a fun twist to this bowl, I partially caramelized a ripe banana in the pot before cooking the oats with a tiny bit of non-dairy butter. This was just to intensify the flavours a bit more. Then I swirled in half the peanut butter and cooked the oatmeal as normal for about 8-10 minutes.
The result is a creamy bowl of oats lightly sweetened with banana and highlighted with cinnamon, nutmeg, and a pinch of salt. It smells heavenly! On top, I added more peanut butter, a good dose of cinnamon, nuts, and a drizzle of pure maple syrup. It was just about perfect.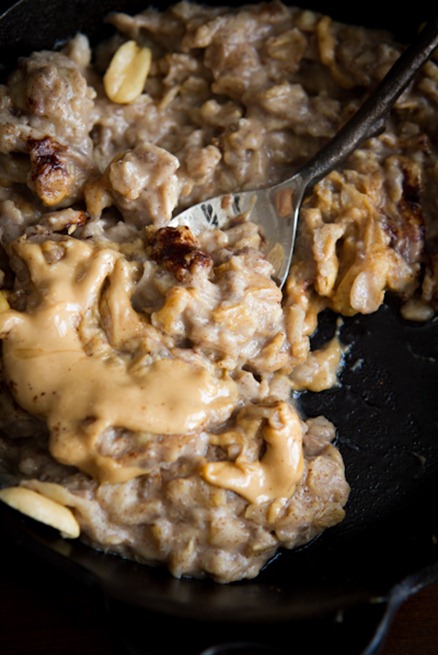 1 year ago: Roasted Tomato Basil Pesto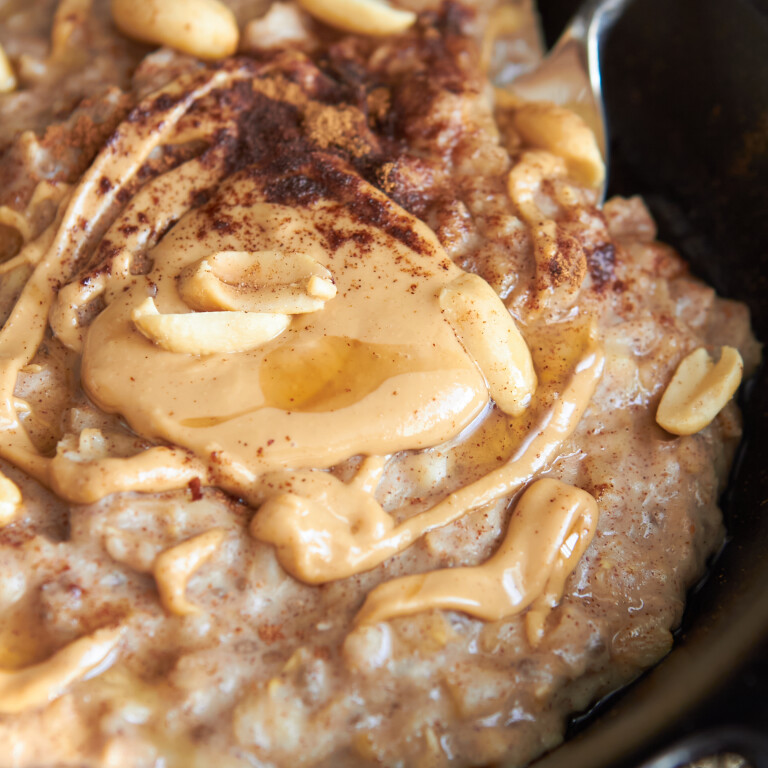 Early Morning Peanut Butter Banana Oatmeal

Yield

1 serving
Prep time

Cook time

Total time

Ingredients
1 large very ripe banana, peeled and roughly chopped
1 tsp non-dairy butter or coconut oil
1/2 tbsp natural peanut butter
1/2 cup rolled oats
1/2-1 tsp chia seed (or ground flax)
1 cup almond milk
1 tsp ground cinnamon
1/8-1/4 tsp ground nutmeg
pinch of salt
1 tsp pure vanilla extract
For toppings
heaping 1/2 tbsp peanut butter
nuts
cinnamon
pure maple syrup
Directions
In a medium-sized pot over medium heat, cook the banana and non-dairy butter or oil for about 5 minutes, stirring frequently.
Stir in 1/2 tbsp peanut butter, and add the oats, chia, milk, spices, and a pinch of salt. Whisk well until combined.
Bring to a low boil and then reduce heat to a simmer, stirring often for 8-10 minutes. Remove from heat and stir in vanilla.
Scoop into a bowl and top with peanut butter, nuts, cinnamon, and maple syrup.
Nutrition Information
(click to expand)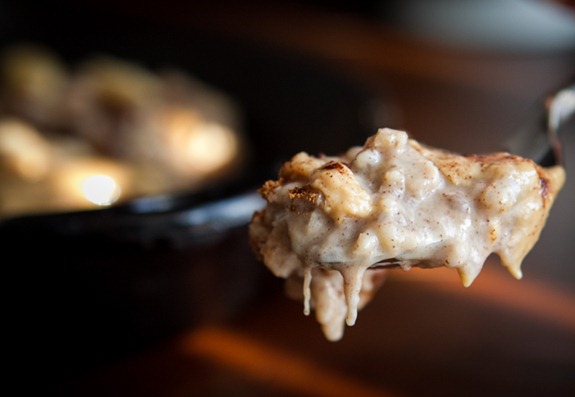 I can't talk about Sketchie waking me up in the morning without sharing this classic Simon's Cat video!