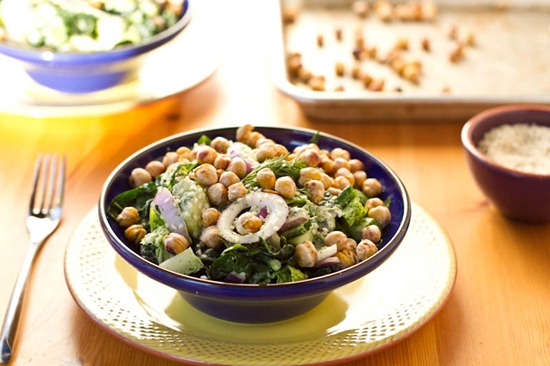 The healthy dinner recipes continue…
I'm happy to report that as of December 30th, I finished off my cabbage that haunted me for almost 2 months in my fridge.
2 months.
I think I've discovered the fountain of youth because cabbage just won't die!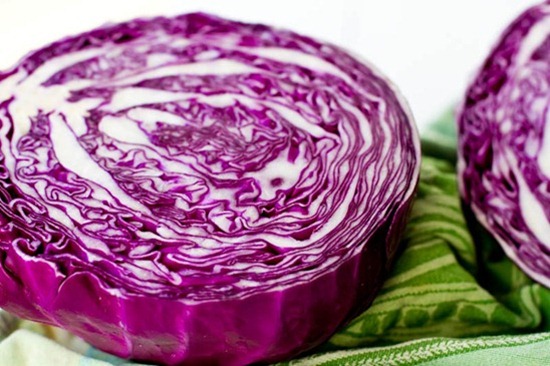 Plus, I really didn't want to bring this "cabbage baggage" with me into 2012.
har-har.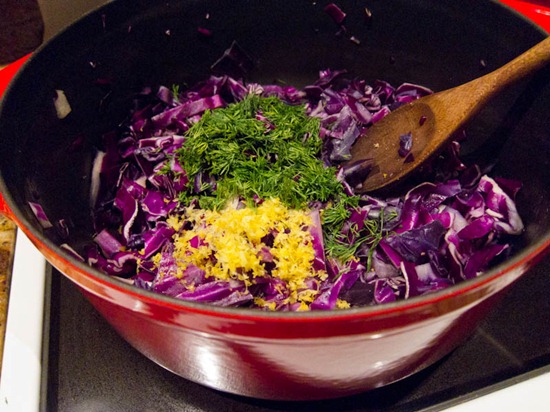 I ended up throwing some things into a pot and it turned out incredible. Lots of dill (thanks for the tip, Ewa), lemon and zest, cabbage, drizzle of extra virgin olive oil, marinara sauce, herbamare, lots of cooked wild rice, etc. It tasted much better than it looked.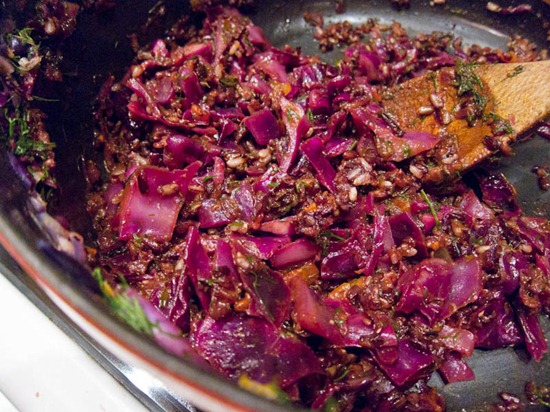 I actually ate so much, I got a stomach ache from all the cabbage…never fun!
Now, I was faced with a new problem…I had a huge amount of dill to use up. Those bunches of dill from the grocery store are h-u-g-e.
As a result of my dill surplus I made this healthy dill dressing, packing in a whopping 1.5 cups of fresh dill.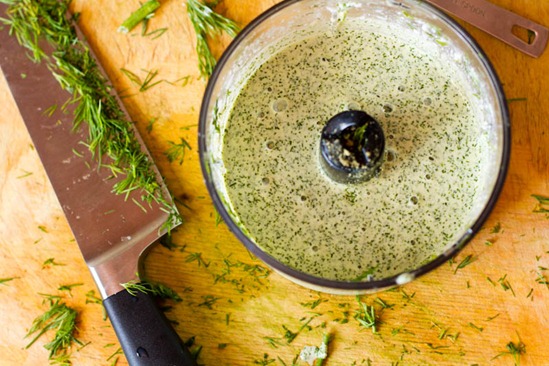 Dill be gone.
I tossed together Dinosaur kale, red onion, cucumbers, my salt & Vinegar roasted chickpeas, and sesame seeds with the dill tahini sauce for a healthy, well-rounded meal.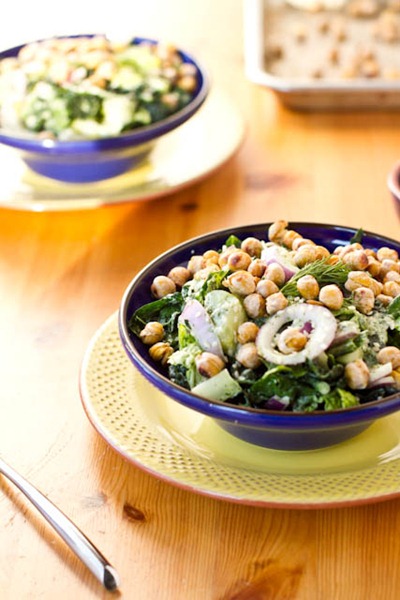 And unlike the cabbage, when I ate my weight in this stuff, I didn't get a stomach ache.
Kale for the win!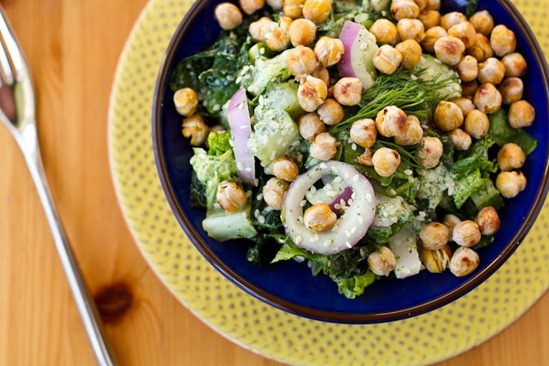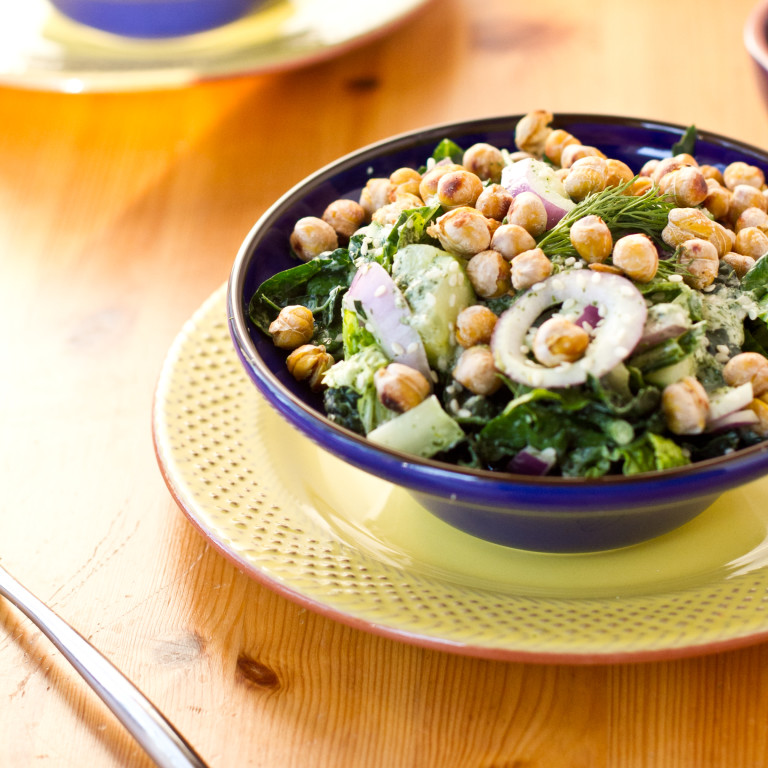 Dinosaur Dill Crunch Salad
Vegan, gluten-free, nut-free, soy-free

Yield

4 servings
Prep time

Cook time

Total time

Dinosaur kale (also known as Lacinato or Tuscan kale) is the dainty and sweeter sister of traditional curly kale. It blends beautifully in this salad while letting the flavours of the dill shine. As a result of it's soft texture and pleasant taste, you don't have to marinate the dressing on the leaves for long. The healthy lemon dill tahini dressing is very low in oil and packs in 1 & 1/2 cups of fresh dill to sneak in more greens. I topped the salad with my favourite crunchy salt and vinegar chickpeas. Their tangy and salty flavour compliments the dill dressing nicely while adding a bit of a crunch!
Ingredients
For the S & V chickpeas
1 (15-oz) can chickpeas, drained and rinsed
2 cups white vinegar
few pinches of kosher salt
extra virgin olive oil, to lightly coat
For the dill tahini dressing
2 garlic cloves
1/4 cup + 2 tbsp fresh lemon juice
1/4 cup tahini
2 tbsp water
1 tbsp extra virgin olive oil
1.5 tbsp nutritional yeast

*

1.5 cups packed fresh dill, stems removed and roughly chopped
1/2-3/4 tsp kosher salt
For the salad
1-2 small bunches Dinosaur kale (also called Lacinato or Tuscan kale) OR 1 large bunch curly kale
other greens if desired (I used a couple large, de-stemmed collard leaves)
1 English cucumber, chopped small
1/2 red onion, chopped
1 batch of Lemon Dill Tahini dressing (below)
few tablespoons of sesame seeds, toasted if preferred
1/2 batch of Salt & Vinegar chickpeas
Directions
Salt and vinegar chickpeas: Preheat oven to 425F and line baking sheet. In a pot, bring 2 cups white vinegar to a boil and add pinch of salt. Add in drained and rinsed chickpeas and bring to a boil for 1 minute (no longer). Some skins may fall off and that's normal. Turn off heat and let the chickpeas sit in the vinegar for 30 minutes. Drain the chickpeas, place into pot, and light coat with a tiny bit of oil and a few pinches of kosher salt. Place on pan and roast for 35-40 minutes at 425F, until golden and crispy. Halfway through baking, give the pan a shake to rotate the peas. Keep an eye on them to avoid burning, especially near the end. Leave on pan until ready to eat. They are best served fresh as they get soft when stored.
Dill dressing: In a mini chopper or food processor, mince the garlic. Now add in the rest of the ingredients, except for the dill, and process until smooth. Give the dill a rough chop and add into processor and process until smooth. Should keep in an air-tight container for 5-8 days in the fridge.
Salad: Prep all salad ingredients and add into a large bowl. Massage your desired amount of the dressing into the leaves and let it "marinate" until ready to serve. Add roasted chickpeas on top along with a drizzle of more dressing and sesame seeds.
Tip:
Note: If omitting the nutritional yeast, reduce the tahini by 1/2-1 tbsp as the yeast takes a bit of edge of the strong tahini flavour.
Dressing makes just over 1 cup
Nutrition Information
(click to expand)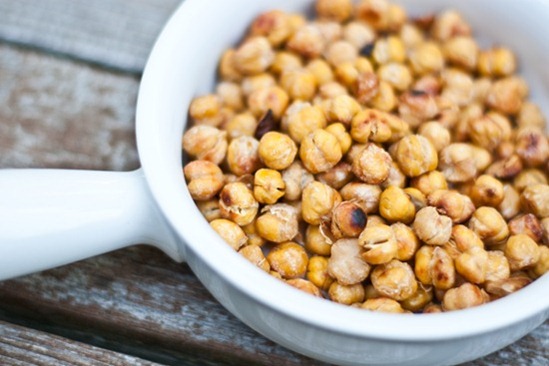 The first thing I did was make my roasted salt and vinegar chickpeas. Have you made these yet? The chickpeas taste just like salt and vinegar chips, minus the deep frying and unhealthy ingredients. I strongly recommend them if you are a salt & vinegar fan! They require 30 mins of vinegar soaking time and about 40 mins baking time, but the actual prep work is less than 5 minutes. They turn out so nice and crispy too.
While they roasted, I made the salad dressing.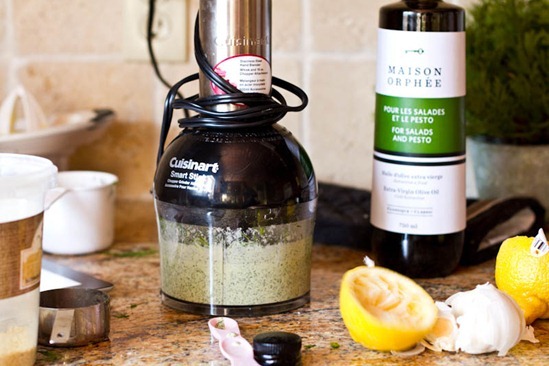 I must say, I have no idea how I cooked so long without a stick immersion blender and mini chopper! I know you have been telling me this for years, but I really didn't know how much I would use one.
I got this Cuisinart Smart Stick for Christmas and it's working good so far. It does everything from finely chop garlic, puree dressings, blend soups, and more. It's also very easy to use…I haven't even glanced at the instructions yet. Hopefully it stands the test of time (and abuse) in my kitchen!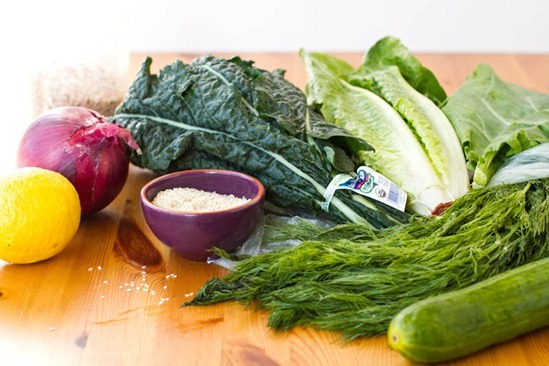 Once the dressing is prepared, chop your kale, red onion, and cucumbers. You can also use regular curly kale if you wish, but it will need to marinate longer to soften.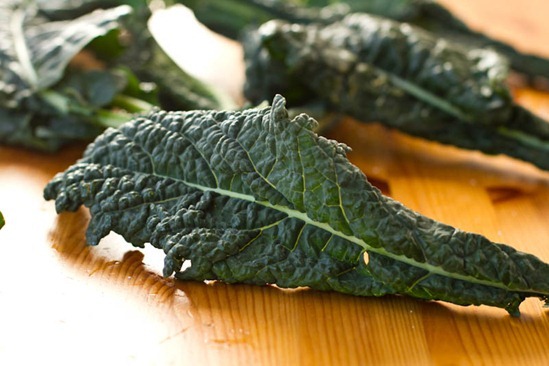 Pour some dressing onto the greens and massage it in. You can let it "marinate" for 10-15 (or longer) minutes before serving, but it's not necessary when using dinosaur kale.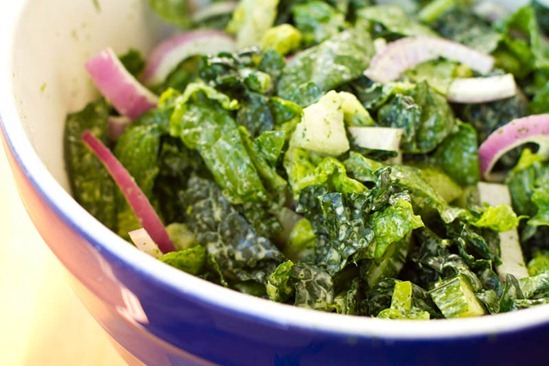 When the chickpeas are ready, sprinkle 1/2-1 cup on top along with more dressing and sesame seeds. Serve and enjoy!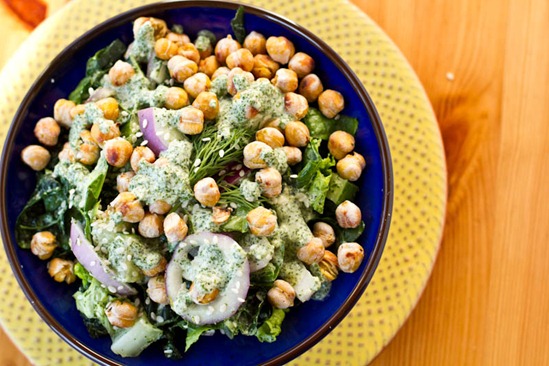 A delicious, well-rounded, vegan & gluten-free dinner, lovely for the first week of January.
I ended with a vegan chocolate cupcake, leftover from Monday's dinner party. When you eat a meal this good, there's always room for dessert!
P.S.- I now have a page just for my Top recipes in 2011, so it's easier for you to find them. I will be adding desserts and possibly snacks this week as well.