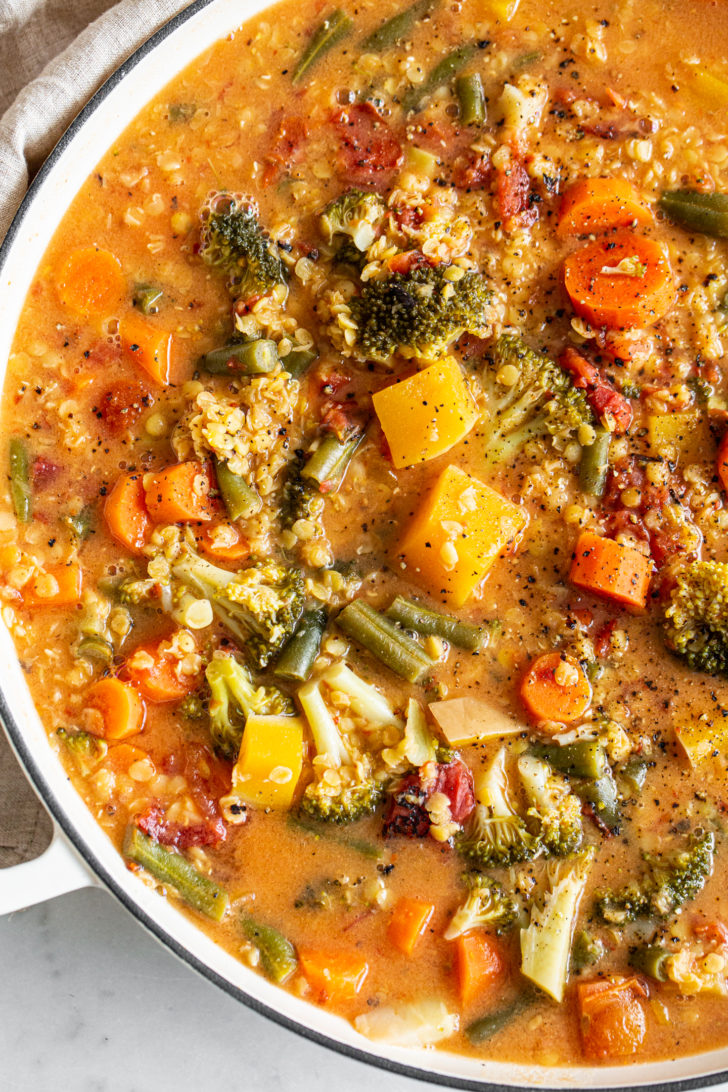 Hi everyone! It has been so hard to find the right words for this post as my heart is breaking for the world right now. I hope you are all staying safe and doing well. How are you doing? I'm wishing you all love and strength to get through whatever challenges may be coming your way during this pandemic. We're about to start our 7th week of "sheltering at home" and are all doing well & taking things one day at a time.
A gift from my heart
We've been trying to do our part by helping the community in various ways, but I also want to do a little something personal for some of my blog readers who are working on the frontlines and in essential services during this pandemic. This idea is a small way for me to connect with you and say thank you for all that you're doing! So that said, I'd like to mail a signed and personalized copy of my brand new cookbook (my very first hardcover….eek!), along with an Oh She Glows Recipe App download, to 15 frontline and essential workers located in Canada or the US. These gifts will be sent out as soon as my book launches early this fall. Side note: I almost nixed this idea because I worried there would be hard feelings if I couldn't send one to everyone who reaches out (I will likely have a lot more than 15 emails), but I hope you'll understand that even though I can't send you all one, I'd still like to do this to bring a smile to some of your faces during this difficult time. (And I'll be doing more cookbook giveaways for the entire OSG community in the late summer and fall, too, so there will be other opportunities coming up.) You can nominate yourself or someone you know. Please send a brief email along with your city, and province or state (or your nominee's story and location) to [email protected] by May 1, 2020. We'll select 15 frontline and essential heroes and I will cover all costs of shipping, the book, etc. Due to the volume of emails we anticipate receiving, we'll only be able to reply to those who are selected, but I want to say a huge thank you in advance for sharing your story with me and to all of you out there who are making sacrifices for your communities every day.
A little about this soup
Today, I'm sharing a versatile, nutrient-packed, and pantry-friendly soup that I've been making for the past several weeks. I can't tell you how much of a go-to recipe this has been while trying to juggle work deadlines and refereeing (oops, I mean parenting) and homeschooling. You can use virtually any veggies you have on hand as long as it totals about 8 cups (be sure to see the Tips in the recipe below for ideas). I've created both Instant Pot and stovetop versions for you as well. I love that I can throw everything into my Instant Pot, turn it on, and walk away! And the stovetop version is almost as simple…the only difference is that you'll need to stir it a few times during cooking. I'm whipping this up twice weekly until the warm weather sets in. I hope it brings you some comfort during these trying days. I'd love to hear which veggie combos you use…my favourite combo so far is: broccoli, carrots, butternut squash, frozen green beans, and sliced cremini mushrooms. A nutrient powerhouse! I'm not joking when I say that I'm eating this daily for lunch…it helps balance out all the baked goods that I've been stuffing in my face…lol.
PS – I'll be sure to share a lot more details about the new book (as well as the big cover reveal!) soon. If you haven't already, be sure to sign up for our newsletter, as we'll be relaunching it this spring and revealing the cover and details there first.
Sending you all love, good health wishes, and big virtual hugs,
Angela xoxo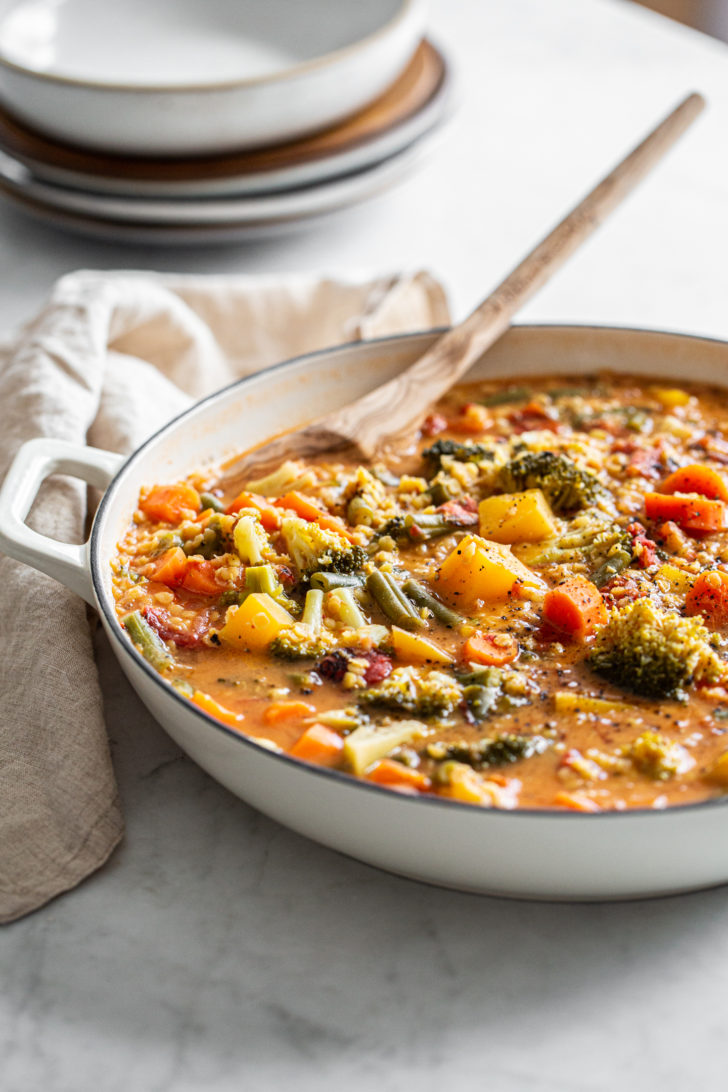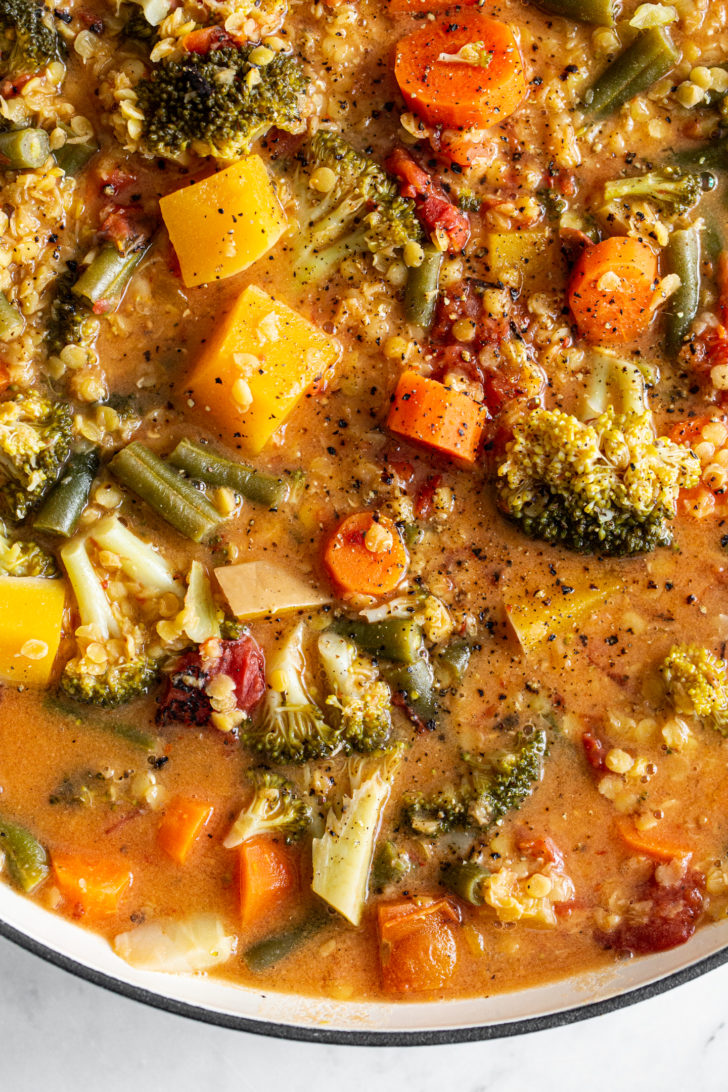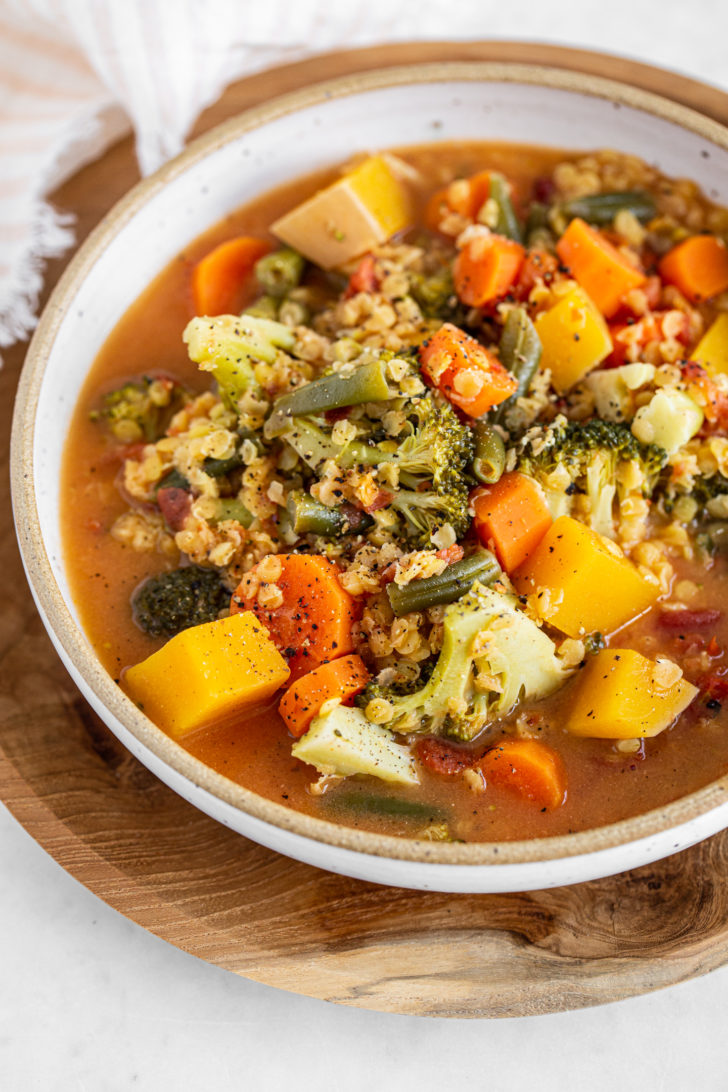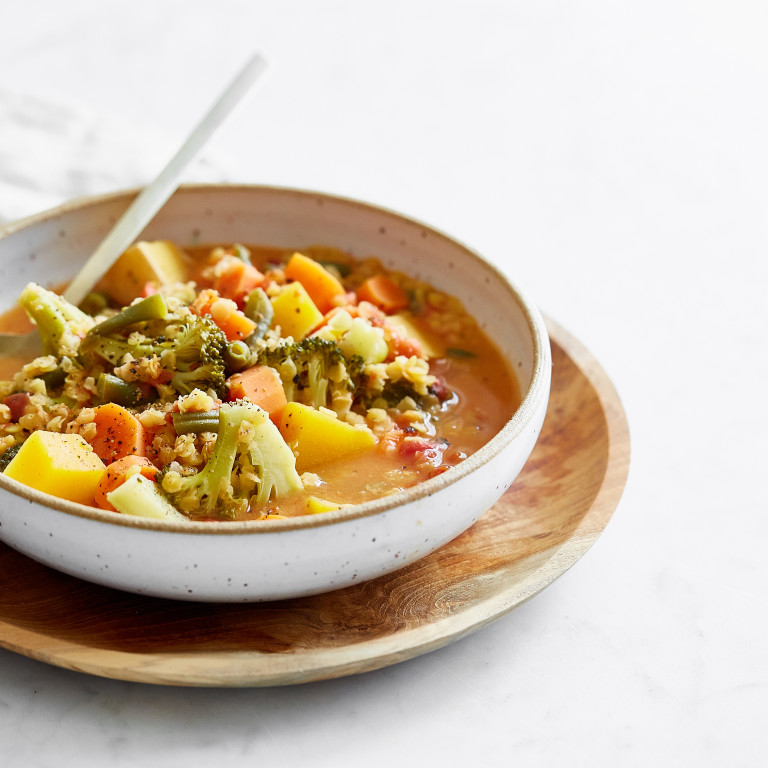 Cozy At Home Spicy Any-Veggie Soup
Vegan, gluten-free, grain-free, nut-free, refined sugar-free, soy-free

Yield

8 cups (2 L)
Prep time

Cook time

Total time

This spicy, bursting-with-flavour soup can be made with whatever veggies you have lurking in the crisper and pantry. My favourite combination of veggies is broccoli (rich in immune-boosting vitamin C), butternut squash, carrots, and frozen green beans, and I've detailed the amounts I use in my recipe below. You can use any veggies you love as long as it totals 8 cups of chopped veggies (see my Tip below for ideas!). I've also provided two different cooking methods: a hands-free Instant Pot method and a traditional (but still very easy) stovetop method. The beauty of this soup is that it's so simple to make—we simply add the ingredients to the pot and let it cook away! The soup's spicy flavour comes from using a generous amount of red pepper flakes. I like 2 teaspoons for a moderate, zippy heat level, but if you aren't a fan of a lot of heat, start with 1 teaspoon and go from there. If you want to use my Instant Pot method, you can find the directions at the bottom of the Tips section. This recipe is adapted from my 8-Minute Pantry Dal.
Ingredients
1 tablespoon (15 mL) coconut oil or olive oil
2 1/2 cups (625 mL) water
1 (14-ounce/398 mL) can light coconut milk
1 (14-ounce/398 mL) can fire-roasted diced tomatoes

*

3 cups (190 g) broccoli florets (1 1/2-inch florets)

*

*

2 cups (270 g) peeled, seeded, and chopped butternut squash (1/2-inch cubes)
1 1/2 cups (195 g) chopped peeled carrots (1/2-inch thick coins)
1 1/2 cups (160 g) frozen cut green beans

*

*

*

2 teaspoons red pepper flakes, or to taste

*

*

*

*

1 teaspoon fine sea salt, or to taste
1 teaspoon garlic powder
1 cup (170 g) uncooked red lentils
2 tablespoons (30 mL) apple cider vinegar, or to taste
Herbamare, for garnish (optional)
Directions
Stovetop method: To a large pot, add the oil, water, coconut milk, diced tomatoes (with juices), broccoli, butternut squash, carrots, frozen green beans, red pepper flakes, salt (starting with 3/4 teaspoon), garlic powder, and red lentils. Stir to combine.
Set the heat to high, cover with a tight-fitting lid, and bring the mixture to a low boil. Once it comes to a boil, remove the lid and reduce the heat to medium. Stir again, scraping off any lentils stuck to the bottom of the pot.
Simmer, covered, over medium heat for 15 to 20 minutes, stirring occasionally, until the lentils are soft and the veggies are just fork tender. The veggies should have a touch of resistance when pierced with a fork. The cook time will vary based on the type of veggies you use.
After cooking, remove the lid and stir in the apple cider vinegar, starting with one tablespoon and adding from there, to taste (we love 2 tablespoons for a lot of brightness). Sometimes, there may be a slight separation in the soup after adding the vinegar, depending on the brand of coconut milk used. This is nothing to worry about. Season with more salt, if desired (I add another 1/4 teaspoon of fine sea salt, plus a bit of Herbamare). I also enjoy adding a bit more apple cider vinegar to my individual serving because I adore its tanginess in this soup. Serve and enjoy. Refrigerate leftovers in an airtight container for up to 4 to 5 days.
Tip:
* I love fire-roasted diced canned tomatoes in this soup, but feel free to use regular canned diced tomatoes if that's what you have.
** You can use practically any veggies you have on hand (most veggies should work, however, I probably wouldn't try beets or eggplant, but maybe that's just me). Veggies to try out: broccoli, cauliflower, bell peppers, carrots, sweet potatoes, yellow or red potatoes, button mushrooms, squash, sautéed onions/garlic/celery, thickly sliced zucchini (with skin), kale, frozen peas, etc. Just make sure the chopped veggies total 8 cups. If using onion, celery, or garlic, be sure to sauté them in the oil over medium heat for about 5 minutes, until softened, before adding the remaining ingredients. I have not tested any frozen veggies besides frozen green beans, so I can't vouch for other ones working.
*** If using French-cut frozen green beans (the thin variety), add them during the last 5 minutes of cooking to prevent them from softening too much.
**** 2 teaspoons of red chili flakes results in a zippy, moderate level of heat (my fave way to make this soup!). If serving to spice-shy folks, start with 1 teaspoon (for a mild soup) and add more after cooking, if desired.
INSTANT POT METHOD:
1.To a 6-Quart (or larger) Instant Pot, add all the ingredients, except the red lentils and apple cider vinegar. Stir until combined.
2. Now, pour the red lentils evenly overtop the mixture and gently press them into the liquid with your hands or a spoon (do not stir the lentils into the mixture as this can result in a burn notice in some machines).
3. Secure the lid in the lock position and check that the Steam Release Handle is pointing to the "Sealing" position.
4. Press the "Pressure Cook" button (or "Manual", on some machines) and set the cook time to 1 minute on high pressure. After a few seconds you'll hear a couple beeps and the screen will say "on". The cooking process has begun! (Pro tip: it will take about 25 minutes for the machine to come to pressure before the 1 minute timer is triggered.)
5. You'll hear a few beeps when the 1 minute timer is up. Immediately do a "Quick Pressure Release" to avoid overcooking the soup (simply shift the Steam Release Handle to the "Venting" position to release the pressure). Once all of the pressure has been released, the float valve will sink and you won't hear steam anymore.
6. Carefully open the lid. My Instant Pot defaults to the "keep warm" setting, so I cancel it and turn the machine off to avoid over-cooking the veggies. Stir in the apple cider vinegar (starting with 1 tablespoon and adding more from there, to taste...we love 2 tablespoons for a nice zing). Sometimes, there may be a very slight coconut milk separation in the soup after adding the vinegar. This is natural and nothing to worry about. Season each bowl with a sprinkle of salt or Herbamare, if desired, and enjoy!
Nutrition Information
(click to expand)