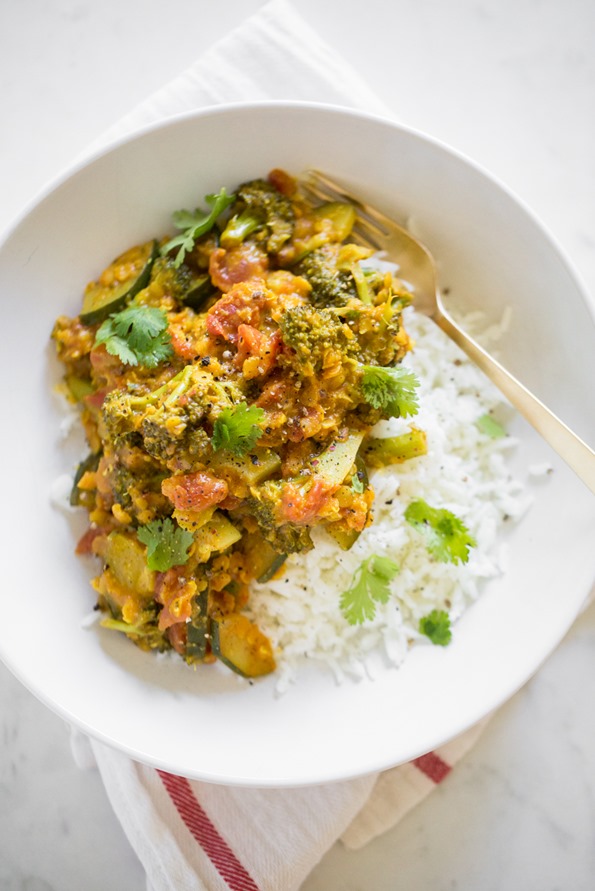 I know, I know, just what you're craving in the middle of summer…a dish that brings the heat! Did I nail it on the head or what? Well, maybe you can entertain this as an idea for a rainy, cool-ish summer evening. We enjoyed it on a night like that just recently! We've had a lot of rain and clouds around these parts.
I've been trying to come up with the fastest of fast dinner recipes, since cooking with two kids underfoot is getting more and more challenging. If it takes me more than 10 minutes of prep during the witching hour, it's usually not happening. (I don't know, maybe I should try batch cooking and freezing meals on the weekends, but I haven't yet come up with a plan for that.) Admittedly, I've also been feeling a bit defeated in the cooking department because Adriana is going through an "I'm not hungry" phase (after going through a really good eating phase in the spring that, in retrospect, could've been a growth spurt!). Most of the things we offer her get a few nibbles taken out of them. Or she just exclaims, "POPSICLE, PLEASE!" *facepalm* So, my mood lately has been basically PLEASE DON'T MAKE ME COOK ANOTHER REJECTED MEAL. The silver lining is that Arlo will eat anything that isn't nailed down (for now!), as will Eric (lol), so my cooking confidence isn't totally shattered. I'm like, "SEE, NORMAL PEOPLE LOVE MY FOOD!" (I may be losing it.)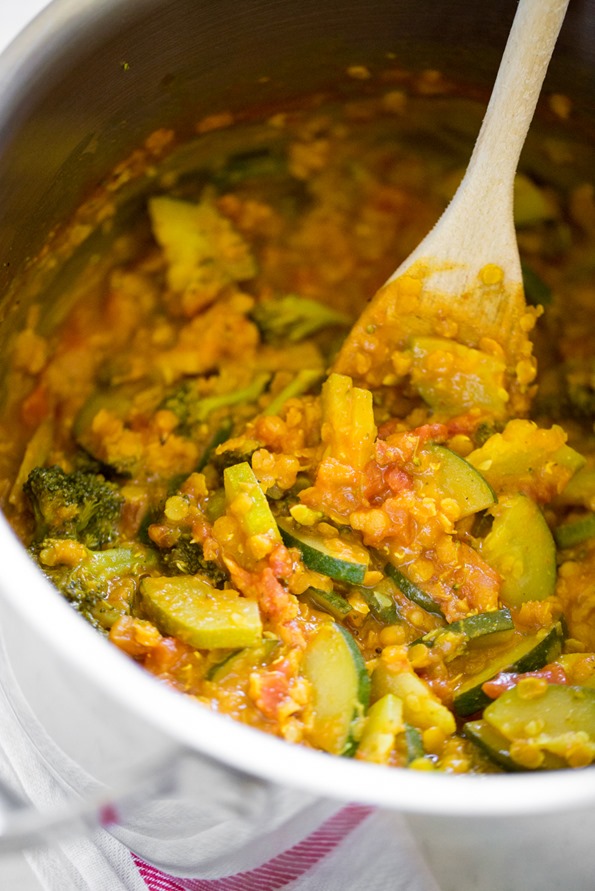 One day I just started throwing things into a pot and didn't actually expect this recipe to be a winner, but it turned out to be really tasty, especially after a couple more trials. I love that it's extremely fast to prep. My goal was 10 minutes prep, and I usually clock in at around 7 or 8 minutes (when I have my cooking game face on!). I also wanted the dish to rely on pantry ingredients, such as dried spices rather than fresh aromatics. Don't get me wrong, fresh garlic, onion, ginger, chillis, etc. are typically my first choice, but they aren't always practical for those rushed nights. Another benefit of this recipe is that you can use whatever veggies you have on hand, so it can work for all the seasons. I, Eric, and Arlo are really enjoying it…and I've even convinced Adriana to eat a bit (it was a sweet potato version, and I ended up mashing her sweet potatoes into the dal and stirring in the rice).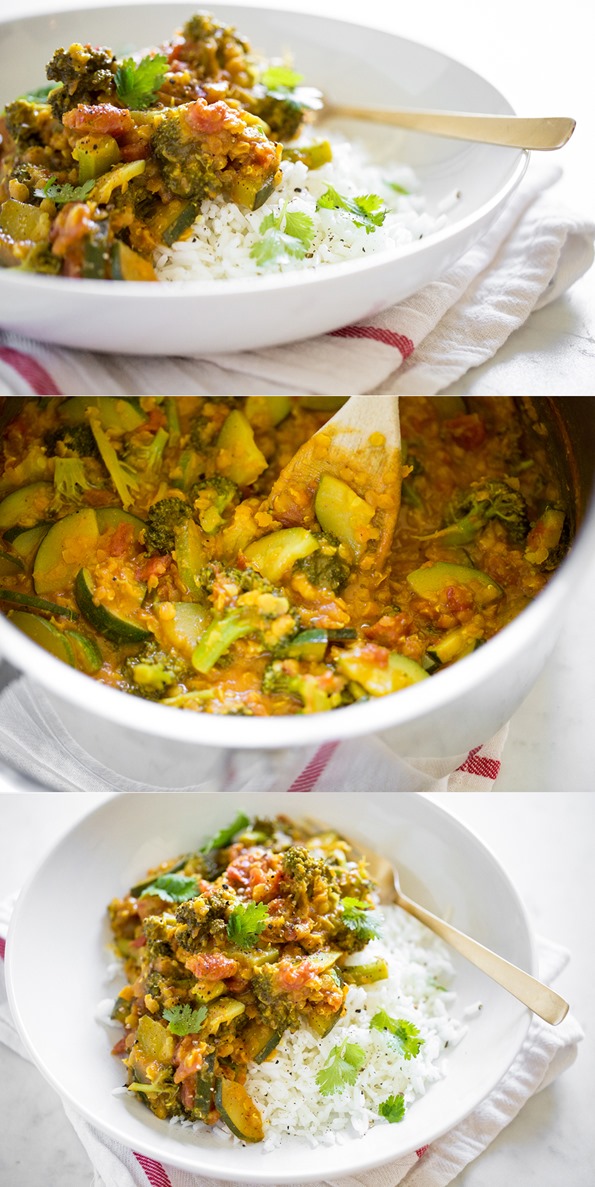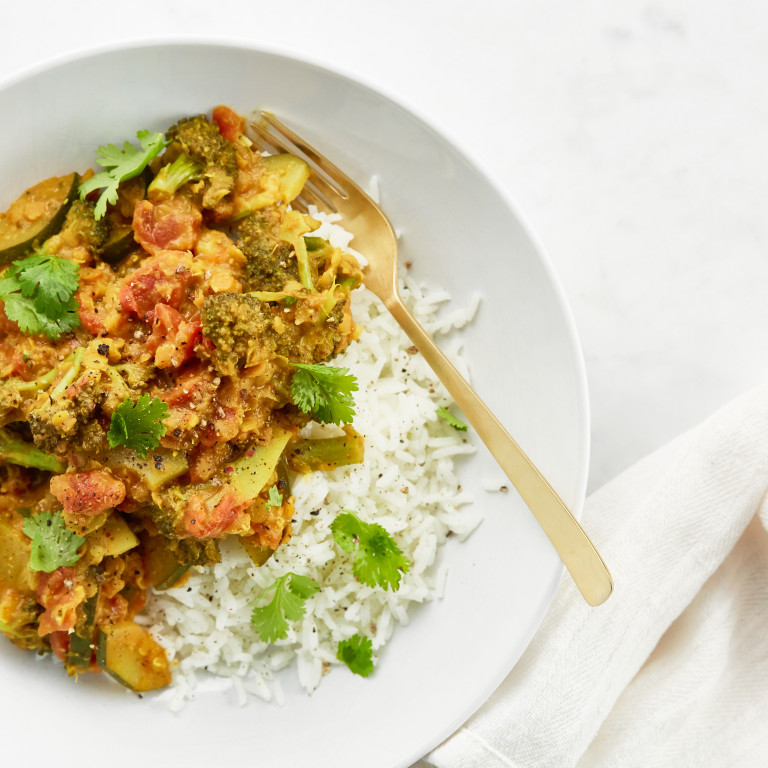 8-Minute Pantry Dal
Vegan, gluten-free, grain-free, nut-free, refined sugar-free, soy-free

Yield

4 (with accompaniments)
Prep time

Cook time

Total time

This satisfying pantry dal is lightning fast and will only set you back around 8 minutes of prep time. While not an authentic dal, I created this version out of a desperate need to come up with more speedy pantry dinner options. You can change it up so many ways by simply varying the veggies you use, and in my tips I've provided an alternative spice option, too—I still can't decide which one I like better! Before you begin, I recommend setting out all the spices on the counter so they're ready to go when you're cooking. Also, if you have some on hand, this dish is great with baby spinach stirred in during the last couple minutes of cooking. In the photographed dish, I used 2 cups each of chopped zucchini and broccoli florets, but of course, feel free to use any veggies you prefer.
Ingredients
For the dal:
1 heaping tablespoon (20 mL) virgin coconut oil or olive oil
4 cups peeled (if necessary) and diced veggies

*

1/2 cup (100 g) uncooked red lentils
1/2 cup (125 mL) water, plus more if needed
1 (14-ounce/398 mL) can diced tomatoes
1 (14-ounce/398 mL) can light coconut milk
1 1/2 teaspoons (7.5 mL) garlic powder
1 1/2 teaspoons (7.5 mL) minced onion

*

*

1 tablespoon (15 mL) good curry powder, or to taste

*

*

*

¾ to 1 teaspoon fine sea salt, to taste
Freshly ground black pepper, to taste
Serving suggestions:
Cooked basmati rice or grain of choice
Fresh chopped cilantro leaves
Fresh lime juice
Directions
In a large pot, melt the coconut oil over low-medium heat.

Peel (if necessary) and dice the veggies into 1/2-inch pieces. Add them into the pot and stir until combined. Increase heat to medium.

Add in the rest of the ingredients (lentils, water, diced tomatoes [with juices], coconut milk, all the spices, salt, and pepper). Stir until combined.

Increase heat to high and bring to a low boil. Reduce heat to medium and cook, uncovered, for 18 to 30 minutes, until the veggies and lentils are tender; the cook time will depend on the types of veggies you use, and their size. Stir the dal frequently while cooking, and reduce the heat if necessary to prevent it from sticking to the pot. (If you're using potatoes, I suggest covering the pot while cooking since they don't contain as much water to "cook off". You may need to add more water to thin the mixture.)

If desired, serve over rice, and garnish with cilantro and lime (it's still great without these additions, though!).
Tip:
* You can use any veggies you like here! Whatever is lurking in your kitchen, feel free to try it out. A few ideas for combos include the following: carrot and zucchini, potato and peas, sweet potato and red pepper, broccoli and zucchini, cauliflower and/or broccoli.
** Minced (or flaked) onion is less concentrated than onion powder. Onion powder will work as a substitute if that's what you have on hand, but I would suggest starting with a small amount and adding it to taste in ¼-teaspoon increments to avoid it overpowering the dish.
*** I use Simply Organic brand of curry powder. If you don't have a favourite curry powder blend on hand, you can substitute the following: 1 1/2 teaspoons ground turmeric, 1 1/2 teaspoons ground coriander, 1 teaspoon ground cumin, 1/2 teaspoon ground ginger (or more to taste), and 1/4 teaspoon cayenne pepper (optional). Don't forget to use the 1 1/2 teaspoons of both garlic powder and minced onion, as well.
Nutrition Information
(click to expand)