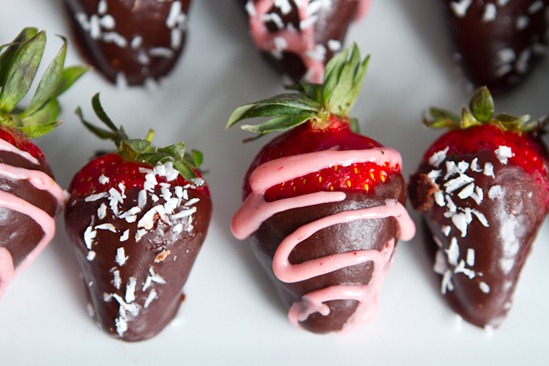 Just in the nick of time, I ended up thinking of a few things to make for my get together on Saturday. I worked hard all afternoon and of course made a complete disaster of the place. Is it ever possible not to make a disaster just before hosting a party? Don't think so. Not to mention the mirror backsplash in this kitchen seems to double the mess. I need a kitchen sign that reads: Objects in mirror are less messy than they appear…I swear!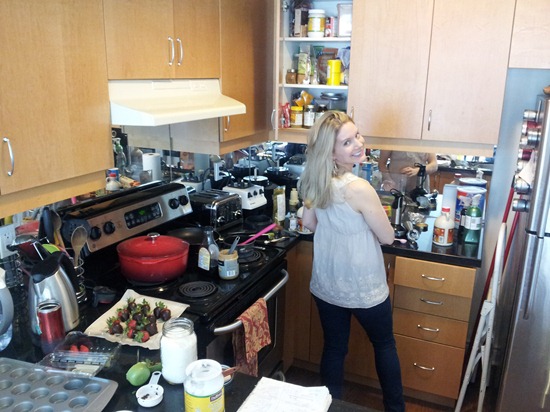 Sadly, the incredible one-bite pizzas weren't one of my ideas on Saturday, but they will be making a comeback for future get togethers, this I know.
I've been dying to make chocolate covered strawberries from scratch for a while now. I made traditional ones on our second wedding anniversary in 2010 using melted chocolate chips and a touch of coconut oil, but this time I made them without chocolate chips. You can check out this anniversary post for a wedding recap and a couple recipes – "love butter" strawberry muffins and the original chocolate covered strawberries!
Lately, I've been experimenting with homemade chocolate. I've made recipes using cocoa butter, coconut oil, cocoa powder, raw cacao powder, vanilla, natural sugars, and nut butter, using all kinds of variations and methods. I have this habit of testing out a million and one variations before I am happy with these types of recipes. I annoy myself so much, but the outcome is usually worth it!
When the chocolate ingredients are heated together, it creates a rich chocolate sauce that you can pour on just about anything. Or you can dip strawberries into it which is what I've done here. Instantly, you have yourself a classy party food, with barely any effort at all.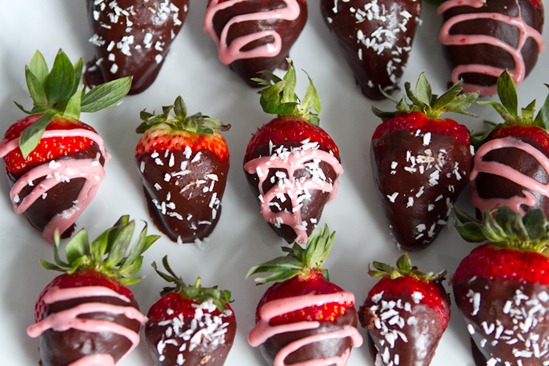 It gets better! When the chocolate sauce is chilled in the fridge it firms up, but not too firm. The chocolate doesn't get super hard and break off the strawberry like with regular chocolate covered strawberries; it remains bendy and easy to bite into! Always an unexpected bonus. My friends commented that these were the best chocolate covered strawberries they've had and loved that the chocolate wasn't really hard.  I like to call it "bendy chocolate". :) You could also use this on sliced bananas too.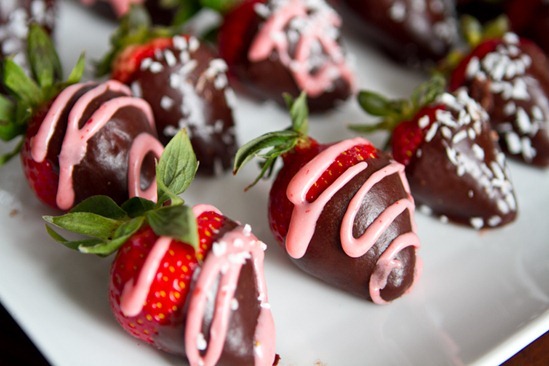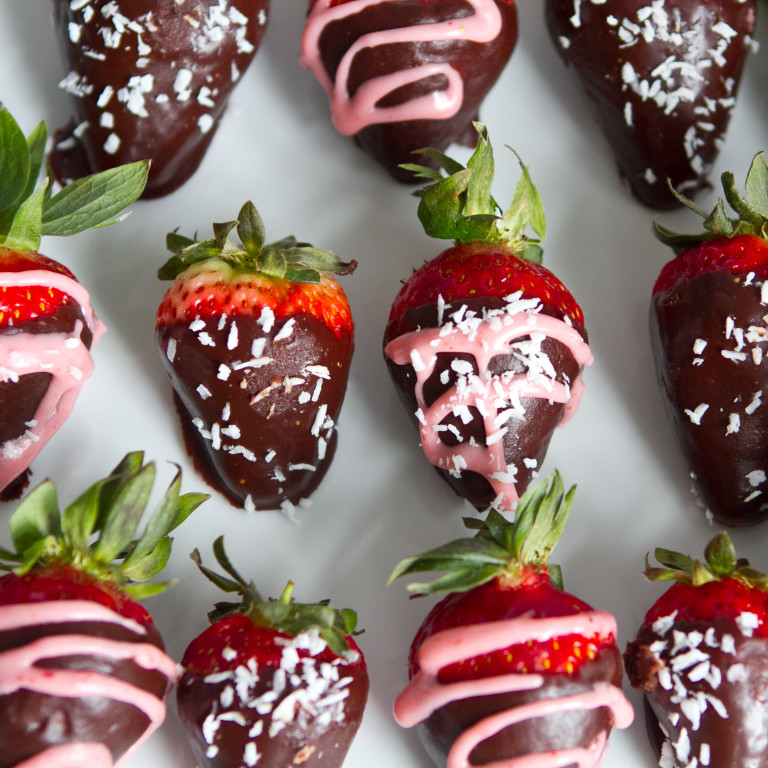 Chocolate Covered Strawberries From Scratch
Vegan, gluten-free, soy-free

Yield

24-28
Prep time

Cook time

0 minutes
Total time

Ingredients
1/4 cup cocoa powder or raw cacao powder, sifted
1/4 cup pure maple syrup (or agave)
1/4 cup coconut oil (no subs)
1 tbsp all-natural nut butter (I used cashew butter)

*

1/4 scant tsp fine grain sea salt, or to taste
Unsweetened shredded coconut, to garnish
Optional pink glaze: 1/2 cup icing (confectioner's) sugar, 1 large strawberry, 1/2-1 tbsp strawberry jam, processed in a mini blender (makes enough to glaze about 8-10)
Directions
Wash and pat the strawberries dry. Set aside.
In a small pot, whisk together the maple syrup, coconut oil, nut butter, and cocoa powder over low to medium heat. Whisk for a couple minutes until all the coconut oil is melted and remove from heat.
Dip strawberries into the chocolate mixture, coating most of the strawberry. Place onto a plate lined with parchment paper or on a wire rack. Repeat for the rest and sprinkle with coconut. Chill in the fridge to set.
If making the pink frosting: with a mini food processor, combine the icing sugar, strawberry, and jam until smooth. You may need to add a bit more icing sugar depending on the consistency of your jam. If you don't have a mini processor I suggest not using the whole strawberry and just mixing in a bit more jam into the icing sugar until the right consistency is achieved.
Spoon the frosting into a baggie and snip off the end. Pipe frosting onto the strawberries and place back in the fridge until firm.
Nutrition Information
(click to expand)
Here I am guarding my strawberries with my life!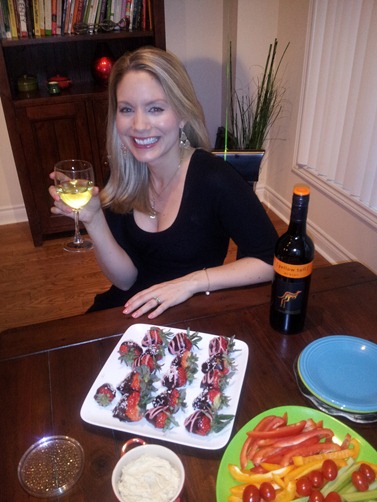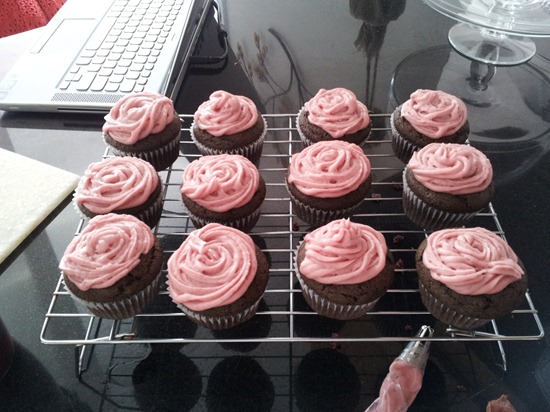 In other news, today is my 29th birthday! Well, tomorrow if you are reading this Tuesday night. As my family jokingly tells me – it's my first of very many 29th birthdays. hah. Time goes by faster every year I tell you..it's a bit scary. I feel so blessed to be alive and healthy, even if it's something I sometimes take for granted in the hustle and bustle of everyday life.
It's hard to believe that 29 years ago, I was just a wee baby with no idea of what my life would hold!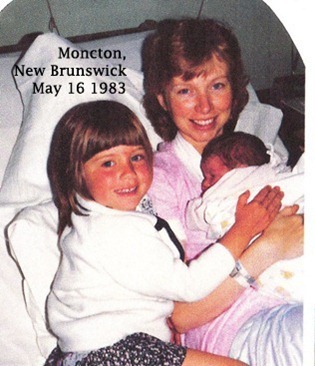 Word to my loving mama and big sis.
Well, my partner in crime is treating me to a fun-filled birthday, so I'll be back with the recap soon!