I'm often asked what my favourite vegan dessert is, the dessert that is a dazzler, crowd pleaser, and would fool even the toughest vegan dessert skeptic.
I don't know about you, but double chocolate pretty much always wins in my books, so my Chilled Double Chocolate Torte is at the top of the list. It's also Eric's favourite dessert.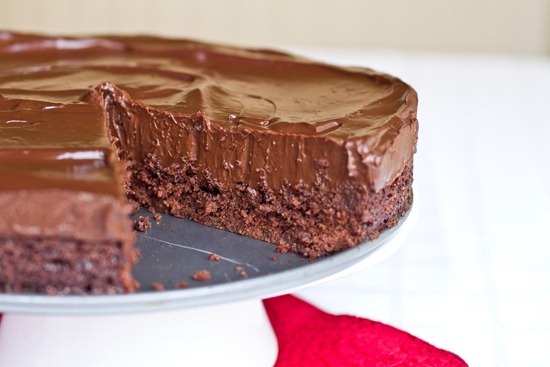 I made this torte back in December, after visiting The Coup and being unsatisfied with the texture and taste of their tofu-based chocolate torte. If you haven't figured it out by now, I'm not a big fan of tofu. Instead, I used avocado to create a creamy mousse on top of a wholesome chocolaty spelt crust. And don't worry, you can't taste the avocado at all. I've served this to many skeptics and no one can believe the ingredient list!
I've always secretly called this the PMS torte because Eric likes to mention it whenever I start feeling moody and hormonal. And he's still alive. Now if I could just get him to make it for me, then I'd be set!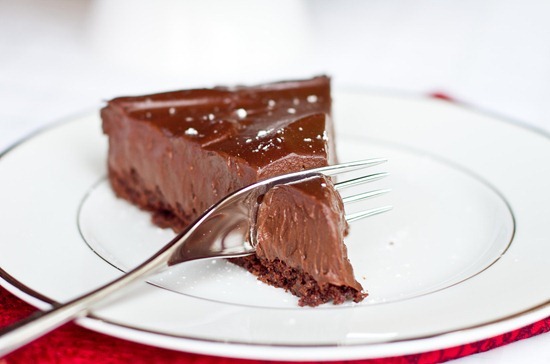 PMS aside, it's chilled in the freezer so it makes a great warm weather dessert. The avocado mousse remains firm in the freezer, but not frozen solid, making this a great treat to pop out of the freezer whenever the craving strikes…which is pretty much the entire time it's calling your name from the freezer.
Earlier this week when I saw Jenna make it, I realized there was just one thing missing: this recipe still requires that you turn on the oven! I pictured that California girl sweating over a piping hot stove and guilt set in. Turning the oven on during hot weather sometimes feels like turning on a space heater at your desk because your office cranks the A/C too much. It just doesn't make sense. But I'll save Eric's office plights for another time. :)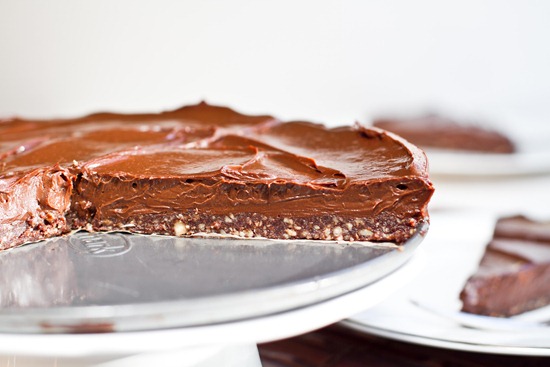 Given our warm weather this week, I decided to make a nutty no-bake crust to really bring this torte into full Summer mode. No oven required.
And let's be real, I really don't want an oven getting in the way of my chocolate fix. It's time to cut out the middle man.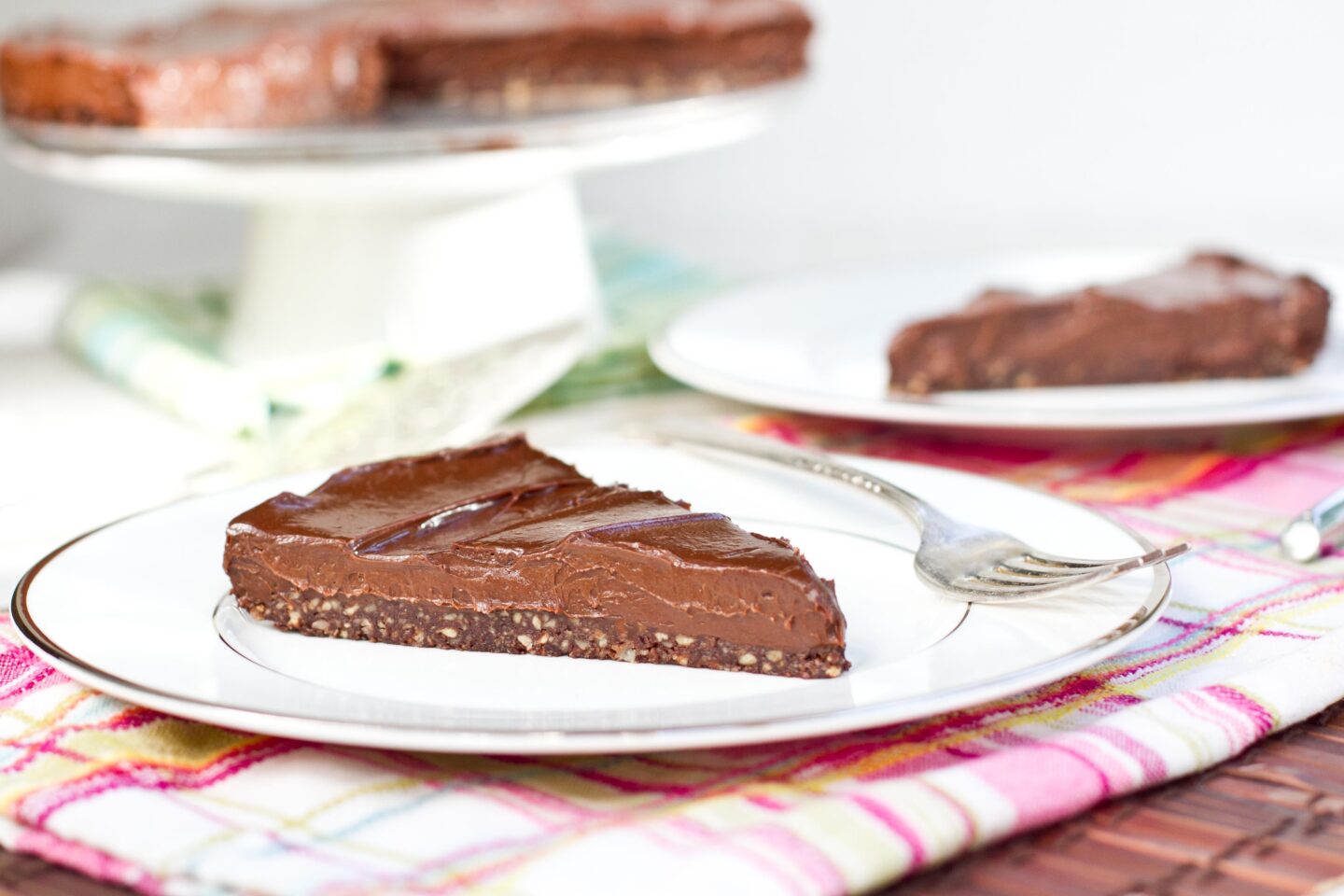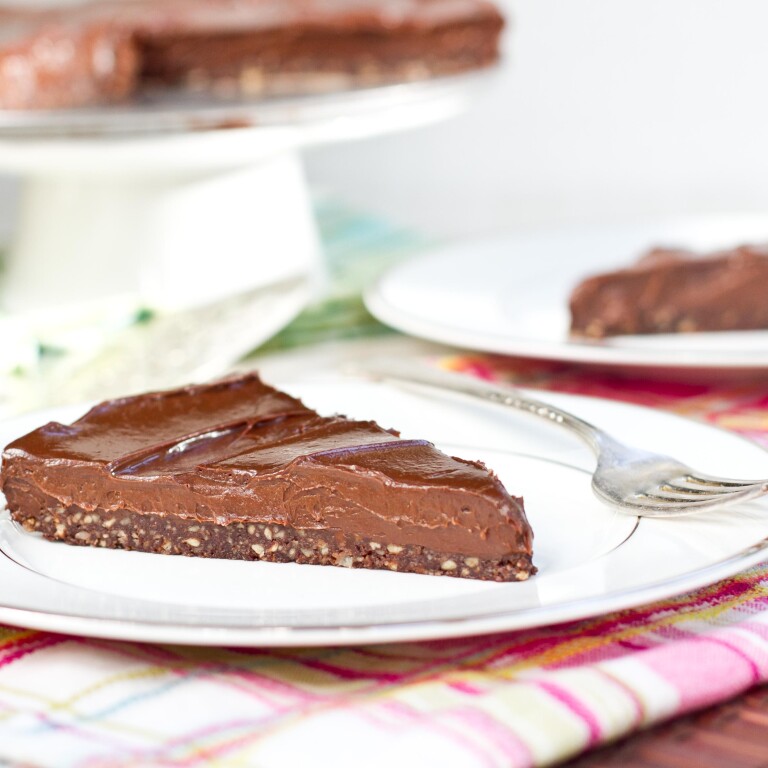 Chilled Double Chocolate Torte: The No-Bake Version
Vegan, gluten-free, grain-free, no bake/raw, soy-free

Yield

8 pieces
Prep time

Cook time

0 minutes
Chill time

2 hours
Total time

Ingredients
For the No Bake Chocolate Crust
2 cups pecans
1/4 cup cocoa powder
2 tbsp coconut oil (other light taste oil may work)
1/4 cup pure maple syrup
1 tsp pure vanilla extract
1/2 tsp kosher salt
For the Chocolate Avocado Mousse
2 cups avocado flesh (approx 3 small avocados), pitted and scooped out
1/3 cup almond milk (or other non-dairy milk)
2/3 cup pure maple syrup
1 tbsp smooth peanut butter (or other nut or sunflower seed butter)
1 tbsp arrowroot powder
1/4 tsp kosher salt
1 tsp pure vanilla extract
1 cup + 2 tbsp chocolate chips, melted
1/4 cup cocoa powder, sifted if clumpy
Directions
Crust: Oil a 7-10 inch springform pan and line it with a circle of parchment paper. In a food processor, pulse the pecans until crumbly. Be careful not to over process them as you still want them a bit chunky. Now add in the rest of the crust ingredients and pulse until just mixed. Scoop mixture onto prepared pan and press down firmly and evenly with slightly wet fingers or a spatula. Pop into freezer to set while making the mousse.
Chocolate mousse: Place all mousse ingredients (except chocolate chips) into food processor. Process until smooth. In a small bowl, melt your chocolate chips in the microwave and scoop melted chocolate into food processor mixture. Process until smooth.
Remove crust from freezer and scoop this mousse on top of crust. Smooth out as much as possible and then place in the freezer for 2 hours to firm.
Once firm, remove from freezer and allow to sit on the counter for about 5-10 minutes before serving chilled. Place leftover torte in the freezer wrapped and placed in a seal container.
Tip:
This torte should be served chilled as it gets soft at room temperature.
Nutrition Information
(click to expand)
Thanks to Healthy Hoggin's chocolate crust this worked out beautifully. No flops, no trial #2, 3, or 4. Just perfection.
The chocolate pecan crust adds an irresistible nutty and slightly salty flavour which is a perfect contrast to the rich chocolaty mousse. The crust is quite thin when made in a 10-inch pan, so next time I might make this in a 7 or 8 inch cake pan for more height.
It might also be fun to make this in a muffin tin (with muffin liners) for single servings treats! Or in a square pan and cut into bite-sized squares. It probably goes without saying, but when you make individual servings you get to eat one without your guests being the wiser. It's a bit more difficult to hide the fact that you already enjoyed a slice of the pie before they came over. Or two. Not that I'm speaking from experience or anything…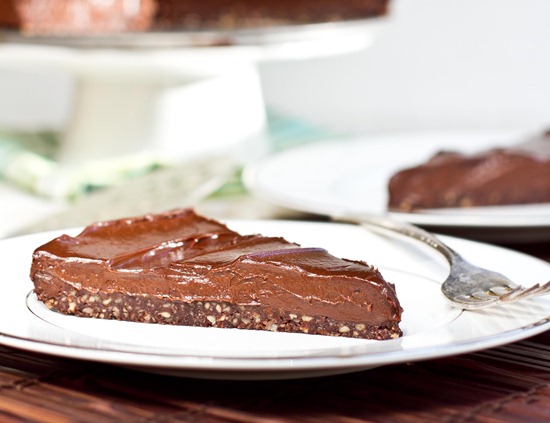 Have yourself a sweet Friday!