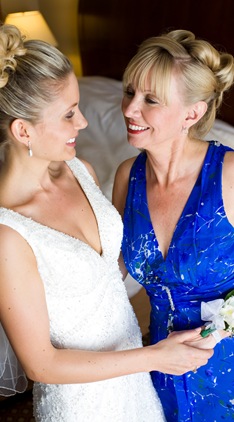 First up and most importantly:
HAPPY BIRTHDAY TO OSGMOM!!!!!!!!
She is beautiful, caring, thoughtful, loving, funny, charming, and very generous. Despite our conflicts when I was a teenager, my mom and I have now grown into best friends. She supports me in whatever I do and she is my probably my biggest Oh She Glows fan, reading every comment and always telling me her thoughts on whatever the topic may be.
She is currently in L.A. about to embark on a wonderful birthday cruise of the French Polynesian…lucky lady!
She will be spreading the Operation Beautiful message everywhere she goes and documenting pictures of it too. I can't wait to see them.
Love you mom! xo
~~~~
I completely forgot to mention this, but last week our beloved Canon 30D SLR + Macro lens + external flash was dropped on our hardwood floor.
It was straight out of a horror film. I saw Eric reach for the camera, he fumbled it like a bad pass in football, and then there was a huge smash on the floor. We both uttered a few curse words and stood there in complete shock. I think a single, quivering tear dropped from my face as Eric picked it up and assessed the damage.
I still wasn't breathing at this point. He tried to turn it on and the screen read ERROR. Still not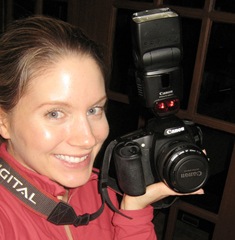 breathing.
Being the technology genius that he is, he decided to remove the macro lens and snap it back into place. Once he did this, the error message was gone and it was working again. It has been fine ever since (knock on wood), but boy did that give us a scare! Canon cameras are STRONG.  Whenever I get emails from readers asking me about cameras I always suggest Canon.
I was able to resume my normal blog photos of Sketchie…and he carried on with Project Hibernate.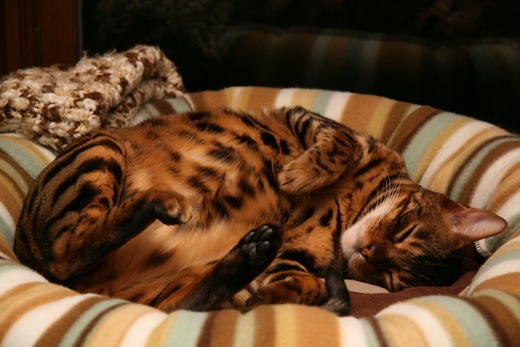 I have also had my point-and-shoot Canon Powershot SD800 for about 4 years now. It has suffered a ton of hardships- drops, food particles, water, etc. and it still works like a charm! The best part is the price has dropped over $200 since we got ours 4 years ago.
~~~~
Changing Up Exercise: How Often Do You Do It?
A while back, I did a post asking you how you define a rest day. It was a really interesting topic and I loved reading everyone's thoughts!
Well, today I wanted to talk about changing up exercise.
After my half marathon a week and a half ago, I told myself that I would give my body as much time as it needed away from running. My legs had one heck of a summer- a 10k, 10 miler, and 2 half marathons within 4 months.
It was a lot to chew and I knew that.
However over the past 1.5 weeks, I have been struggling with a few things:
1) I have been feeling quite sluggish, yet I don't feel ready to dive into exercise.

2) I have been wondering if I need to change what I am doing for exercise.
Running has taken up a large part of my life and has consumed 100% of my activity over the past 4 months. Training for races takes a lot of time and it did not leave me for any free time to pursue activities like strength training or yoga. It was actually a miracle that I found the time to train despite being so busy with everything.
I have been asking myself- Maybe this is a chance to try out something new and back off running a bit.
Maybe I can try yoga again and just focus on yoga. Or maybe I can do strength training and really stick with a schedule. Maybe I can use my free pass at the gym and do some non-impact stuff. There are so many wonderful activities out there that I have not been doing and I think it may be time to change it up!
I am guessing at this point you are probably asking yourself…so what is the problem, Ange?
Well, the problem is that I have been feeling guilt over it.
I have been feeling guilt about:
1) taking this exercise break, and
2) considering taking a (longer) break from running.
Crazy thoughts have entered my mind like…
Maybe I am not a real runner if I take a break from it?
What will happen to my training, my endurance, my speed?
In reality, I know that taking a break from running is not the end of the world. I have prior experience of course with my injury last Winter. I also know that my anxiety from taking exercise breaks is in large part due to my disordered eating and compulsive exercising in the past. It is sort of like that voice that never goes away, even though I find that I do a pretty good job silencing it for the most part. It is still there occasionally telling me I need to do this, this, and that or 'x' will happen.
Well anyway, last night I did my first 15 minutes of yoga since I-don't-know-when.
And it felt amazing!!!!
I did the P90X YOGA DVD (first time) and started off slow with just 15 minutes (in the dark!). I actually really enjoyed it.
You know what else this told me?
I have been neglecting my flexibility way too much. My muscles are so stiff it is unbelievable. I have also been having back and shoulder pain from baking and packaging all day. My muscles have been crying out in pain from all the abuse! So I really think it is time that I addressed this aspect of my fitness.
For once in my life, I feel excited about the possibility of practicing yoga and trying something new without the pressures of scheduling a million other exercise goals into my calendar.
I think it may be time for a change- for now anyways!
Despite my anxieties, I am going to go with it and listen to my body. And right now my body is looking for a different approach to fitness.
~~~
Do you go through phases in your exercise or chosen activities? Do you change it up or decide when it is time for something new??
Well, this post was ummm….a bit verbose. I think I am due for a Wordless Wednesday, no??? haha ;)
Happy Hump-day!!!!

Don't forget this is your last chance to enter the Garmin Forerunner Charity raffle!! It is for a great cause so submit your entry today!! :) They are due by midnight!
Also it is your last chance to vote in the Foodbuzz Nominations! Please vote for your favourite bloggers!!!!