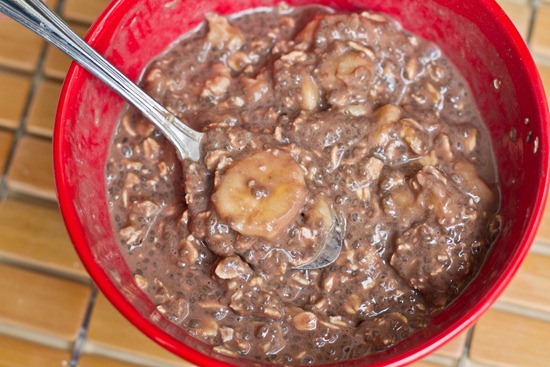 Happy February 1st!
I don't know about you, but I celebrated the end of January this morning. We are one month closer to Spring and for me it is all about the little things in the deep of Winter. Today, we are bracing for a big snowstorm traveling up from the US tonight into Wednesday. If it is anything like I saw on the news, it is going to be a big one! Last night, Eric said we should hit up the grocery store and 'stock up' and I had to laugh because we probably have enough food in this house to survive until retirement.
But this post isn't about Old Man Winter, it is about breakfast!
If you are new to the blog, you might not know about my obsession with Vegan Overnight Oats and Vegan Overnight Oat Parfaits, but a quick glance at my breakfast category on my Recipes page will explain things a bit better. Don't say I didn't warn you though.
Vegan Overnight Oats are mixed before you go to bed at night and you do not cook it, so there is literally zero preparation in the morning. You stick the spoon in and you enjoy the doughy goodness.
It is also perfect for those mornings when turning on the stovetop might pose a risk to yourself or others. My melted spatulas thank me.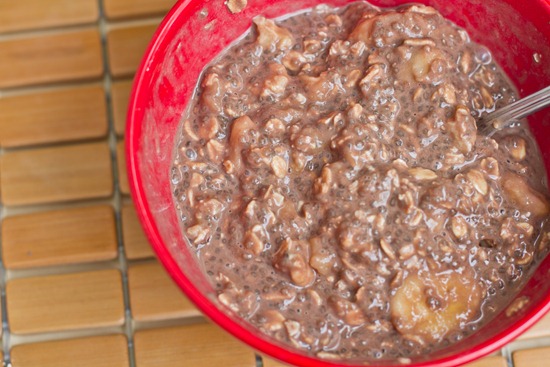 [print_this]
Carob Banana Chia Vegan Overnight Oats
For the rest of my Vegan Overnight Oat recipes, see here.
Ingredients:
1 cup Almond milk (or your choice)
1/3 cup regular oats
1 tbsp carob powder (I buy it at bulk Barn)
2 tbsp chia seeds
Tiny pinch of kosher salt
1/4 tsp pure vanilla extract
1-2 tbsp walnuts, chopped (optional, or use other nuts)
1 ripe banana, chopped
Maple syrup to drizzle, to taste (optional)
Directions: Mix the dry ingredients (oats, carob powder, chia seeds, optional walnuts, salt) in a medium sized bowl with a whisk. Now pour in the milk and pure vanilla extract, Whisk well until all clumps are gone. Finally, Stir in the chopped ripe banana. Place in the fridge for 1 hour or overnight. You can cover it, or leave it under covered. When ready, give it a good stir and enjoy. Drizzle a bit of maple syrup on top if you wish! You can get creative with different mix-ins too.
Nutritional info (Serves 1, not including walnuts): approx. ~450 kcals, 14 grams fat (includes 6.3 g Omega-3 & 1.9 g Omega-6), 20 grams fibre, and 16 grams protein.
[/print_this]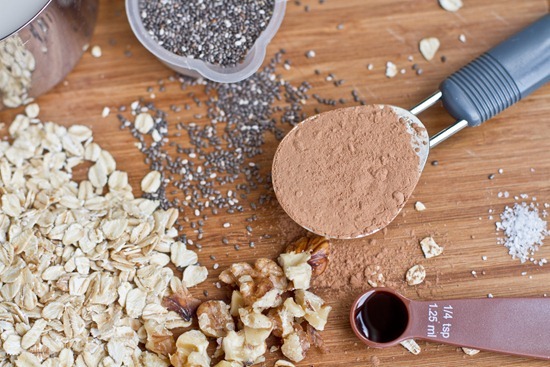 I have been receiving a lot of vegan overnight oat questions, so I thought I would do a quick VOO FAQ.
1. Can I substitute flax seed for chia seeds?
I have heard that you can substitute ground flax for the chia seeds in Vegan Overnight Oats. Once I tried using whole flax seeds and it did not work out great, so I never recommend using whole flax seeds. Because ground flax doesn't absorb as much liquid as chia seeds, you may have to reduce the amount of milk you use (maybe 1/4 cup). If at all possible, use the chia seeds though because they really work lovely in this recipe.
2. Can I substitute cocoa powder for carob powder?
Carob powder is much sweeter tasting than cocoa powder, so I would not recommend substituting it 1:1. If you do not have carob powder, you could probably use 1 teaspoon of cocoa powder if you wanted to, but the recipe will work without either!
3. Can I use instant oats instead of regular oats?
I have not tried using instant oats before, but maybe a reader has tried this and can comment on this in the comments section? My guess would be that the instant oats do not absorb as much liquid as the regular oats. I also really enjoy the chewiness of the regular oats.
4. I don't have almond milk, can I use rice, soy, cow's, hemp, oat, etc. instead?
You can substitute any kind of milk you desire!
5. Is the banana necessary?
The banana (in this recipe) is what gives the VOO some sweetness. If you do not want to use a banana, I would suggest adding 1-2 tablespoons of pure maple syrup to stir in or maybe try using dates. I have also successfully used Vega Choc-o-lot protein powder and it worked great to sweeten it up.
6. Do I cook the Vegan Overnight Oats or heat them in the microwave before eating?
Nope! There is absolutely no cooking involved in this recipe.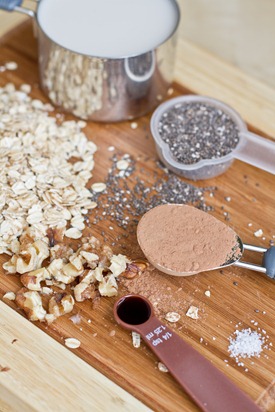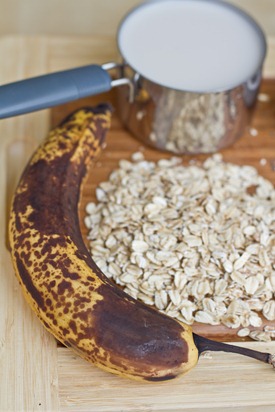 Step 1: Place your oats, chia seeds, walnuts, carob powder, and salt into a bowl and whisk.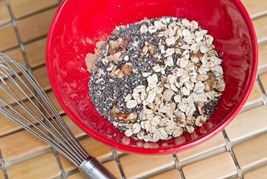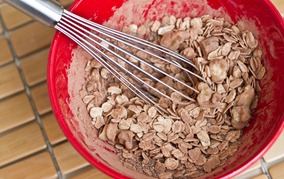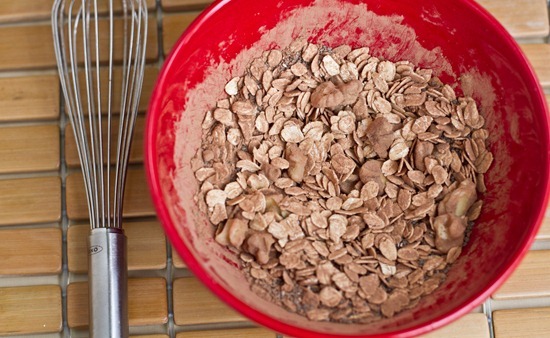 Step 2: Pour in 1 cup of Almond Milk (or your choice of milk) and the 1/2 tsp of vanilla extract.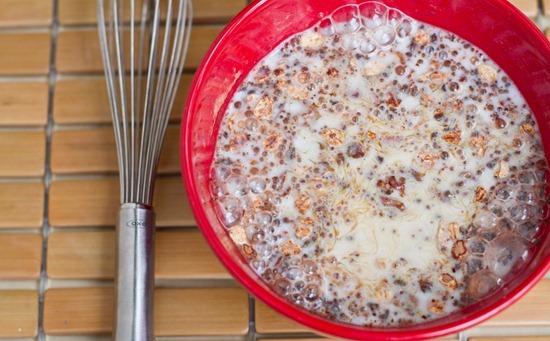 Whisk well until all the clumps are gone.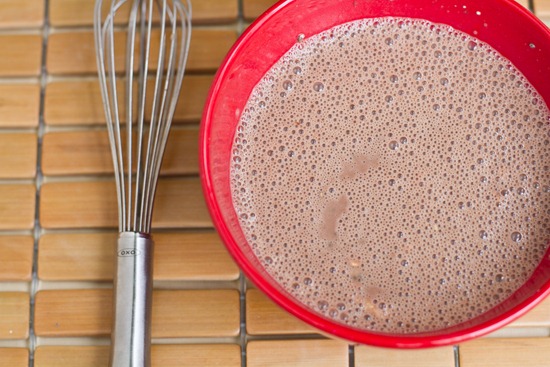 Step 3: Add in the chopped bananas.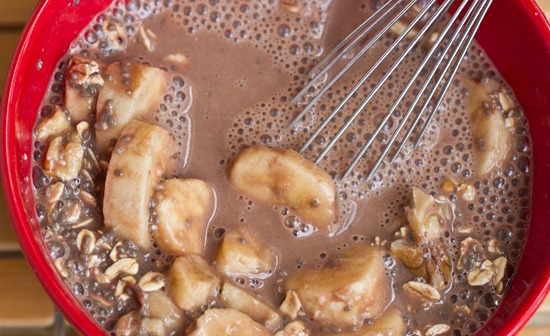 Whisk and smash some of the bananas into the mixture. This will help incorporate the sweetness throughout.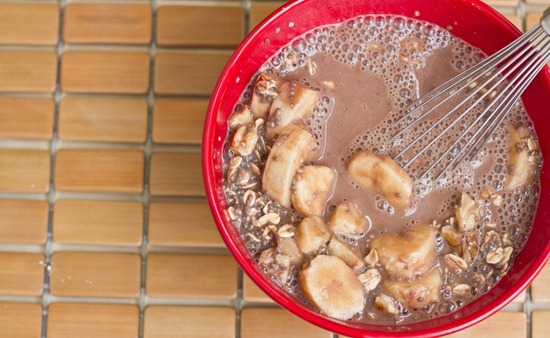 Step 4: Place in the fridge for a minimum of 1 hour, or overnight. During this time, the chia seeds and oats will soak up the liquid and thicken up.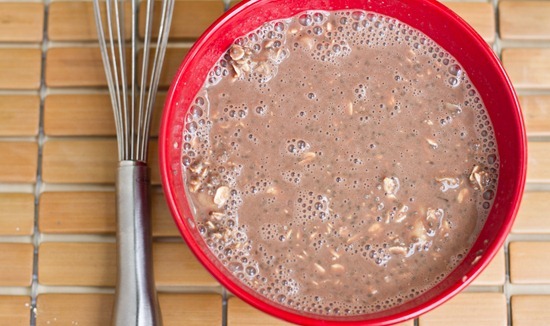 After 1 hour in the fridge, it looks like this…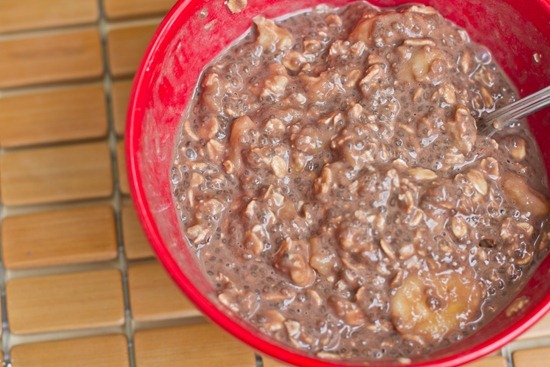 Thick, doughy, chewy, and strangely addicting.
I used to think overnight oats looked so gross (and I guess they still do a bit!), but this is one of my favourite breakfasts now. It really grows on ya, I promise!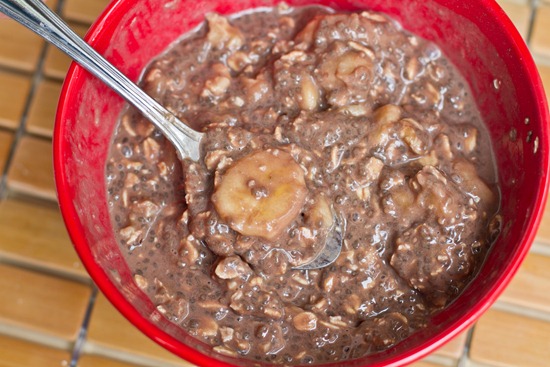 Soooo…the Super Bowl is coming up this Sunday and we are having a couple parties this weekend. This means that I have some food prep to do this week!
My questions to you today are 1) What food should I make for the Super Bowl?, 2) Will you be watching the Super Bowl or making anything fun? Appetizers, finger foods, dips, main entrees, pizza, desserts, drinks? So much to choose from…!