Good evening! I hope you had a great start to your week.
I don't want to jinx it, but my groin feels almost back to normal. I am going to take it slow tomorrow and see how it feels. Time heals all wounds…
This week also marks the beginning of our TRY-A-TRI training! I will be blogging about it soon and telling you our plans. :)
I got a call from Ambrosia this morning (the health food store carrying my Glo Bars) and they doubled their order from last week. They were pleased with how quickly the bars sold out! Thank you to everyone who dropped in and bought some Glo Bars! :) Your support has been nothing short of amazing. The bars should be re-stocked in the store by Wednesday or Thursday.
My food highlight today was C-R-E-A-M-Y!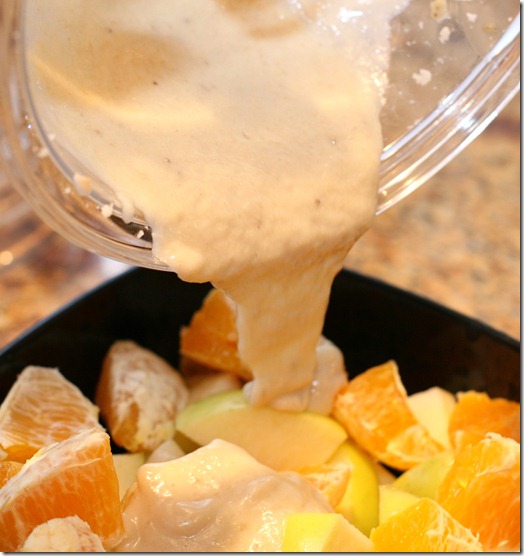 1 Minute Coconut Banana Cream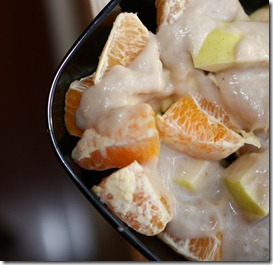 Ingredients:
1 small banana, peeled (see note)
1/2 teaspoon pure vanilla extract
1 heaping tablespoon coconut butter, softened
1-2 teaspoons almond milk
Directions: Place banana, vanilla, milk, and softened coconut butter in a food processor and process until smooth. Serve over fruit and enjoy!
Note: You can use a cold/frozen banana if you want the cream cold or just a room-temp. banana if you don't mind the cream warm. The heated coconut butter will make the cream warm, so adjust recipe to your liking!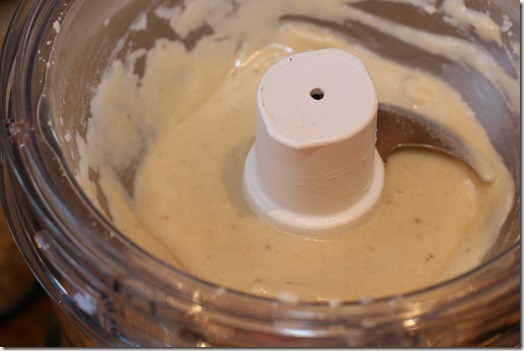 Or you can just eat the cream straight up. :) It was heavenly.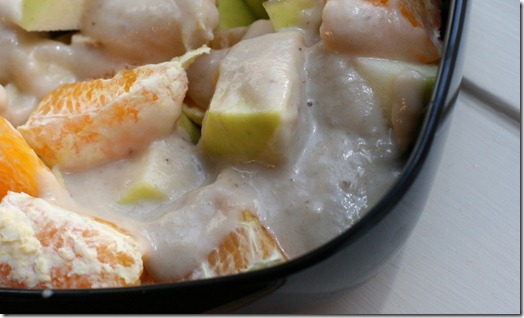 Next time I think I might use this cream over something savoury, like oatmeal or pancakes. This was good, but it was a bit too sweet.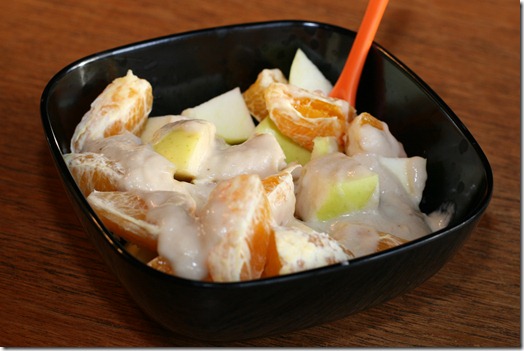 Since I am working tonight (two words: Business taxes…blech!), I thought this was the perfect time for another Health News Round Up…
Health News Round Up:
Size Healthy in the blog world:
~~~
Tonight's question:
Have you ever had an injury that side-lined your exercise/training plans? How did you cope with the injury and bounce back? Do you have to train differently now?
It is no secret that I had a pelvic muscle pull last January 2009 that put me out of exercise for 2 months. Aside from that, I have been lucky. I have had knee pain and wore knee sleeves all last summer, but I have been able to rid myself of the sleeves this year after extensive strength training with Booty Camp Fitness. I definitely train smarter now than I used to. I used to ignore my body's signals of pain, but now I am a good listener. If I feel an unusual pain that is out of the ordinary, I will stop the exercise until it goes away. It took me a long time to be able to do that! Some people say it takes discipline to workout, but I say it also takes discipline to workout SMART.
I appreciate you sharing your stories. I get emails every week from women who are dealing with an injury and looking for some encouragement.
Sleep tight!