Happy Friday to you!
The week has flown by for Eric and I. Last night we sort of freaked out because we realized our Try-a-tri is in 2 days!
1) We had to pick up our rented wetsuits…
Aren't they so cute? :lol:
Sketchie wasn't so sure about these mystery objects…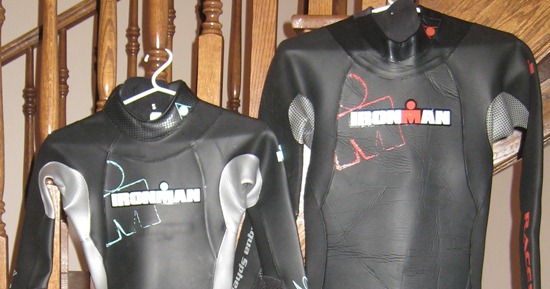 Having the wetsuits here in the flesh made it much more real. As in… you can't back out now suckas!
2) We had to look at the rules of the race and figure out what we need to bring.
We put together a GAME PLAN…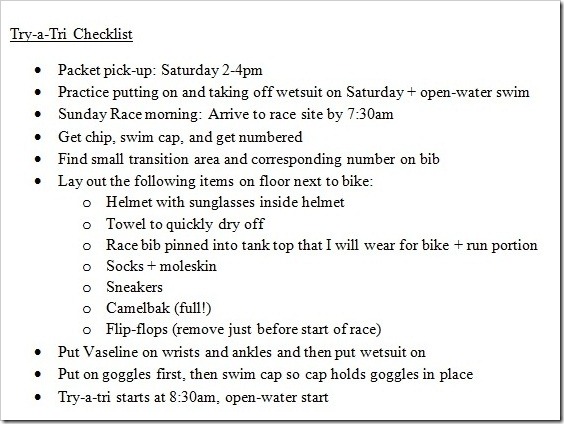 [Thank you to Grace for showing me her Tri checklist!]
We also liked this tip on the beginners tip page:
"The best advice I can give any Newbie triathletes is to get to the swim start early and do a good warm-up in the water.  The swim is often the most daunting part of a triathlon and I don't care if you come from a swimming background, open water swimming is different than pool swimming.  When you can't see the bottom and there are no lane ropes people often freak out a bit and then they have trouble swimming.   Factor in any trouble navigating and you've got a long swim on your hands.  Take some time to get comfortable in the water and with the fact that you can't see as well.  Practice sighting the orange buoys so you won't get lost.  The more time you spend getting comfortable, the less time you'll spend panicking."
Hopefully we are not forgetting anything major. I am still debating whether I will bring Dwight. I don't think I can wear the Garmin 305 in water and I am a bit uneasy about leaving it at the transition area.
We found out last night that we have an open-water start, as opposed to starting the swim on land. They did not specify whether we will be able to stand in the water or if we will be treading water before the gun goes off. Either way, I am sure it will be fine. It is a try-a-tri for beginners after all. I am sure they aren't going to throw us under a bus!
(click to enlarge)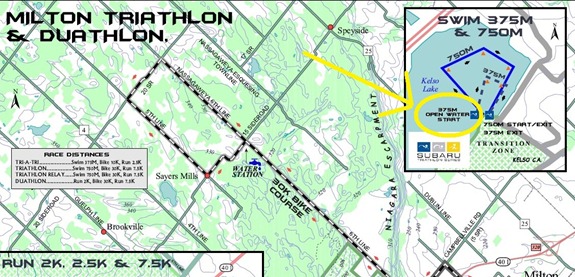 There are 3 WAVES for the try-a-tri start and each wave is 3 minutes apart. We still don't know what wave we are in yet, but we should know by tomorrow.
We both feel a lot better now that we have taken some time to review how the race will proceed. Fear definitely comes from the unknown and once you understand what you are doing the fear dissipates! The same thing happened to me following my very first race last June 2009. I used to think running in a race would be scary and I swore I would never do it, but once I just did it I realized it wasn't bad at all.
Right now they are calling for RAIN on Sunday and I hope that changes because I am not a fan of biking in the rain.
Onto breakfast! :biggrin:
Last night I also tested my first batch of dessert hummus!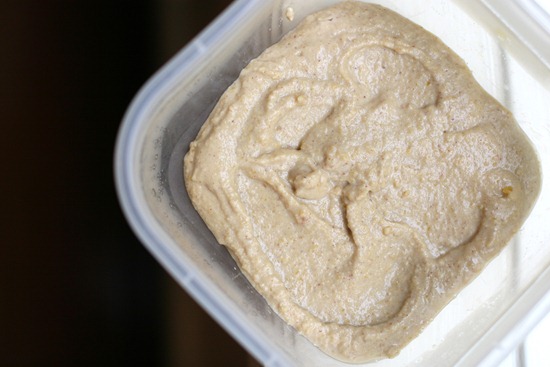 In this batch of dessert hummus went:
Chickpeas
Peanut Butter
Pure Maple Syrup
Sea salt
I know it sounds completely weird and gross, but you have to trust me on this one…it was DELICIOUS! I didn't measure when I made it last night, so I have to do another trial before I can post the recipe for you guys. It will be coming soon!
I decided it would be a fun layer in the banana soft serve vegan overnight oats this morning…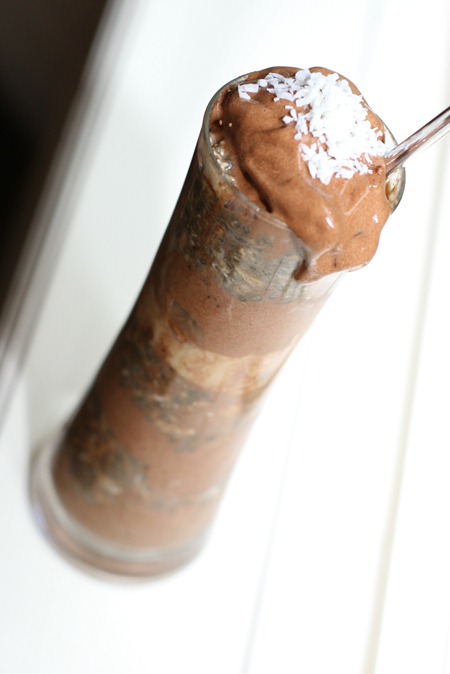 Yummmmerz.
I made the carob banana soft serve again today (mix 2 tbsp carob powder into the banana soft serve when processing).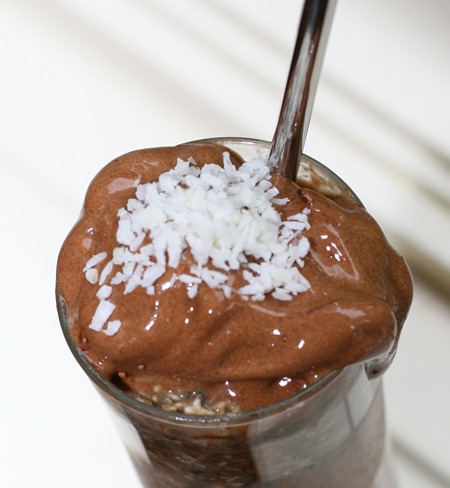 With a sprinkle of coconut and a layer of dessert hummus, this was deelish!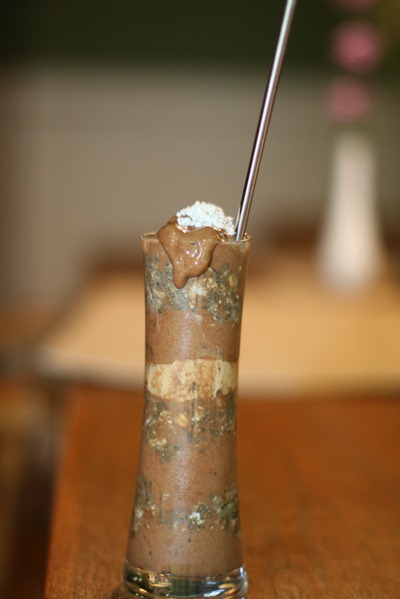 Back to work! I have a very lofty goal of getting caught up by the end of today. I don't see it happening, but miracles do happen. :biggrin: Have a great day!!