Well, we got to see a pretty cool sunset last night!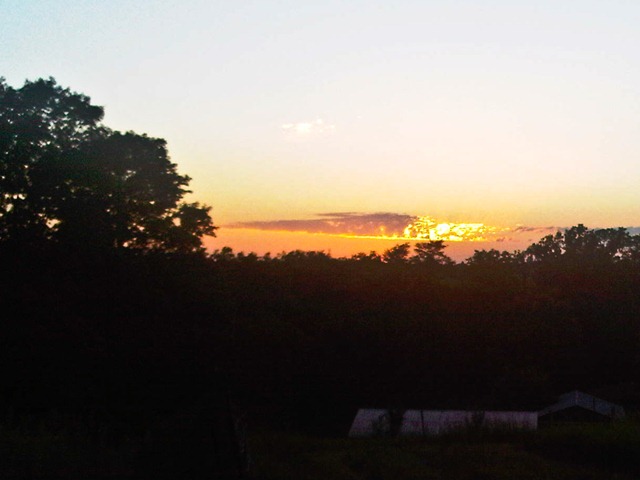 I asked Eric if I could take him on a date last night…
'Can I take you on a date tonight?' *grin*

'Why do I feel like this is a trick…?'
He knows me too well, my friends….too well.
He reluctantly agreed to go on a run with me, so I threw on my gear and sat at my desk until he was ready. He has been working on renos in the basement this week, so the fact that he agreed to a run was nothing short of a miracle. We didn't have time to work on the food photography collage, but I will be updating tonight or tomorrow on it!
I pumped myself up by listening to 'Magic' by B.o.B- my newest favourite running song!
You have to fake it til you make it, especially for evening runs!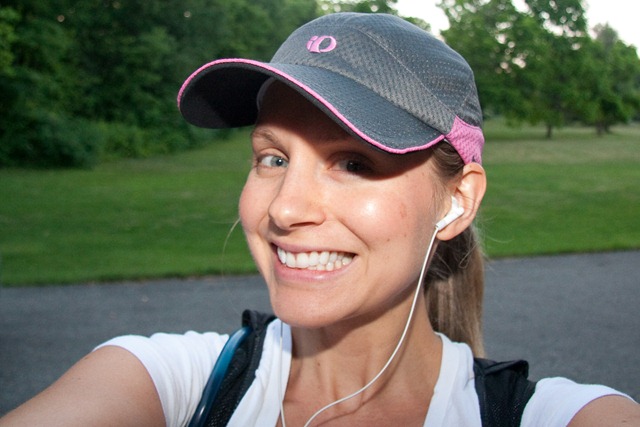 I really wasn't that excited, I just pretended I was! Seemed to work.
Did you know that smiling- even when you aren't happy- increases the release of endorphins in your brain? When you are unhappy, the simple act of smiling can help you feel better!
Before we left it looked like this….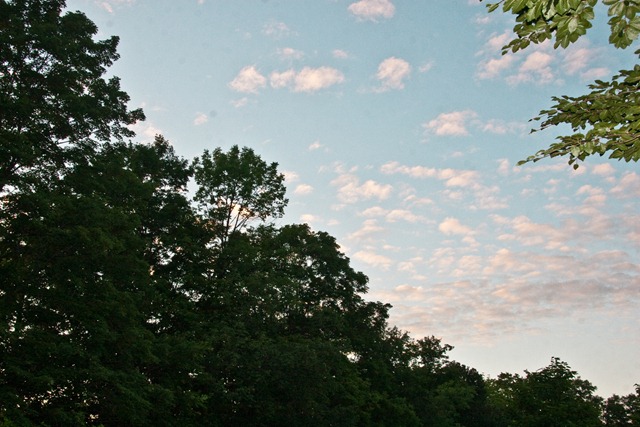 2 miles into the run it looked like this…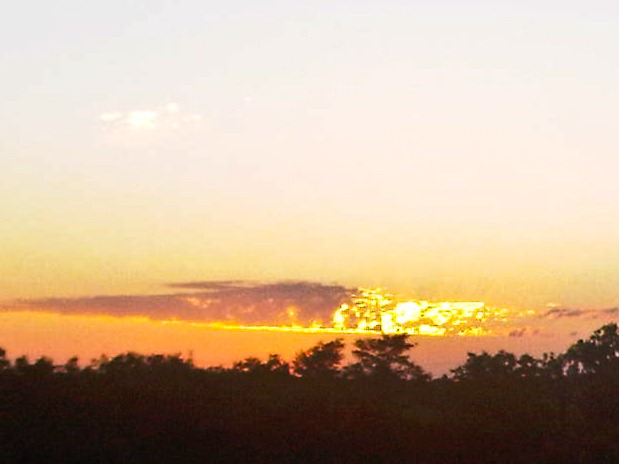 The sun was a blazin'! I had one of those zen + oohhhhh + ahhhhh moments for a brief 10 seconds as I watched the sunset. It was beautiful. Just as quickly as it came, it was gone and I was back to huffing and puffing and hauling my butt up the crazy hills. I take what I can get.
By the way, I am still LOVING my Pearl Izumi running hat! It is the best hat I have ever run in. It is mesh, so it breathes and I swear it keeps me cooler than my previous hat did.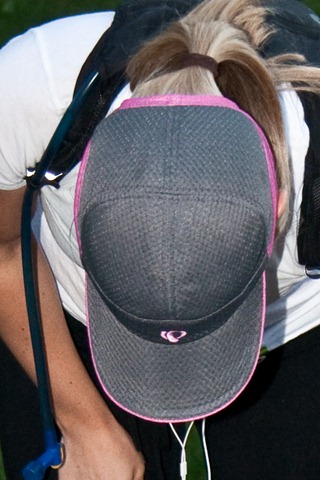 The run:
Distance: 3 miles
Time: 27:01 mins
Avg pace: 8:59 min/mile
Mile splits:
Mile 1: 9:24 (warm-up)
Mile 2: 8:56 (pick-up)
Mile 3: 8:39 (in the groove)
After returning, I made a Post-run Juice. It is an all veggie juice packed with nutrients and just a pinch of sea salt to replenish what was lost during exercise.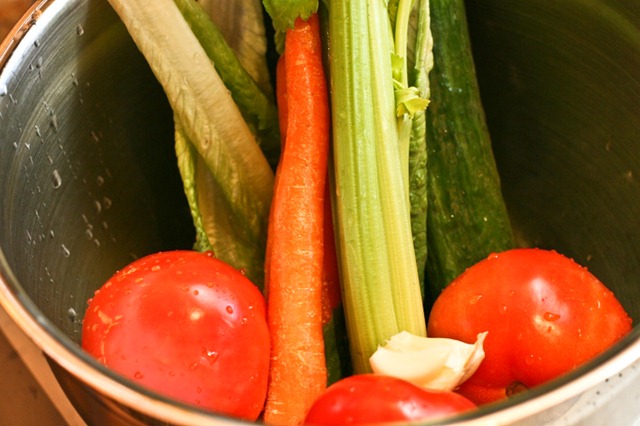 It is sooooo good. Like V8 only much tastier and fresher!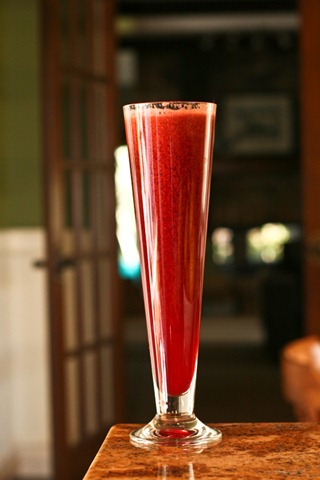 Athlete's Vegetable Juice
Ingredients:
3 tomatoes
4-5 romaine lettuce leaves
1/3 English cucumber
1 stalk celery
1/3 of a small beet
2 medium carrots
1 clove garlic (optional)
1 pinch of sea salt
Directions: Juice the vegetables and pour into a large glass. Add a pinch of sea salt and stir well. Serves 1.
This morning I made Raspberry Vegan Overnight Oats!
Unfortunately, raspberries in a banana soft serve are quite sour tasting (at least mine were). I think the only thing that saved this was that my banana was very ripe (hence, sweet) before freezing.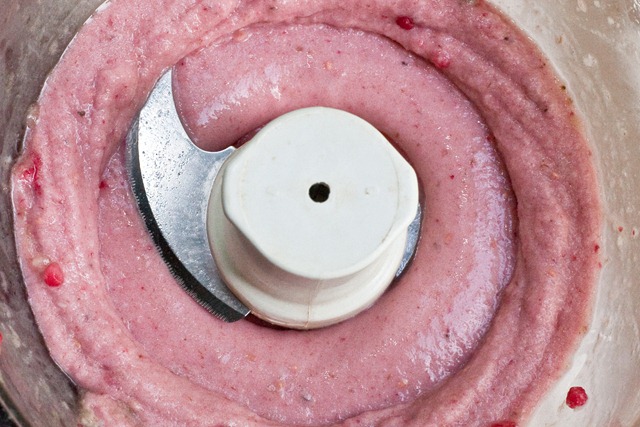 For the VOO I used: 2 tbsp chia seeds, 1/3 cup oats, 1 cup Almond milk, 1/4 scoop Amazing Grass chocolate powder.
Deelish!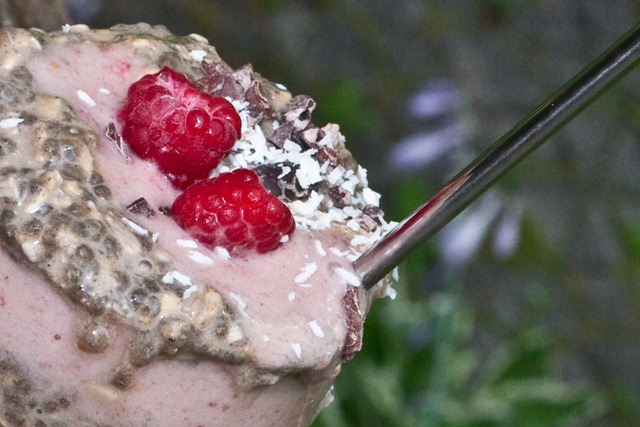 Some overflowage, of course!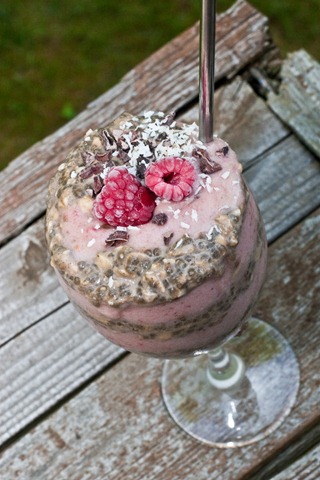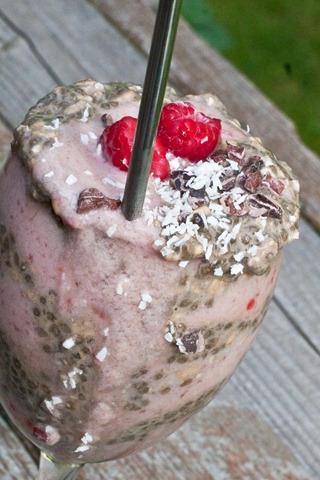 The 'hat': 1/2 tsp Unsweetened coconut, 1/2 tsp cacao nibs, and 2 raspberries.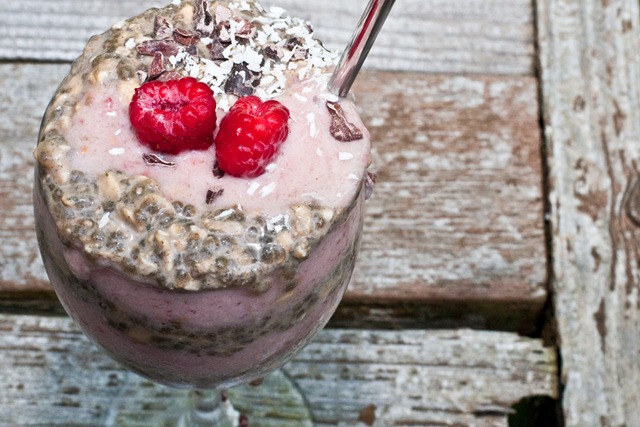 So refreshing on this hot morning!
[For the previous two discussions, see the bottom of my quotes page.]
I have another favourite quote from EPL that I wanted to share with you this morning! On page 54, Elizabeth talks about how she spoke with a comforting presence when she was deep in her depression. She would sit on the bathroom floor at 3 in the morning and ask for help or she would scribble her thoughts in a notebook in Rome.
She writes: "This is what I find myself writing to myself on the page: 'I'm here. I love you. I don't care if you need to stay up crying all night long. I will stay with you…There is nothing you can ever do to lose my love. I am stronger than Depression and I am braver than Loneliness and nothing will ever exhaust me.'

Tonight, this strange interior gesture of friendship- the lending of a hand from me to myself– reminds me of something that happened to me in New York City. I walked into an office building and dashed into the elevator. As I rushed in, I caught an unexpected glimpse of myself in the mirror. In that moment my brain did an odd thing- it fired off this split-second message: 'Hey! You know her! That's a friend of yours!" And I actually ran forward toward my own reflection with a smile, ready to welcome that girl whose name I had lost but whose face was so familiar. In a flash instant, of course, I realized my mistake and laughed in embarrassment at my almost doglike confusion over how a mirror works. But for some reason that incident comes to mind again tonight during my sadness in Rome and I find myself writing this comforting reminder at the bottom of the page:

Never forget that once upon a time, in an unguarded moment, you recognized yourself as a friend."
This story in the book and most notably the quote at the end really hit home with me for a few reasons. 
Firstly, that whole embarrassing mirror experience has happened to me (thank goodness I am not the only one!!). I actually remember when it happened to me because I was in university at the time and I considered myself the enemy. I remember seeing 'a friend's reflection' in the window of a store and I had that same gut reaction as Elizabeth did. I remember feeling a sinking feeling when I realized it was 'just me' in the reflection and that sense of happiness faded quickly. As I recognized myself, I remember saying something negative about myself almost immediately, when just before, I had seen a beautiful, smiling friend looking at me.
Reading this passage in the book made me sad for that experience that I had, but it also made me happy that I no longer get that sinking feeling when I see my reflection in a window or mirror. I see a friend looking back at me, and for years this wasn't the case. This only changed when I started treating myself like a friend instead of some annoying pest that was constantly screwing up her life and doing everything imperfectly. Make no mistake, our thoughts define how we perceive the world, including ourselves.
I think this quote is so powerful and I almost did a dance when I read it over: "Never forget that once upon a time, in an unguarded moment, you recognized yourself as a friend." I think this shows that when we leave our negative thoughts out of the picture and let our instincts take over, we will find that we love ourselves and that we see ourselves as a friend. Only when we let the negative thoughts 'win' do we start to entertain the thought that we are something else other than a friend.
Some questions today…Do you consider yourself a friend? Can you relate to the experience that Elizabeth had in the mirror? Have you ever had a shift in how you perceive yourself over the years?