Good morning! There's a lot going on behind the scenes over here that I want to let you know about. I figured I'd just do a big update post, so I'll get right to it.
1) New recipe rating system on Oh She Glows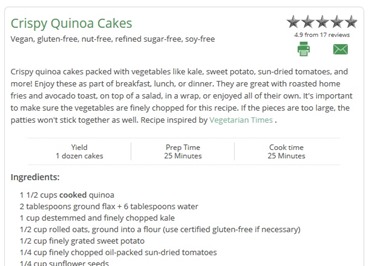 I can't thank Eric enough for creating this recipe rating system for us. This is something that many of you have requested over the years and I am beyond excited to finally have it in place. We installed it late last week and I'm happy to see the ratings flying in already for so many different recipes (especially for last week's Crispy Quinoa Cakes recipe!). Your feedback is so important to us and I hope you find it helpful too!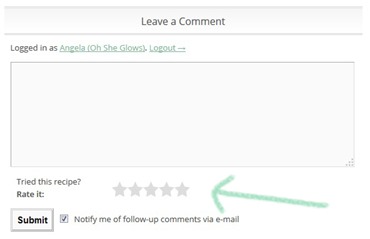 How it works: To rate a recipe all you do is select your star rating at the bottom of your comment and then leave your review in the comment box. This will help you find reviews much more quickly as your star rating will show up next to the comment.

<— Here is an example of what a rating looks like in the comment section. [Thanks for your feedback April!]
2) Instagram Contest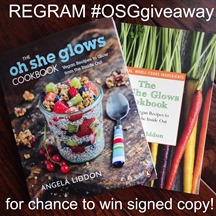 I'm giving away a signed copy of The Oh She Glows    Cookbook (your choice of cover) on Instagram this week! The contest is open worldwide and runs until Friday. See my Instagram post for how to enter. Good luck!
3) Vegnews Veggie Awards 2014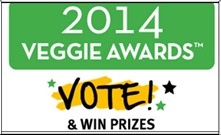 I'm honoured to be nominated in VegNews' 13th annual Veggie Awards™ this year in the "Best cookbook of 2014" category and the "Best Blog" category. If you enjoy the blog and/or cookbook, I would greatly appreciate your support! There are a ton of prizes up for grabs, so head on over and vote for your favourite people, restaurants, products, blogs, cookbooks, and more!
4) A Blueberry Hemp Banana smoothie recipe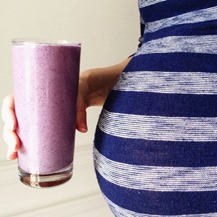 From time to time, I share quick and easy recipes on my Instagram account. This weekend, I shared this delicious, high-protein smoothie recipe that I've been making a lot lately. Head on over and check it out! Also check out this recipe for my favourite coconut oil chocolate bar and a fav way to sneak in more calcium. I also recently created a new Instagram account, @theglowspot, where I share non-food related pictures.
5) Baby section on the blog
I mentioned this new Baby section on the blog several months ago, but I've been getting a lot of comments from many of you saying you had no idea it even existed. We decided not to put these posts in the RSS feed because I want to keep my blog's focus on recipes, however you can find the link to this new section at the top of the blog and on the sidebar. I've been using it as a pregnancy journal of sorts, talking about my journey, sharing pictures, and also a bit on prenatal vitamins and healthy recipes.
~~~~
I hope you enjoy some of the new features going on! I appreciate your feedback so feel free to let me know if you have any suggestions. And be sure to let us know if the recipe rating system is working for you. This website has been a labour of love over the past 6 years and I love finding ways to improve your experience. As always, thank you for reading, trying out the recipes, and sharing the blog with others!