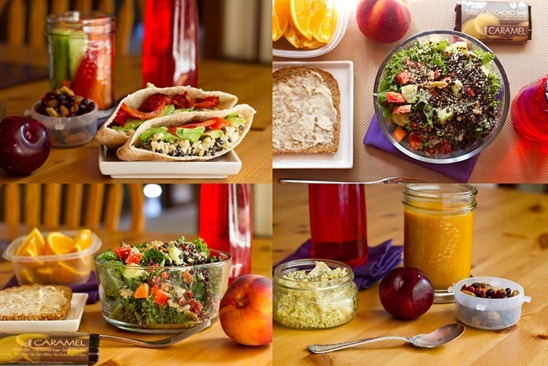 Welcome to Part 2 of my Make-ahead lunch series! For Part 1: Sunday Prep + Monday & Tuesday's Lunches, see this post.
Thank you for your enthusiastic feedback in my first post! I guess I'm not the only one who has been eating the same lunch for the past several weeks, months, years… ;) This challenge has been just the kick in the butt that I needed.
Next up, we're getting over the hump with a protein-packed lunch.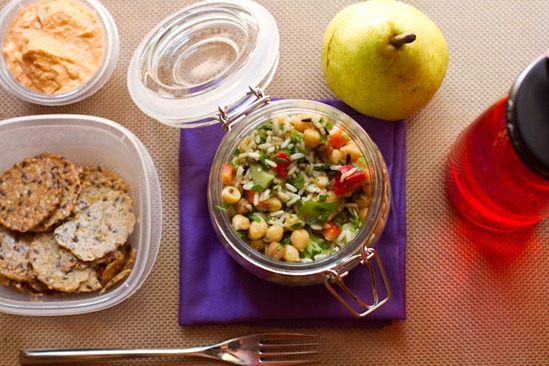 Wednesday's Lunch featuring Back on Track Brown Rice & Chickpea Salad
Adapted from Back on Track Wheatberry Salad.
Salad:
1/2 cup cooked brown rice
1 cup cooked chickpeas
1/2-3/4 cup chopped cucumber & red pepper
1/3 cup finely chopped flat parsley
1 green onion, chopped
Dressing (or sub in your favourite dressing)
1 tbsp balsamic vinegar
1 tsp extra virgin olive oil
1 tsp water
1 tsp pure maple syrup
Kosher salt, ground black pepper, & Herbamare, to taste
Snacks:
Mary's Crackers & 1/4 cup hummus
1 juicy in-season fruit
1. In a bowl, mix together the salad ingredients. In a small bowl or jar whisk/shake dressing ingredients together. Pour onto salad and stir.
2. Season well with kosher salt, pepper, Herbamare, crushed red pepper flakes, etc.
In the original recipe, I used wheat berries and I preferred it to the brown rice. If you don't need a gluten-free recipe, I suggest using wheatberries if you can, but use whatever grain that floats your boat.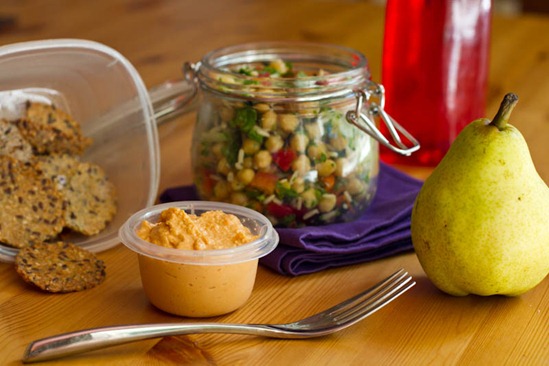 Love juicy pears!
And because no week is complete without a big salad, Thursday packs in a bounty of vegetables while strategically leaving room for chocolate…muhauha.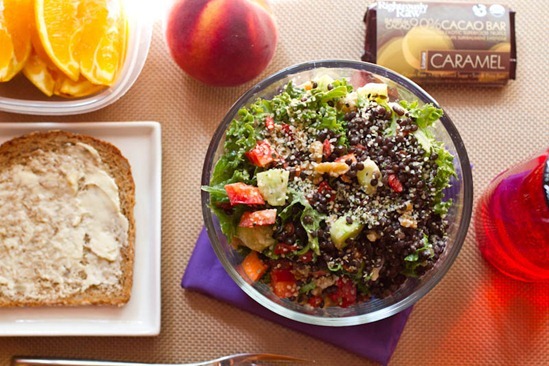 Thursday's Lunch featuring Big Lentil Power Salad
Salad:
2-3 cups lightly packed leafy greens like romaine, spinach, or kale (I used kale)
1/2 cup cooked lentils (I used beluga)
1 tbsp hemp seed (or seed of choice)
2 tbsp chopped toasted walnuts (or nuts of choice, sub sunflower seeds for nut-free)
1/2-3/4 cup chopped vegetables (I used pre-cut cukes, peppers, carrots, and tomatoes)
1-2 tbsp raisins or goji berries or dried cranberries
Dressing:
Snacks:
1 peach
gluten-free Bread and Earth Balance
Chocolate (I wasn't a big fan of that raw chocolate bar in the photo)
1. In a bowl, mix together the salad ingredients. If using kale, pour on dressing of choice and mix well. Allow kale to 'marinate' overnight or for up to 2 days in the fridge. If using other greens like spinach or romaine, pour on dressing just before serving so it doesn't wilt.
This is a high volume lunch and one that I will split up into lunch plus a snack or two.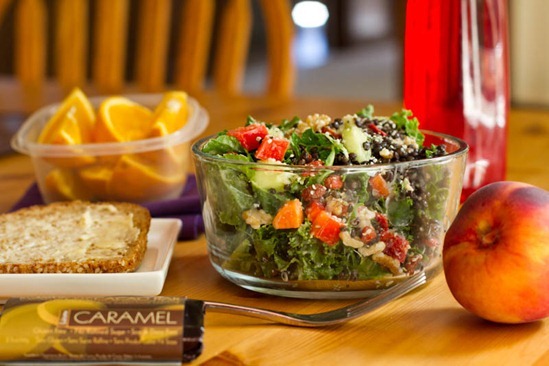 For Friday's lunch, I used up any leftover grains or beans that I hadn't used (you can also do this for dinners throughout the week).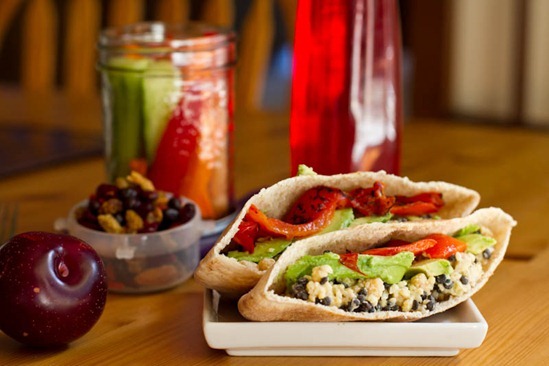 Friday's Lunch featuring Protein Packed Pita Pocket
Pita:
1 whole wheat pita pocket OR sub w/ Gluten-free wrap or bread if required
1/4 cup hummus mixed with 1/2 cup leftover cooked grains and beans
Roasted red pepper slices or fresh red pepper slices
1/2 avocado, sliced
Salt & pepper, to taste
Snacks:
1 plum
Chopped vegetables
1. In a small bowl, mix together leftover grains/beans with hummus. Season to taste.
2. Spread hummus/grain mixture over inside of pita halves. Layer on avocado and red pepper slices.
Note: If packing this lunch, I suggest adding a layer of lettuce in between the pita and hummus mixture to prevent sogginess.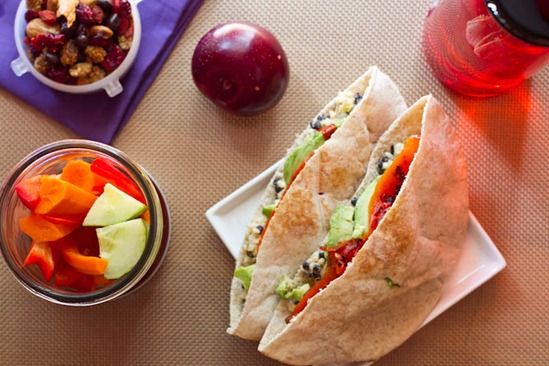 This concludes my first Lunch Series on the blog! I hope this has inspired you to add some variety into your own lunches. You can use my lunch recipes for inspiration in your own kitchen and whenever possible use the ingredients you already have lurking in your fridge and cupboards. The recipes I posted are simply suggestions and can be adapted quite a bit. Also, if you find yourself with a lot of leftover cooked grains and beans, you can freeze them (in an air-tight bag or container). Just defrost overnight in the fridge and heat as necessary.
Lunch tends to be my biggest meal of the day because that's when I'm the most hungry (likely due to my A.M. workouts), but feel free to tailor it to your specific portion needs too. I also like to split up some of the food, so I have a snack mid-morning or a snack late-afternoon to spread it out.
Happy Dining!