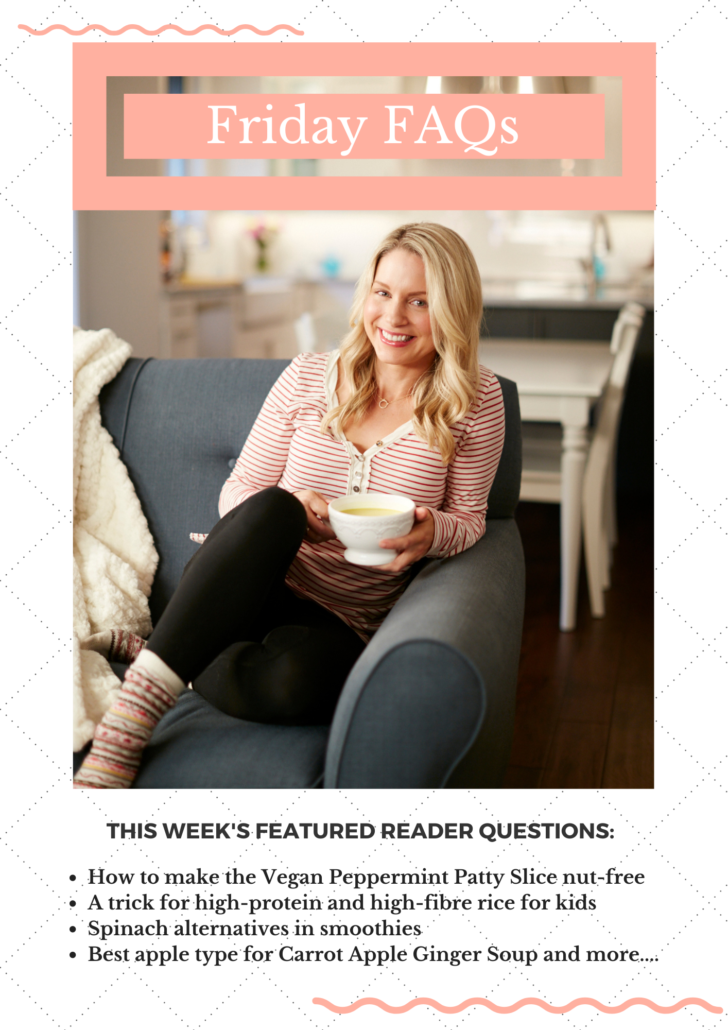 Surprise! I'm so excited to let you know that Friday FAQs are officially back in action! I hope you're as pumped as we are to see this series rolling again. I've also given the Q&A a bit of a playful makeover to kick off the new year! What do you think? PS: The intro image above is from 2015—note to self: update photos! If it were current, there'd be lukewarm (but very strong) coffee in that mug; two kids fighting in the background; toys scattered everywhere; and food smashed into my shirt. No big deal. Lol.
If you're not familiar with our Friday FAQs series (which admittedly came to a screeching halt when I became a mama of two!), I'll share a bit of background: Each Friday on the blog, you'll find featured questions from our amazing Oh She Glows community (that's you!) along with my thoughts and replies. These are questions I'm asked on the blog, Instagram, Facebook and Twitter, as well as by email or even in the grocery store—you name it! I reply to oodles of comments and questions each week, and in these roundups I try to highlight those I receive most often and ones that I think will be helpful to others too.
As always, if you have a question, please feel free to leave it below and I'll put my thinking cap on. Who knows—it may even be featured in a future Friday FAQs post. And of course, you can always chime in on the questions with your own two cents, or any specific feedback about the series. My goal is to make these posts as helpful as possible, so I'd love to hear your thoughts!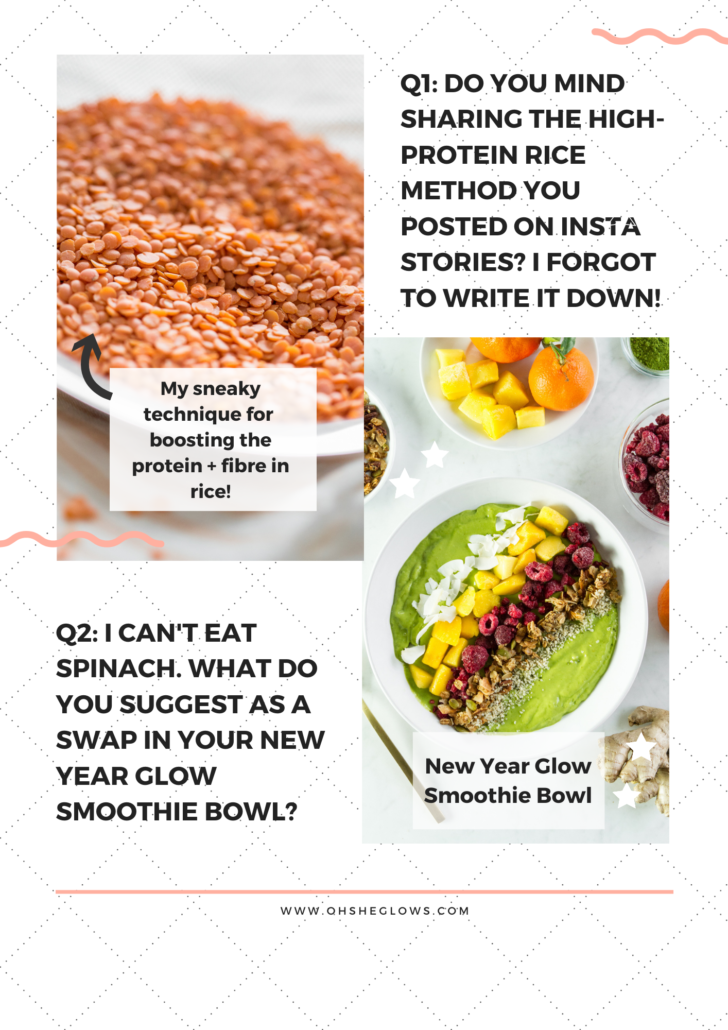 Q1. Hi Angela, I forgot to write down your high-protein and high-fibre rice idea for the kids. Do you mind sharing it again?
A. Hi Susan, My kids love rice and I came up with this trick for boosting the protein and fibre: I mix uncooked rice (usually white basmati since it cooks quickly) with uncooked red lentils (again, these cook quickly!) in a pot and cover them with a couple inches of water. Bring to a low boil, reduce the heat, and simmer uncovered for 10 to 15 minutes, until both the rice and lentils are tender. Then I drain off the water in a colander and add the drained rice-lentil mixture back into my pot. Next, I'll stir in some marinara sauce, hummus, garlic powder, and Herbamare for flavour. You can flavour it any way you like, of course. My kiddos love rice prepped this way, and Adriana can't detect the added lentils—let's just say she has a complicated relationship with regular lentils! I love knowing they're getting a huge protein and fibre boost. You can play around with the rice-to-lentil ratio too…I don't tend to measure it when I make it.
Q2. Your New Year Glow Smoothie Bowl looks great! Do you have any suggestions on what to substitute for the spinach? I can't eat spinach, and I find it's used so often in smoothie recipes.
A. Hey Julia, I've had great success using baby kale in this smoothie. I love baby kale because it has a delicate flavour that isn't as overpowering in recipes as regular kale, but you could try stemmed full-size kale in the smoothie bowl too. I also wonder how romaine lettuce would taste, but haven't tried it out yet.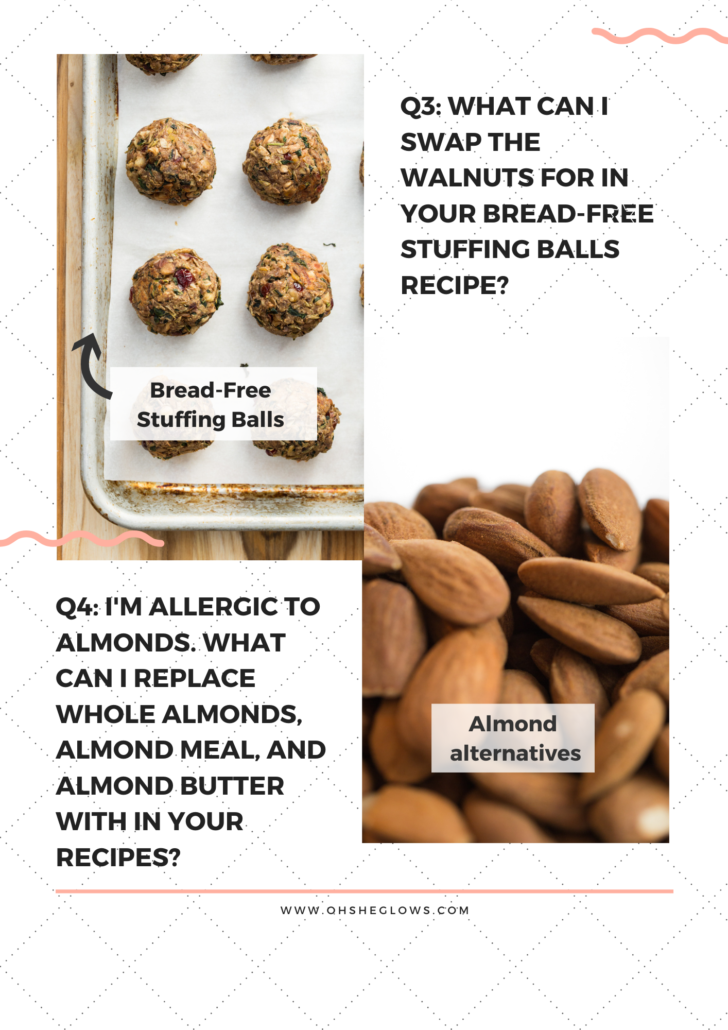 Q3. Thanks for this Bread-Free Stuffing Balls recipe! I can't wait to try it. Quick question – my husband has a walnut allergy. Any recommendations for replacing the walnuts?
A. Hey Beth, I think chopped pecans or pepita seeds would work fine as a sub for walnuts. I'd probably opt for pecans because I can see the flavours pairing well. I can't wait to hear what you think!
Q4. Hi, I have both of your books and the app. Love your recipes! Do you have any good substitutes for almond, almond meals, and almond butter in the recipes? I'm allergic.
A. Hey Justina, Thank you so much for the book and app love! I hope you're enjoying them. As for subbing almonds out, it can often be done successfully, but I find that advice depends on the recipe. If you have any specific recipes you are thinking of swapping them in, I can try my best to troubleshoot for you below. Swapping the almond butter for roasted sunflower seed butter can work in many recipes, such as my Ultimate Flourless Brownies in Oh She Glows Every Day. Sometimes you can swap almond meal for ground cashews or other nuts and seeds depending on the dish. In the meantime, I'd suggest checking out the nut-free sections in the app and on the blog here and here. If you have any specific recipe questions, I'm always happy to help!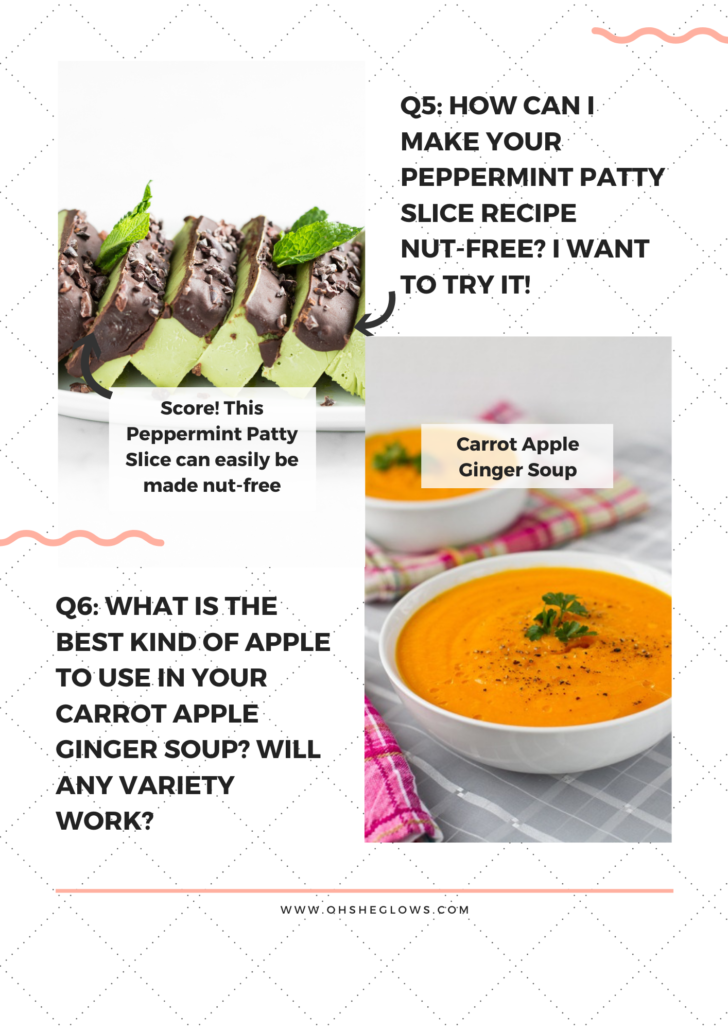 Q5. I'm allergic to cashews. Any other nuts I could replace cashews with? This Vegan Peppermint Patty Slice looks yummy and I want to try it.
A. Hi Lise, I've successfully swapped the cashew butter for 3/4 cup (115 g) soaked raw sunflower seeds. The flavour changes a bit, but it's still a good nut-free option! A reader also said almond butter worked nicely.
Q6. What kind of apple would you suggest for this Carrot Apple Ginger Soup? I never know which flavours work with what. Thanks!
A. Hi Nicole, I like Granny Smith apples in this soup because their tart flavour balances the carrot's sweetness quite well. But I really think it would work fine with just about any variety you like!

"OMG, I have to tell you that the best banana bread I had ever eaten was my wonderful (now deceased) mother-in-law's!! After I made your Vegan Banana Bread recipe, I cut a small piece for my husband and, in his words: "My mother would be proud. Delicious."
Hey Linda, This means so much to me to hear, thank you! I'm so happy the recipe was such a hit with you and your husband. Our loaf never lasts more than a couple days. All the best to you both in 2018!