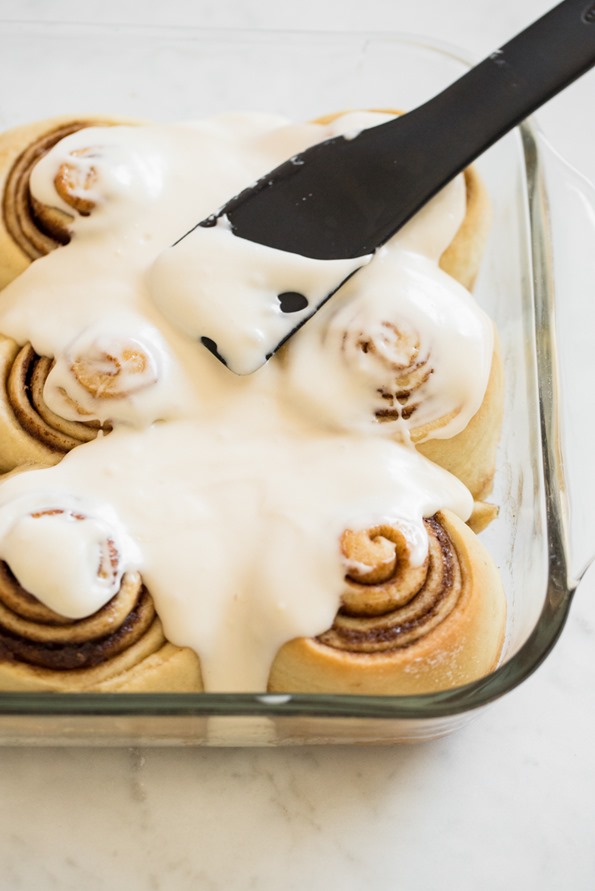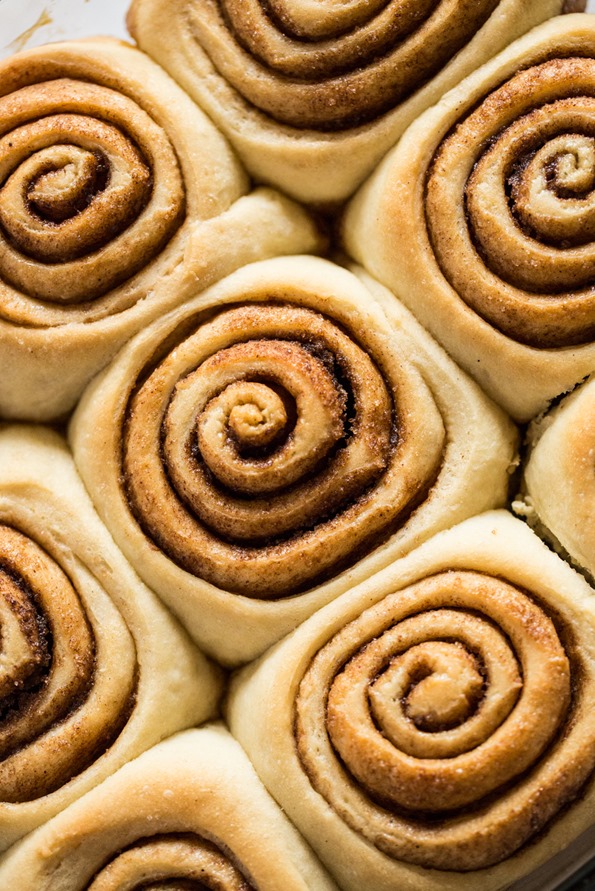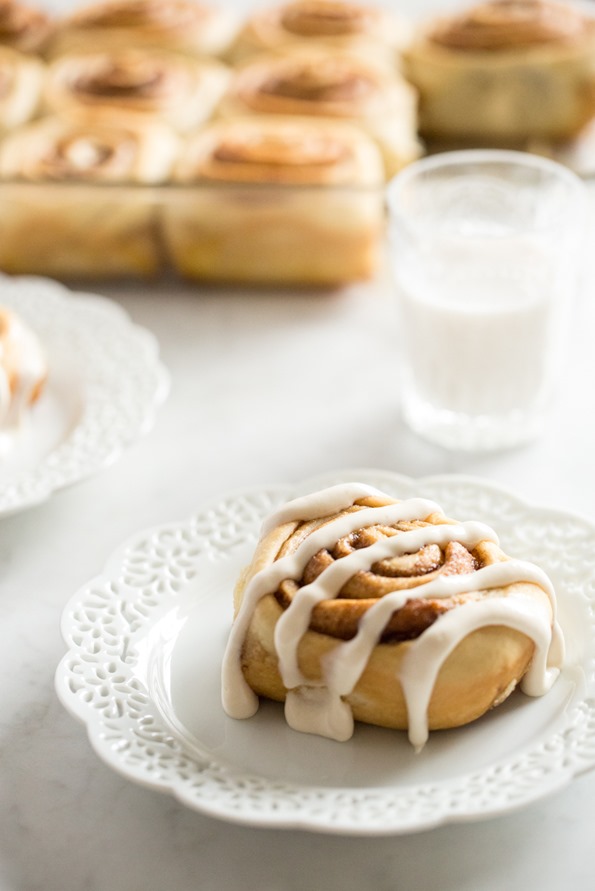 March and April were a couple of the hardest months we've had since becoming parents of two. We were struggling to stay afloat and not sleeping much. I started to feel depressed/anxious on and off (which worried me a bit, given my past struggles), and was at a loss for how to write about what I was going through. For a while, I lost the motivation to do many of the things I normally enjoy. The past few years have been amazing and intense and emotional and exhilarating and exhausting. The phrase "burning a candle at both ends" comes to mind. My kids are my world and being a mother is my favourite role in life, but it's so damn hard sometimes. That's just the honest truth. Some days you just survive. But then there are those daily moments that take my breath away…make my heart burst with love and my eyes well with tears, and it's like…oh yeah. THIS. This is it. This is what makes it all worth it a million times over. Grateful doesn't even begin to describe how I feel.
Thankfully, we seem to be in a better phase right now: we're all getting more sleep, and the kids have been much happier. I'm soaking it up! My motivation has also returned and inspiration seems to be everywhere lately. Despite the incessant rain of late, things are feeling fresh and new again. My birthday is coming up in a week, so the timing couldn't be better.
If you've been following me on Insta Stories, you may have seen the development of these cinnamon rolls over the past couple weeks. Cinnamon rolls for DAYS, you guys!! Working off my Pumpkin Pie Cinnamon Rolls recipe from way back in 2010, I made a classic cinnamon roll—vegan styles, of course. Why the heck didn't I have one already? I do not know. My goal was to make the recipe foolproof without sacrificing that amazing cinnamon roll experience we all know and love, and based on my taste testers' reactions I'd say it's a big crowd-pleaser. (One of my pals said they remind her of her grandmother's cinnamon rolls!) Don't be put off by the number of steps; I wanted to provide a lot of detail so you wouldn't be left hanging (that's the worst). Also, be sure to see my notes on how to prep these the day before (you know I tested that, too), so you can wake up and bake fresh cinnamon rolls with minimal bleary-eyed fiddling in the kitchen. I know what we'll be enjoying on Mother's Day, and I can't wait to celebrate with our crazy little fam…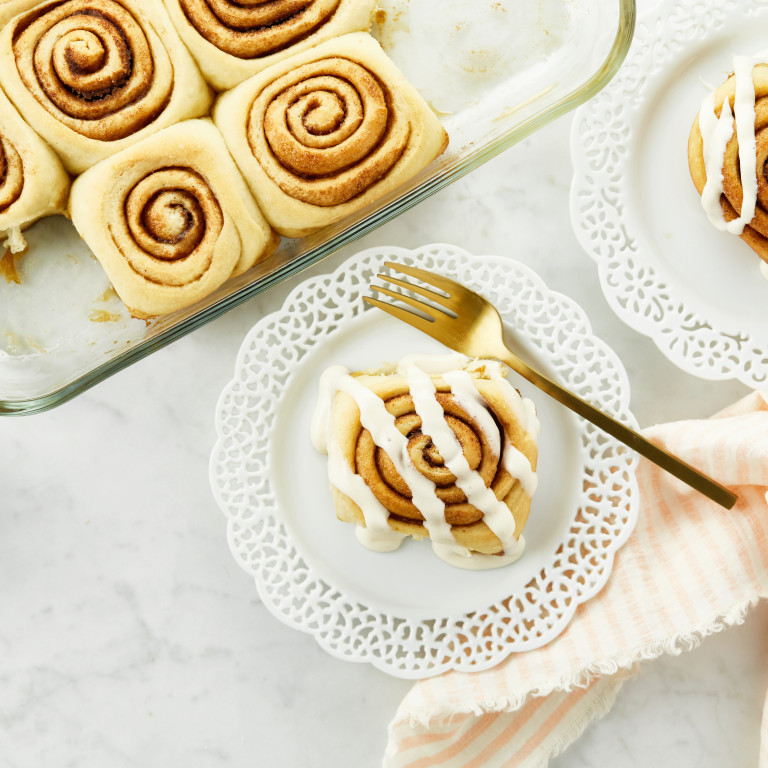 Classic Cinnamon Rolls

Yield

12 rolls
Prep time

Rest time

1 hour, 45 minutes
Cook time

Total time

Fluffy cinnamon rolls topped with a sweet and tangy cream cheese frosting; these are great to whip up for special occasions or laid-back weekend mornings. There are quite a few steps, but don't panic! I promise, as long as you read everything over before you begin, you'll be fine—they're actually quite easy to make. Even though this recipe technically requires about 2 hours and 45 minutes total time, only 30 to 40 minutes of that are active. The remainder is rest and bake time, during which I encourage you to kick up your feet and relax! See my tips below for how to make these the night before, too. I adapted this recipe from my Pumpkin Pie Cinnamon Rolls (2010).
Ingredients
For the yeast:
1/2 cup (125 mL) warm water
1 teaspoon (5 g) sugar
1 packet (8 g) quick-rise instant dry yeast
For the dough:
2 1/2 cups plus 3 tablespoons (430 g) all-purpose white flour, plus more for kneading
1/3 cup (67 g) vegan butter
1/2 cup (125 mL) unsweetened almond milk
1/3 cup (73 g) cane sugar
1 teaspoon (6 g) fine sea salt
For the cinnamon sugar filling:
1/2 cup (110 g) cane sugar
1 1/2 tablespoons (10 g) cinnamon
1/4 cup (50 g) vegan butter, melted
For the pan sauce and frosting:
1/4 cup (50 g) vegan butter, melted
2 1/2 tablespoons (25 g) unpacked brown sugar or cane sugar
Directions
Set aside a 9- by 13-inch casserole dish.
For the yeast: In a small bowl, add the warm water. Make sure it's not too hot; it should feel like warm bath water (approximately 110°F/45°C). Stir in the sugar until mostly dissolved. Now, stir in the yeast until dissolved. Set aside for about 6 to 7 minutes so the yeast can activate (it'll look foamy when ready).
For the dough: Flour a working surface for later. Add 2 cups of flour into a large mixing bowl.
Melt 1/3 cup butter in a small saucepan over low heat. Remove the pot from the burner and stir in the almond milk, 1/3 cup sugar, and salt. The mixture should be lukewarm—if it's any hotter let it cool off for a minute. Stir in all of the yeast mixture until just combined.
Pour the wet yeast mixture over the flour and stir with a large wooden spoon. Stop mixing once all of the flour is incorporated and it looks a bit like muffin batter, about 15 seconds.
Add in the remaining 1/2 cup and 3 tablespoons flour. Mix with a spoon for several seconds. Lightly oil your hands and roughly knead the mixture until it comes together into a shaggy, sticky dough. It'll probably stick to your fingers (even with the oil), but that's normal. Turn the dough out onto the floured surface.
Knead the dough for about 3 to 4 minutes until it's no longer sticky to the touch; it should be smooth and elastic. While kneading, sprinkle on a small handful of flour whenever the dough becomes sticky to the touch. Don't be afraid to add some flour; I probably use between 1/2 and 3/4 cup while kneading. Shape the dough into a ball.
Wash out the mixing bowl and dry it. Oil the bowl (I love to use a spray oil for ease) and place the ball of dough inside. Flip the dough around so it gets lightly coated in the oil. Tightly cover the bowl with plastic wrap and place it in the oven with the light on (or simply in a warm, draft-free area). Let the dough rise for 60 minutes.
Meanwhile, make the cinnamon sugar filling. In a small bowl, mix 1/2 cup sugar and the cinnamon and set aside.
Make the pan sauce: In a small pot, melt 1/2 cup butter (you can use the unwashed pot from before). Remove half of the melted butter (eyeballing it is fine) and put it in another small bowl (this will be spread onto the rolled-out dough before adding the cinnamon sugar). With the scant 1/4 cup melted butter remaining in the pot, stir in the 2 1/2 tablespoons of brown sugar until combined (this is the pan sauce). Pour the pan sauce into a 9- by 13-inch casserole dish and spread it out.
After the first dough rise, re-flour your working surface and grab a rolling pin. Roll the dough into a large rectangle, approximately 20 by 14 inches.
With a pastry brush, spread the remaining melted butter onto the dough, covering the entire surface. Sprinkle on all of the cinnamon sugar filling, leaving a 1/2 inch around the edges without any sugar.
Grab the end of the dough (short side of rectangle) and roll it up, rolling as tightly as possible. Place it seam-side down once it's rolled up. Use a serrated knife to slice 1 1/2 inch–thick rolls. You should have 10 to 12.
Grab your cut rolls and place into the prepared pan, cut-side down, a few inches apart from one another. Cover the pan with plastic wrap, place into the oven with the light on, and allow them to rise for 45 minutes.
Meanwhile, prepare the Vegan Cream Cheese Frosting.
After the second rise, remove the rolls from the oven and preheat the oven to 350°F (180°C).
Remove the plastic wrap. Bake the rolls for 23 to 26 minutes at 350°F (180°C), until lightly golden in a few spots. Remove from oven and allow the rolls to cool for about 10 minutes.
Frost the rolls with the cream cheese frosting. Slide a butter knife around each cinnamon roll and lift it out. (Alternatively, you can pop them out first and frost each roll individually.) Serve immediately and enjoy!
If you have leftovers, you can wrap them up and chill them in the fridge for up to 48 hours. I like to reheat unfrosted rolls in the oven on a baking sheet for 5 minutes at 350°F (180°C). The oven returns them to their amazing gooey-soft state! Alternatively, you can freeze the cooled unfrosted rolls (wrap them in a layer of plastic wrap, followed by tinfoil) for a week or two. To reheat, simply unwrap and pop them frozen onto a baking sheet and into the oven for 10 to 12 minutes at 350°F (180°C) until warmed throughout. The edges get a bit crispy, and it's oh so good!
Tip:
Want cinnamon rolls prepped for breakfast the next day? Simply follow the recipe until you complete the second rise. Place the wrapped dish in the fridge overnight. In the morning, remove the dish from the fridge and let the rolls sit in the oven with the light on for about 20 minutes. After that, remove the dish from the oven and preheat the oven to 350°F (180°C). Remove the plastic wrap, and bake as directed. They can be prepped up to 18 hours in advance. Just be sure to cover the dish tightly with plastic wrap while in the fridge.
Nutrition Information
(click to expand)

Keep your eyes peeled for a step-by-step cinnamon roll video coming soon! Be sure to subscribe to our YouTube channel so you don't miss it.
And as an aside, to anyone out there battling the bad flooding happening throughout Eastern Canada, our hearts go out to you!