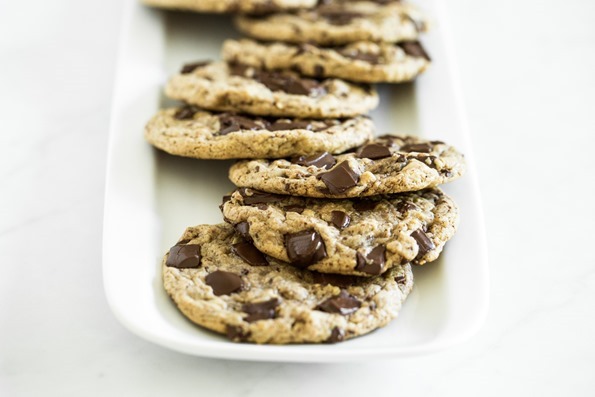 Hey, friends, how has your week been? After a relaxing holiday last week, Friday FAQs are back, well rested, and ready to roll once again. Please keep your questions coming on the blog and on social media.
Also, I want to thank you for your excitement over Oh She Glows Every Day! Your support, comments, emails, and social media messages made our entire week.
Q1. Is there anything I could use in your Flourless Thumbprint Breakfast Cookies in place of bananas? My husband can't eat them.
A. Hi Lisa, Although I haven't tried a substitution personally, I know a lot of readers have used applesauce in place of the banana and enjoyed the results. A few commented that they would've liked their cookies to be a bit sweeter, and so they added a couple tablespoons of dry sweetener the next time they made them. This makes sense since bananas tend to be sweeter and more flavourful than unsweetened applesauce. Good luck if you decide to experiment! I'd love to hear how the cookies turn out.
Q2. Any idea how long your Double Dark Chocolate Coconut Macaroon Tart will last in the freezer once it's made? It looks delicious!
A. Hey Liz, I've stored it in the freezer successfully for 2 weeks (I think it could last even longer, but we don't have that much self control!). Let it thaw for 10 minutes or so on the counter before enjoying; you want it to be easily sliceable with a knife, but not completely soft. I hope this helps, and that you enjoy the tart!
Q3. Is there any way I can store leftover BBQ tofu pieces and any unused tofu so they won't go bad?
A. Hi Diane, You can keep any unused tofu for up to one week in the refrigerator in an airtight container. It's recommended that you cover it with water, changing the water daily; it'll keep the tofu moist and at its freshest! Freezing the tofu is also an option, though you should note that doing so will change the texture slightly. (This can actually be a good thing; some recipes will have you freeze tofu as part of their advance prep, because, once frozen, it takes on a chewier, almost spongy texture, which is thought to help the tofu absorb marinades better.) Tofu can be stored in the freezer for up to 3 months in an airtight container or zip-bag. As for the leftover BBQ tofu pieces, they can be stored for 4 to 5 days in the refrigerator in an airtight container.
Q4. Hi Angela! I'm a relatively new reader and I am in love with your blog! You have definitely opened my eyes to vegan cooking and have inspired me to eat a more plant-based diet! I was wondering if you ever cook with cacao? Do you have any simple cacao recipes?
A. Hi Carolyn, It's great to hear from you! I love that you've found my blog a source of kitchen inspiration. As to your question, I've definitely got a few recipes that I can recommend to you. My Raw Chocolate Pudding is one tasty option that features cacao powder. As well, my recipes for Crazy Good Coconut Oil Chocolate Bark, Chocolate Covered Strawberries, Two-Layer Raw Chocolate Brownies (which also use cacao nibs), and Seductive Raw Chocolate Walnut Fudge all can be made with either cocoa powder or cacao powder—dealer's choice! I believe some readers have had success using cacao in my No Bake Chocolate Macaroons, too; while I haven't tried it myself, I can't see why it wouldn't work. I hope this helps get the wheels turning.
Q5. Hi Angela, What sort of substitutions can I make in your One Bowl Jumbo Chocolate Chunk Cookies recipe? Sometimes I get random cookie-making urges (this can't just be me, can it?!), but my pantry isn't always the best stocked it could be and sometimes my cravings just have no patience for a trip to the grocery store.
A. Hi Charlie, This has been a popular question lately so you definitely aren't alone! I haven't personally tested any substitutions, yet, but more and more readers have been reporting back with information about how their own recipe experiments have worked out. So, I'll share some of that OSG community wisdom with you here!
For the almond butter: A number of readers have tried subbing natural peanut butter. Many found the cookies didn't spread out like they should and were crumbly; others, however, found it worked just fine (keeping in mind some made other swaps in the recipe, as well). I had suggested sunflower seed butter (and finely ground toasted sunflower seeds instead of almond flour) might work well for a nut-free cookie, and the one reader I know of—if I've missed or forgotten someone else, feel free to chime in!— who tried this reported back that the cookies didn't spread out super well. A few other people tried out cashew butter, and had a lot of success with it. So, it seems like there aren't any hard and fast rules when it comes to swapping the almond butter, and it probably depends on the brand. My guess is that thicker, less "drippy" nut or seed butters will produce thicker, drier cookies that don't spread as much.
For the arrowroot: A few readers tried potato starch, and found that though the cookies tasted great and had a generally good texture, they didn't spread very much and/or were a bit on the crumbly side. Those who tried tapioca starch, on the other hand, found the cookies worked out great, which is awesome news! Cornstarch also reportedly works quite well.
For the maple syrup: I believe someone tried using honey instead of maple syrup, and found that though the cookies were structurally sound (heh) and tasty, they were a bit on the too-sweet side.
For the almond flour: Many people have reported back that various swaps—namely, gluten-free flour, oat flour, and all purpose flour—worked out really well with no notable issues.
I hope this helps inspire your own modifications. If you or anyone else out there tries one of these substitutes, I'd love to hear about how it goes. Keep in mind that even "small" changes to a vegan/gf cookie recipe can result in a totally different outcome (which is why I tested this recipe over a dozen times!), so just be prepared for a bit of a surprise each time. I can think of worse things to come out of the oven though. ;)
Comments of the Week
"Hi Angela, I'm a vegetarian and I love cooking. I have been following your blog for about 4 years now, and every single recipe I've tried has turned out outstanding! So much so that I'm not afraid of trying out a new recipe from your blog even when I have guests over for dinner. Thank you so much for spending so much time creating recipes that are so fail-proof that it gives people like me confidence to serve your recipes to guests on my first try! Coming to this recipe, I've been looking for a mayo recipe that doesn't use egg or soy for a long time…. I tried this out this weekend with a couple of substitutions and I cried out in joy when I saw it emulsify! I used avocado oil instead of refined olive oil, 1/2 tsp of sugar instead of the brown rice syrup, and some chili powder instead of dry mustard (what can I say…us Indian people love our chili powders ;)) The mayo emulsified and tasted delicious! Thanks again for the awesome recipe and the recipe alterations you suggested in your FAQs…t gave me the confidence to try this with what I had in my pantry!"
Hi Sweta, It's awesome to hear how much you enjoy my recipes. The confidence to serve guests a totally new recipe is such a compliment! Thanks also for sharing your modifications to the mayo recipe. I, too, have used avocado oil and cane sugar with great results. It's so nice to have a vegan mayo recipe that can be whipped up in a few minutes!
"Hello, Just wanted say that this Super Power Chia Bread is so wonderfully delicious and versatile! My family has been trying to minimize bread in our day-to-day, so we've discovered that this makes a fabulous substitute when we season it and choose add-ins to match our mealtime themes. To this end, we've experimented successfully with Italian (garlic, sundried tomato, olive), Greek (olive, onion, lemon basil, feta—you get the idea), Mexican Chile, Indian Masala, and our daily fave, the "bring it on, breakfast blend" (dried apricot, cranberry, currants, cinnamon, walnut). Hope this helps. Enjoy friends :)"
Hey Tara, I'm loving all of your modifications to this recipe! Thanks for sharing with everyone. The breakfast blend sounds exactly like what I've been craving in the mornings lately. I love spreading this bread with coconut oil, or chia jam and nut/seed butter—try it out and let me know what you think!