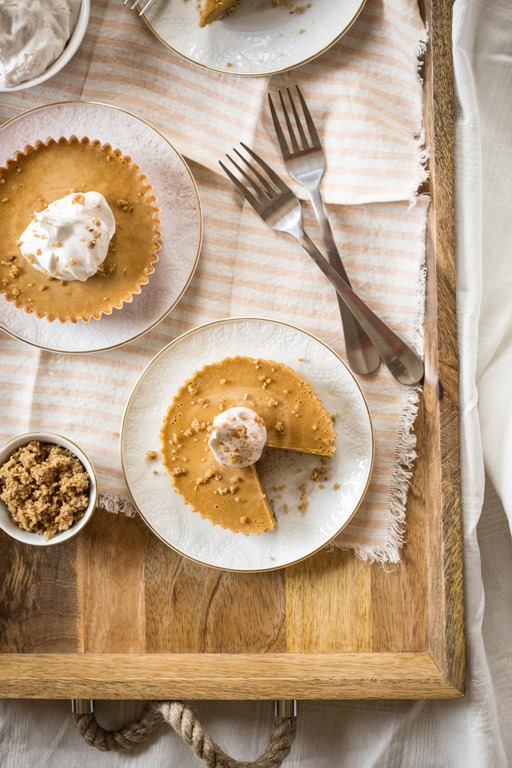 A couple weeks ago, I received a reader recipe request. Let's call him "Jason". Jason asked if I could create a nut-free version of my Raw Pumpkin-Maple Pie with a Baked Oat Crust (found in my cookbook, page 247) because his wife can't have cashews and pecans. Apparently, it was tormenting her not to be able to try this pie! He wants to surprise her next month with this dessert as a special thank you because "she's the best wife and mom ever".
He went on to write, "Angela, I have no clue where to begin and don't want to mess this up like I usually do."
I immediately knew that I had to step up to the (pie) plate on this one (no pressure, no pressure!) because the world needs more love. And pie. Plus, I've always wondered how I could make this recipe without pecans or cashews, and now I have a nice option to share with you all. I tested multiple fillings and there was a clear winner that I'm sharing below. Spoiler alert – a combo of super luxurious full-fat coconut cream and sunflower seed butter worked so well as a replacement for cashews! It tastes so awesome.
I also paired it with a new toasted sunflower seed and oat "cookie" crust that's a wonderful, crunchy compliment to the creamy and cool pumpkin pie filling. Pie crusts should never be boring or flavourless, and I love that this one is an easy "press-in" crust.
I meant to have this recipe up on Monday, but I ended up testing this pie about 7 times this week! I can't sleep at night unless I've tested all of my options. Better late than never, I say. I'd rather not rush a recipe just to get it out on time. Anyway, I made this pie as a contribution to our Thanksgiving dinner later today (we're in the US currently), and I'm so looking forward to the spread at my mom and stepdad's. I hope those of you celebrating have a happy, fun, and safe Thanksgiving! And if you can't make this pie today or this weekend, I hope you'll include it on your holiday baking list.
Well, Jason (you know who you are) I hope this works out for you. If it doesn't, I'd prefer that you not mention my name.
I'm joking! It'll work out. Promise.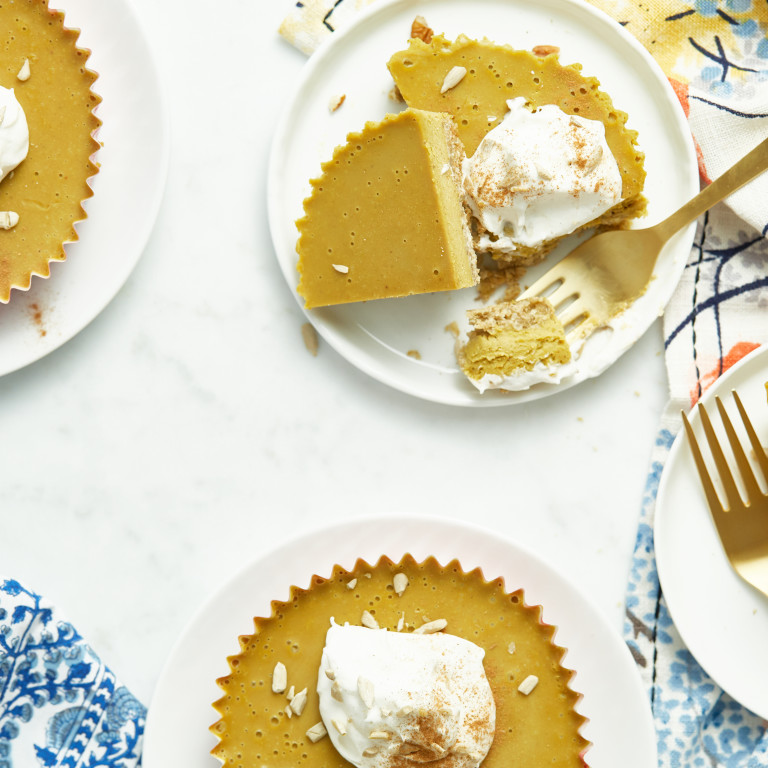 Pumpkin Pie Tarts with a Cookie Crust
Vegan, gluten-free, nut-free, refined sugar-free, soy-free

Yield

12 small servings
Prep time

Cook time

Chill time

3-5 hours
Total time

This is a luxurious and creamy nut-free version of my favourite Raw Pumpkin Pie from The Oh She Glows Cookbook (page 247–248). After many trials, I ended up using a combination of sunflower seed butter and full-fat coconut cream to replace the cashews in the original recipe, and it worked out so well! The pie has a light coconut flavour, but it's balanced out nicely by the earthy sunflower seed butter. As a bonus, this filling doesn't use any whole nuts or whole seeds so you don't need a Vitamix (or other high powdered blender) to get the filling super smooth. I used 4 tart-sized (about 4-inches diameter) "freestanding" baking cups which I found at Target, but you can also use a standard muffin tin lined with paper liners (or simply greased well) to make mini tarts. I'd imagine a 7- to 9-inch springform cake pan would work well too. The dough is a bit difficult to shape into a traditional pie crust (with high sides) so that's why I went with a flat crust for this recipe. If you don't mind fiddly things, then by all means take a stab at the regular pie crust. Also, the paper liners are easily removed if you remove them while the pies are frozen.
Ingredients
For the crust:
1/2 cup raw sunflower seeds
1 3/4 cups rolled oats (use certified gluten-free if necessary)
1/4 teaspoon fine sea salt
1/4 cup (60 mL) coconut oil, melted

*

3 tablespoons (45 mL) pure maple syrup
2 tablespoons (30 mL) smooth sunflower seed butter (pour off oil before measuring)
2 to 3 teaspoons (10 to 15 mL) water, if needed to bind dough
For the filling:
1/2 cup (125 mL) canned full-fat coconut cream

*

*

1 cup (250 mL) unsweetened pumpkin purée
3/4 cup (180 mL) pure maple syrup
1/2 cup (125 mL) coconut oil, melted

*

2 tablespoons plus 2 teaspoons (70 mL) sunflower seed butter
2 teaspoons (10 mL) pure vanilla extract
1 to 2 teaspoons pumpkin pie spice, to taste

*

*

*

1/4 teaspoon fine sea salt
For serving:
Coconut Whipped Cream or So Delicious Coco Whip
Directions
Preheat oven to 350°F (180°C). Grab 4(4-inch diameter) baking paper cups, or 12 standard muffin paper liners and set aside. You can also use a 7- to 9-inch springform cake pan greased and lined with a circle of parchment paper.

Add the sunflower seeds into a skillet and toast the seeds over medium heat for 5 to 8 minutes, until lightly golden and fragrant. Remove from heat.

For the crust: Add the toasted sunflower seeds, oats, and salt into a food processor and process until finely chopped, resembling a coarse flour. Now, add the melted oil, maple syrup, and sunflower seed butter, and process until the mixture comes together into a heavy dough. The dough should stick together very easily when pressed between your fingers. If it's still a tad too dry, add the optional water and process again until it comes together. I find that I always need 2 teaspoons of water, but it'll depend on your ingredients' moisture content.

Divide the dough equally between the liners, crumbling it all over each base. (Note: I reserved about 1/2 cup of the dough for sprinkling on the pies when serving.) Lightly wet your fingers. Starting at the centre, press the dough into the base to form a crust. If the dough starts to stick to your hands at any time, lightly wet your hands and shake off the excess water. Once the crust is all pressed in, poke the base with a fork about 2 to 3 times to allow the air to escape while baking. I place the 4 liners onto a baking sheet so it's easy to remove them from the oven.

Bake the crusts for around 10 to 12 minutes until lightly golden around the edges. Place baking sheet on a cooling rack and cool the crusts for at least 15 to 20 minutes, or longer if you have the time.

For the filling: Open the chilled can of coconut milk. Scoop off 1/2 cup of the white coconut cream only (not the water) and place it into a blender. (You can save the remaining contents of the can for a smoothie or other use.) Add the pumpkin purée, maple syrup, melted oil, sunflower seed butter, vanilla, pumpkin pie spice (to taste; I use 2 teaspoons), and salt. Blend, starting at a low speed and increasing the speed, until smooth.

Divide the filling equally among the cooled crusts. Carefully, transfer the baking sheet (or muffin tin, if making 12 mini tarts) into the freezer on a flat surface. Chill until firm, about 3 to 5 hours. There's no need to cover it.

After the tarts are solid, carefully remove the paper liners. Here you can transfer the pies to the fridge for a mousse-like texture, but I prefer the texture when frozen after sitting on the counter for 5 to 10 minutes before serving.

Serve with coconut whipped cream on top, if desired. This pie filling softens a great deal at room temperature, so it's best not to leave leftovers on the counter. Return them to the fridge or freezer for best results.
Tip:
*

A note about coconut: Health Canada classifies coconut as a "seed of a fruit" and not as a tree nut, however the U.S. FDA classifies coconut as a tree nut, so as you can see there is some confusion over classification when it comes to coconut. As always, if you think you might be allergic to coconut, be sure to talk to your doctor before consuming.

*

*

Be sure to chill a can of full-fat coconut milk for at least 24 hours before you begin this recipe. When ready, open the can and carefully scoop out 1/2 cup of the white coconut cream making sure not to use any of the coconut water.

*

*

*

I used 2 teaspoons of Whole Food's 365 Pumpkin Pie Spice. You can also try my homemade Pumpkin Pie Spice Mix.
If you want to minimize the light coconut flavour in this pie, you can use refined (flavourless) coconut oil here rather than virgin.
Nutrition Information
(click to expand)