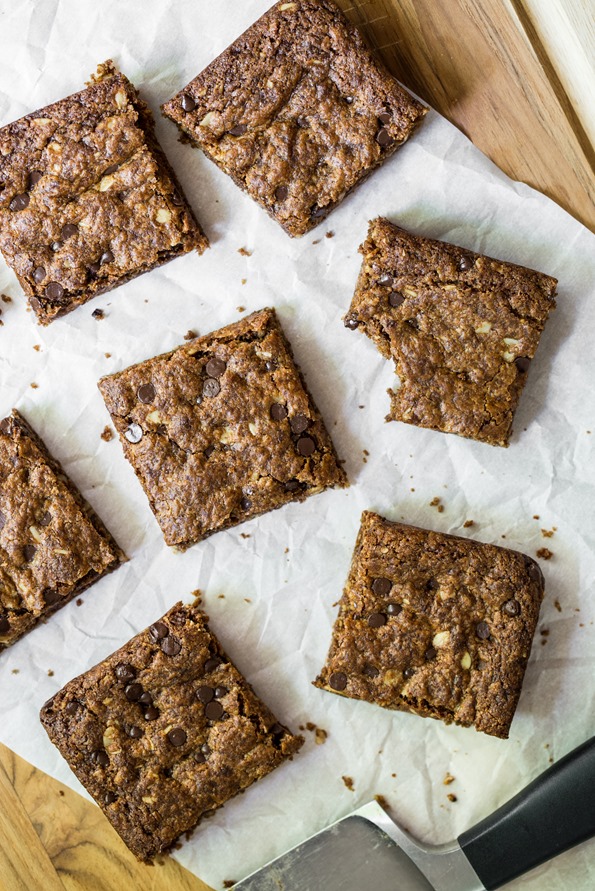 Houston, we have a working oven! This is what I screamed to Eric when I turned on our newly installed oven for the first time this weekend. To celebrate this momentous occasion I made something I've been craving for the past 6 weeks – warm, fresh-out-of-the-oven cookies. [Fact: store-bought cookies just aren't the same.] Then I made oatmeal cookie bars. Somehow I convinced Eric that these were an "anniversary gift" that I made "just for him" (he's been in OSG baked good withdrawal during this kitchen reno), but we all know that this ready-to-pop, basketball smugglin' preggo lady planned on eating her fair share complete with Coffee Shop Worthy Caramel Hazelnut Milk. Yea, it was a good weekend. I hope my oven and I shall never part again.
What can I tell you about these bars? Well, first off, we could not stop eating them. Eric said, "They are so light, I feel like I could eat 6 of them without feeling sick!" I suppose that's a good thing? The gluten-free cookie base is made of up rolled oats (some of which I ground into a flour for binding purposes) and almond flour, just like my favourite GF + vegan cookies on the blog. There aren't any gums or starches to speak of and because of this they are quite delicate when they first come out of the oven, but the crust bakes up crisp, chewy, and slightly caramelized so it's a terrific balance. Let me tell you – the crispy corner pieces are prime real estate! Only your favourite people are worthy of the corner pieces. If you have one of those "Baker's Edge" brownie pans, now would be a good time to put it to use. Then you can avoid that awkward moment when you hand the middle piece to a friend and take the corner piece for yourself.
I used coconut sugar to give the bars a gorgeous dark golden hue and a hint of toffee/caramel flavour. The added bonus when using coconut sugar is that it has a low glycemic index compared to other sugars (35), so it won't spike your blood sugar as quickly. According to my logic, this means I can eat twice as many. Correct? Phew.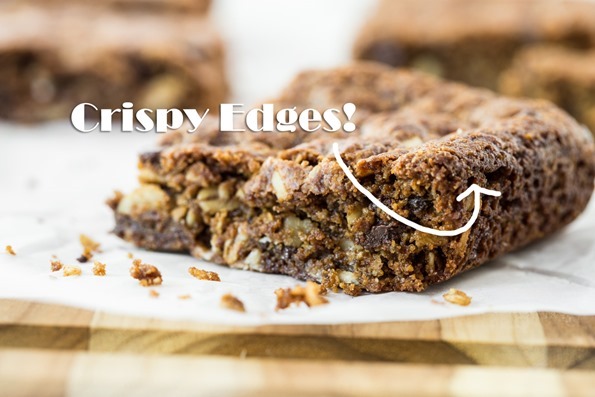 I don't think I need to tell you that these are great with a scoop of vegan ice cream, but I'll throw it out there just in case. We turned one into an open-faced ice cream sandwich by chilling a bar and serving it with a scoop of vegan ice cream on top. Oh my lanta. It's great to have an oven.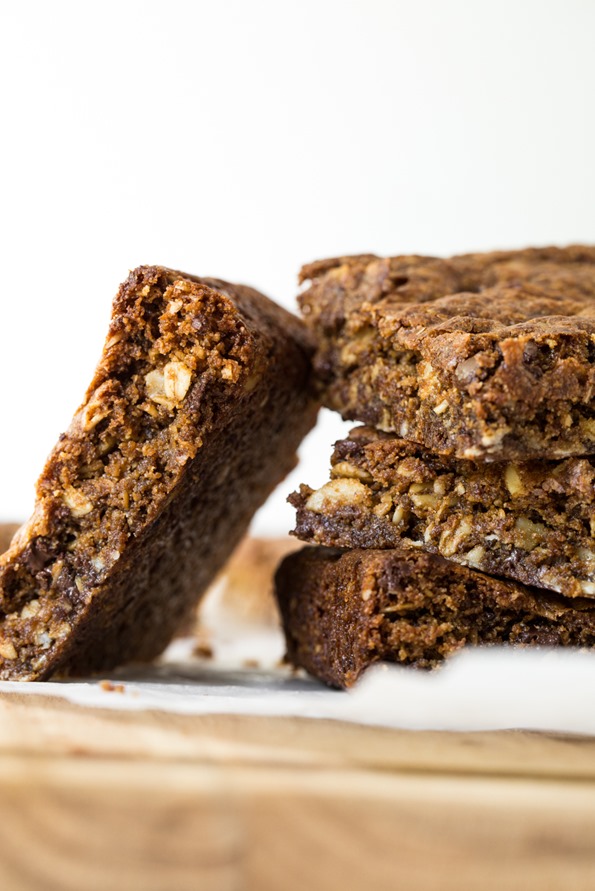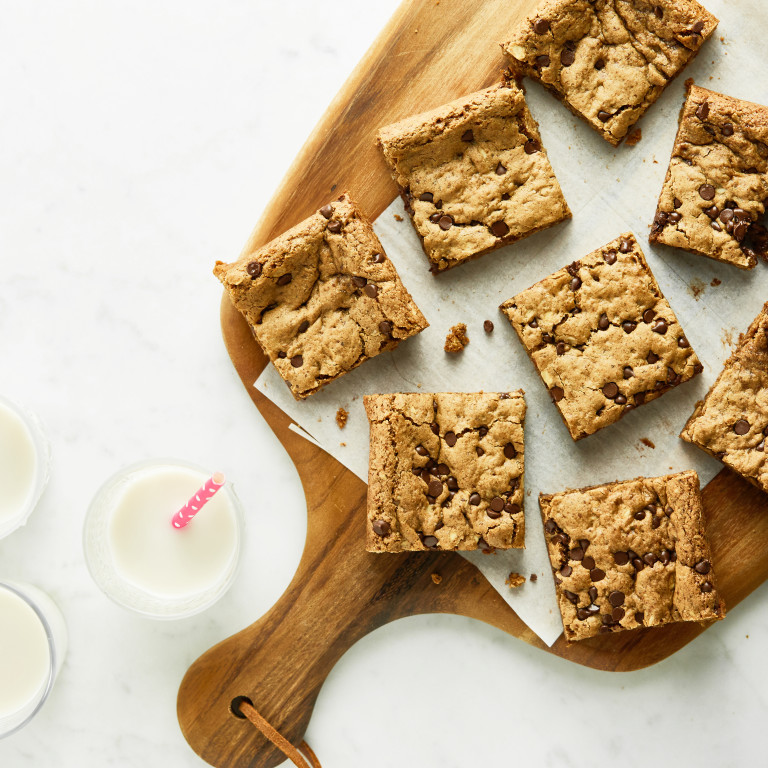 Toffee Cinnamon Oatmeal Cookie Bars

Yield

12 bars
Prep time

Cook time

Total time

These cookie bars are soft, delicate, and chewy in the middle with a crispy outer edge. Coconut sugar lends a wonderful toffee flavour to these bars. Try serving them with vegan ice cream for an easy dessert or just enjoy them with some homemade almond milk. Recipe adapted from my vegan and GF cookies.
Ingredients
1 tablespoon (8 g) ground flax
3 tablespoons (45 mL) water
1/4 cup plus 1 tablespoon (75 mL) virgin coconut oil, softened
2 tablespoons (30 g) natural smooth almond butter
3/4 cup (120 g) coconut sugar

*

1 teaspoon (5 mL) pure vanilla extract
1/2 teaspoon baking soda
1/2 teaspoon fine sea salt or pink Himalayan salt
1 teaspoon cinnamon
3/4 cup plus 1 tablespoon (108 g) oat flour

*

*

3/4 cup (75 g) gluten-free rolled oats
3/4 cup (75 g) almond flour
1/4 cup plus 1 tablespoon (60 g) non-dairy mini chocolate chips, divided
Directions
Preheat oven to 350°F (180°C) and line an 8-inch square pan with parchment paper.
Mix the ground flax and water in a small bowl or mug and set aside to thicken.
In a large mixing bowl, beat the coconut oil, almond butter, and sugar with electric beaters until combined.
Pour in the flax mixture and vanilla extract and beat until combined.
Add the baking soda, salt, and cinnamon and beat again.
Finally add in the oat flour, rolled oats, almond flour, and 1/4 cup of chocolate chips (reserving the 1 tablespoon for later) and beat until combined.
Spoon dough into prepared pan and spread out until smooth and even. Sprinkle the remaining chocolate chips on top and press down. I use a pastry roller to roll the dough out even.
Bake for 17 to 20 minutes, until lightly golden and firm around the edges. (The edges will be high and the middle portion will be sunken a bit. This is all normal!)
Gently place the pan on a cooling rack for 15 minutes. Then, carefully lift out the bars and place directly on cooling rack for another 10 minutes or so, until mostly cool. Slice and enjoy! Note: The bars will crumble slightly if sliced warm, but they firm up nicely when cooled.
Store leftovers in the fridge in an airtight container for up to 3 days, or in the freezer (tightly wrapped and placed in a freezer bag) for up to 3 to 4 weeks.
Tip:
*

 Instead of coconut sugar, you can try using unpacked light brown sugar.

*

*

To make the freshly ground oat flour, add 3/4 cup rolled oats into a high speed blender. Blend on high until a very fine flour forms. This will make 3/4 cup plus 1 tablespoon of oat flour. Or you can simply use store-bought oat flour.
This recipe is an updated version as of May 24/16. The previous version did not contain almond butter, and it had 1/4 cup plus 2 tablespoons virgin coconut oil. Everything else is the same.
Nutrition Information
(click to expand)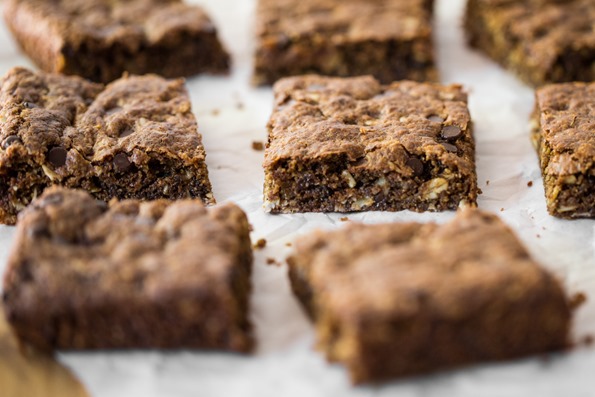 Cheers to September, baking, and working ovens!