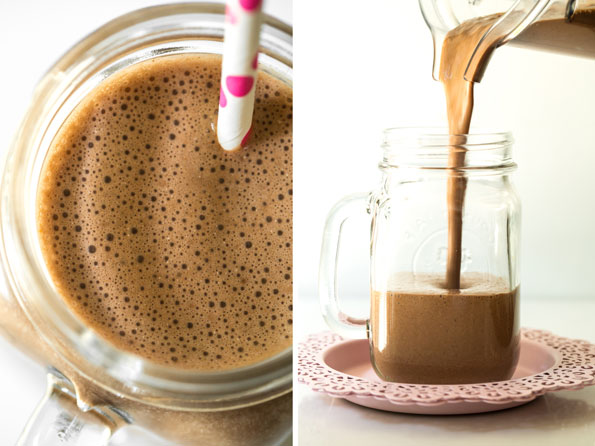 One of the most popular questions I've received over the years is "How can I get my partner to eat healthier?" What I've come to realize is that for most people change has to happen from within. Whether it's a personal struggle they go through or a light bulb moment they experience, many of us have to figure it out for ourselves. Plus, some people are naturally more resistant to change than others and if you push them, they repel in the opposite direction. I don't believe in pressuring someone to eat a certain way and I don't think that there is a one size fits all approach for everyone. Leading by example helps (and sharing great-tasting food!), but ultimately if someone is going to make any kind of change in their life it usually has to be internally motivated for it to stick. This has been especially true for my own dietary changes and the shifts I've seen in Eric too. I've been singing the praises of green smoothies to Eric for 6 years now, but it just took him one moment of internal motivation to get hooked. Go figure. Although in his defense, I think I scared him off with an utterly gross concoction I made for him years ago.
Earlier this year, Eric ditched his morning cereal in an effort to cut down the gluten and processed carbs in his diet as he was suffering from some major brain fog and wanted to experiment with his diet. He now drinks a huge green smoothie every morning and claims he is feeling better. His only problem, he says, is keeping his pants up because he dropped some weight in the process.
This year, we've been big fans of adding hulled hemp seeds into our smoothies for a natural protein, fibre, and omega-3 boost. One 3-tablespoon serving has an impressive 2.5 grams of omega-3 fatty acids, 10 grams of protein, and 3 grams of fibre. It also has oodles of manganese, magnesium, iron, zinc, B6 and more. You can find the huge bags of hulled hemp seed at Costco for a good price. Hemp seeds can be a bit bitter or grassy tasting, so it does take some experimenting to find the right ratio of ingredients in a smoothie (I've definitely made some bad ones). Luckily, hemp pairs with chocolate effortlessly so it's a no-brainer.
I've been enjoying my hemp-filled Green Warrior Protein Smoothie for a few months now. When I'm too lazy to prep all the veggies I simply add a couple spoons of hemp seed into my classic green monster recipe. Does the trick! Not long after, I decided to make a chocolate-hemp spin-off. I wanted something that I could enjoy on a hot summer day that would satisfy a craving for something sweet, chocolaty, and cold – while still packing in tons of nutrition. I made this recipe in May and was planning on sharing it during our kitchen reno this August, but recipe development has been a bit slow for me the past couple weeks so I decided to pull it out of the draft folder early. Plus, I just didn't feel right keeping it from you given how hot and humid the weather has been lately. This smoothie has been my saving grace and has kept me from buying expensive pints of vegan chocolate ice cream more often than not.
Another thing I like about this recipe is that it makes 3 1/2 cups worth. When I'm feeling especially generous, I call this recipe "for two", but there are definitely times when I chug it back faster than anyone can even see me make it.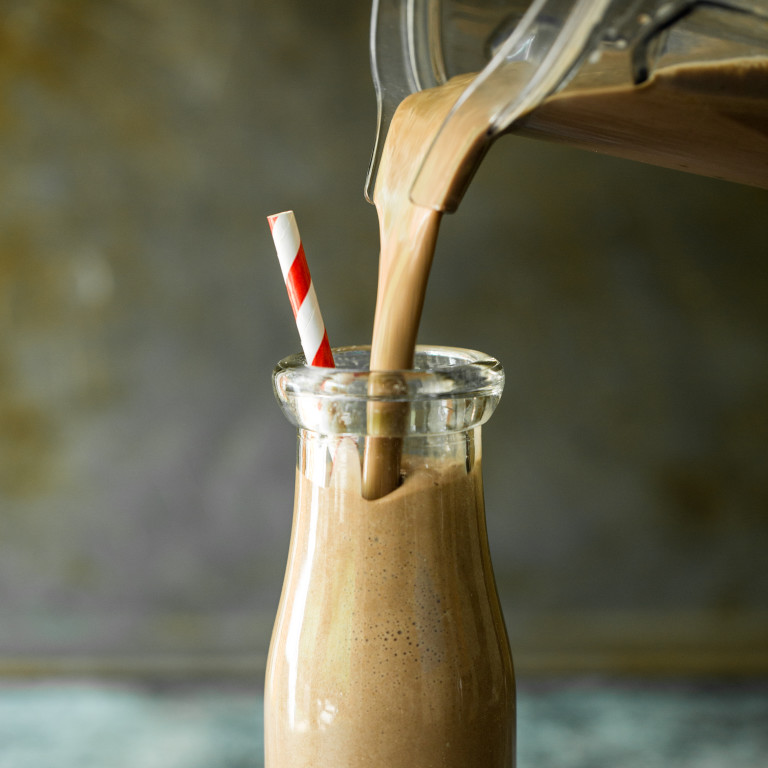 Creamy Chocolate Hemp Smoothie for Two
Vegan, gluten-free, grain-free, no bake/raw, oil-free, refined sugar-free, soy-free

Yield

3 1/2 cups (2 servings)
Prep time

Cook time

0 minutes
Total time

Cool down with this creamy, ice-cold, and luxurious chocolate hemp smoothie. Enjoy the boost of protein and omega-3's that the hemp seeds provide while indulging in a lightly sweet chocolaty treat. For a fun twist, try this recipe with homemade almond milk, Coffee Shop Worthy Hazelnut Milk, or even adding homemade coffee ice cubes. This recipe is inspired by my Cheerful Chocolate Smoothie from The Oh She Glows Cookbook.
Ingredients
2 cups almond milk (see note)
2-3 pitted large Medjool dates, to taste (I use 2)
3 tablespoons unsweetened Dutch-processed cocoa powder
3 tablespoons hulled hemp seed
1 large peeled and frozen banana
1/4 teaspoon cinnamon
4 large ice cubes
Directions
Add all ingredients into a high-speed blender and blend until super smooth.
Tip:
1) This recipe yields a fairly thin consistency. If you want a thicker shake-like texture, try reducing the milk to 1.5 cups instead of 2 cups or go wild and add a scoop of your favourite non-dairy ice cream. 2) If your dates are a bit firm or dry, soak them in water for 30-60 minutes before making this smoothie. You can also swap the dates for liquid sweetener if desired. Just reduce the almond milk a bit so it's not too thin.
Nutrition Information
(click to expand)