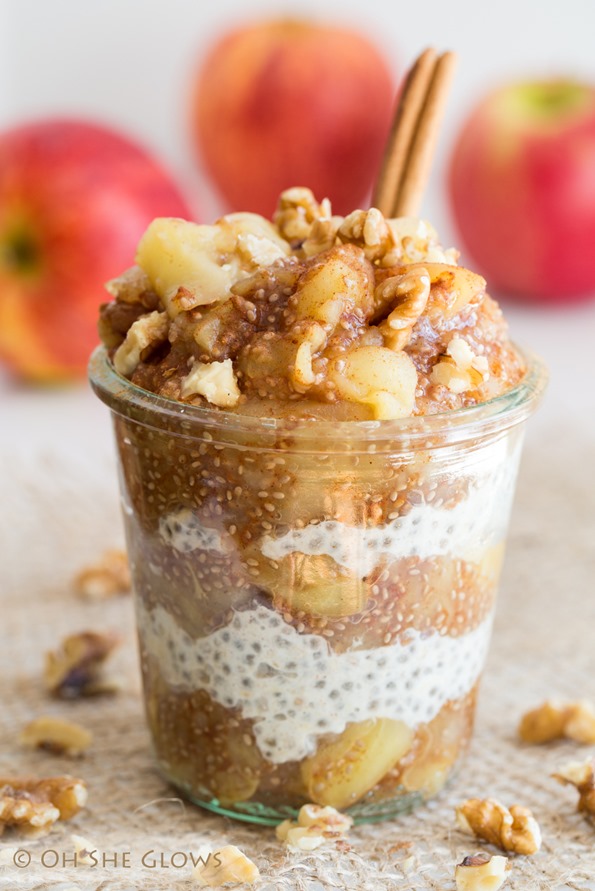 This is the sort of recipe that takes away all the end of summer blues, at least temporarily.
I recently discovered that I can make chia seed jam without the need for any sweetener at all. A natural, no added sugar jam recipe? Yes, it's totally possible!
My little secret? Apples. They are perfectly sweet enough. Unlike berries which can be tart, apples really don't need anything extra.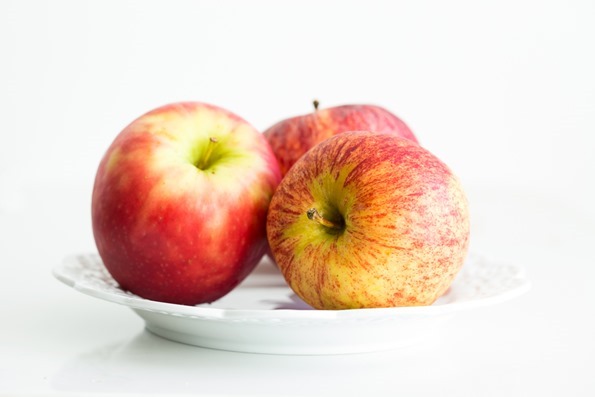 If you've had my other chia seed jam recipes (see my Magical Blueberry Vanilla Chia Seed Jam and Strawberry Chia Seed Jam), you may know by now that this isn't your grandma's jam. Not even by a long shot. It's always worth repeating this because I always get a comment about it not being an authentic or traditional jam recipe. You would be correct. Sometimes we just have to break the rules!
[Note: I used white chia seeds in this jam recipe because I had a bag to use up, but rest assured you can use white or black chia seeds.]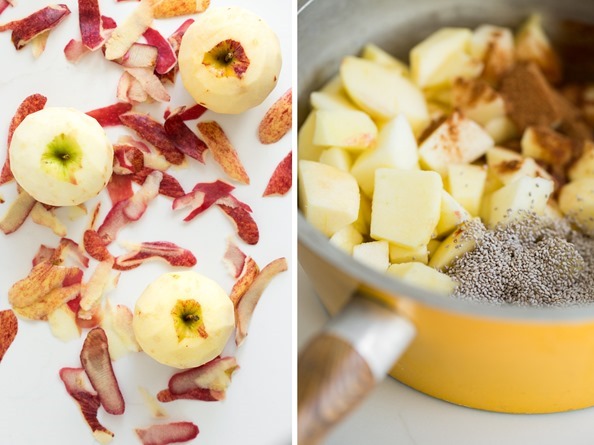 Apple peel is the new party streamer.
Much like my other chia seed jam recipes, you cook down the fruit along with chia seeds and any desired spices. Instead of using maple syrup to sweeten, I took a note from my Homemade Pumpkin Butter recipe and used 100% apple juice. It worked like a charm. I made a fairly small batch just to see how it would turn out, but next time I would probably double the recipe because it disappeared quickly! And by disappeared quickly I mean that I ate the whole batch in less than 12 hours. Can you blame me?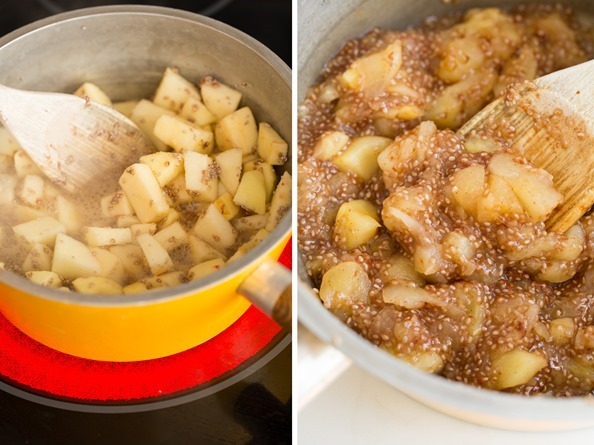 After about 15-20 minutes of cooking down the apples, they will be nice and soft and the mixture will have thickened up thanks to the chia seeds. I took a potato masher and mashed about 50% of the apple mixture to get a nice, thick consistency. You can mash all of it if you want, but I liked leaving lots of apple chunks for texture.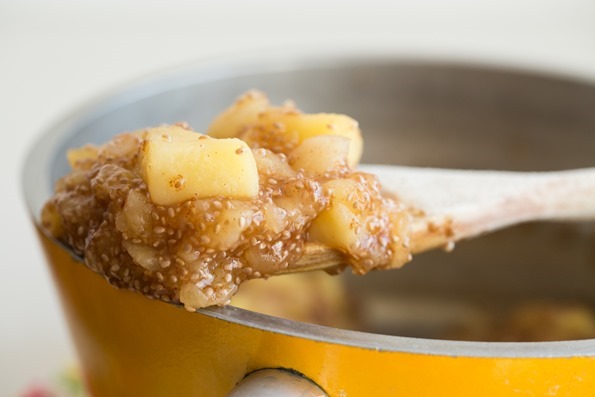 Next came the building blocks of breakfast – or more specifically, Vegan Overnight Oats.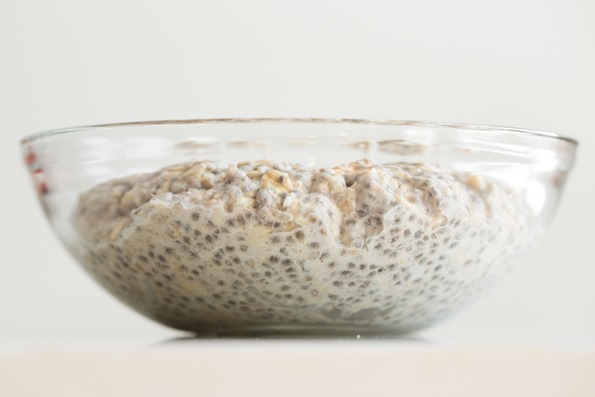 Then, this parfait happened. It was quite possibly the greatest breakfast moment in a very long time.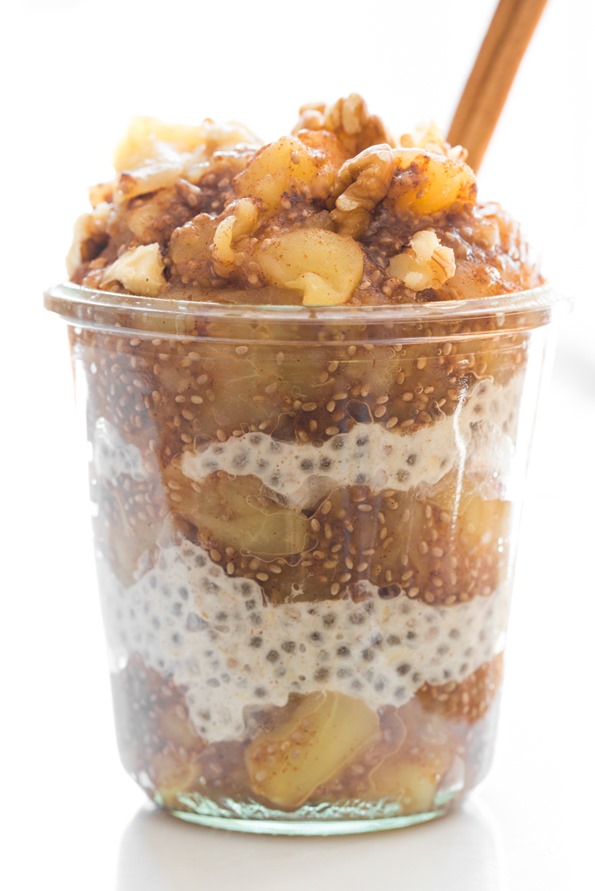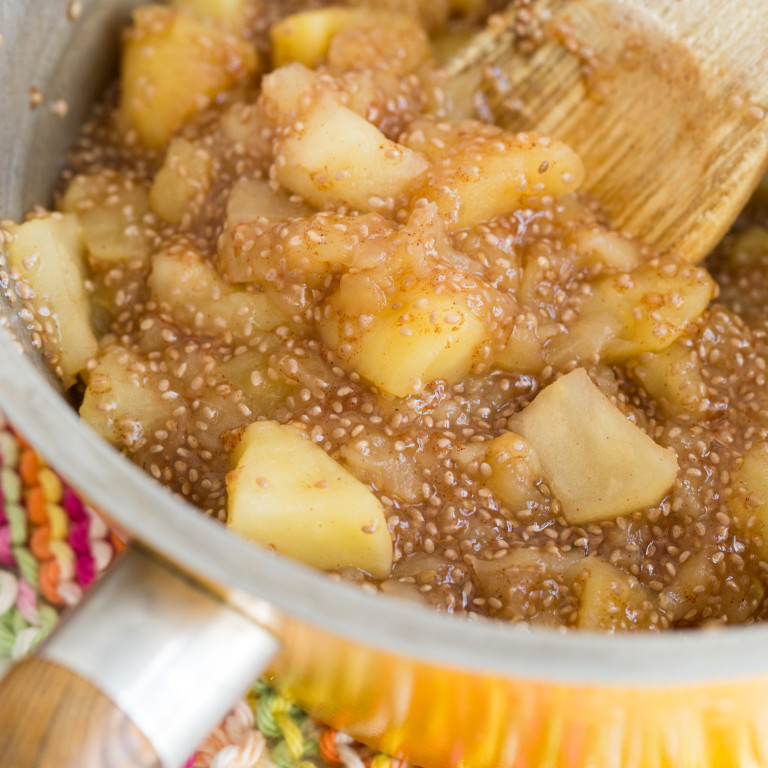 Sugar-Free Apple Pie Chia Seed Jam + Parfait
Vegan, gluten-free, no bake/raw, oil-free, refined sugar-free, soy-free

Yield
2 parfaits
Soak time
1-2 hours or overnight
Prep time

Cook time

Total time

This nontraditional jam is thickened with omega-3 fatty acid rich chia seeds and is free from added sugar. Enjoy it on toast, layered in parfaits, or on top of oatmeal.
Ingredients
For the jam (makes 1-1.5 cups)
3 large apples, peeled and diced
3/4 cup 100% pure apple juice
2 tablespoons chia seeds
3/4-1 teaspoon cinnamon
1/2 teaspoon pure vanilla extract (optional)
pinch of fine grain sea salt (optional)
For the parfait:
1/2 cup gluten-free rolled oats
1 + 1/4 cups homemade or store-bought almond milk
2 tablespoons chia seeds
1 teaspoon pure vanilla extract
1/2 teaspoon cinnamon
sweetener, to taste (optional)
Apple Pie Jam (from above)
Chopped toasted walnuts (optional)
Directions
For the jam: Add all jam ingredients into a medium pot and stir to combine. Bring mixture to a low boil. Reduce heat to medium-low, cover, and simmer for 15-20 minutes, stirring every 5 minutes or so. When the apples are fork tender, remove from heat and mash 50% of the mixture to thicken. Set aside to cool.
For the vegan overnight oats: Combine the oats, chia seeds, almond milk, vanilla, and cinnamon in a small bowl. Whisk to combine. Place in the fridge overnight, or for at least 1-2 hours to thicken. Once the oats are softened and the liquid is mostly absorbed, it's ready. You can thin it out with more milk if needed or thicken it with more chia seeds.
To make each parfait: Layer the vegan overnight oats with the apple pie jam, a few spoonfuls of each per layer. Add toasted chopped walnuts on top of each layer if desired.
Store leftover jam in an air-tight container or jar in the fridge. Should last for at least 1-2 weeks.
Tip:
Note: For a homemade milk option, see my Homemade Vanilla Almond Milk Recipe.
Nutrition Information
(click to expand)