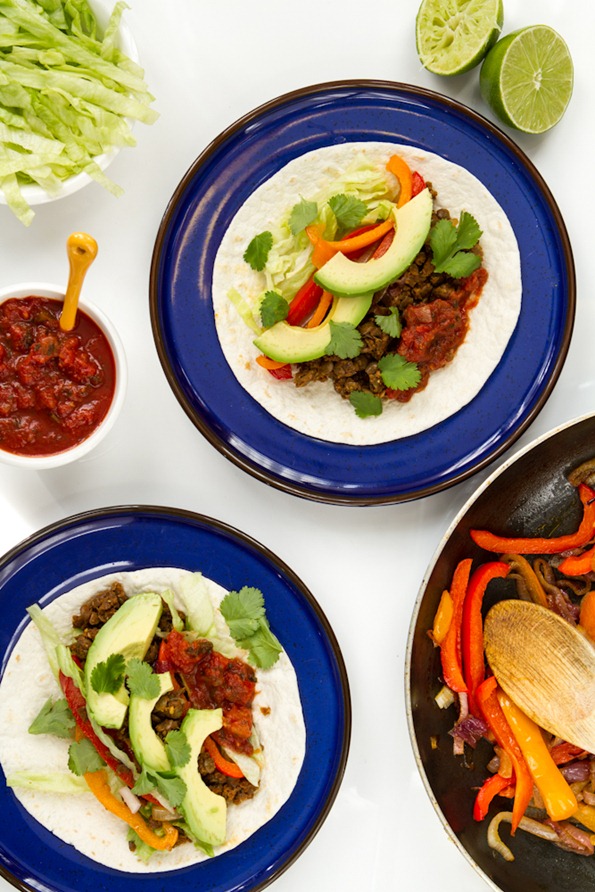 Sometimes special occasions just turn out to be a hot mess. This was the case with our Valentine's Day a couple weeks ago. Humour me while I share our story.
On the 14th, I woke up with a rash on my face and my eyes nearly swollen shut (as I mentioned, I've been struggling with allergies). They weren't exactly the bedroom eyes I was hoping for! Eric had to cancel our dinner reservation because of the itchy, miserable state I was in. I don't really put much emphasis on Valentine's Day to begin with, but I was really looking forward to a nice evening out with my husband. Either way, we still managed to have a nice time together cuddled up on the couch giggling at Dwight's antics on The Office while eating bowls of cereal. We made the best of the night and circumstances.
Just as we were about to get into bed at the end of the night, my shoulder was hit by a water bomb coming from above. I looked up to see a huge leak coming from the ceiling. Oh yes, the night gets better. All (rainy) day long this leak had been dropping water on our bed. I ripped up the layers of the sheets to find the bed absolutely soaked right through every layer. It's midnight now and we're pushing the bed as far over across the room as we can. Eric's searching for a bucket somewhere buried in the garage. I'm stripping (the bed), cursing as I try to fit queen-sized sheets on a king-sized bed, and wondering what the heck we're going to use for a duvet.
Drip, drip, drip.
In the grand scheme of things it was certainly not catastrophic, but it was definitely a hot mess of a day. If you also had one of those days on Valentine's Day, rest assured you are not alone!
I promised Eric a homemade dinner of his choice when I was feeling better and he promised me dinner out. He chose fajitas for his special dinner – a childhood favourite for us both.
Growing up, whenever my mom told me it was fajita night (or taco night), I would be filled with glee. That yellow Old El Paso box was a magical box and I'd sneak it into the grocery cart whenever I could. My parents were never more cool than on fajita night. Well, except on pizza night.
Of course I'm still a huge fan of fajitas, but I make them a bit differently these days. It always amazes me the tasty dishes I can create with a bunch of plants.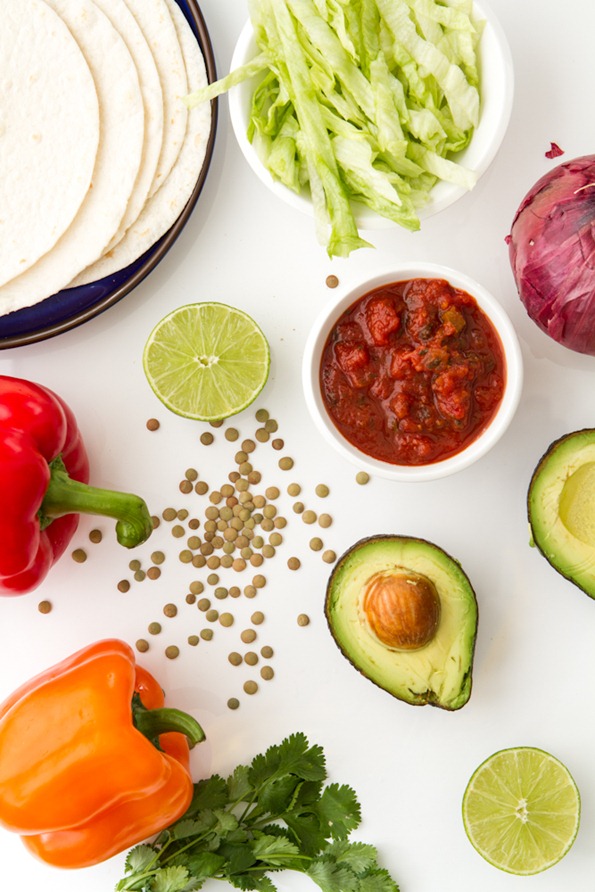 The lentil walnut meat is adapted from my previous versions and I play around with the seasonings every time I make it. I encourage you to do the same. This time I seasoned it with cumin powder, chili powder, cayenne, vegan Worcestershire sauce, garlic powder, and a bit of tomato paste. Feel free to use whichever spices or seasonings call out to you. An all-natural taco seasoning pack would also work in a pinch. If you aren't down with walnuts, feel free to leave them out and simply use lentils for the base. Both will work just fine.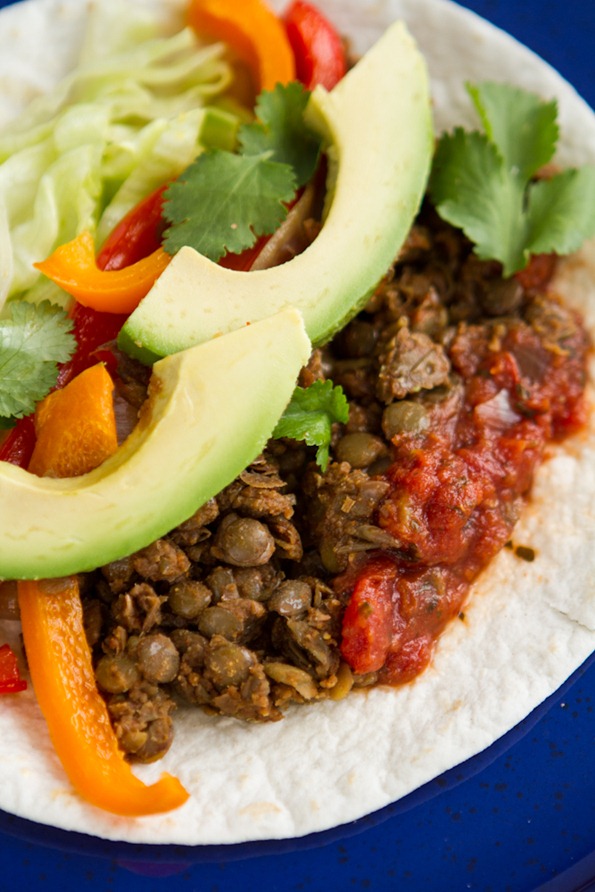 Vegan Fajitas with Lentil Walnut Meat

Yield

4-6 servings
Prep time

Cook time

Total time

Ingredients
For the lentil walnut meat
1 cup uncooked green lentils (makes about 2 cups cooked)
3 cups water or broth
1/2 cup walnuts, toasted if preferred (optional)
1.5 tsp ground cumin
1/2 tsp chili powder, or more to taste
1 tsp vegan Worcestershire sauce (I use Wizard's brand)
1 tsp garlic powder
1 tsp tomato paste
1/8th tsp cayenne pepper
1/2 tsp fine grain sea salt, or to taste
For the stir-fry
1 tbsp coconut oil (or other oil)
1 small red pepper, thinly sliced
1 small orange pepper, thinly sliced
1 small red onion, thinly sliced
For the tortilla/topping
4-6 small soft tortillas (or try lettuce cups)
Avocado slices
Cashew or Macadamia Cream
Fresh lime juice
Salsa
Cilantro
Shredded lettuce
Hot sauce
Directions
Rinse lentils and add to a medium pot along with 3 cups of water or broth. Bring to a boil, reduce heat to medium-low, and simmer uncovered for 30-45 minutes or until most of the water is absorbed and the lentils are tender.
Meanwhile, sauté the onion and peppers in a skillet with the coconut oil for about 15 minutes over medium heat, or until softened.
Add walnuts into a mini processor and process until the size of peas or a bit smaller. Set aside. Add half of the cooked lentil mixture into a mini food processor. Process until mostly smooth. Mix back into the remaining lentils in the pot. Stir in walnuts if using. Slowly add the spices and seasonings to taste, adjusting amounts if necessary. If lentil mixture is dry add some water, a tablespoon at a time, until moistened. Turn on heat to warm lentil mixture just before serving.
Spoon lentil meat onto soft tortillas, followed by the skillet mixture and your desired toppings. Enjoy!
Nutrition Information
(click to expand)