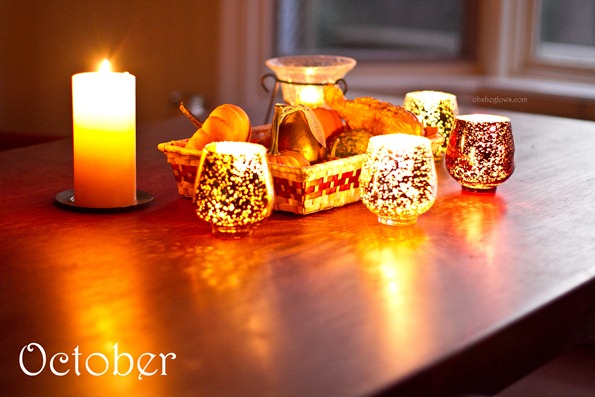 These posts are quickly becoming one of my favourite to put together. I love sharing new-to-me foods as well as old favourites that have returned to my life.
So far we've seen:
Don't forget to tell me about your current food obsessions in the comments below!
Note: I purposely left all forms of squash, pumpkin butter, and apple butter off my list because that all goes without saying for this girl.
Ready….set….go!
1. Pomegranates
This is the time of the year when I mourn summer berries being out of season. To console myself, I like to think of pomegranates as off-season berries because they are so rich in antioxidants. Yes, I know they aren't berries, but let's pretend. Toss these little guys on salads to add a fun crunch and burst of antioxidant power. Just don't try blending them in a smoothie without straining….that little experiment of mine, was…grainy to say the least. Apparently there are some things a Vitamix cannot pulverize!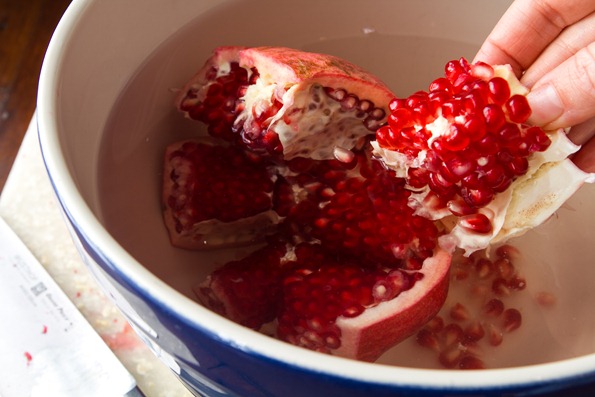 2. Field Roast Smoked Apple Sage Vegan Sausage
There are simply no words for how much I adore this Field Roast grain and veggie based sausage. I finally tracked it down at Organic Garage and sampled all three flavours this summer. The apple sage flavour is by far my favourite. I like to pan fry it and throw it into quinoa salads or just stuff it in a bun with a little BBQ sauce and apple butter. Eric is a huge fan and even said he would eat this over a meat sausage any day. Each sausage has 26 grams of protein, zero trans fat and cholesterol, and just 1 gram of sat. fat.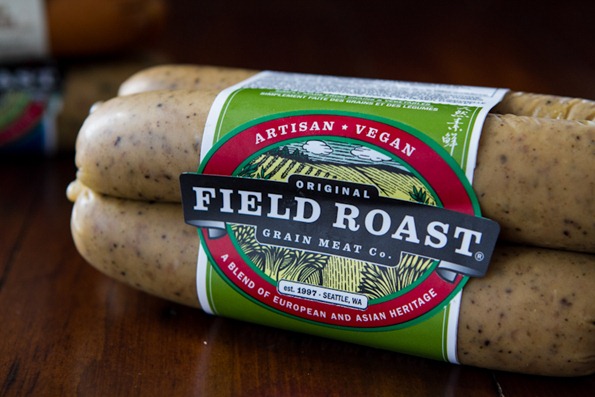 3. Freshly Grated Nutmeg
Pre-ground nutmeg doesn't hold a candle to freshly grated nutmeg; I've known this all along. Then why has it been so long since I grated the fresh stuff? Have you ever compared the two? It's unreal. I sometimes forget this little fact and when I do go back to the fresh stuff I'm quickly reminded just how amazing the fresh stuff is (this is true for all spices really!). Plus, grating nutmeg take seconds and the aroma that fills the air is so comforting. If you're like me you get a free nail filing at the same time.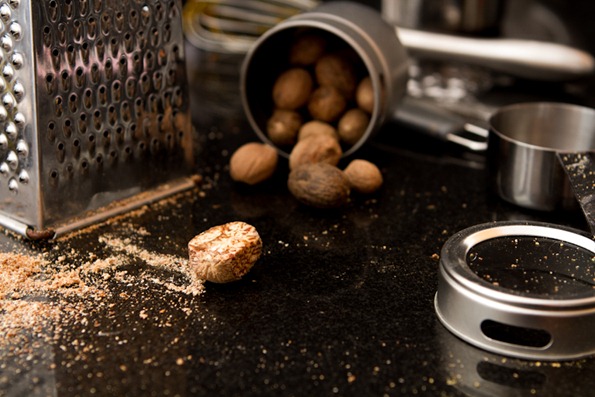 4. Adzuki Bean Tabbouleh
I'm so over rainy fall weather. Give me sunshine in the fall and I'm a happy camper. Give me rain, doom, and gloom and I suddenly wish fall never existed. My relationship with fall is complicated. Anyway, this salad brings me a small dose of summer and sunshine back to my life, which is why I made it over the rainy weekend. You can't help but feel happy when you eat quinoa tabbouleh served on top of kale!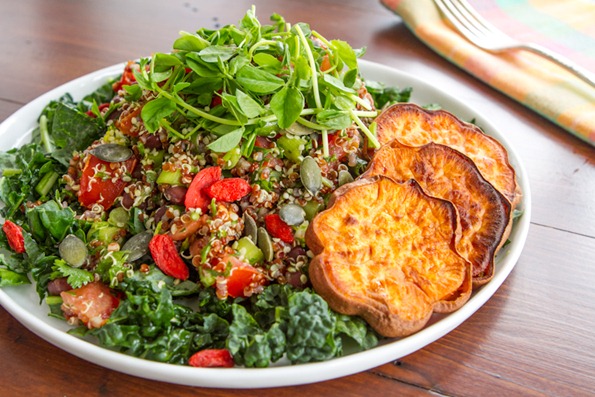 5. Coconut Jam by Cocovie
Umm, say what? I know. Have you ever heard of coconut jam? This world keeps getting crazier. When I spotted this in Organic Garage a couple months ago, it was thrown into my cart so fast your head would spin. It's made with just coconut milk and raw coconut sugar. Much like coconut oil, when it's chilled it firms up and when it's at room temp or warmed, it softens. You can use it as a spread or topping on all kinds of foods. Perhaps with a few tweaks to my coconut milk condensed milk, I might be able to make this jam at home. Hrrrmm…the wheels are spinning.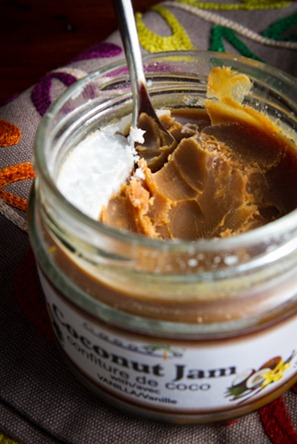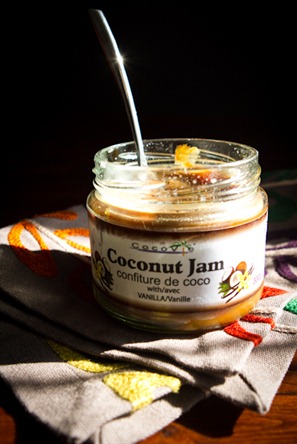 6. Edamame
Looking for a fun high-protein snack to throw into packed lunches? Meet edamame. I love to top salads with edamame or enjoy some for an afternoon snack. I could seriously eat an entire bag of this stuff in one sitting. It has a strange power over me. Don't even tell me to remove the skins either…I love it all.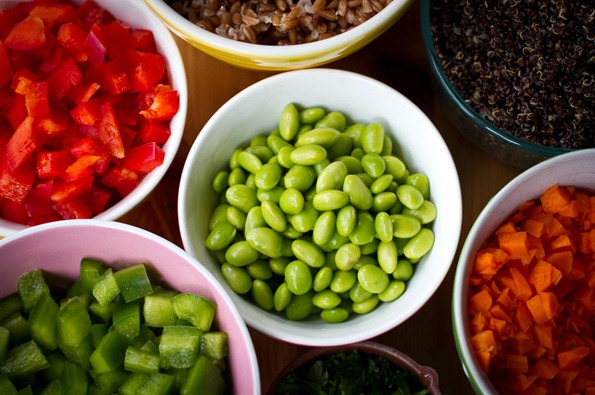 7. Whole Grain Mustard
For a long time, I only bought regular mustard and Dijon mustard. Yawn. Well recently, my wild child came out and I gave whole grain mustard a try. Whoa. How did I not try this before? It's amazing in dressings and sauces and I just love the hearty, crunchy texture of the seeds. New kitchen staple, hello!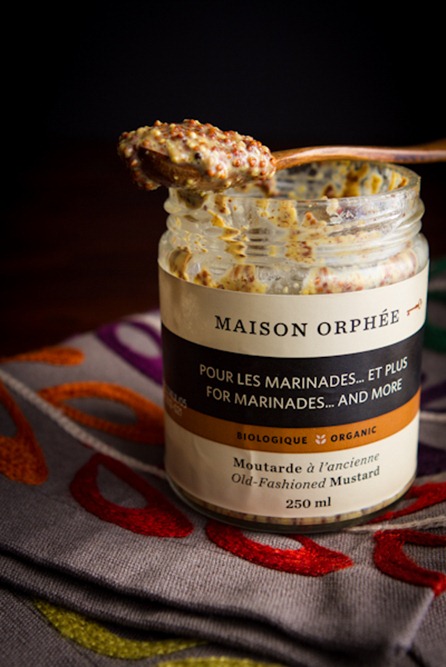 8. Sunwarrior Warrior Blend Raw Protein
I tried a sample of this protein powder a month ago and loved it so much I bought a bag of it. This Warrior Blend is a non-rice protein powder featuring a mix of easy-to-digest pea, cranberry, and hemp proteins. It's easily the best protein powder I've tried to date and isn't chalky like some protein powders can be. The downside is that it's priced like gold, so try to buy it on sale to get the biggest bang for your buck. I justified my purchase because I go through protein powder very, very slowly – a bag will easily last me 3-4 months. They also have a chocolate flavour which I will be sampling soon!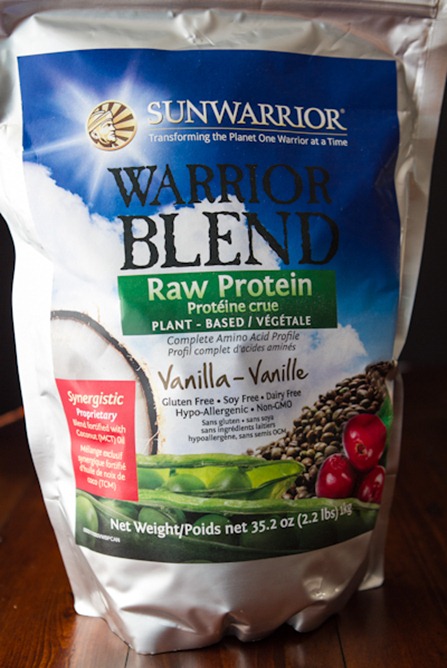 9. Acetaia La Bonissima Balsamic Vinegar
It's really sad to think how long I stared at this bottle in the grocery store to make sure it was actually balsamic vinegar. Darn you, label. Thankfully, it was worth it. This stuff is the real deal. I use it for salad dressings, roasting veggies, balsamic reductions, etc.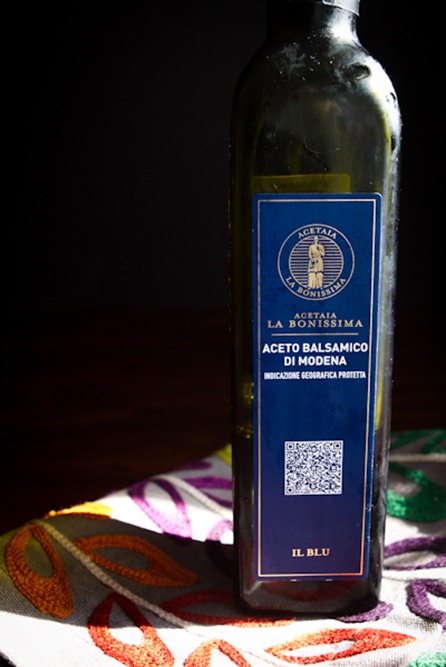 10. Allegro Ready, Set, Go! Tea
I purchased this tea on our trip in B.C. when I was running on about 4 hours sleep many nights (as you can see it got a bit busted in my suitcase!). This tea brought me back to life in the morning. It's described as "assertive, yet balanced, with a hint of cinnamon". I'll take 743 please. I'd like to think it rubbed off on me too. Next time someone asks you what your personality traits are, you can end your description saying, "with a hint of cinnamon".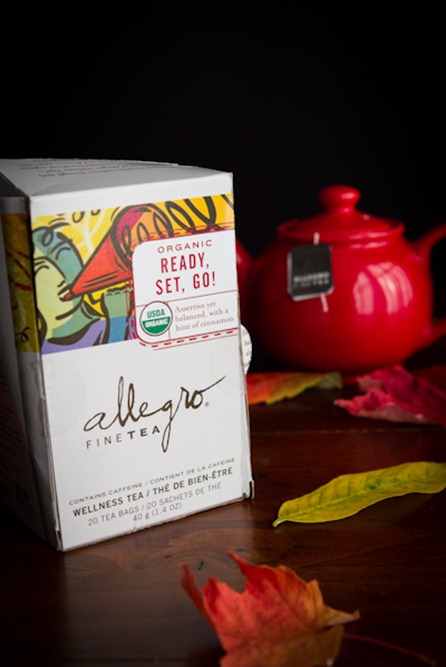 Now my favourite part – let me know below what foods you can't get enough of right now!