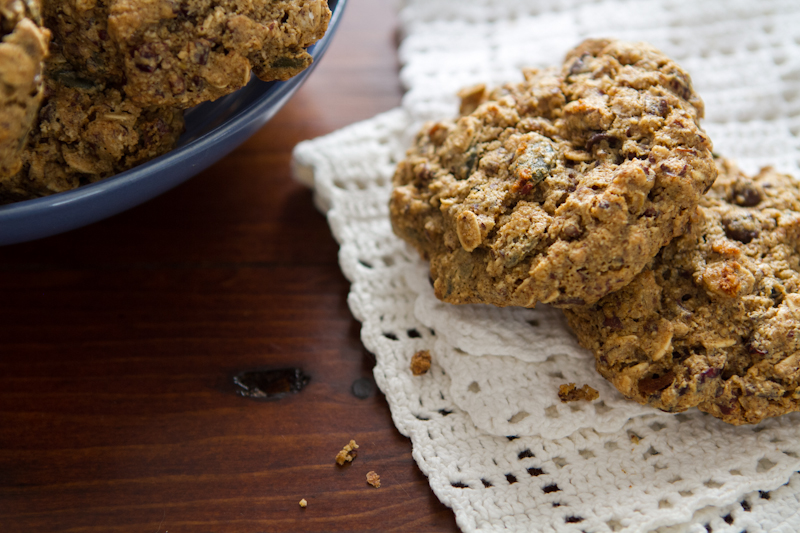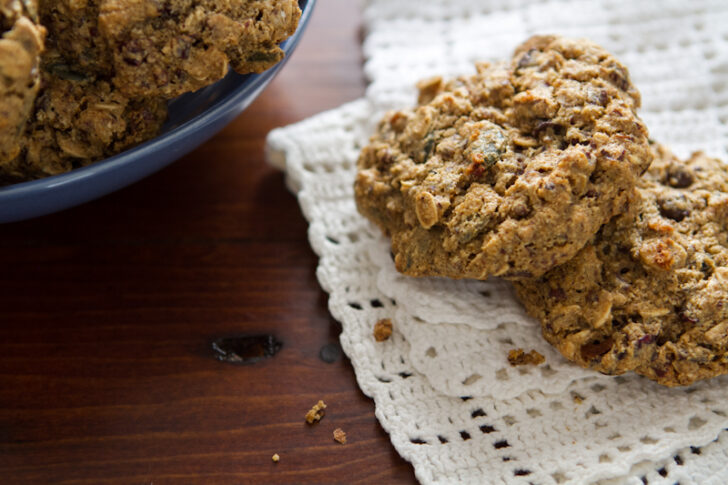 Last week was the week of the granola bar in my kitchen.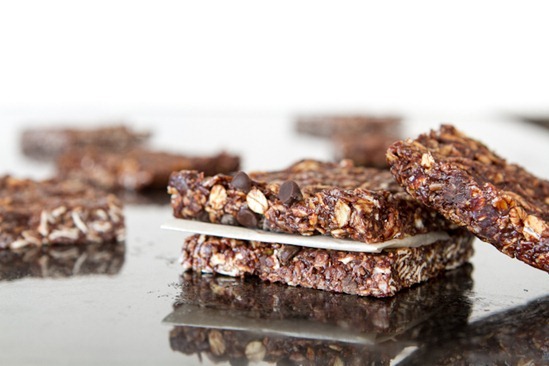 It was also, unfortunately, the week of sticky fingers, sticky cupboards, sticky floors, sticky handles, and sticky clothing.
Actually, it still is. I should do something about that..
I've been testing oodles of baked and no-bake granola bars for the cookbook, working hard to get the perfect flavour, texture, and combination of healthy ingredients for each one. Granola bars are one of my all-time favourite things to bake and eat, but they can be tricky to get just right! One day, I'd like to write a cookbook devoted to granola bars, squares, and other snacks. That would be right up my alley.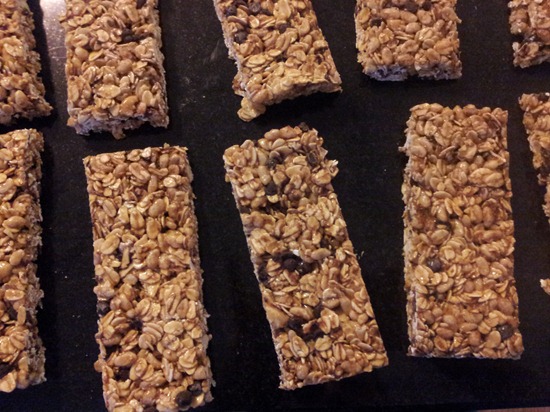 I planned this week of granola bar testing to coincide with our upcoming trip to Calgary (we leave tomorrow morning). We're having a family reunion of sorts (Grandpa and Diane are also coming from Ontario…yay!!) so I will have lots of eager testers, most importantly my nephews. Kids are the best critics of all..they are just so honest.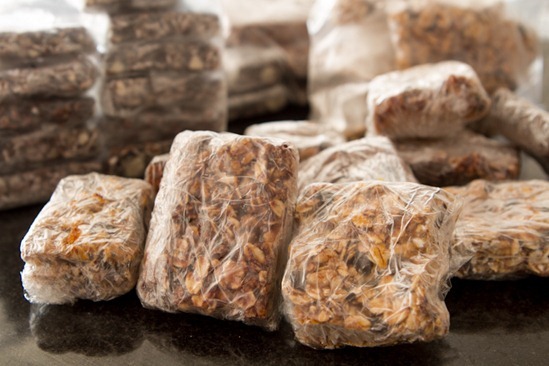 I'm just hoping the 60+ bars and two huge super soaker water guns (best aunt ever) don't put my suitcase over the weight limit. I may be forced to eat all of the granola bars at the check-in counter (worst aunt ever). I'm willing to do whatever is necessary. That includes baking more and turning my mom's kitchen into a sticky mess. Sorry mom.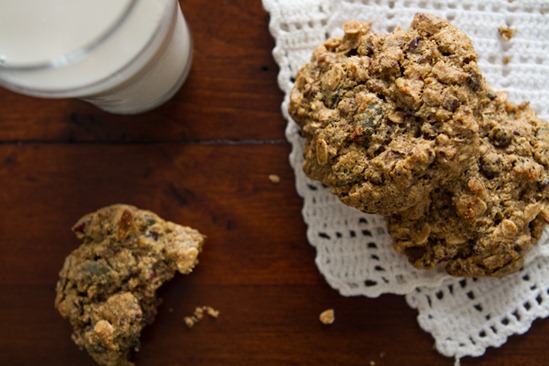 After last week's granola-bar-athon, I decided it was time to move on. For now, at least. Next up: a portable hiking cookie to bring during our weekend hiking adventures.
I had a vision in mind:
1) Crispy around the edges

2) Chewy in the middle

3) Loaded with healthy ingredients

4) Fold in nuts, seeds, and dried fruit

5) A touch of chocolate, never hurts either (Enjoy Life mini chips are amazing and vegan too)

6) Props for being a bit homely looking! Ok, I added that in after the fact. ;)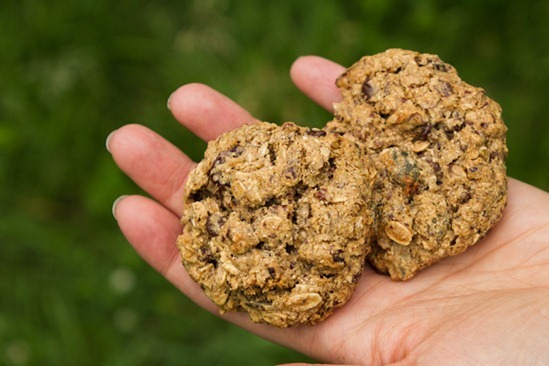 Here's another great thing about the cookies – they are free of any added oil. The secret lies in a base of toasted pecans.
You simply toast pecans in the oven and process or chop them until they are smaller than peas, like so: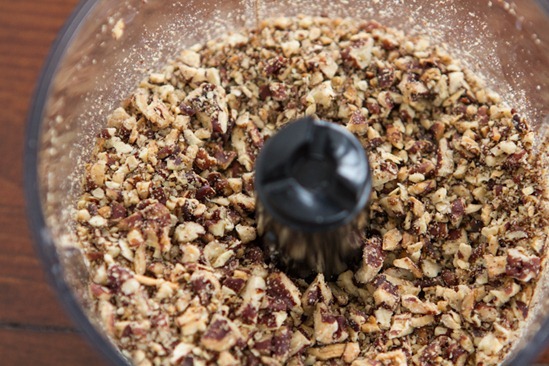 This toasted pecan base creates a lovely "buttery" flavour without having to add a drop of oil. I'm sure you could also use walnuts here, but I love the sweetness of pecans. A mixture of the two might work well also. To round out these cookies I added dried sweetened cranberries, pepita seeds, and mini chocolate chips.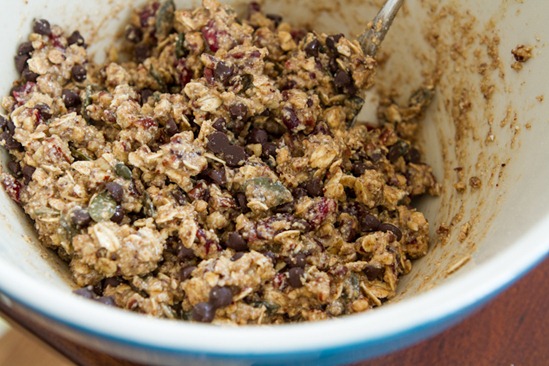 The batter is very sticky so I had to dip my hands into a bowl of water, lightly shake them off, and then roll the dough into balls that way. Every 4 cookies or so, I re-dipped my hands into the water. This method worked really well. Be sure to pack the dough together firmly as this will help them stick together.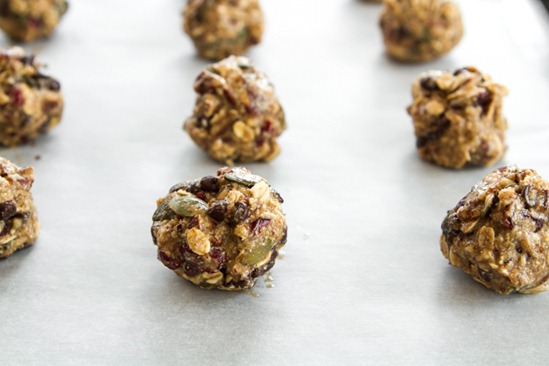 After 11-12 minutes at 350F, we have a winner!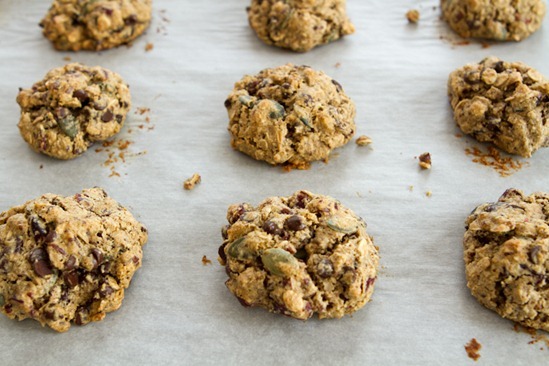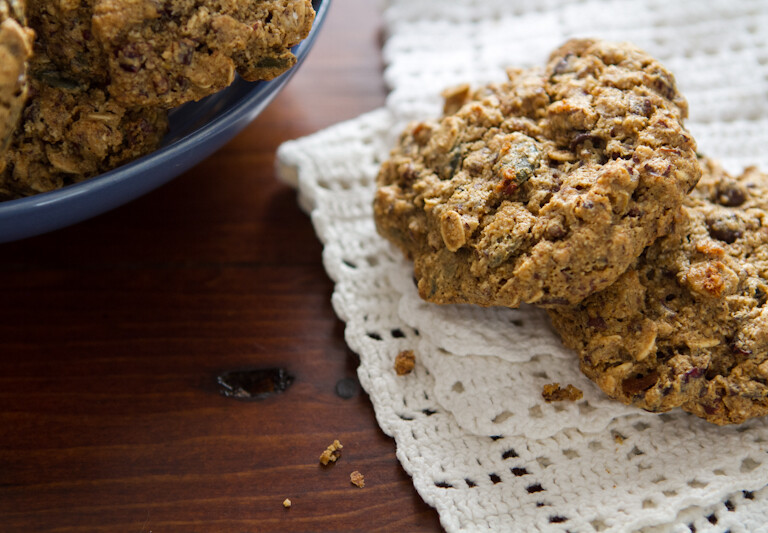 Happy Trails Adventure Cookies
Vegan, oil-free, soy-free

Yield

13-14 cookies
Prep time

Cook time

Total time

Ingredients
For the dry ingredients
1 cup pecans, toasted
1 cup + 1 tbsp oat flour (I made my own flour in the blender using 1 cup rolled oats)

*

1/4 cup + 2 tbsp rolled oats

*

1/2 tsp ground cinnamon
1/2 scant tsp fine grain sea salt
1/2 tsp baking soda
1 tbsp ground flax seed
For the wet ingredients
1/4 cup pure maple syrup
3 tbsp brown rice syrup

*

1/2 tbsp pure vanilla extract
For the mix-ins
1/3 cup dried sweetened cranberries
3 tbsp pepita seeds
3-4 tbsp mini chocolate chips (I use Enjoy Life brand)
Directions
Preheat oven to 325°F and toast pecans for 8-10 minutes, watching closely. Remove and set aside to cool. Turn oven temp to 350°F. Line a large baking sheet with parchment or grease with oil. Set aside.
Meanwhile, in a large bowl, whisk together the dry ingredients. In a separate smaller bowl, whisk together the wet ingredients.
In a mini processor (or by hand) process/chop the pecans into small crumbs, just smaller than the size of peas. Stir into the dry ingredients.
Add the wet ingredients to the dry and stir well until combined. The dough will be very sticky, but not to worry. Fold in the mix-ins.
With lightly wet hands, grab about 2 tbsp dough and shape into a ball, packing firmly. Place on prepared baking sheet about 2 inches apart. Repeat for the rest, wetting hands every 4 cookies or so.
Bake at 350°F for 10-12 minutes (I baked for 11.5 mins). Cool on baking sheet for at least 10 minutes. When completely cooled, store in a glass jar or freeze for maximum freshness.
Tip:
To make these gluten-free, using certified GF oats and check all other ingredients.
If you eat honey, you can probably use it as a sub for brown rice syrup. I do think the cookies need either brown rice syrup or honey for the cookies to hold together and retain that nice chewy texture. I don't recommend subbing it for more maple syrup.
Nutrition Information
(click to expand)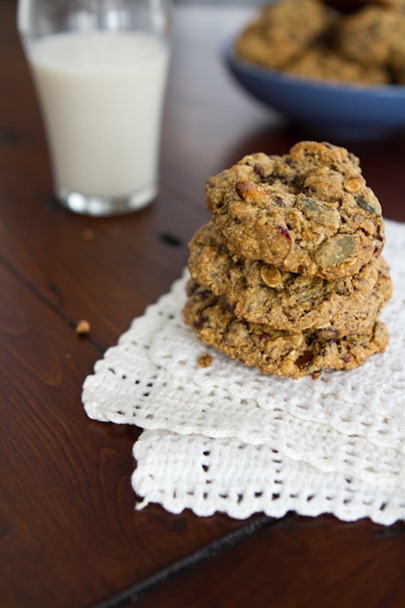 Enjoy the cookies with a cold glass of almond milk or simply as fuel for all your outdoor summer adventures.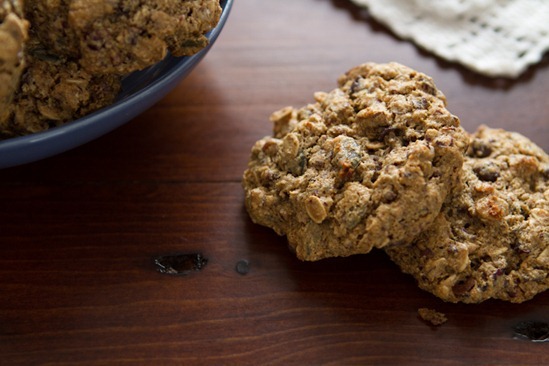 happy trails to you!