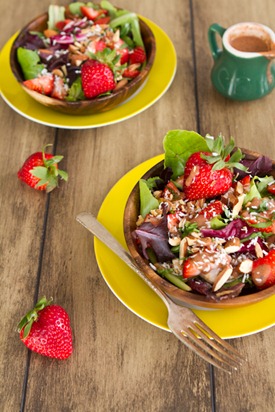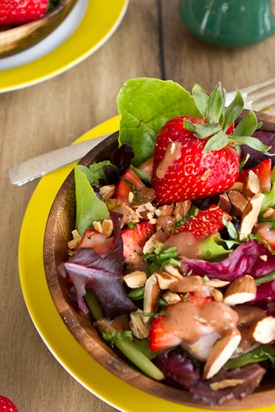 As May approaches and spring is in full force, I'm finding excuses to walk everywhere, lugging my camera in tote. I have a blister and sore right shoulder to prove it! Tulips, daffodils, and cherry blossoms are in bloom, tiny green leaves sprout, I'm sneezing like crazy, and our car is a lovely shade of bird poop.
Here are a few of my favourite shots that I took over the past week.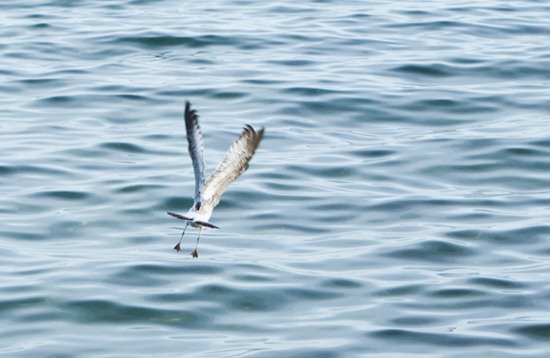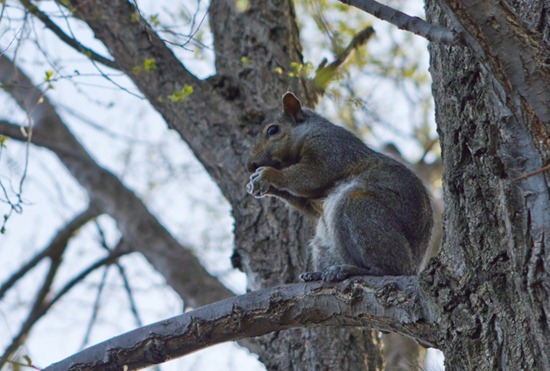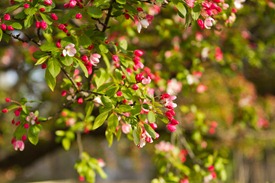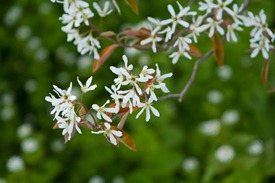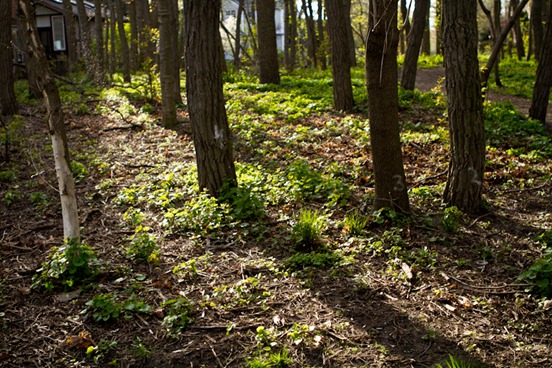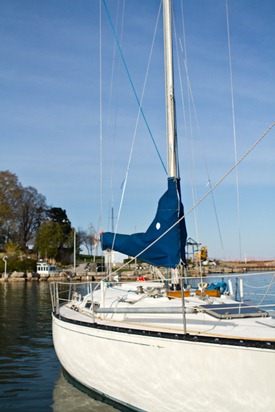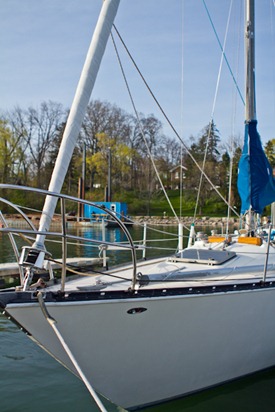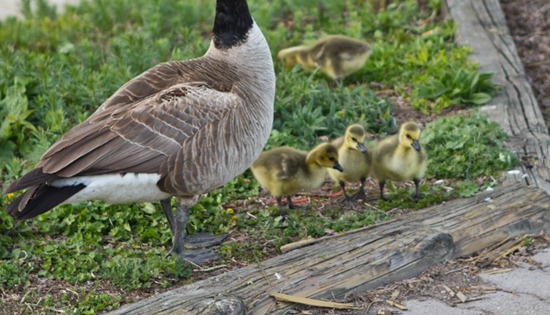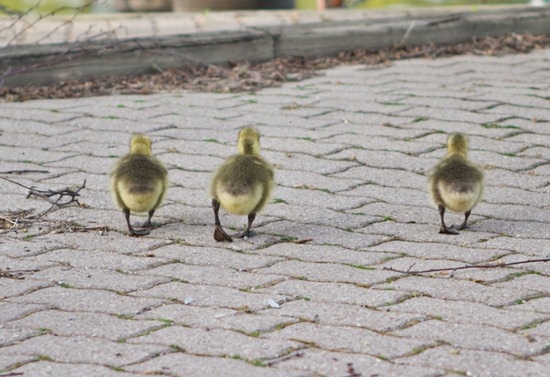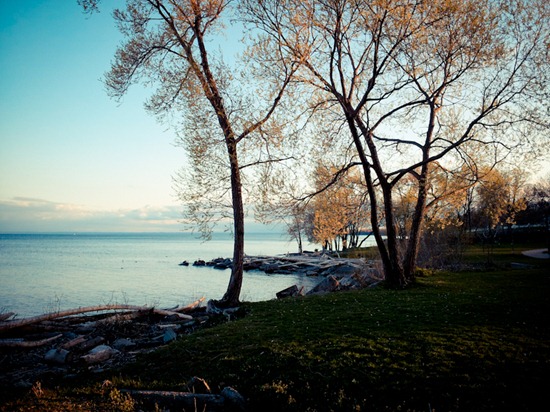 In addition to going on lots of walks, salads also returned to my life after a somewhat rocky and distant relationship over the winter. All I can say is thank goodness for Green Monsters or my body might not have seen a leafy green from November 'til March!
I'm finally craving things that look as pretty as it is outside.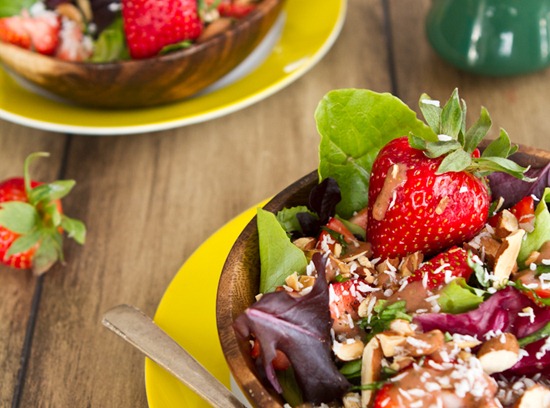 This dressing is inspired by my Strawberry Cherry Basil Smoothie, after falling in love with the flavour combination last year. Into the processor went fresh strawberries and basil, along with fresh lemon juice, a touch of olive oil, pure maple syrup, fine grain sea salt, & black pepper. It's healthy and light, yet creamy and indulgent tasting. Definitely my new go-to dressing!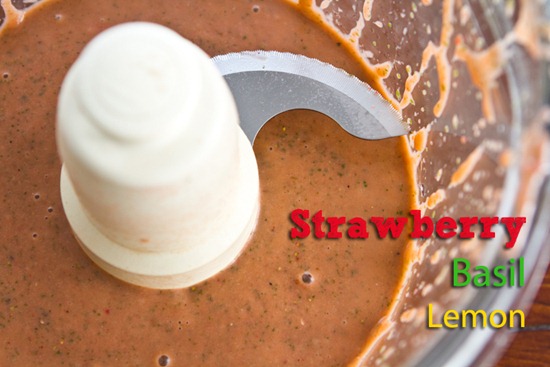 I just spooned it into my mouth over and over while I questioned if making a salad was even necessary. Luckily, the salad took only a few minutes to throw together and I was rewarded with one of my favourite dishes of the season. I can't think of a better way to welcome May, other than perhaps being surprised with a car wash…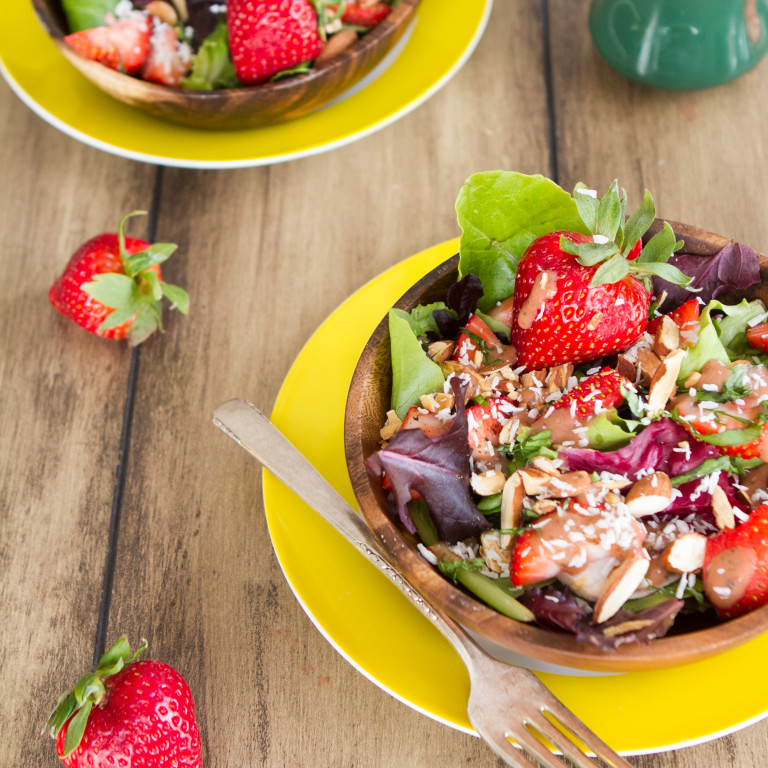 Spring Salad with Strawberry Lemon Basil Dressing
Vegan, gluten-free, soy-free

Yield
2/3 cup dressing
Prep time

Cook time
0 minutes
Total time

Ingredients
For the dressing
1 cup fresh strawberries
1/4 cup packed fresh basil
3 tbsp fresh lemon juice
1 tbsp extra virgin olive oil
1-2 tsp pure maple syrup, to taste
fine grain sea salt & black pepper, to taste (I used 1/4 tsp each)
For the salad
Slivered almonds, toasted
shredded unsweetened coconut, toasted
mixed greens
strawberries, chopped
chiffonade fresh basil
Directions
Preheat the oven to 300F. Toast the almonds for about 7-8 minutes and then remove and add the coconut. Toast another 2-4 minutes, or until lightly golden, watching closely so the coconut doesn't burn.
In a food processor, add the strawberries, basil, lemon juice, and oil. Process until smooth. Add in the salt, pepper, and maple syrup to taste and process again.
Assemble the salad as desired. Leftover dressing should keep for at least a few days in a sealed container.
Nutrition Information
(click to expand)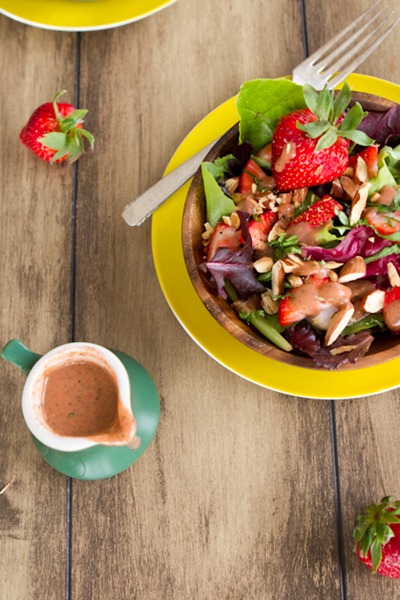 Congrats again to Jenny B. for winning the cookbook giveaway!