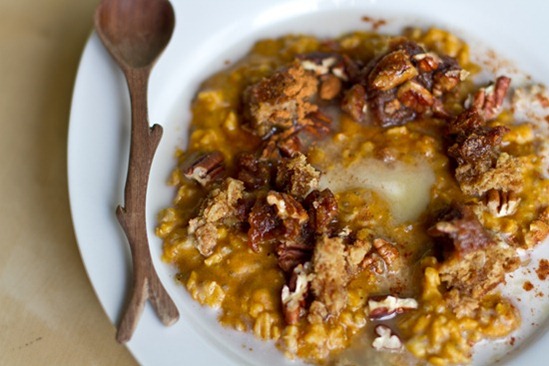 There's a chill in the air.
Actually, that's a lie because it's quite warm outside as I write this post. I'm in a tank top and shorts right now! Hardly Fall temperatures, but then again it's still summer for another week.
However, tomorrow morning is supposed to be a classic Fall morning- crisp, 8C, sunny, and full with promise. The promise of hot oatmeal. Cinnamon. Maybe stinky fuzzy slippers. That's a perfect Fall morning to me.
I've been on a huge hot oatmeal kick these days. The other morning, I was busy working on a mushroom recipe challenge and Eric graciously offered to make me some oatmeal for breakfast. In other words, I begged him until he finally gave in. I love when men just offer to make things out of the blue like that, don't you? ;)
I may have uttered the words, "I'm going to waste away to nothing" in a moment of desperation.
"Ok, but don't blame me if it doesn't taste good…" he said, slinking off to the kitchen with my Apple Pie Oatmeal recipe clutched in his hand. It wasn't looking good.
And you know what?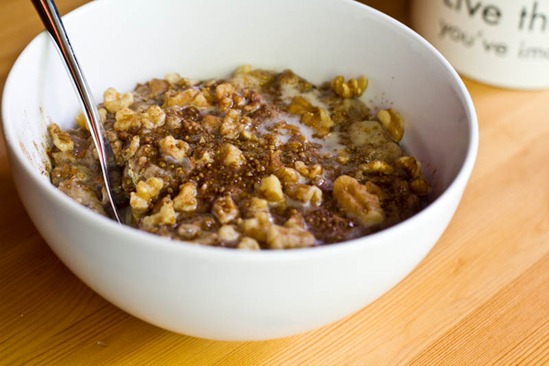 The oatmeal didn't taste good either.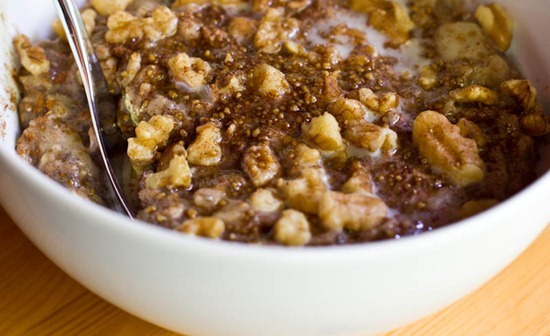 It tasted like the best damn bowl of oatmeal I've ever had!!
Why does it always taste better when someone else makes it? Seriously, I need to know. He also sprinkled it with crunchy Sucanat which was genius. Or maybe he sprinkled it with pixy love dust! Needless to say, I gushed so much about this bowl of oatmeal Eric had a grin on his face the entire morning. He has now conquered his oatmeal-making fears. It was a win-win all around.
In honour of chilly mornings, here are my 5 favourite hot oatmeal recipes of all time. (in this case, "all-time" isn't that long considering I used to hate hot oatmeal until 2010, but let's just go with it.)
5) Comforting Pumpkin Pie Oatmeal 
This pumpkin oatmeal is like a warm hug on a cold morning. Or maybe I'm just lonely. Infused with cinnamon, ginger, nutmeg, and vanilla extract, it's like eating a slice of warm pumpkin pie in oatmeal form. I love topping it with a teaspoon of Earth Balance, pecans, and a drizzle of almond milk.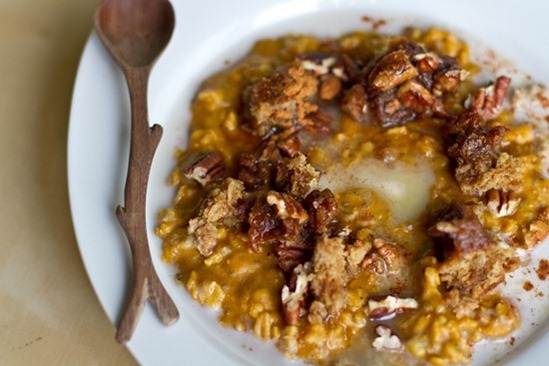 4) Sweet Potato Oatmeal Breakfast Casserole 
Last Winter, I was craving my favourite sweet potato casserole in a major way. The only snag? It was 7:15am. I looked at the sweet potato, it looked at me…I looked at it again. And I turned that craving into a delicious weekend breakfast.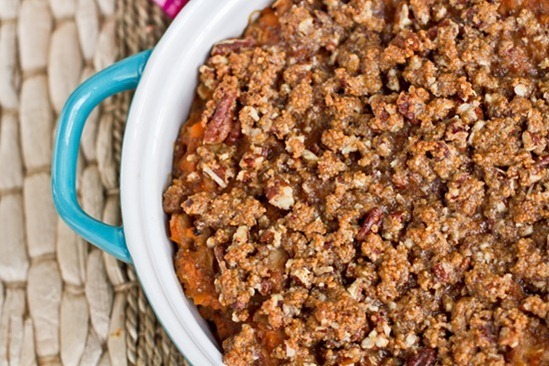 A sneaky way to get a serving of vegetables in your morning oatmeal. You can't taste the zucchini, but it does a lovely job of bulking up this voluminous bowl of oatmeal.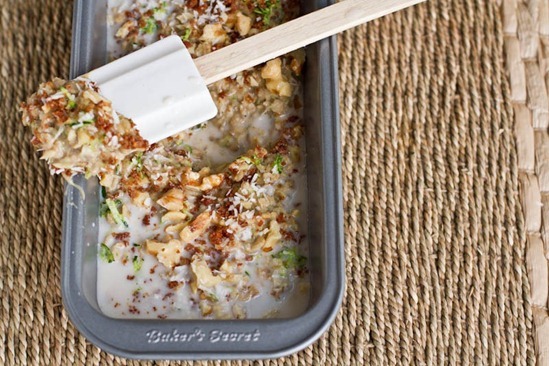 Even better when someone else makes it for you! It's ok to beg sometimes.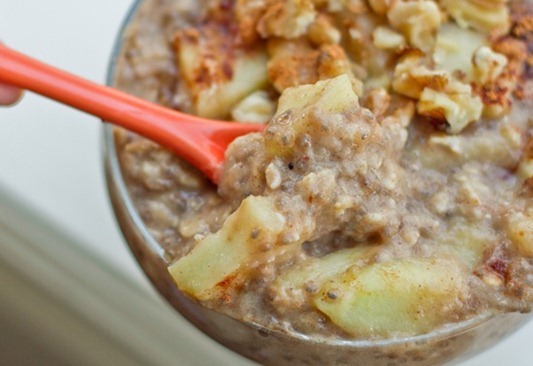 and my favourite bowl of hot oatmeal goes to…
This one is for all the carrot cake fans out there! Creamy, crunchy, chewy, and sweet, this recipe packs in a full cup of carrots and a handful of healthy ingredients that will keep you feeling full for hours. It is quite a large portion, so I place the leftovers into the fridge and enjoy it as a snack the next day (it's good cold too!).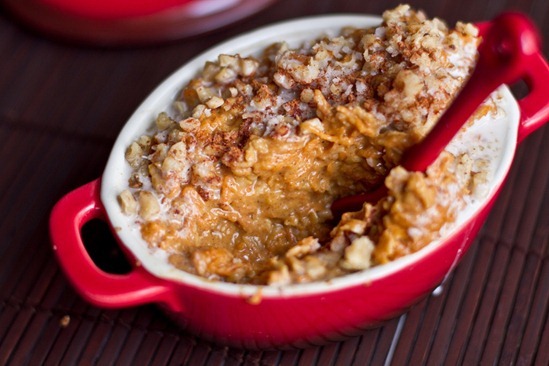 Strapped for time?
For an 'instant' bowl of hot oatmeal, just mix up a batch of Vegan Overnight Oats before bed and place it in the fridge. In the morning, heat it in the microwave for 60-90 seconds, add your toppings/sweetener, and go! No stove-top cooking required.
The overnight soaking softens and thickens the oats, similar to cooking, meaning that you don't need to stir over a stove-top for 10 minutes. The consistency won't be as creamy as it would be cooked on a stove-top, but it's still a good substitute in a pinch. If you don't want to use the microwave, you can just reheat it for a couple minutes on the stove-top too.
And if it's still too warm where you are to enjoy a hot bowl of oats, you can try one of my 12 Vegan Overnight Oats recipes which are great on warmer mornings.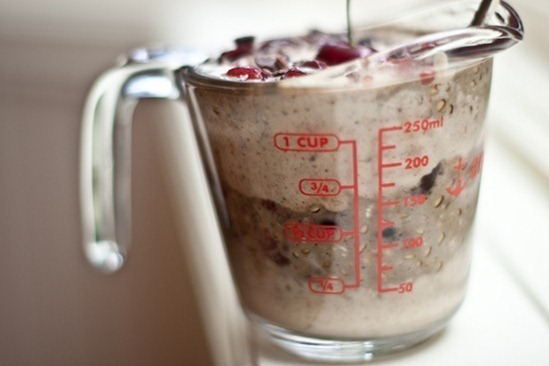 What are your favourite things to mix into oatmeal? What flavour of oatmeal should I make next?