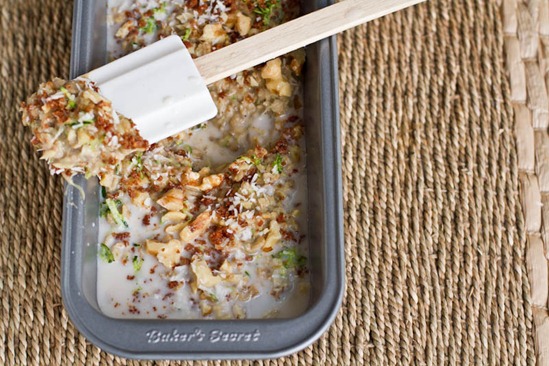 Brrr…it's a chilly morning in our neck of the woods!
I woke up around 6am absolutely freezing, so I closed the window and pulled on the blanket that was at the end of the bed. I had another 45 minutes of cozy, warm sleep with Sketchie cuddled at my feet and Eric by my side.
The only thing that pulled me out of bed (besides Sketchie meowing and tapping my shoulder over and over) was the thought of hot oatmeal to warm me up.
Last year, I made Zucchini Bread Oatmeal and it occurred to me this morning that I hadn't finalized the recipe and posted it on the blog. I had no idea what recipe I came up with last year, but judging from the photos, it was a bit more lengthy than what I came up with today. I'm all about the Quick and Dirty recipes lately so I tried to make it as delicious, yet simple, as I could.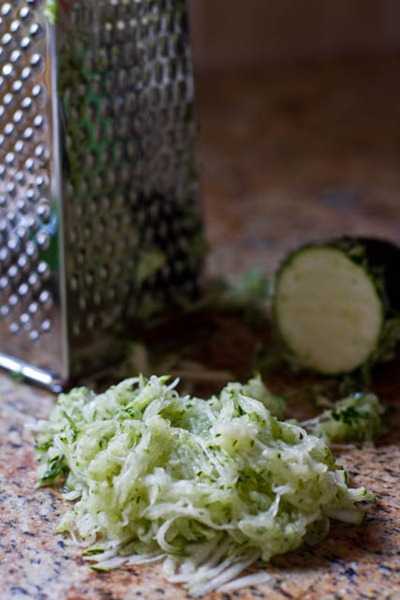 The most difficult part is trying not to grate your finger off while half asleep in the morning. I recommend caffeine before taking on this challenging morning task!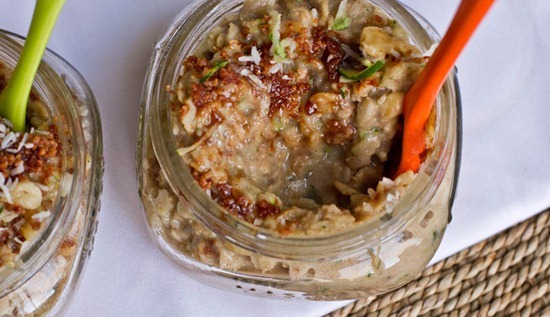 [print_this]
Zucchini Bread Oatmeal
Zucchini Bread in oatmeal form perfect for those chilly mornings. Don't even think about skipping the brown sugar, pecans, and Earth Balance as they bring this bowl over the top and give it an authentic zucchini bread taste. If you are feeling really crazy, why not crumble some of my favourite Oil-Free Zucchini Walnut loaf on top?
Yield: 1 serving
Ingredients:
1/3 cup rolled oats
1 cup non-dairy milk or water (I prefer almond milk as it's creamy), plus more as needed to thin out
1/2-1 tsp ground cinnamon
Pinch of salt & nutmeg, to taste
1/2 cup packed finely grated zucchini
1 tbsp chia seeds or ground flax
1 tbsp raisins
2 tbsp chopped pecans
1 tsp vanilla extract
1 tbsp + 1 tsp packed brown sugar, divided
1 tsp Earth Balance (or other buttery spread)
1. In a medium sized pot, add water or milk, cinnamon, nutmeg, salt, and oats. Bring to a boil and simmer over medium heat, stirring frequently, for about 4 minutes.
2. Now stir in the grated zucchini, chia seeds, raisins, 1 tbsp packed brown sugar, and 1 tbsp of the pecans. Cook over medium heat, adding more liquid when necessary, for another 5-6 minutes. Reduce heat to low if required. When cooked, remove from heat and stir in vanilla.
3. Pour into bowl and top with remaining 1 tbsp pecans, 1 tsp packed brown sugar, and 1 tsp Earth Balance. Serve and enjoy- but be careful as it's very hot! I burned my tongue in typical excitement.
[/print_this]
I loved my original photoshoot so much, I decided to use the old pictures in today's post!
Read: I was way too lazy for a photoshoot this morning.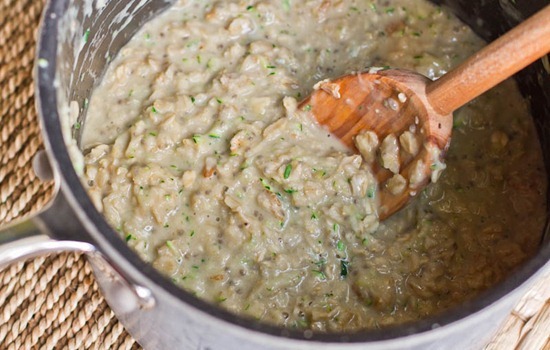 Keep in mind, the recipe looks a bit different the way I made it today, but I was even more pleased with the outcome this time around.
In my first photoshoot, I had a lot of fun using a bread loaf pan and spatula. I wish I had that energy today! Serves me right for staying up until 12:30am last night.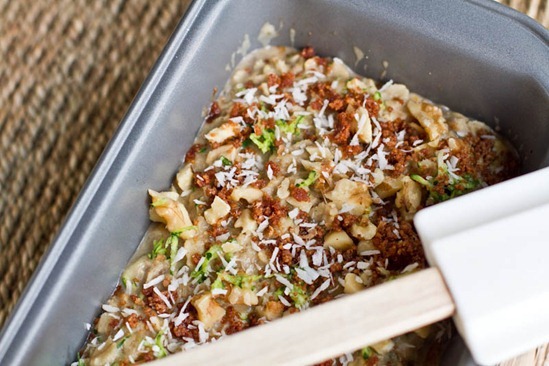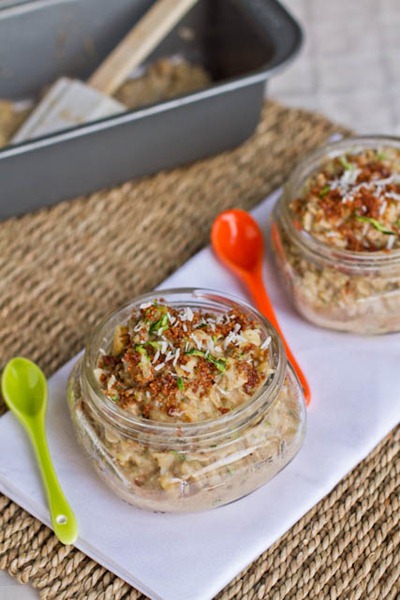 In my first attempt, I didn't add the pat of Earth Balance on top- big mistake! It really took this bowl over the edge and I was in Heaven enjoying each buttery bite with a hint of brown sugar and crunchy pecan.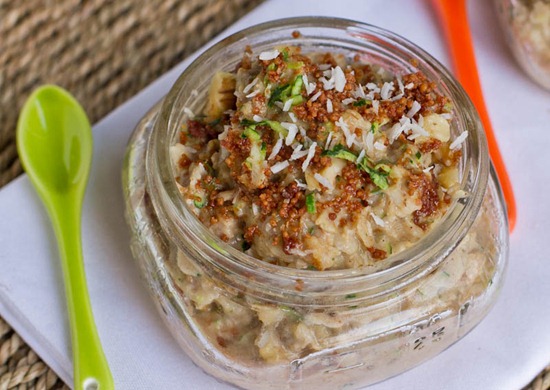 and then I burned my tongue. Of course. Will I ever learn?
If you're feeling really crazy, why not crumble some of my Oil-Free Zucchini Walnut loaf on top?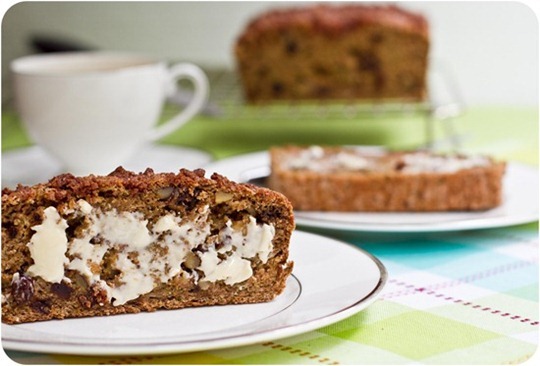 And no, you can't taste the zucchini at all, but it does add beautiful green flecks to the oats, not to mention extra vitamins and fibre.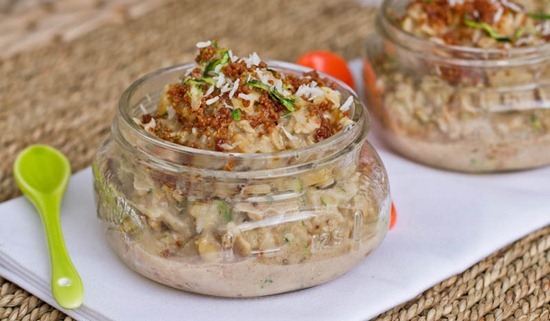 I'm now warmed up and ready to tackle the work week. Let's just not make these chilly mornings a frequent occurrence, mmm kay?
~~
Today is the last day you can enter the Feel Good giveaway! Crazy Tea Ladies, unite.