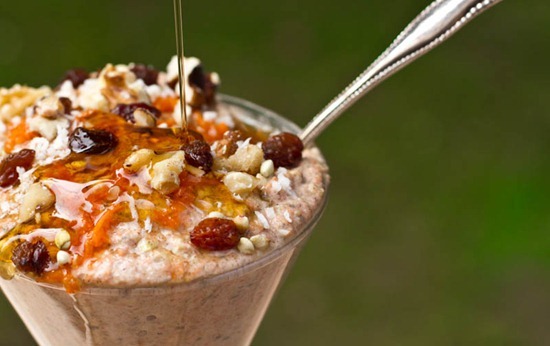 Dear Breakfast,
Why did I ever skip you and deem myself unworthy to enjoy you?

You really light up my day.

You make morning workouts more enjoyable.

You challenge me to make you quick, but still delicious.

You sometimes taste like cake. Awesome.

Sometimes you taste like pie. Yes.

You complete me.
Never shall we part again,
Your breakfast fan for life.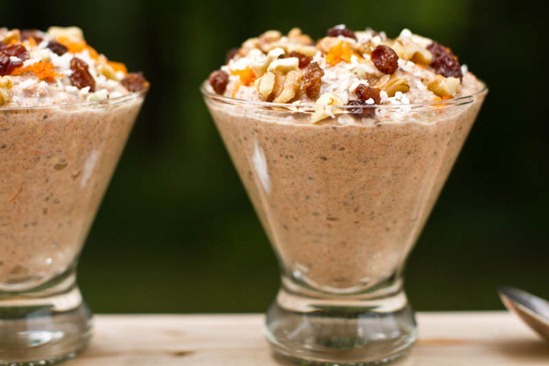 Ok, that was a bit weird, but 3 cups of tea before 8am will do that to a girl.
I used to be a chronic breakfast skipper for most of my life and I felt like crap.
After a while, I had to ask myself if I really wanted to live my life this way and I knew the answer, but it took a long time to break the habit.
Now, I can't imagine my life without a healthy breakfast to start my day. My workouts are stronger, I have more concentration, and I'm a much nicer person to be around. Trust me, you don't want to be around me when I'm hungry all the time. It ain't pretty.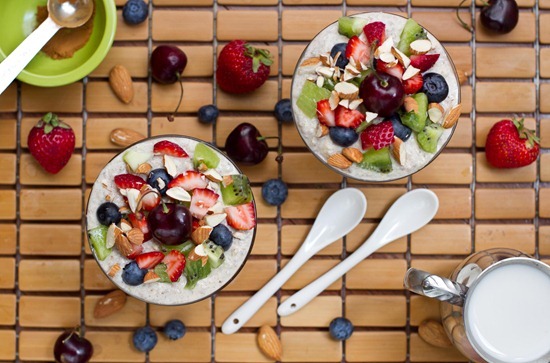 If you saw my post several weeks back on Raw Buckwheat Breakfast Porridge you may know that I've been stuffing my face with this stuff each morning. I went on a 3 week daily feast and then I ran out of buckwheat groats.
Total mood kill.
But now it's back and it's like it was never gone…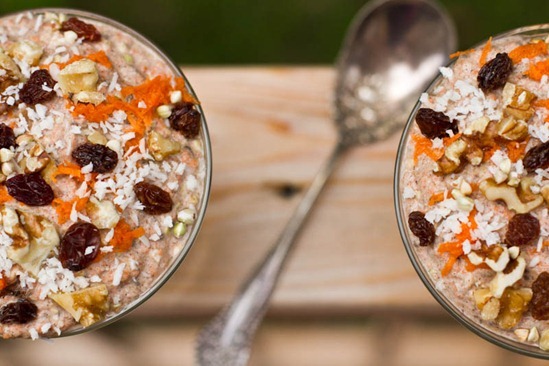 Carrot Cake, anyone? I made an extra few for you… :)
Carrot Cake Raw Buckwheat Porridge (Gluten-free & Raw)
Adapted from my first version & my Carrot Cake Oatmeal
Yield: 4 servings
Ingredients:
2 cups raw Buckwheat Groats, (note: this is

not

the same as Kasha or toasted buckwheat) soaked in water for minimum of 1 hour or overnight
1 cup finely grated carrot (~ 2 medium)
1-1.25 cups non-dairy milk (I use vanilla almond milk), or more to achieve desired consistency
2 tbsp chia seeds
4-5 tbsp liquid sweetener (use Agave if you want it raw. I used maple syrup), adjust to taste
1-2 tsp pure vanilla extract (I used 2)
2 tsp cinnamon
3/4 tsp ground ginger
1/2 tsp ground nutmeg
1/4 cup – 1/3 cup raisins
1/4 cup – 1/3 cup chopped walnuts
Shredded coconut, to garnish
Note: I like to make this at night and then it's ready for me when I come down for breakfast!
1. In a bowl, pour 2 cups of raw buckwheat groats (not Kasha, but RAW groats) and 4-5 cups of water. Soak for at least 1 hour or overnight. After soaking, rinse well in a strainer several times. Grate carrot and set aside.
2. Place buckwheat groats (reserving 1 cup) in food processor or blender, along with the almond milk, chia seeds, and vanilla. Process until combined and slightly smooth. Now add in the sweetener and spices to taste (I found 1/4 cup of sweetener was enough, but others might like a bit more or less than that). Transfer to a bowl and stir in the grated cup of carrots and the reserved buckwheat. Adjust sweetness to taste.
3. Scoop into bowls or parfait glasses and add your desired toppings & mix-ins. Serve immediately cold. Place leftovers into fridge and enjoy for the next few days. Makes 3.5-4 cups depending on how much milk you use.
For step-by-step photos, see this post.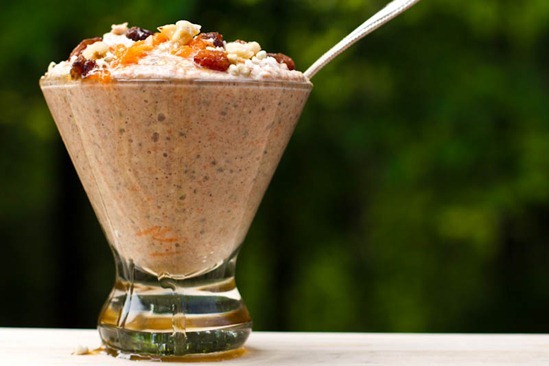 I process only half of the buckwheat and then I stir in the rest at the end. This results in a nice chewy texture that I love.
I really can't be left alone with this stuff. It calls out to me from the fridge.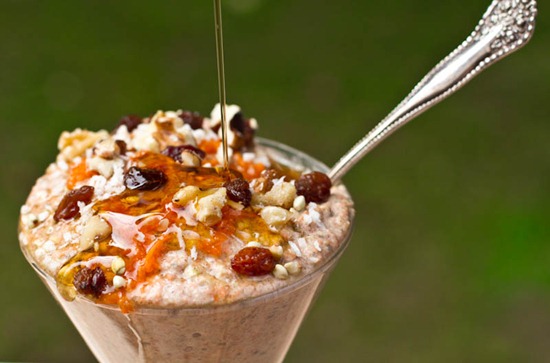 Add a dollop of maple syrup on top if you really want to take it over the edge. Incredible!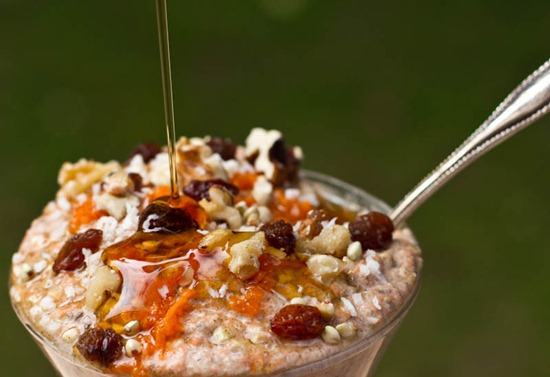 and good to the last drop.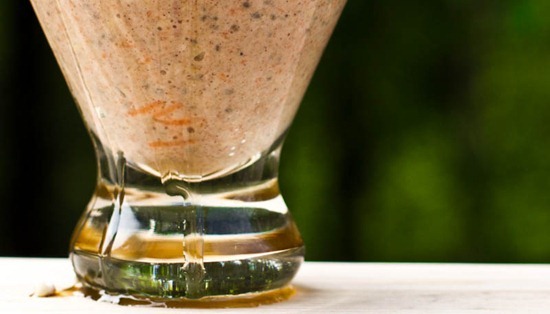 I'm feeling in a 2 for 1 kinda mood this week, so here is another fun little snack that I enjoy. And by enjoy, I mean obsess over and eat daily. I've been eating this so much, I figured it was silly for me to keep it a secret from you.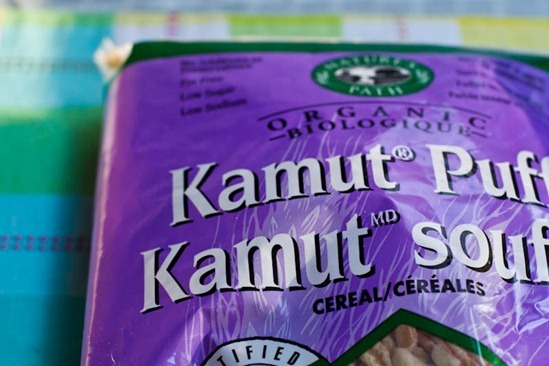 Just don't buy all my Kamut Puffs though. We're already nearing a shortage in my grocery store! Special thanks to Angela for introducing me to this stuff.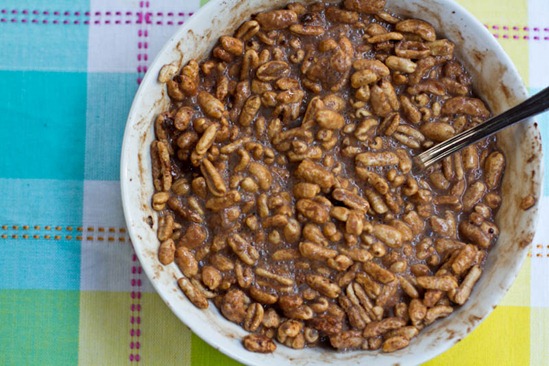 Instant Sugar-Free 'Carob Puff' Cereal
Just like Cocoa Puffs, only without the crap.
1.5-2 cups Kamut Puff cereal (or other puffed cereal)
2-2.5 tbsp carob powder (depending on how much you like it, for me lots is key!), to taste
Almond Milk
Pour a bowl of your favourite puffed cereal. I'm in love with Nature's Path Kamut Puff cereal.
Add 2-3 tbsp carob powder on top. I buy it at Bulk Barn. I've also seen it called Carob Flour too, in case you see that somewhere.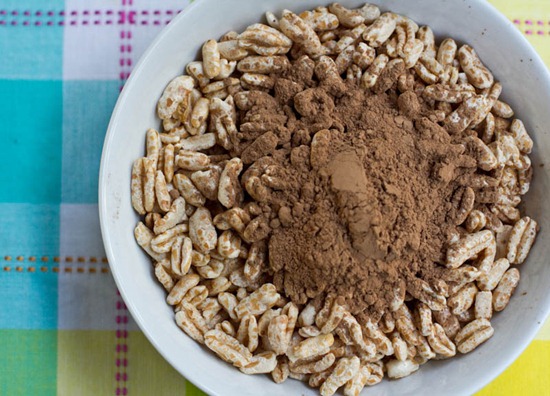 Stir to combine.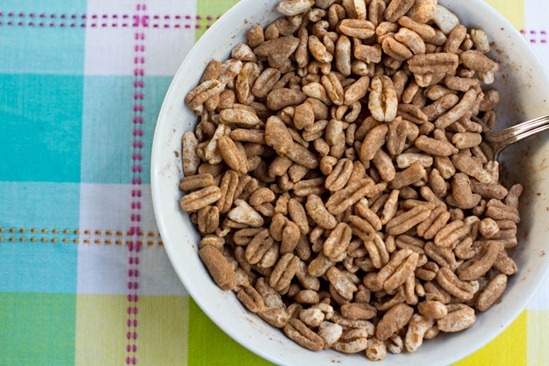 Pour on non-dairy milk (I use Vanilla Almond Milk) and mix well until clumps are gone!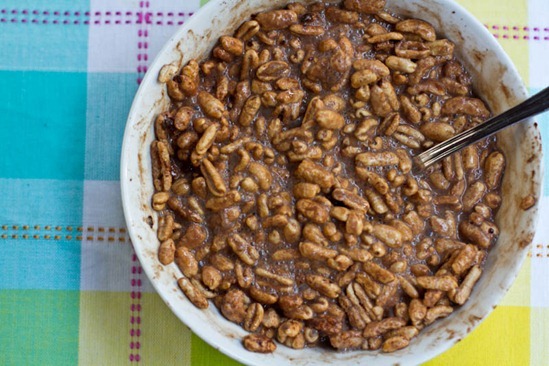 Voila!
A knock-off of Cocoa Puff cereal, without a boatload of sugar and processed ingredients. Carob Power is naturally sweet, but only has 15-20 calories per tablespoon and it's filled with fibre. Now take note, it's about as filling as eating puffed air, but it's awesome for those times when I crave something sweet or chocolaty and don't want a ton of sugar. PMS, I'm looking at you.
Plus, it's basically air which means you can eat approximately eighty-five bowls in a day. Ninety-five if you are PMSing.
Yes.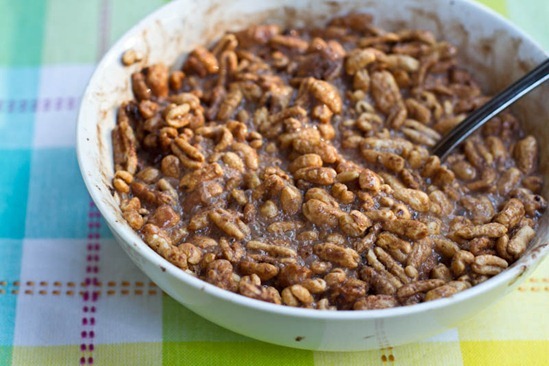 I may need an intervention.