There's nothing more entertaining than a grown man wearing a pair of Crocs,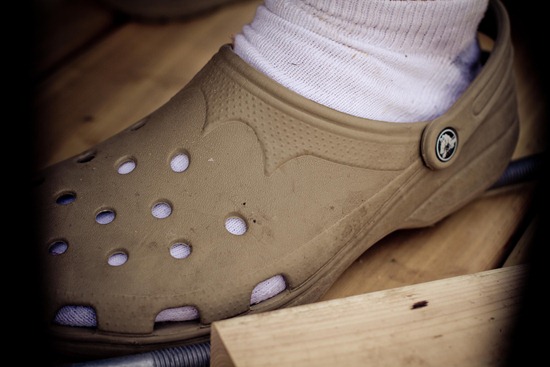 a coordinating Mastercraft tool belt,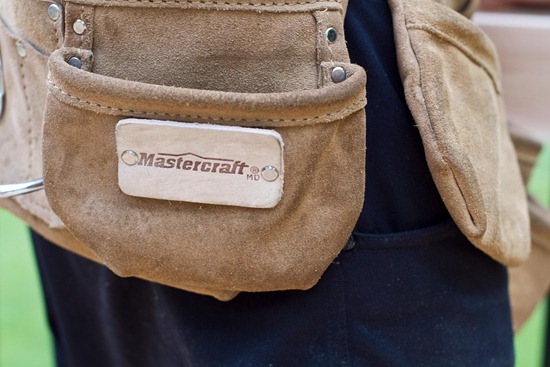 while using power tools.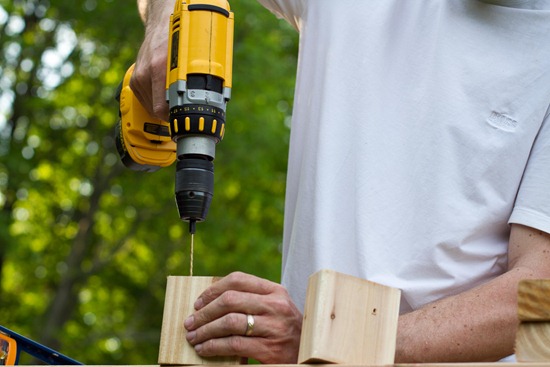 He's a keeper, for sure. :) heh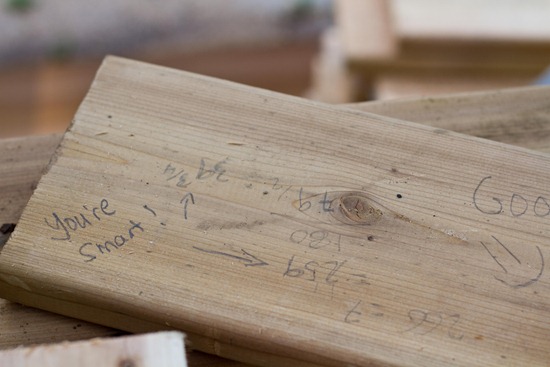 We've been plugging away at the deck each night this week. By the time I pick up Eric from the train station and we have dinner it's already 7:30-8pm, so we don't have much time to work during the week. Thank goodness for the long daylight hours in the summer though!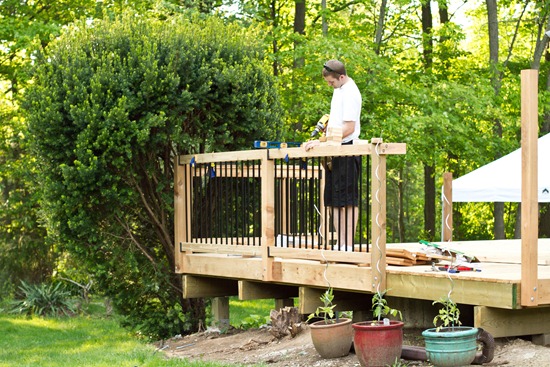 We can work til just past 9pm right now which is great. After we finish up, we often go for a nightly walk around the neighbourhood. I love spending so much time outdoors.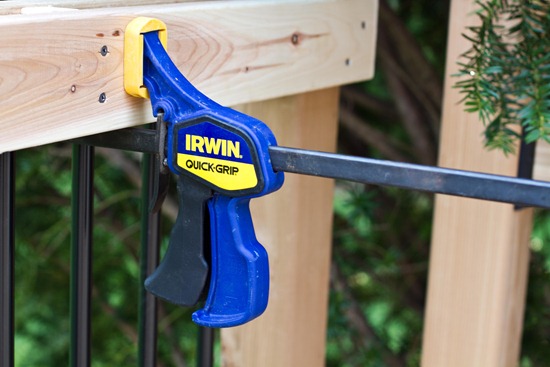 Eric built this 'bistro' table-top that overlooks one side of the yard. We want to find some outdoor bistro chairs for this spot, but we're having a hard time finding any in our price range. It may have to be a stand-up bistro for now!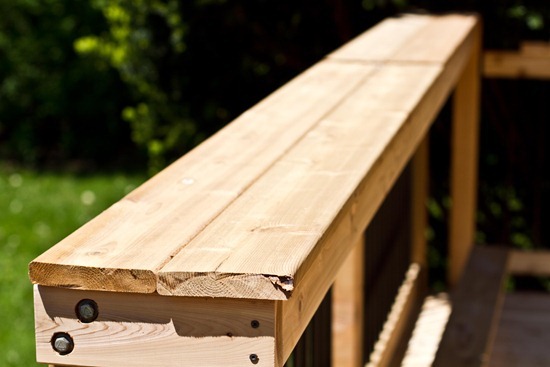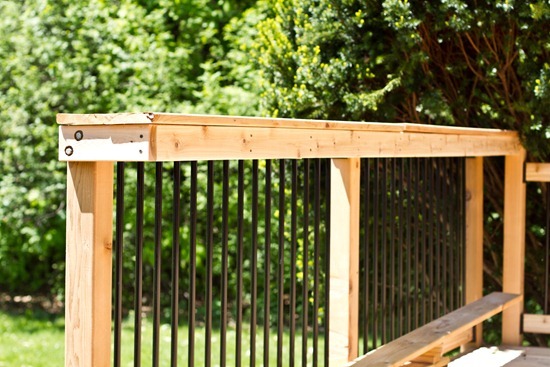 The table top overlooks our future volleyball/badminton net!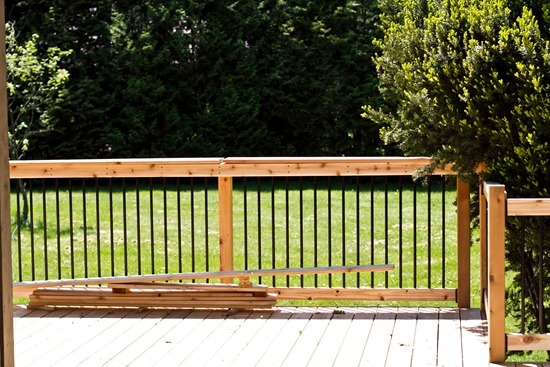 We bought a volleyball set back in May, but we haven't had a chance to set it up yet. It's going to be fun for get togethers this summer. Friends can watch the game with their beer and food on the bistro table!
We also decided not to put glass in the two sections of the deck for three reasons:
Expense- It was going to be about 10 times the price of the regular black rods!
2.5 weeks wait time for delivery
Lots of upkeep/cleaning
It was a nice idea, but not very practical for us. This weekend we're going to continue with the black rods and finish it up. Finally, the 3 sets of stairs are left! Eric says the stairs are going to be the biggest learning curve of the entire deck.
My veggies continue to thrive despite my best efforts to sabotage them… ;)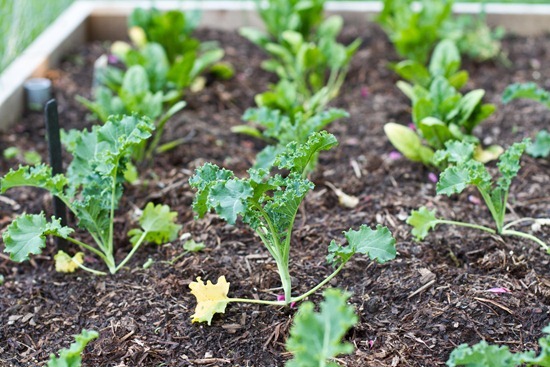 I'm not sure what's going on with the yellowish leaves at the bottom of my kale and spinach…?
I feel like a new mother of sextuplets worrying about her newborn babies! Ok, ok not even close but you know what I mean. Eric always laughs because I check on the plants all the time to look for new growth or 'danger signs'.
Our conversation goes a little something like this:
Me: 'WHOA! Look how much the kale/spinach/pepper plants have grown! They are so much bigger today.'

Eric: 'I don't think they are any different than yesterday…'
Men!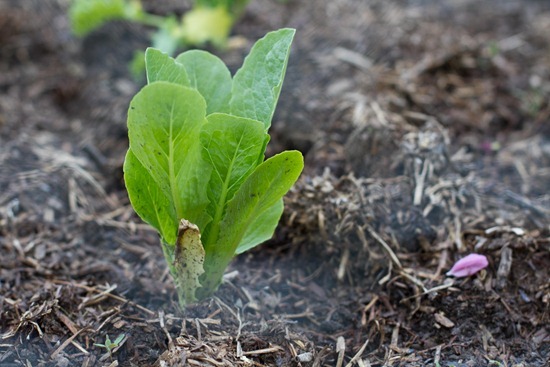 By the way, here is my rough garden plan if anyone is interested (click to enlarge)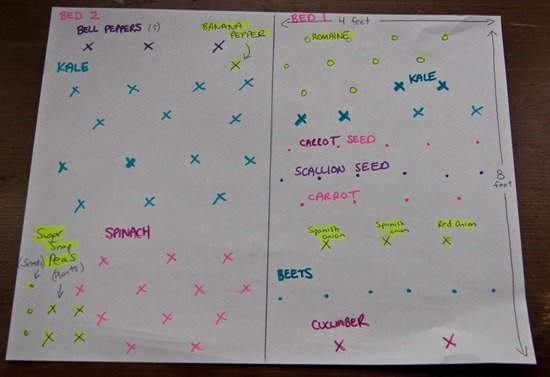 I'll let you know how it goes at the end of the summer… ;)
Dill, anyone?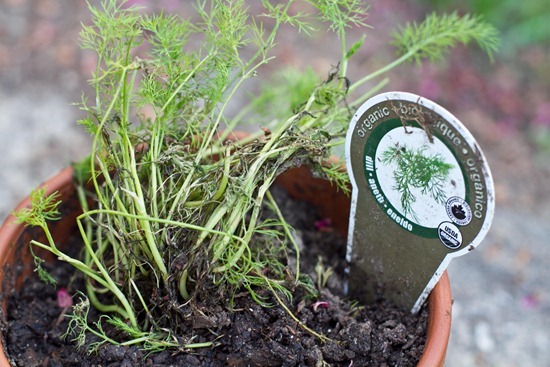 Wussy dill plant can't handle my wrath!
The rest of the herbs are doing well in their new spacious pots. I also planted some basil seeds in the 5th pot. Nothing beats fresh basil!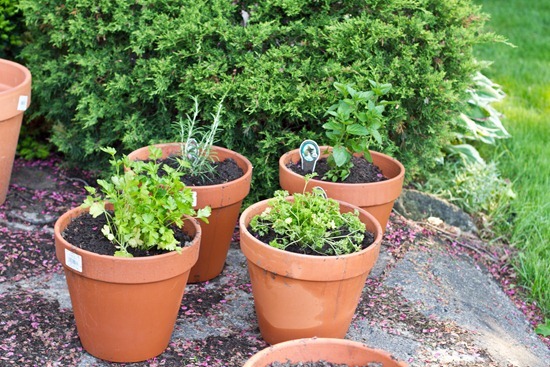 Oh and the squirrels continue to break into my compost bin! I'm going to have to put some chicken wire around it this weekend I think…
For breakfast this morning, Eric and I enjoyed Blueberry Banana Pie Vegan Overnight Oats! I made a big batch last night, mixed it together, and breakfast was waiting for us when we came downstairs. Eric is hooked on vegan overnight oats lately. It took him a while to get over the strange texture, but now he's cool with it. Adding crunchy granola and nuts really helps with the texture for him.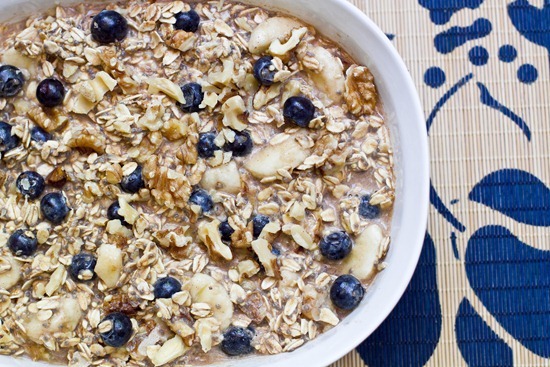 [print_this]
Blueberry Banana Pie Vegan Overnight Oats
Inspired by Super Natural Every Day's Baked Oatmeal.
Yield: 4-6 servings
Ingredients:
2 cups rolled oats
2 cups non-dairy milk
1/3 cup pure maple syrup
3 tbsp chia seeds
1 tsp ground cinnamon
2 small bananas, peeled & chopped
1-1.5 cups fresh blueberries
1/2 cup chopped walnuts
Pinch of salt
1 tsp vanilla
Homemade Granola sprinkled on top before serving
Directions: Mix in a casserole dish and place in fridge overnight. In the morning, give it a stir and enjoy cold with a sprinkle of granola on top. Keeps in the fridge for 2-3 days.
[/print_this]
This is so insanely delicious! It reminded me a bit like Blueberry Pie. Eric demolished about half of this casserole dish. :)
I have a lot of bakery orders to catch up on today, so I best get cracking. Canada Post also went on strike this week so I have a few shipping issues to sort out. Doh! The weather is cloudy and cool today (clearing in the late afternoon), so best to spend it inside getting things done.
Thankfully we have a fun BBQ gathering to look forward to tonight, so the day isn't a complete wash.
As for Sunday, I'll be waiting for the sun and 25C weather forecast.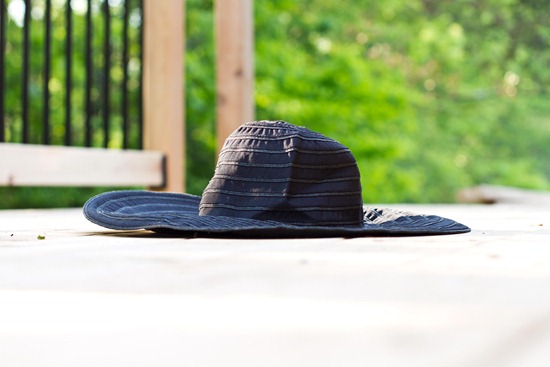 My hat is ready.