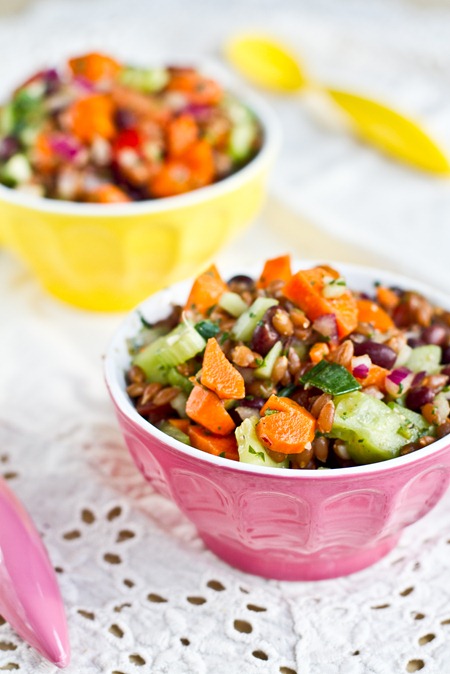 I make a lot of savoury and sweet recipes, but one of my all-time favourite things to make is a high-protein & high-fibre salad packed with veggies, grains, beans, and herbs.
To me, there is nothing more satisfying than taking simple ingredients and turning them into a drool-worthy dish that will keep me full for hours.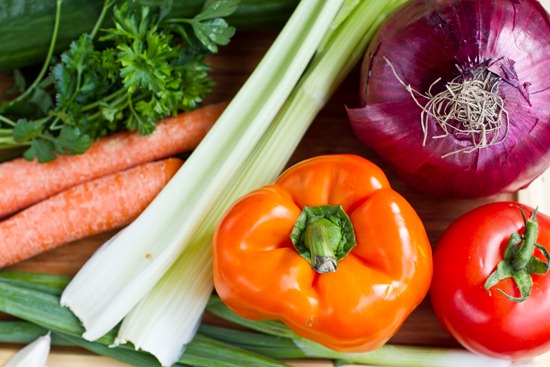 I know I have a great recipe when I am excited about eating it the next day, and the next day, and the next day…and when I have to hide the salad from myself in the back of the fridge!
If you've never had to hide a salad from yourself before, I encourage you to try some of these recipes. ;)
Here are some of my favourite high-protein salads:
Carrot Raisin Spelt Berry Salad with Cumin and Cilantro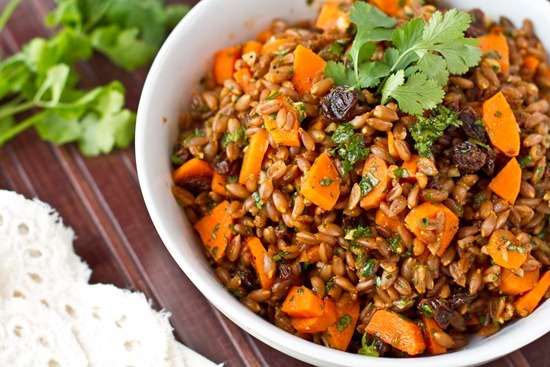 Cinnamon Sweet Potato Chickpea Salad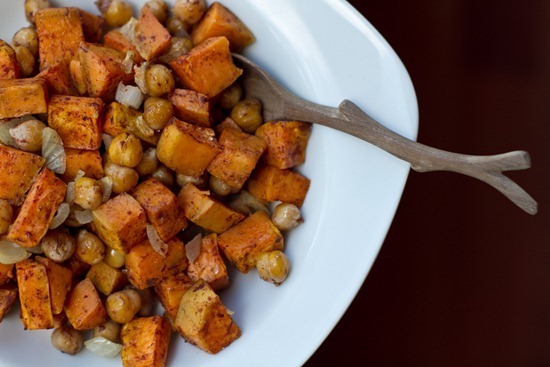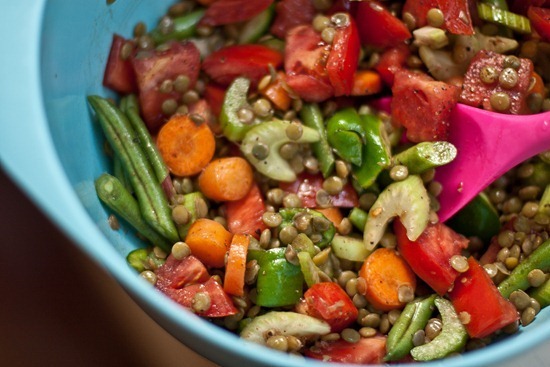 Roasted Sweet Potato and Black Bean Warm Salad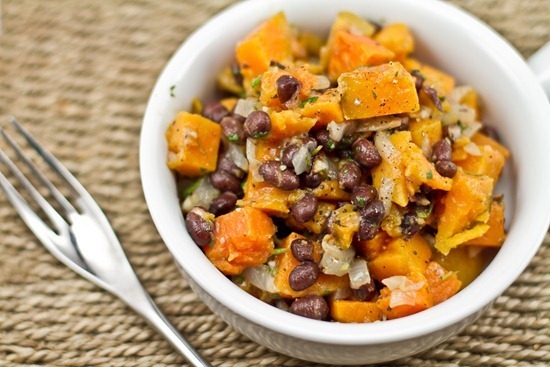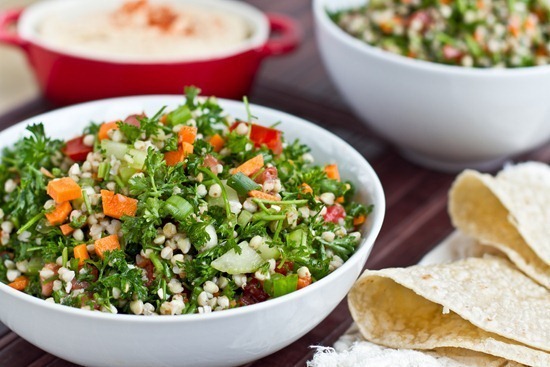 Energizing Protein Power Salad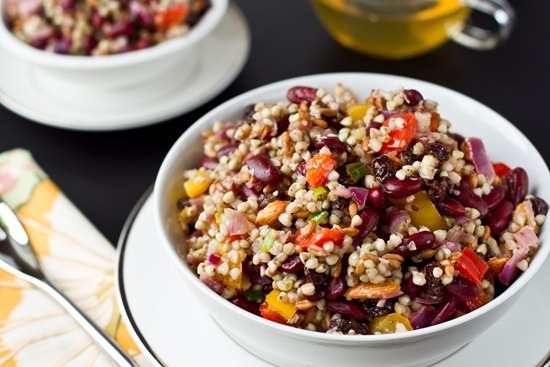 and last but not least, my very favourite salad, the Back on Track Wheatberry and Bean Salad!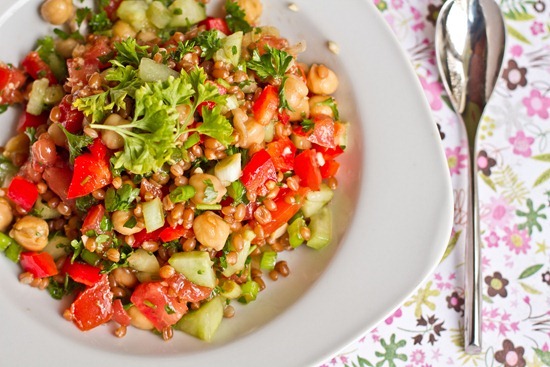 The Back on Track salad is probably the most popular salad recipe on the blog, and for good reason because it's addicting and makes you feel so good when you eat it.
I was first introduced to this lovely salad this past Christmas 2010. My Mother-in-Law, Margaret, found this vegan recipe and made it for me so I would have something to look forward to for my Christmas dinner.
It was so thoughtful of her!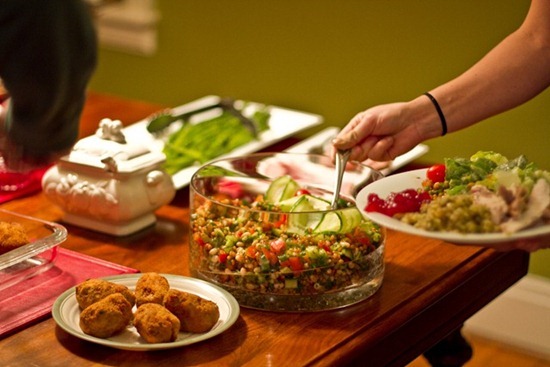 Well, it turned out that it wasn't just me who gobbled up this salad; every person at our table just raved about it! Between mouthfuls, we could not stop talking about how great this salad was and I knew I would be making it ASAP.
I decided to make a spin-off of this salad and see if I could come up with another delicious flavour…
It got a bit wild!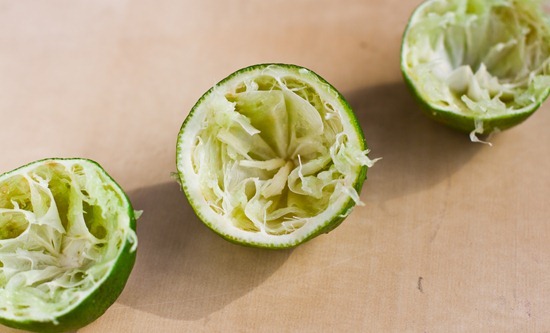 I made a Cilantro lime dressing and I changed up the veggies. I wasn't positive that it was going to work, but it turned out better than I could have imagined.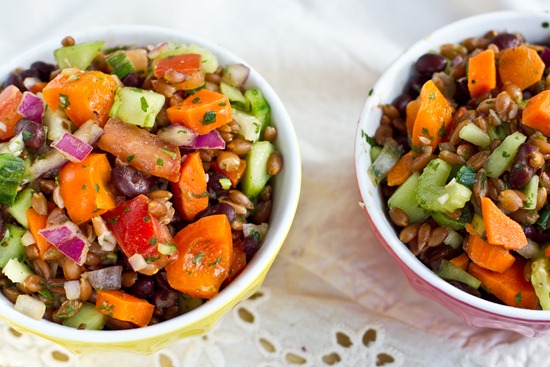 [print_this]
Back On Track II Cilantro Lime Spelt Berry Salad
Adapted from Back on Track Wheatberry and Bean Salad which was adapted from Alive Magazine.
Yield: 7.5-8 cups
Salad Ingredients:
1 cup dry speltberries (or wheatberries)
1 medium carrot, peeled & diced
1/2 red onion, diced (yield ~1 cup)
1 English cucumber, diced
1 orange pepper (or red/yellow), diced
1 large tomato, diced
3 green onions, diced
2 cups/500 ml cooked black beans 
Dressing Ingredients:* See note below
2 tbsp extra virgin olive oil
5 tbsp minced cilantro (1 cup whole Cilantro, with large stems removed)
1 tbsp balsamic vinegar
3 tbsp fresh lime juice (~1.5 limes) + 1/2 tsp zest
2 large garlic cloves, minced
1 tsp ground cumin, or to taste
3/4-1 tsp kosher salt, or to taste + ground pepper, to taste
Directions:
1. In a medium bowl, soak the berries overnight in cold water (optional- I skipped this step this time). The next day, drain the berries and place in a medium sized pot, covered in 3 inches of water. Bring to a boil and then reduce heat to medium and simmer for about 45 minutes. Drain and cool.
2. In a large bowl, mix together the diced vegetables (cucumber, carrot, onion, red pepper, tomato, green onions). Add in cooked beans and drained cooked berries and stir.
3. In a small bowl whisk together the dressing ingredients (olive oil, minced cilantro, balsamic vinegar, fresh lime juice, minced garlic, cumin, salt and pepper). Add the dressing and stir well. Now season with kosher salt and freshly ground black pepper to taste. Garnish with additional cilantro if desired. Yield: 7.5-8 cups. Will keep in the fridge for 3-5 days.
Note: next time, I might double the dressing.
[/print_this]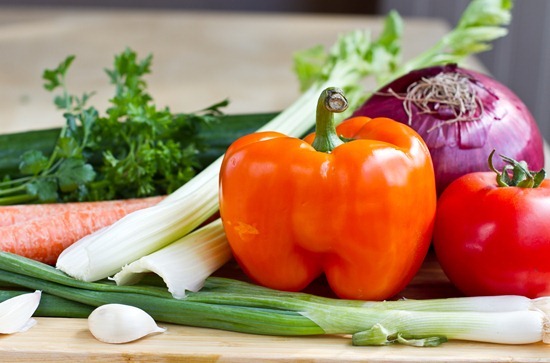 Here are the changes I made:
1) I used Cilantro instead of Parsley

2) Lime instead of lemon

3) Added ground cumin, and removed the mustard and Tamari

4) Added 1/2 red onion

5) Added diced carrot & celery (but I did not like the celery in this so I did not put it in the recipe)

6) I used Spelt berries instead of Wheat berries

7) I changed up how the dressing was made- Instead of mixing in the garlic and herbs into the vegetables, I mixed them in the dressing, as shown here: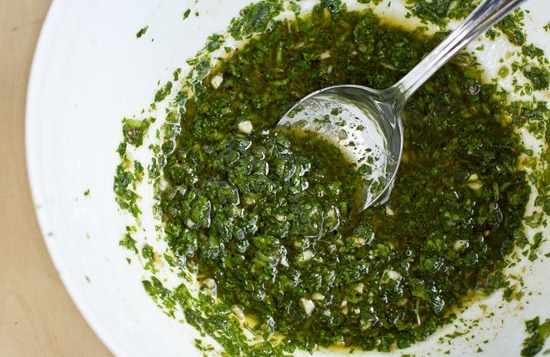 This dressing turned out incredible! It is smooth and fresh, with a tangy kick. As soon as I tasted the dressing, I knew it was going to work.
My secret for creating a new dressing is to add each ingredient very slowly and keep tasting as you go. Taste, adjust, taste, adjust, etc.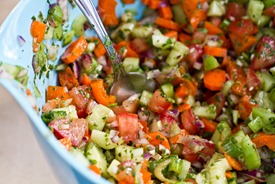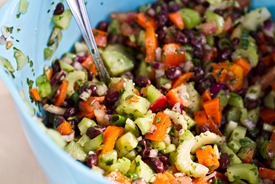 Mix everything together.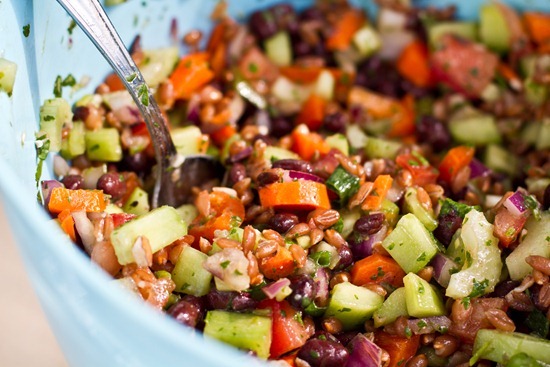 I think I like this version better than the first version! I totally had to hide it from myself in the back of the fridge… ;)  It would be amazing to use as a burrito filler complete with fresh guacamole and salsa.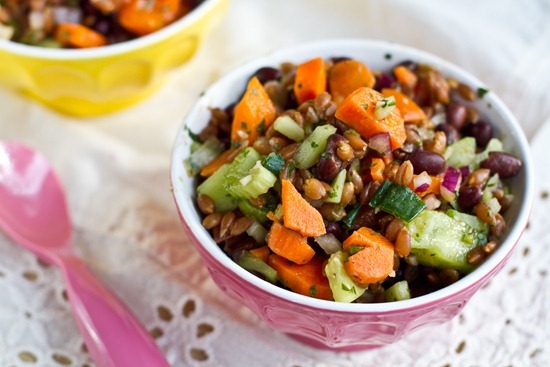 Now go on, and try a high-protein salad…you'll be hooked!