I almost peed myself this morning when I saw the amount the fundraiser has raised so far!!
I am THRILLED beyond belief and I can't thank you enough. Let's see how much we can raise in the next 12 hours! I also appreciate those of you who are spreading the word and posting about the fundraiser on Twitter and Facebook. Thank you for rallying for such an important cause.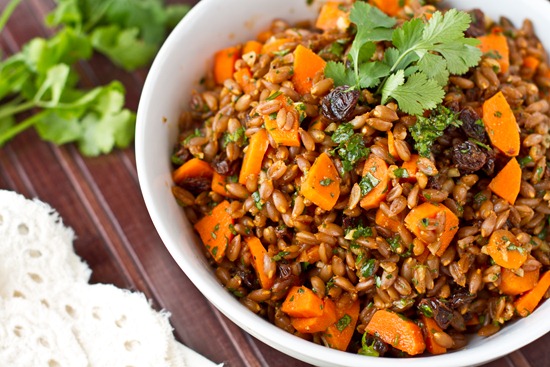 Pipe Dreams
This is a little story called Pipe Dreams.
Growing up, two of my idols were Hal Johnson and Joanne McLeod from Body Break. You may have heard of them. They are a pretty big deal.
And because I was so cool, I decided to email them at the ripe age of 17 years old, asking them to hire me. Yes, at 17. My momma always told me you miss all the chances you don't take!
In a lengthy and passionate email, I told them exactly why I was the perfect candidate for this made up job. My love for fitness and nutrition made me a great fit for Body Break! I dreamed of us cycling around town together, hiking on the trails, and enjoying mini bags of grapes and trail mix as we chatted about phytonutrients.
In closing of my email, as a last desperate attempt, I believe I offered to work for FREE!
Need less to say, working with Hal and Joanne didn't pan out, but I guess when life gives you lemons you just cook with them, right?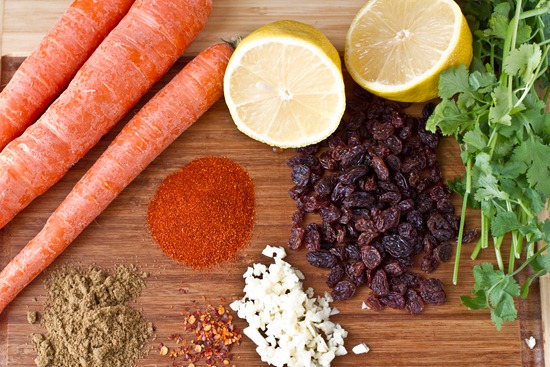 [print_this]
Carrot Raisin Spelt Berry Salad with Cumin and Cilantro
Adapted from Leslie Beck, RD.
Yield: 3 cups
Ingredients:
1 cup uncooked spelt (or wheat) berries
4 medium sized carrots, peeled and chopped into small 1/4" pieces
1.5 tbsp extra virgin olive oil
2 garlic cloves, minced
1/4 cup fresh lemon juice
1 tsp Balsamic vinegar
2 tsp ground cumin
1 tsp paprika
Pinch or two of red pepper flakes (or ground red pepper)
1/3 cup raisins
1 tsp kosher salt + freshly ground black pepper, to taste
2 bunches of Cilantro, stems removed and minced (yield about 5-6 tbsp minced)
Directions:
1. Place spelt berries in a pot and cover with water to 2 inches above the berries. Bring to a boil and then simmer on medium until tender, about 35-45 minutes. Add more water if necessary.
2. Meanwhile, chop and prepare your veggies. In a medium sized bowl, stir together the chopped carrots, olive oil, minced garlic cloves, lemon juice, vinegar, cumin, paprika, red pepper flakes and raisins. Stir well and add into a large saucepan. Cook on medium heat for about 5 minutes or so. You just want to lightly cook this mixture. After about 5 minutes of cooking, place back into the bowl.
3. When the spelt berries are cooked, drain and rinse. Now stir them into the carrot mixture. Stir in your cilantro, salt, and pepper to taste and adjust seasonings if necessary. I added another teaspoon of olive oil. Serve warm or cold. Makes about 3 cups.
[/print_this]
This salad rocked my world! It's so pretty, isn't it?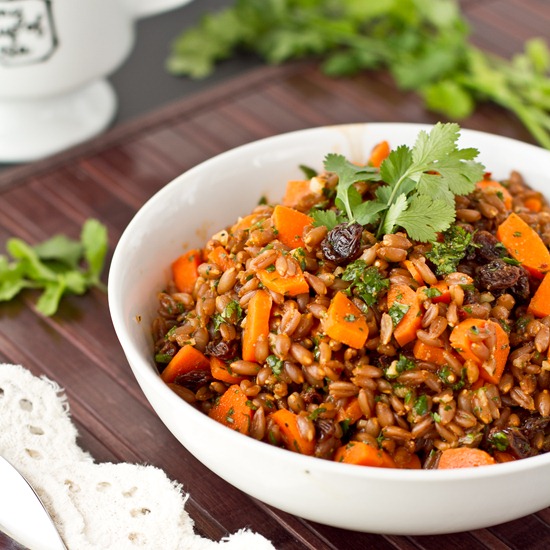 I adapted this recipe from my homegirl, Leslie Beck, RD. I call her homegirl because I feel like I know her personally (I don't).
But, I have been reading her column in the Globe and Mail for a long time now and I feel like we are BFF's.
Maybe she feels the same way?
A girl can dream.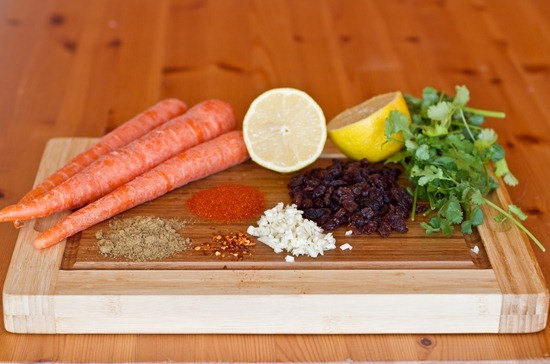 This recipe turned out fantastic! The flavour is very unique…almost hard to put a finger on. The raisins added a fun pop of sweetness as a nice contrast to the tangy and fresh lemon dressing.
We also really loved the texture of this salad. It was super chewy! Chew, chew, chew. Just love that.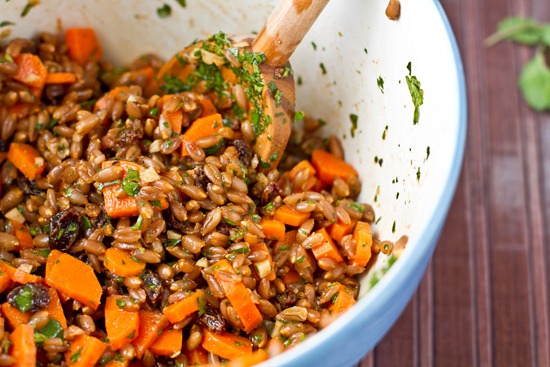 Eric preferred it heated up while I enjoyed it cold. It works both ways. He also said he would like more raisins next time, but I won't get into his obsession with raisins… ;)