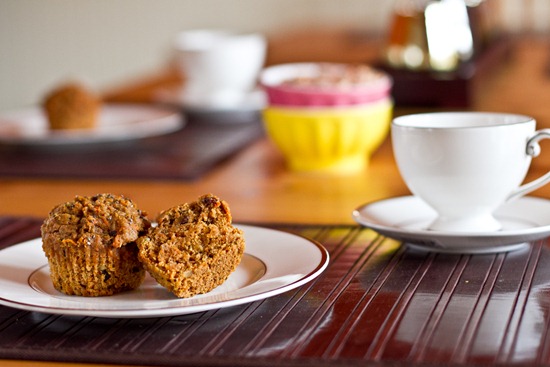 To say that I had baking indecision yesterday would be an understatement! Whenever I am time-crunched and baking for someone special, my mind just draws a blank and nothing seems right.
I looked over my recipes page for a quick + easy recipe that was calling my name…
Too indecisive.
So I let Eric choose!
He has this uncanny ability to simplify things that I like to complicate. Eric thought about it for a mere millisecond and then said quite definitively, 'Carrot Muffins.'
That wasn't a question.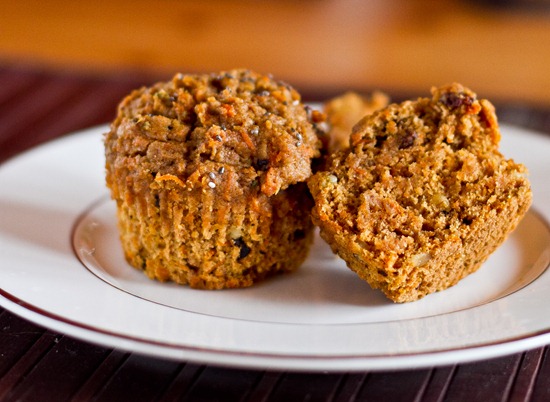 My eyes lit up like a Christmas tree.
…and then I remembered how much I hate grating carrots. Whenever I grate carrots I always seem to nearly grate my finger off. It's a dangerous tool!
Somehow, I sweet talked Eric into grating the carrots for me and I kept all my fingers intact. It was a win-win situation.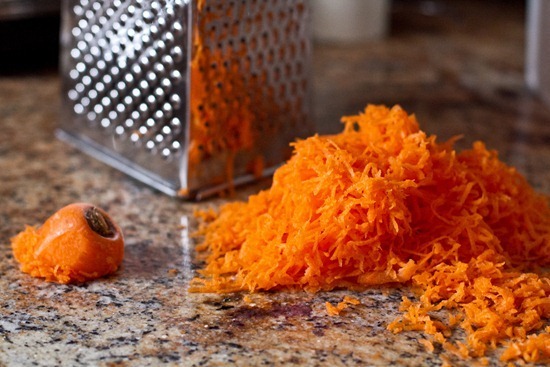 [print_this]
Vegan Carrot Spice Muffins
Adapted from FFVK.
Yield: 12 muffins
Dry:
1 & 3/4 cup whole-grain Kamut flour (or white whole wheat flour)*see note
1/4 cup natural sugar
1 tbsp ground flax seed
1 tsp baking powder
1 tsp baking soda *see note
1 tsp cinnamon
3/4 tsp ground ginger
1/8 tsp ground cloves
1/2 tsp kosher salt
Wet + Mix-ins:
1/3 cup + 2 tbsp pure maple syrup
1/3 cup unsweetened applesauce (oil replacer)
1/2 cup coconut milk (the cream on top from a full fat can) OR yogurt * see note below
1/4 cup + 3 tbsp water
1.5 tsp pure vanilla extract
1.5 cups grated carrots (about 3 small-medium carrots)
1/2 cup raisins, soaked in water and drained
1/3 cup chopped & toasted walnuts
Directions:
1. Toast the walnuts (optional) on a baking sheet for about 8 minutes at 300F. Remove and set aside. Preheat oven to 400F and line a muffin tin with liners.
2. Whisk all dry ingredients together in a large bowl. In a smaller bowl, whisk together the wet ingredients (maple syrup, applesauce, coconut milk, water, vanilla). Add the wet to the dry and mix until just incorporated. Batter will be THICK!
3. Fold in the carrots, raisins, and walnuts. Scoop batter into the muffin liners, filling batter to the top. Bake for about 18 minutes at 400F until a toothpick comes out clean. Allow to cool for about 10 minutes. Makes 12 muffins.
Notes: 1) I love Kamut flour because it is a whole grain, but it bakes up light just like all-purpose flour. It also has a mild taste. The original recipe used white whole wheat flour. 2) Next time I would reduce the baking soda to 3/4 tsp as I could detect the baking soda taste every so slightly. 3) The original recipe used soy yogurt. I used coconut milk (the cream from the top of can, not the watery liquid) and it worked well, resulting in a very moist muffin. However, the batter was VERY thick when mixing!
[/print_this]
As I mentioned above, the original recipe by Susan called for Soy Yogurt, but since I don't buy soy yogurt often, I thought that the cream from the top of a coconut milk can would work. It resulted in a super moist muffin and I was really happy with the outcome. I do think the cream made the batter extra thick though, which is why I had to add 3 tbsp more water. You can use yogurt if you wish…whatever floats your boat!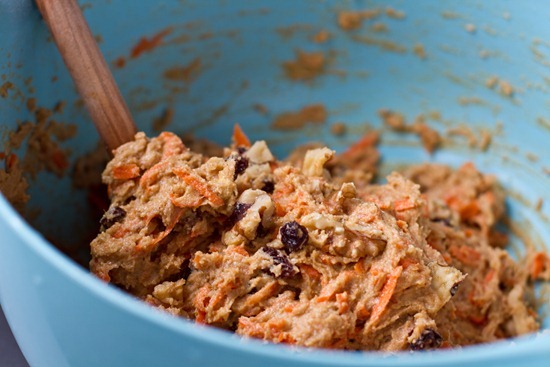 The muffins are quite easy to make- especially if you can find someone to grate for you! ;)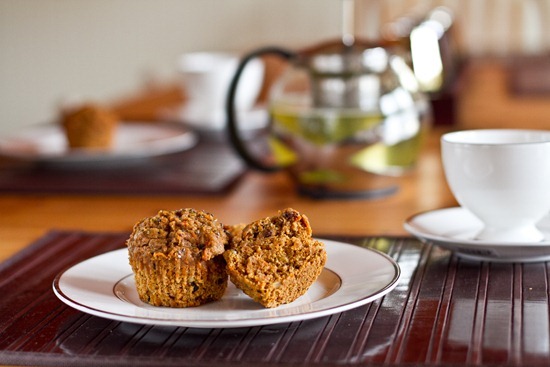 After about 18 minutes in the oven, they were perfect!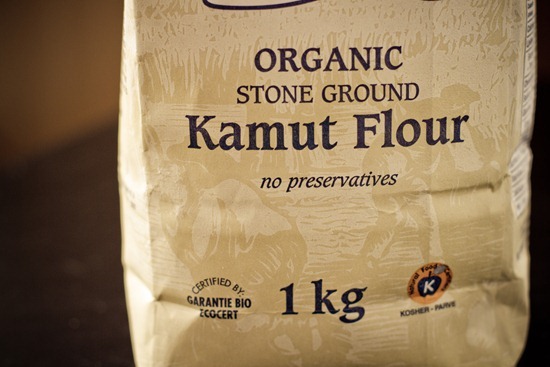 Modifications I made to the original recipe are as follows:
1) I used stone-ground Kamut flour. I love Kamut flour because it bakes up just like all-purpose…light and fluffy! It is not as dense as spelt flour, but is still high in protein.
2) I used maple syrup instead of agave nectar and I added 2 tbsp more maple syrup because it is not as sweet as agave.
3) I used coconut cream as a sub for soy yogurt. It resulted in a very flavourful and moist muffin!
4) My batter was very thick as a result of the cream, so I added 3 tbsp more water.
5) I added 1/3 cup chopped and toasted walnuts for a great crunch and healthy fats.
6) I used 1/2 cup soaked raisins. I soaked them in a bowl of water for about 15 minutes, drained, and then added them in. This results in plump raisins!
Despite all these changes, they turned out FANTASTIC!!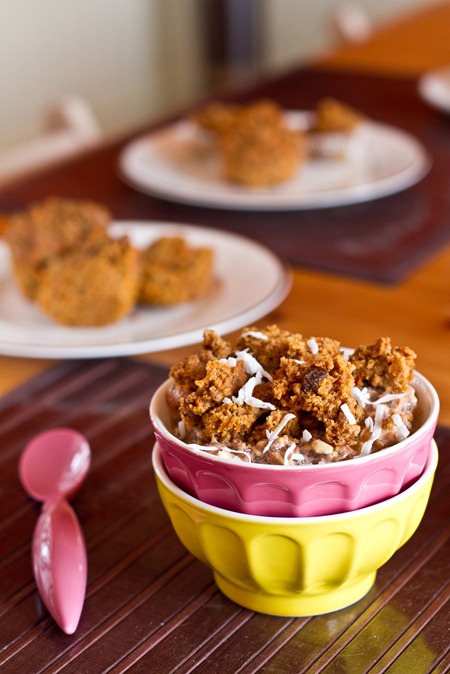 Everyone enjoyed them as a light afternoon snack. Eric and I loved them so much, I made another batch last night for the work week.
This morning, I enjoyed a bowl of Carrot Cake vegan Overnight Oats. I have tried making carrot cake VOO before and I wasn't impressed with the taste, but I finally got this bowl right!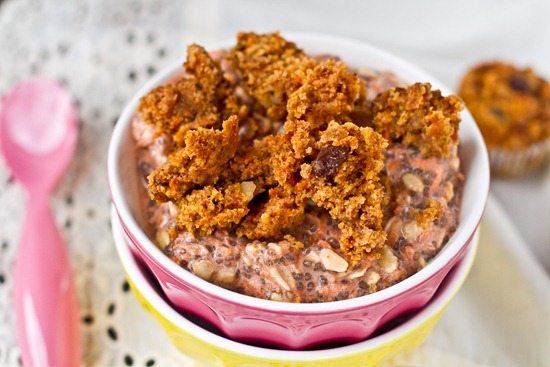 [print_this]
Carrot Cake Vegan Overnight Oats
Ingredients:
1/3 cup rolled oats
1.5 tbsp chia seeds
1/2 tsp cinnamon
1 cup non-dairy milk
1 small carrot,

finely

grated (yield: about 1/2 cup)
1 tbsp pure maple syrup
1/2 Carrot Spice Muffin, crumbled over top
Sweetened & shredded coconut, sprinkled over top
Directions:
1. Before bed, in a small bowl, whisk together the oats, chia seeds, cinnamon, milk, and maple syrup. Place in fridge overnight.
2. In the AM: Crumble 1/2 a muffin on top and sprinkle with coconut. Add more milk as desired and serve cold.
[/print_this]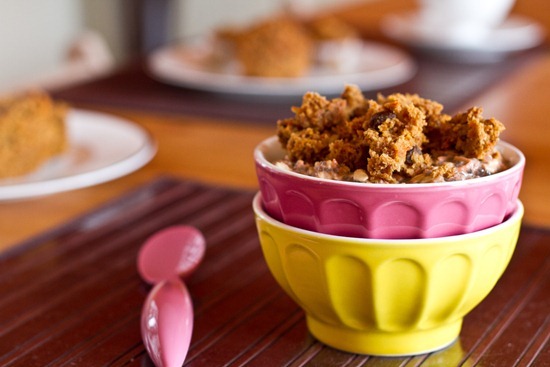 A-M-A-Z-I-N-G.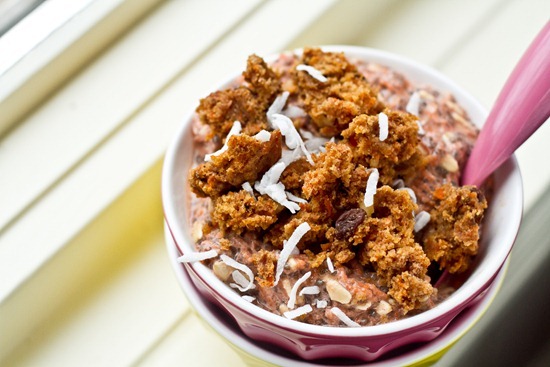 Thanks for your kind words about my Grandpa yesterday. For those of you who missed it, my Grandpa was diagnosed with Leukemia at the end of 2010. He has been undergoing chemo treatments to help fight the cancer and send it into remission. As you can imagine, he has good days and tough days, but he is a fighter. The doctor is hopeful that he will be in remission by the end of the year if things go well.
My Grandpa, Diane, and I yesterday: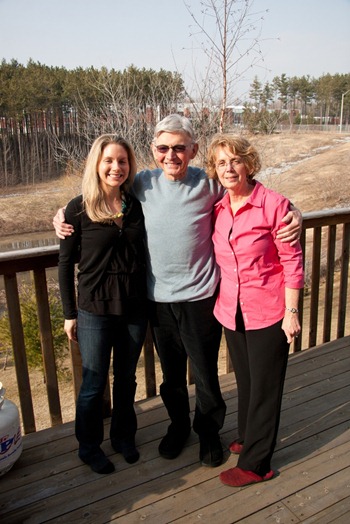 My Grandpa is such an inspiration to me. He remains VERY positive, upbeat, active, and lively despite his illness. He is an active church member, always spending time with his family, and he continues to enjoy physical work at their cottage as the weather gets warmer.
They tapped a bunch of maple trees last weekend at their cottage and were boiling down some maple syrup when we arrived yesterday!!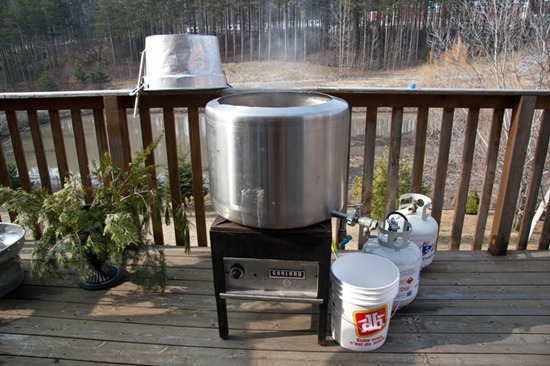 I had no idea that the sap is CLEAR like water when it comes out of the maple tree. Only when boiled down does it turn into a beautiful dark amber colour.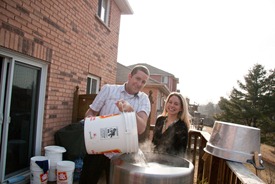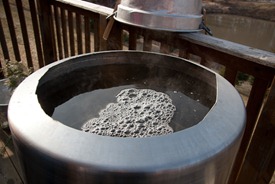 Grandpa was talking about the past few months and he said a couple things that I will never forget.
'When I was really sick with pneumonia at the beginning of January, everything blacked out for a while and I had this vivid dream. There were people walking down this road with candles in their hand, all going in the same direction. I heard a voice that said to me, "You can chose to die or you can chose to live…the choice is up to you." and then I saw my Granddaughter and she said to me, "Papa, don't go." and I chose to live.'
Then he said with great pride, 'I'm still LIVING!'
Yes, he is. :)