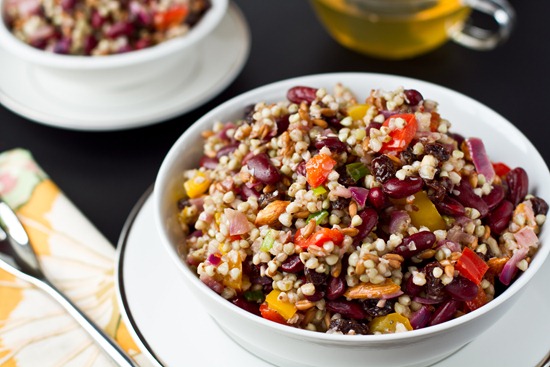 As my mom always says, Good things come to those who wait!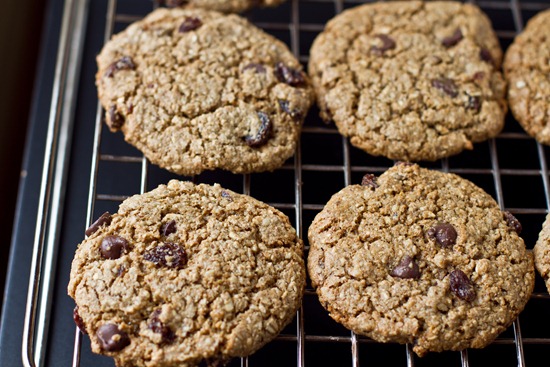 Because Eric was such a good sport about my April Fool's Prank, I made him a batch of The Ultimate Oatmeal Raisin Cookie (with CHOCOLATE chips!) on Saturday. He claimed that he is 'bringing every single cookie to work' and he 'just might eat all of them before lunchtime.' ;)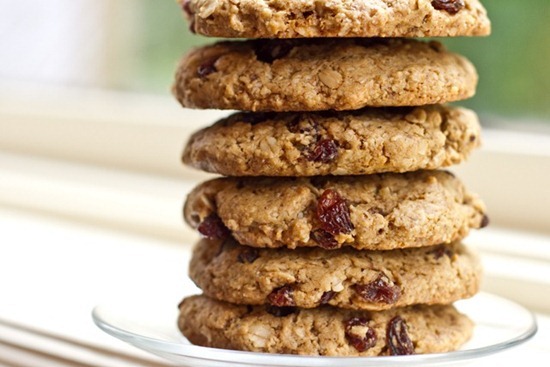 Eric and Steve finished ripping up the top layer of the deck yesterday.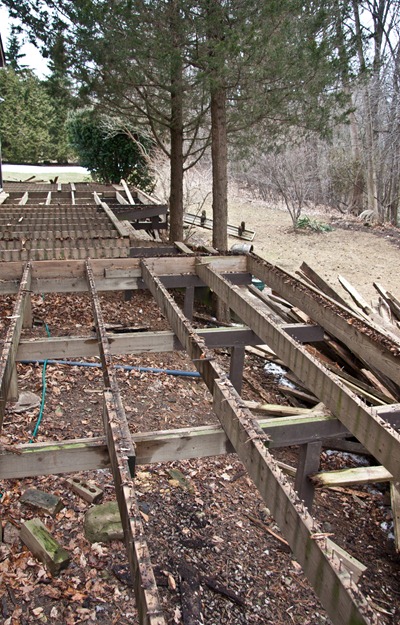 It's naked!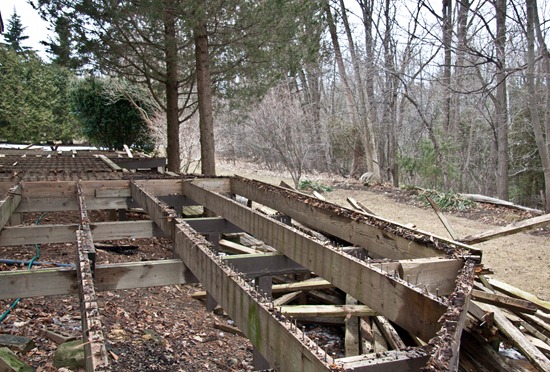 I'm a bit sad seeing the deck go because I was really attached to it, rotting wood and all.
It was a lovely backdrop for rustic food photos… ;)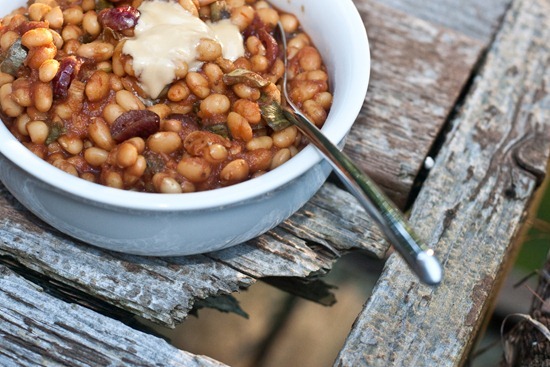 [those are Maple Baked Beans in the photo]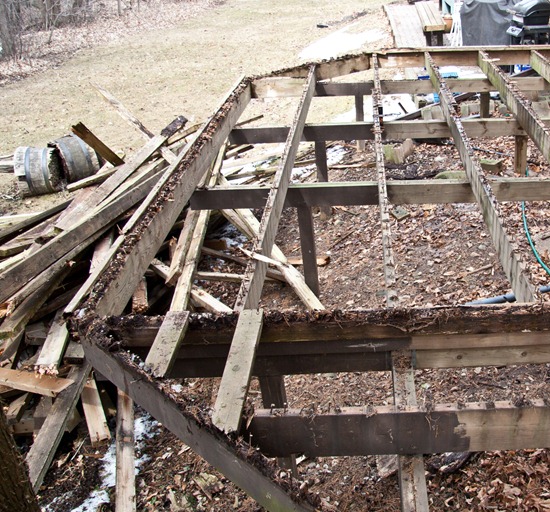 Eric's foot actually fell through a rotted piece of wood yesterday! Thankfully he wasn't hurt by it, but it gave him a bit of a scare because he had a hard time getting his foot out.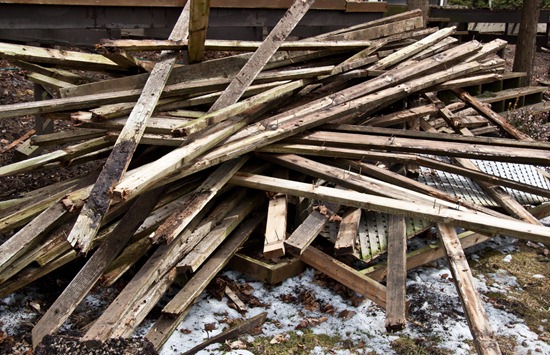 For dinner, I made a huge batch of this protein-packed salad, with lots of leftovers for lunch this week!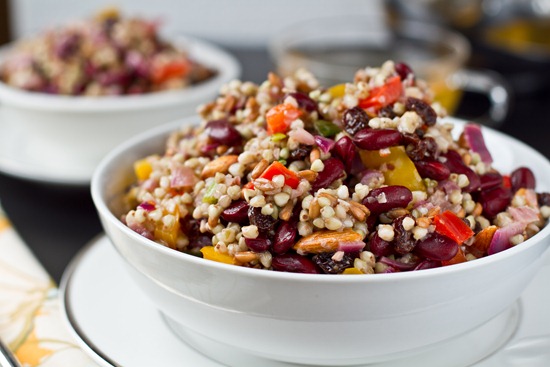 [print_this]
Energizing Protein Power Salad
Endlessly adaptable, this salad could work with many items in your pantry! The original recipe called for quinoa, but I had Buckwheat and spelt berries on hand, so I used those. I also added in red kidney beans for extra protein. You can experiment with this salad, changing in any veggies, nuts, or grains you desire. It makes a great packable lunch.
Adapted from Have Cake Will Travel.
Yield: ~6 cups
Ingredients:
1/2 cup uncooked spelt berries (or wheatberries)
1 cup Raw Buckwheat groats (or grain like quinoa)
3/4 cup uncooked Red Kidney beans (or other bean like chickpeas, black beans)
2 tsp extra virgin olive oil
2 large garlic cloves, minced
1 red onion (or other onion)
1 large yellow, orange, or red pepper (I used mix of yellow and red)
3/4 cup raisins
1/4 cup almonds, chopped
Dressing: (see note below)
1/2 cup fresh lemon juice
1 tsp apple cider vinegar (optional)
3 tbsp extra virgin olive oil
1/4-1/2 tsp garlic powder, to taste
1/2 tsp red pepper flakes, to taste (less if you don't like spicy foods!)
1/4-1/2 tsp ground cumin, to taste
1/2-3/4 tsp kosher salt, to taste (I used 3/4 tsp)
freshly ground black pepper
Directions:
1. Cook your desired grains and beans according to package directions. You can cook everything the night before so save time. Place in large bowl while you prepare the rest of the recipe.
2. In a large skillet, add 2 tsp of EVOO and your 2 cloves of minced garlic. Cook on low for a couple minutes being sure not to burn. Now add in the chopped onion and cook for another 6-8 minutes until translucent.
3. Add in the chopped pepper, raisins, and almonds and cook for another 5 minutes on low-medium heat. Stir as needed. Meanwhile, prepare the dressing in a small bowl using a whisk to mix. Pour all the dressing into the skillet and stir well.
4. Pour the veggie and dressing mixture into the bowl with the beans and grains. Stir well and serve. Makes about 6 cups. The flavour will develop nicely after about 1 hour, but it can be enjoyed immediately too. Store leftovers in containers in the fridge for quick lunches.
Note: The original recipe called for 1/2 cup of oil. I tried to reduce this while still maintaining a nice dressing flavour, however the lemon was quite pronounced in this dressing. If you would like less lemon, you can reduce it and then sub in more olive oil until you achieve the flavour you prefer.
[/print_this]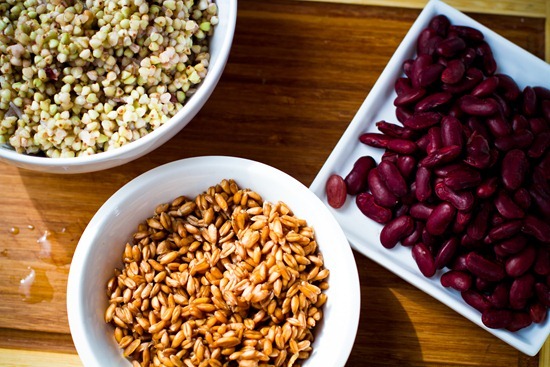 I suggest cooking the beans/grains the night before to save some prep time. I used Buckwheat, speltberries, and red kidney beans in this recipe, but you can use pretty much any grain or bean that you prefer! Same goes for the veggies too.
After cooking the grains/beans, Mix together in a large bowl and set aside or place in fridge overnight.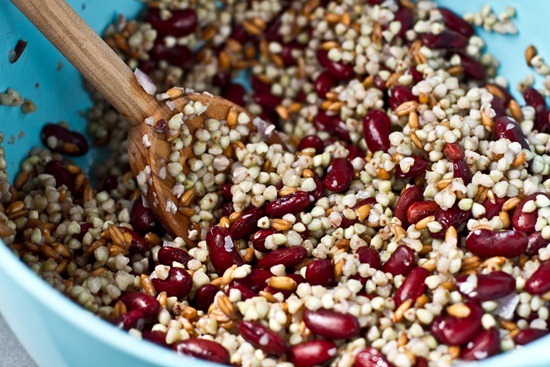 In a skillet, cook the garlic, onion, and veggies of your choice. I used yellow and red peppers.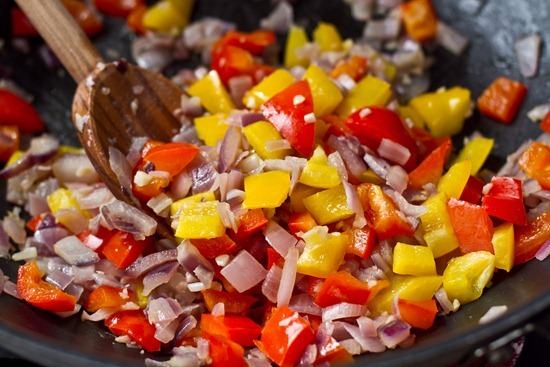 Mix the dressing together and the pour onto the veggie mixture in the skillet.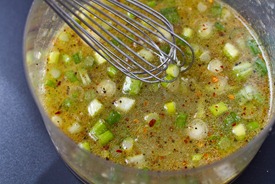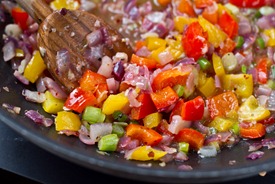 Add the veggie/dressing mixture to the grains & beans and mix well. I added in the raisins and almonds at this point too, but you can also add them directly into the skillet as the veggies cook.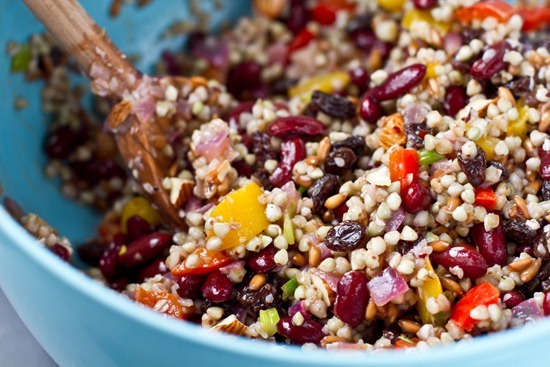 This salad is crunchy, chewy, soft, and just plain old fun to eat. The raisins are also a nice contrast to the tangy lemon-based dressing.
I cut down the oil by over 50% from the original recipe; if you prefer a dressing that isn't as lemon-based, I suggest you replace some of the lemon juice with more olive oil. Next time I might even try a mixture of lemon juice and balsamic vinegar. Make sure to adjust the dressing to taste and you can even get creative by adding in some fresh herbs!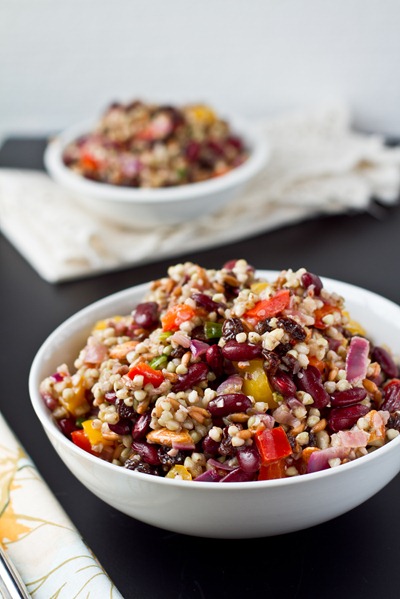 By the way, thanks to everyone who gave their input on chiropractors, physical therapists, osteopaths, RMT's, etc! I had so many helpful comments to read. I think I'm going to try a RMT and possibly an osteopath (if necessary) as my first step with the sciatic nerve issue.
My doctor also gave me a bunch of stretches to do and told me to strengthen my CORE, so it looks like I'm going to have to whip out the plank monster again! Nooooooooo. ;) Anyone want to join me as I tackle the core work again? You can see this page for exercises I will be doing.