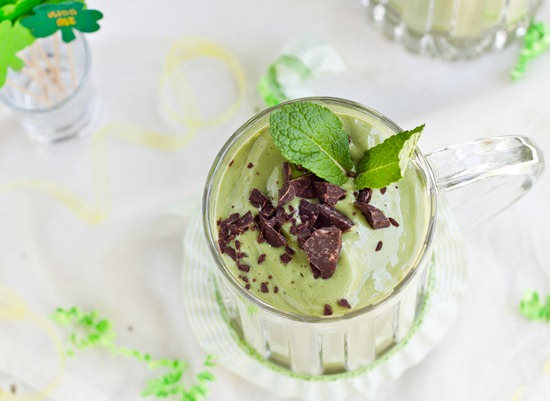 Back in our University days, we would often line up at Irish Pubs to drink green beer on St. Patty's Day, all decked out in green St. Patty's Day paraphernalia and faces decorated with four leaf clovers. There would be line-ups at the pubs by 10am on St. Patty's Day; all the students were eager to get their fix of Green Beer and a day of skipped classes!
Yesterday, I thought I would remake the green beer, Green Monster style, all without a hangover by 3pm! And if you are going out to celebrate on Thursday you can start your day on the right foot, giving you some green power that would make even the Irish green with envy.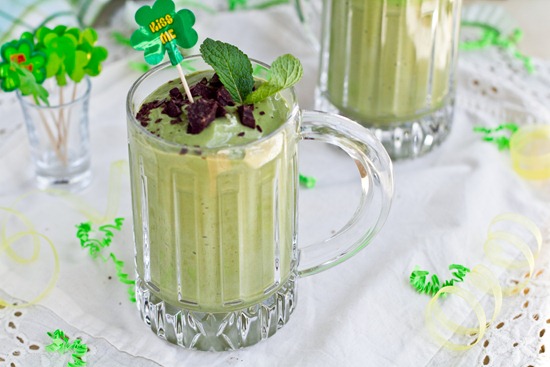 Did you just hear that?
It was the sound of my Irish relatives laughing at me while they drink their Guinness. They're just jealous.
[print_this]
Peppermint Patty Green Monster
Spin-off of Peppermint Carob Green Monster.
Ingredients:
Yield: 1 serving
1-1.5 large frozen banana (peel before freezing) (I used 1.5 bananas)
1-1.25 cup non-dairy milk (almond, soy, hemp, rice, etc)
Handful of fresh mint leaves, stems removed
1-2 handfuls spinach
1/8-1/4 tsp peppermint extract (optional)
1-2 tbsp chopped dark chocolate, for garnish
Directions:
1. Add in all of the ingredients except the chocolate into a blender and blend until smooth. Adjust to taste and serve with a garnish of chopped dark chocolate and mint leaves. Enjoy with a spoon. Serves 1.
[/print_this]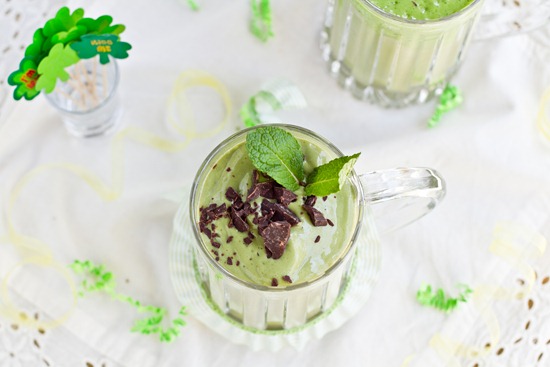 I loved this GM…very minty and fresh!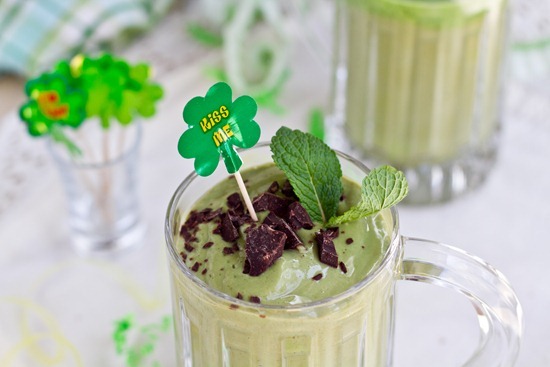 In other news, this morning marked my very first Vegan Overnight Oat Parfait of 2011.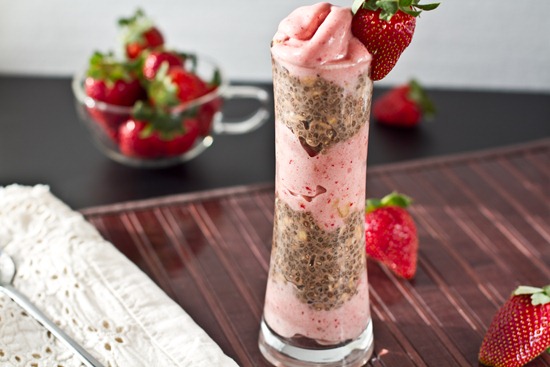 If you are new to the blog, you may not know about these VOO Parfaits that I started making last Spring. You can see a bunch of them on my recipes page here. Today I made Strawberry Banana Soft Serve and layered it with carob Vegan Overnight Oats.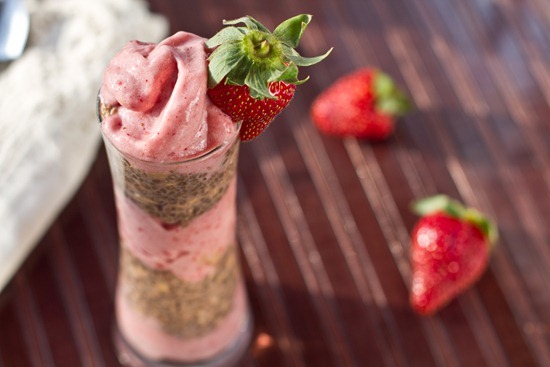 Delish!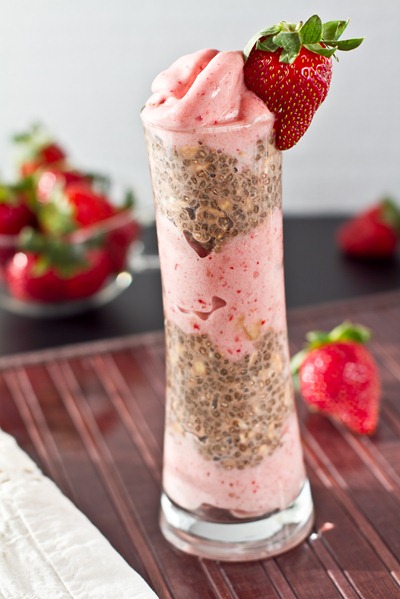 But COLD. Very, very cold. I froze while eating this (it was –6C when I got up this morning) and I needed a lot of green tea afterwards. I can't wait until I am enjoying these on the deck this summer!
Updates:
– My apologies for the blog down time yesterday. Dreamhost had a site-wide outage yesterday morning and my blog was down for about 3 hours.
– I'm also thinking about doing a Japan Relief Fundraiser, auctioning off a bunch of Glo Bars in a raffle. Would you guys be interested in that? I have been looking and looking for a website in Canada where I can create a donation page, but so far no such luck. If anyone knows of how I can do it, I would love your tips!