Someone is having a very good Friday…and I hope you are too!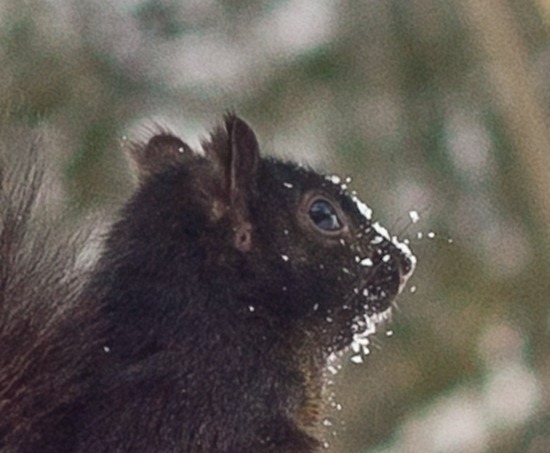 Eric and I leave bird food out every couple weeks and the squirrels always steal it and have a feast! It is so fun watching them hide their food in random spots all over the backyard. They always check behind their back before they bury it. ;)
…Little do they know a creeper (me) is watching through the window!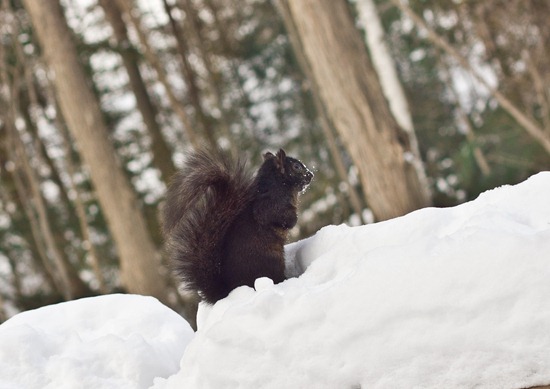 I always wonder if they even remember half of their hiding places…
We were finally able to get a technician in to fix our broken furnace late last night. We had a nice warm sleep and I can feel my fingers and toes once again.The price tag was not so nice though!
In other news…I made some awesome chocolate cookies…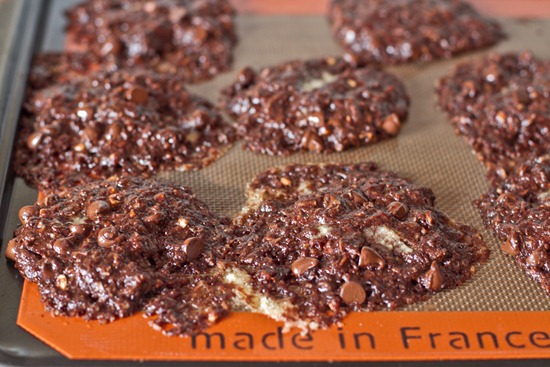 COOKIE FAIL.
Murphy's Law: When you have high hopes for a chocolate cookie recipe, it will be a huge bust!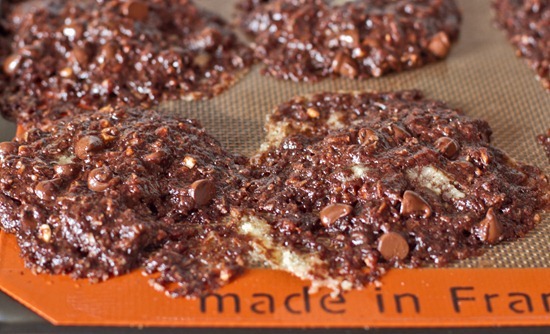 As these were melting like lava in the oven, I was happily cleaning up and putting all the dishes and ingredients away. When I opened the oven door, I had a few choice words for these cookies!
If the walls in my kitchen could talk, it would be a bit like a Jerry Springer show, I'm afraid.
So what went wrong? I made some homemade vegan white chocolate because I thought it would be fun to use it in this cookie recipe. Well, apparently my homemade white chocolate turns into complete liquid when baked! It spilled out of the cookie dough and created the mess that you see above.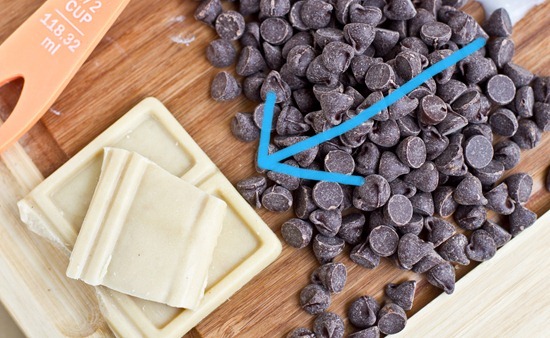 Take 2 was pretty successful though (sans white chocolate!).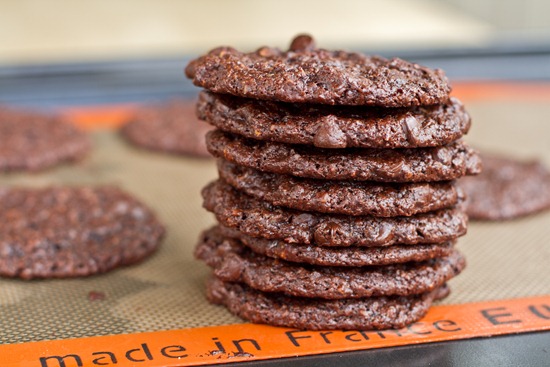 [print_this]
Flourless Chocolate Cookies (GF + Vegan)
These flourless cookies are crisp on the outer edge and soft and gooey in the centre. They aren't very sweet, but they remind me of a chocolate macaroon in cookie form, thanks to the coconut base. The cookies turn into a chewy, soft cookie on day two and lose their crispy factor. You can also make this recipe without the flax egg. The cookies aren't great on the first day, but have this really fun chewy and crispy texture on day two.
Lightly adapted from Wing It Vegan.
Ingredients:
1 tbsp ground flax seeds
3 tbsp cold water
1/2 cup dried shredded coconut
1/2 cup brown sugar
1/4 cup cocoa powder
1/4 tsp baking powder
1/8 tsp baking soda
1/2 tsp kosher salt
1/2 cup almond butter
1/4 cup Almond milk or coconut milk
1 tsp vanilla extract
1/2 cup semi sweet chocolate chips
1/4 cup roasted macadamia nuts (optional, I didn't have any)
Directions:
1. Preheat oven to 375F and line a baking sheet with parchment or a non-stick mat.
2. In a small bowl, mix together the ground flax and water. Set aside.
3. In a large bowl, whisk together the dry ingredients (coconut, brown sugar, cocoa powder, baking powder, baking soda, salt).
4. In a medium sized bowl, mix together the wet ingredients (flax egg, almond butter, almond milk, vanilla).
5. Add wet to dry and mix well until combined. Fold in the chocolate chips and optional nuts.
6. Spoon the dough onto the baking sheet, leaving about 2 inches apart as they spread out a lot.
7. Bake for 13-15 minutes at 375F. Cool on baking sheet for about 10 minutes. Makes about 12-14 cookies depending on how large you make them.
Note: Make sure the ingredients you use are gluten-free certified if that is your intention.
*The cookies were a bit flat for my liking, so next time I would probably try reducing the almond milk to yield a thicker batter.
UPDATE: I tried a cookie about 6-7 hours after baking and it was better! These cookies really do benefit from sitting for a while.
Update #2: Day 2: The cookies turn into a chewy, soft cookie on day two and lose the crispy factor.
Update #3: I made the same batch without the flax egg (1 tbsp ground flax + 3 tbsp water) and while I did not 'love' them on day one, the next day they were my favourite. They have this fun crispy and chewy texture when you leave out the flax egg.
[/print_this]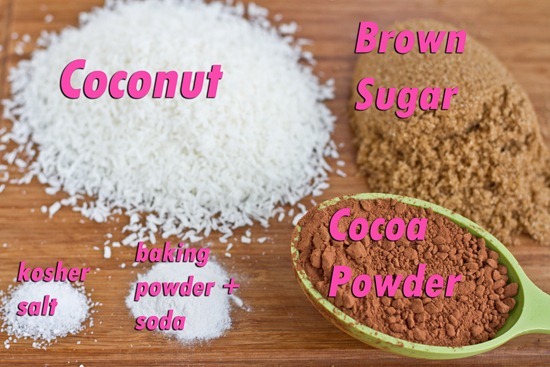 Assemble the dry and wet ingredients. Note: this recipe is gluten-free and vegan! :)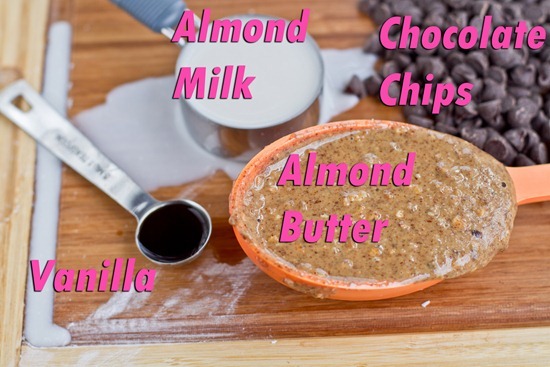 Mix your flax egg and set aside so it can gel up.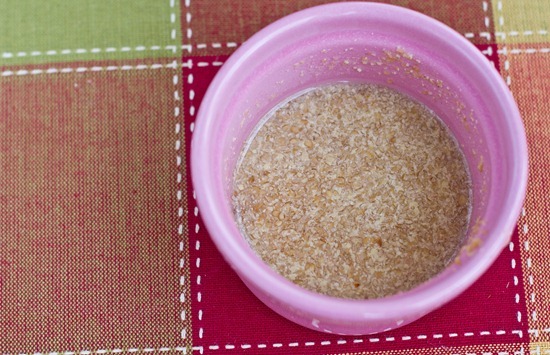 Whisk dry ingredients and wet ingredients.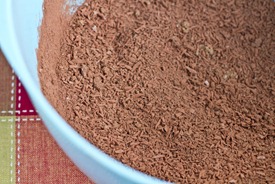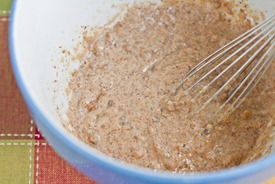 Mix!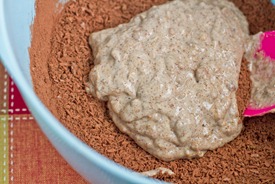 Fold in the chips and optional nuts.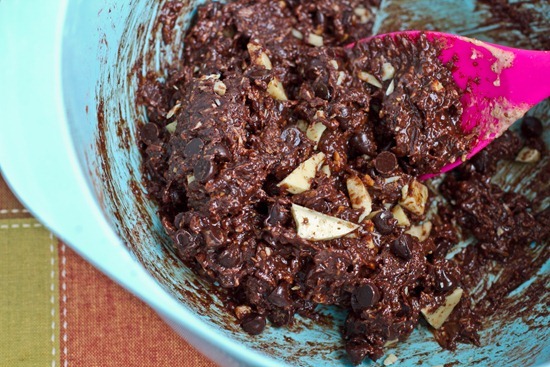 [Awesome tasting cookie dough!]
Place small spoonfuls on baking sheet about 2 inches apart. I flattened the balls with a wet spoon, but I wouldn't recommend this as they spread out too flat. I would just leave them as balls and this will probably yield a thicker cookie. One of our complaints was that the cookies were too flat.
Bake for 14-15 minutes at 375F.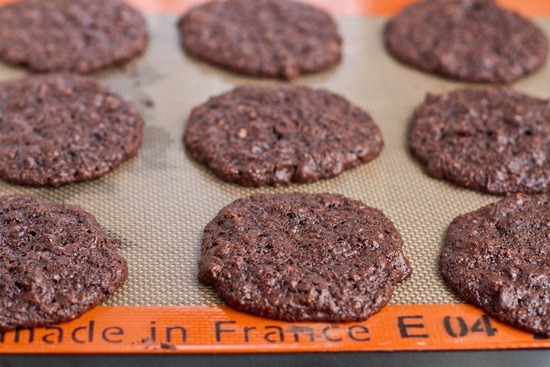 I'm not sure what to think about these cookies. I remember them tasting much better than they do. I think that might be because they are better tasting the second day, so I will have to try them tomorrow to form my final opinion. Eric and I both agreed that they are too flat, but you might be able to make a thicker cookie if you don't flatten the dough with a spoon like I did.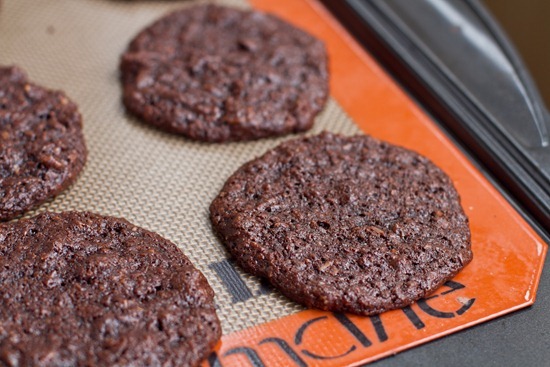 They are good, don't get me wrong, but they didn't blow me away like I remembered! If you try them out, let me know what you think of them. :)
(See my updates in the recipe!)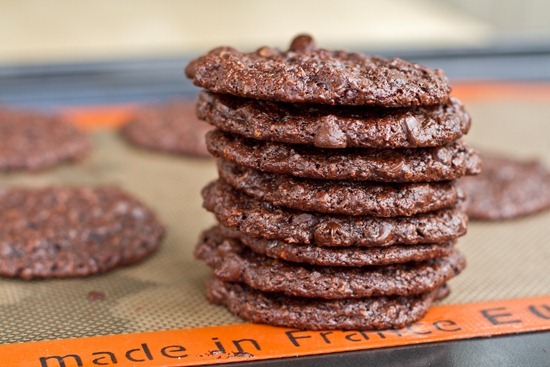 I'm also in charge of birthday cupcakes for THREE birthday celebrations this weekend…it's a bit crazy in my kitchen right now.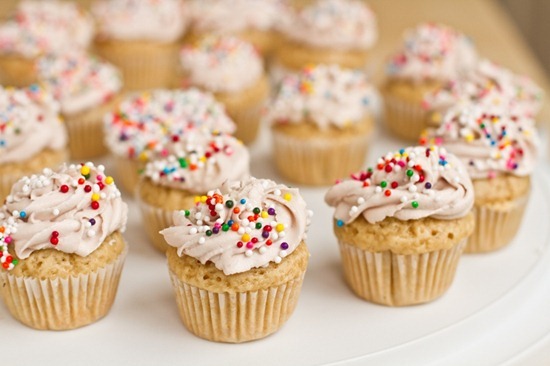 Dish Fairy…are you out there?
Here are the rest of my Valentine's Day recipes below…enjoy!