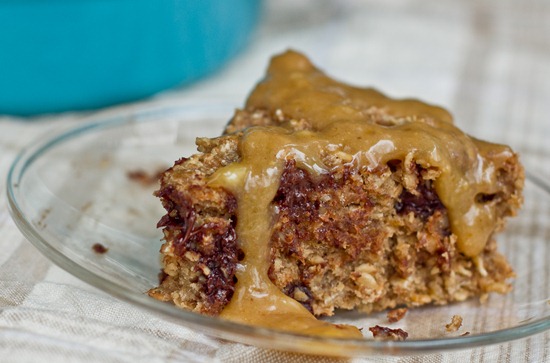 Hello, my name is Angela and I hoard black bananas.
(Eric made me tell you this today.)
Every time I go to the grocery store, I head straight for the 'Reduced' produce section just so I can see if there are any bananas that I can save. I see people passing by perfectly good bananas and I want to leave a sticky note on the bananas saying 'I'm great for BANANA BREAD!' or 'try me in a GREEN MONSTER!' and then hide behind the bins to see their reactions. I'm afraid they would ban me from my beloved grocery store and that would never be a good thing for a food blogger.
When I finally admitted to Eric that I had a problem, I agreed that the bananas were beginning to pose a health risk to all parties involved. I had several spotted bananas on the counter and a stash of black bananas in a paper bag in the fridge.
Over 10 of them…solid black and starting to leak juices.
When Eric exposed my stash of bananas in the paper bag I knew it would all be over soon if I didn't take action.
But health risk or not, these babies are at the PEAK of their lives! Yesterday morning, I celebrated by making a chocolate chip banana cake. It would taste so delicious our heads would spin.
Because you really can't screw up a banana cake when using bananas that look like this…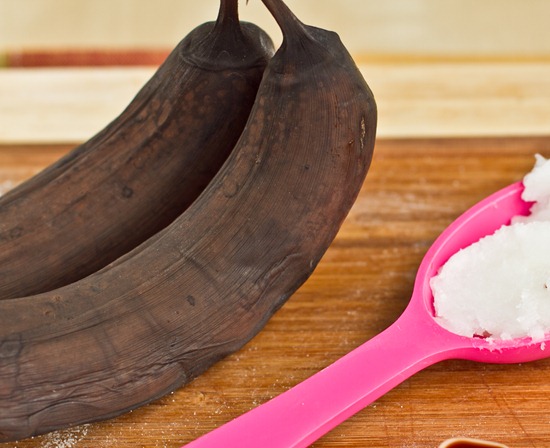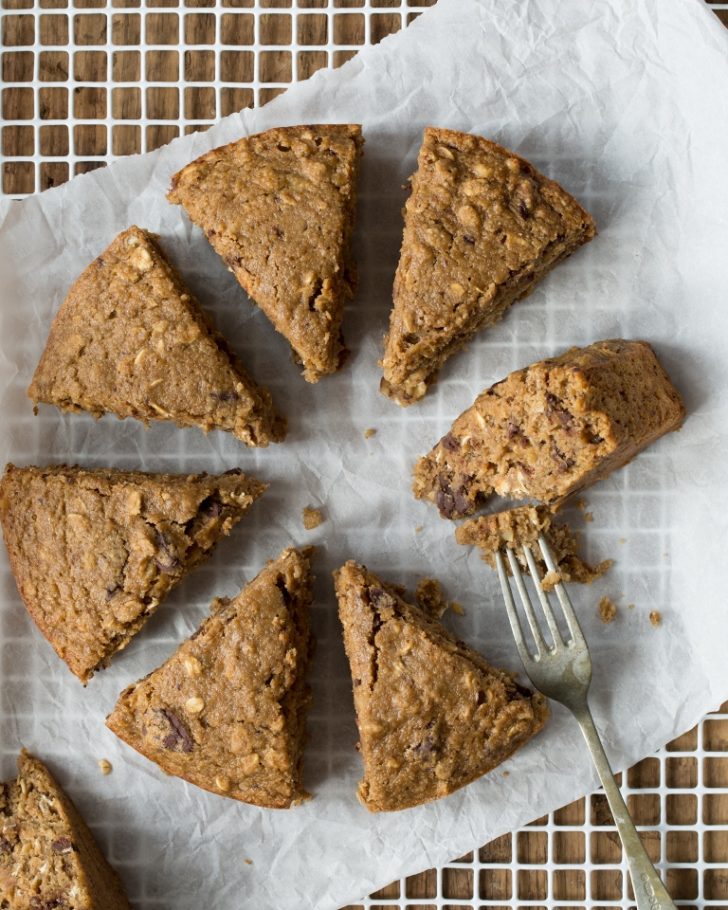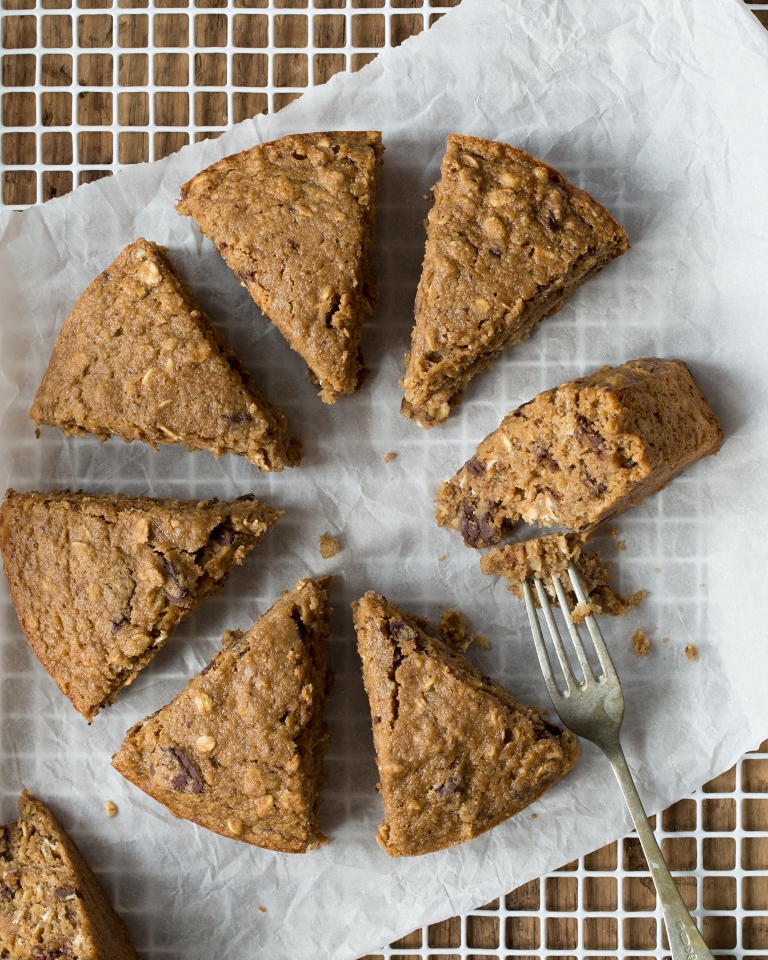 It's just not possible.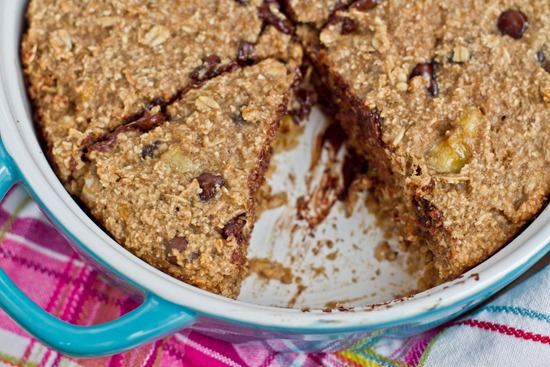 Rustic Chocolate Chip Banana Oat Cake with Peanut Butter Banana Glaze
This rustic looking banana cake blew our socks off with an intense banana flavour and sweet bites of chocolate. It has a wonderful chewy texture from the oats and a little bit of crunch from the nuts. You'd never guess it has just two tablespoons of oil and it can easily be made gluten-free by using GF oats!
Yield: 8-10 servings
Ingredients:
2 cups regular oats, processed into a flour
1/2 cup regular oats (

not

processed)
1/2 cup brown sugar, packed firmly
1/2 tsp ground cinnamon
1/8th tsp ground nutmeg
1/16th tsp ground cloves (optional)
2 tbsp cane sugar (or regular white)
1 tsp baking powder
1/2 tsp kosher salt
2 tbsp coconut oil, melted (or other light tasting oil)
2 medium

very ripe

bananas, peeled
1/3 cup applesauce
1/4 cup almond milk
1 tsp pure vanilla extract
Fold in: 1/2 cup dark chocolate chips; 1/4 cup walnuts, chopped; 1 ripe banana, cut into chunks
Directions:
1. Preheat oven to 350F and lightly grease a 8 inch (4 cup) casserole dish or 8" cake pan. Take 2 cups of regular oats and process them in a food processor until flour like in consistency.
2. In a large bowl, whisk together the dry ingredients (processed oats, regular oats, sugars, spices, baking powder, and salt).
3. In another bowl, mix together the oil, applesauce, almond milk, and vanilla. Add in the two peeled bananas and smash into the wet ingredients until smooth.
4. Add the wet mixture to the dry and stir until just combined. Now fold in the chips, optional walnuts, and the chopped banana.
5. Spread into prepared pan and bake for 36 minutes at 350F or until a toothpick comes out clean. The cake must be cooled for at least 15-20 minutes before attempting to remove.
6. Once fully cooled, slice and top with PB Banana Glaze (see below). Store in the fridge for up to 3 days. Makes 8-10 servings.
The great thing about this recipe is that I used regular oats and processed them into a flour, so this recipe can be easily made gluten-free if you use GF oats.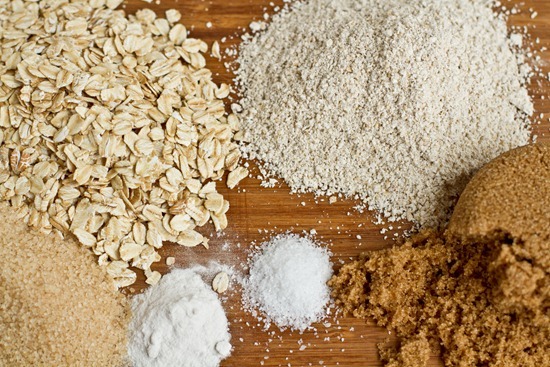 It also contains just 2 tbsp of oil, but it is a very moist and flavourful cake. The unsweetened applesauce and ripe bananas replace most of the oil in this recipe. This is not your average banana cake by any means.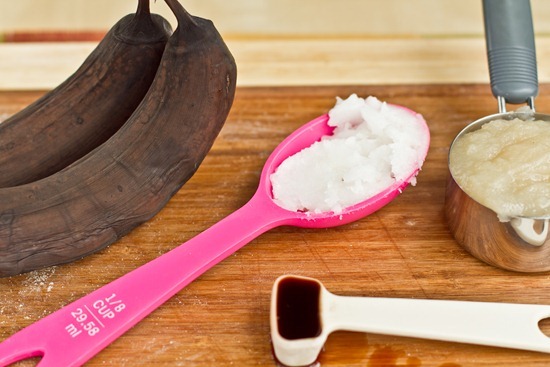 it takes just 10-15 minutes to throw it together and pop it in the oven.
Add wet to dry: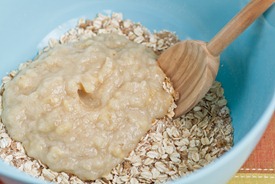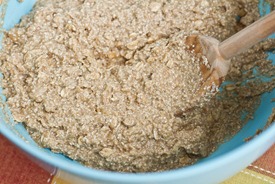 Fold in chopped banana, chocolate chips, and nuts: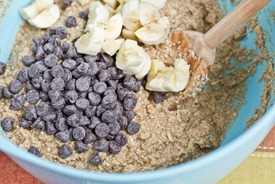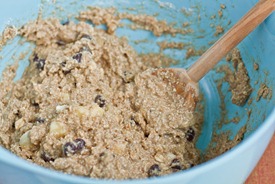 Scoop into baking dish or cake pan.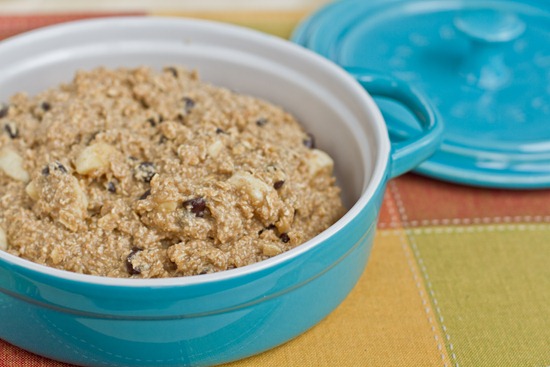 My sister Kerrie gave me this baking dish on the weekend! Does she know me or what? I'm in love. :)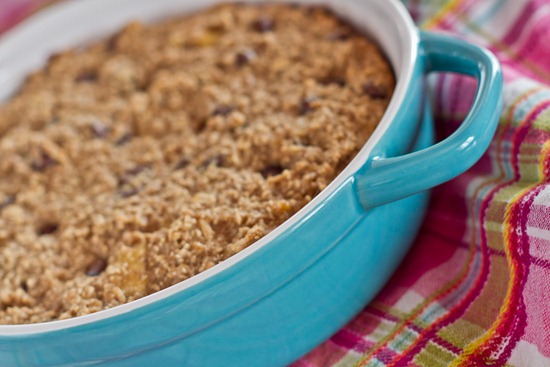 Bake for 36 minutes at 350F or until a toothpick comes out clean. Allow to cool in the pan for 15-20 minutes so it can firm up and set otherwise it will fall apart when you try to get it out.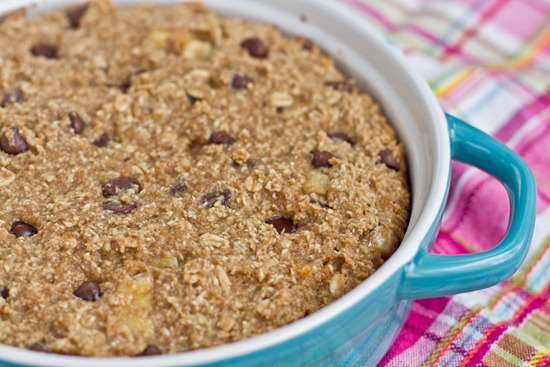 While you are waiting you can make the delicious glaze.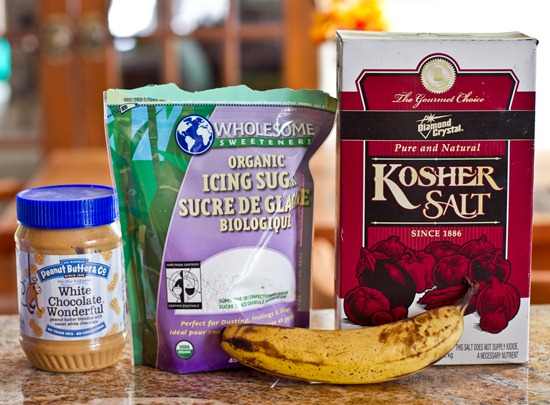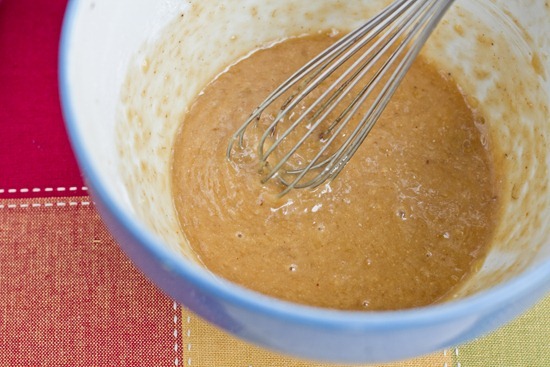 [print_this]
Easy Peanut Butter Banana Glaze
Yield: 2/3-3/4 cup
Ingredients:
1 ripe banana (but not too ripe, you still want it solid!)
2 tbsp peanut butter (I used White Chocolate Wonderful flavour)
1/2 cup icing sugar, sifted
Pinch of kosher salt, to taste
Directions: Mash banana in a bowl until smooth. Add in peanut butter and mash until combined. Sift in the salt and icing sugar and stir until fully combined. Makes about 2/3 cup glaze. Store in fridge in a sealed contained for 1-2 days.
[/print_this]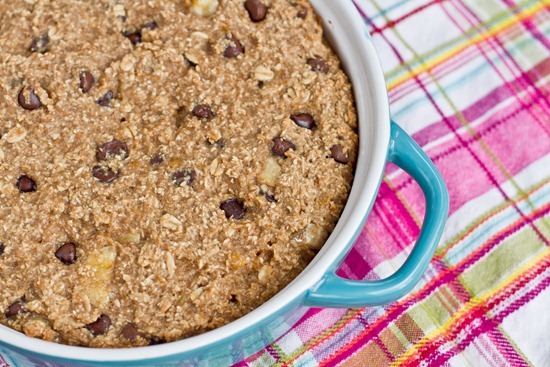 After cooling, slice and serve!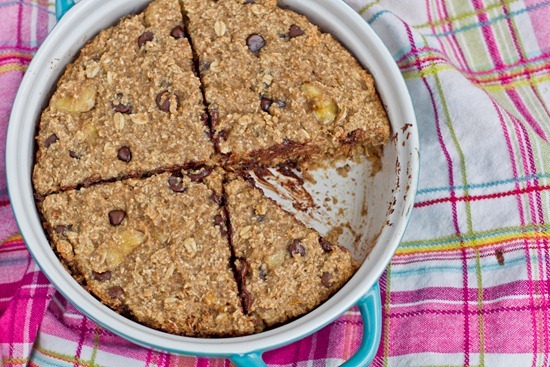 This rustic cake turned out so much better than I thought it would, especially because I just winged the recipe by the seat of my pants. The result is a dense, moist, and extremely flavourful cake with a lovely chewiness from the oats and nuts.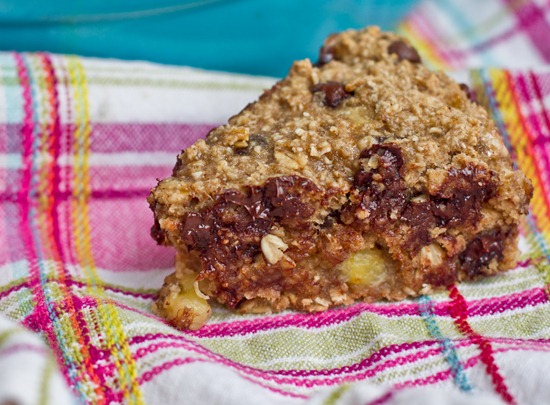 Oh, and the bites of banana are out of this world!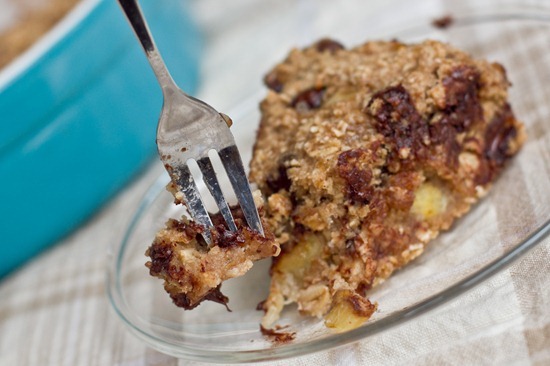 If you want to make this into a dessert, serve it with the PB Banana Glaze.
If you want to make it into a breakfast cake, you can leave out the chocolate and use more nuts. Or just leave in all the chocolate! ;)
Eric said this one is 'in the vault'…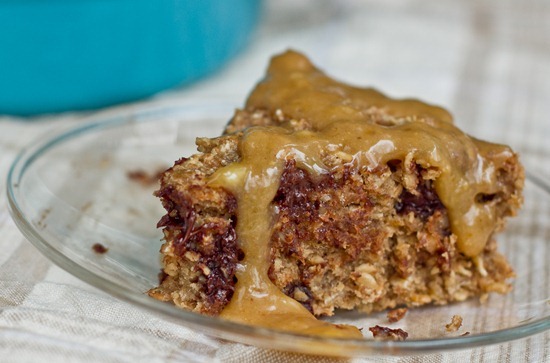 Oh and I still have about 7 black bananas to use up….what to make….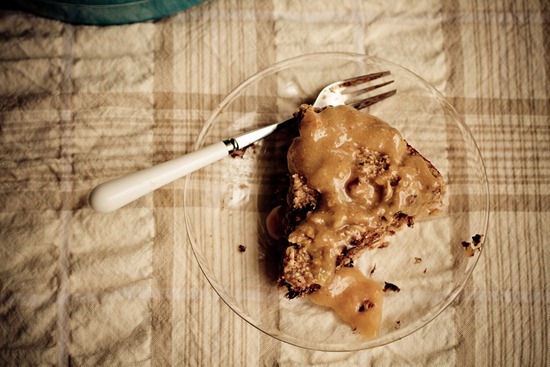 Are you a banana fan? What are your favourite meals or recipes that include bananas?
PS- You can now check out my Food Gawker Gallery on the right sidebar of the blog (Tastespotting widget coming soon, but you can view my Tastespotting gallery here).