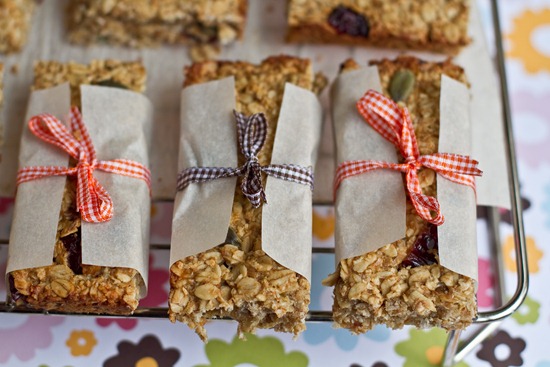 Holy cow Batman, it's Christmas Eve!
I hope you are having a great day so far. I have been on the go all morning. I find Christmas Eve is always a bit of a rush to fit everything in. I got my hair cut (finally!), did some last minute errands, packing, and now we are off to visit family. I'm blogging in the car right now (blech!).
I did a bunch of baking for our get together this weekend and this is the first of a few recipes I will be sharing.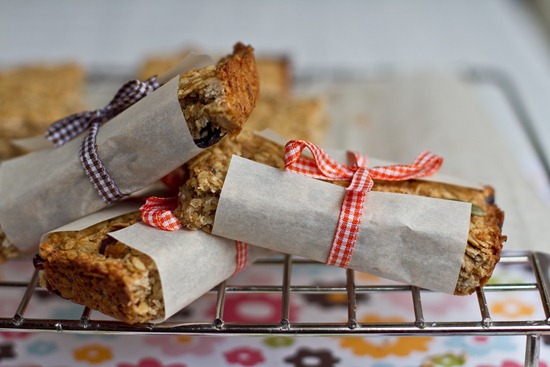 I made these for three reasons: 1) I had ripe bananas to use up before we left, 2) I wanted a healthy snack on hand for the next few days, and 3) They look so darn cute all tied up in ribbon!!!
The bars are super easy to whip up and include some common ingredients that you probably have lurking in your cupboards. The recipe can easily be adapted to what you have! You can also play around with the mix-ins and use whatever you have on hand. Chocolate chips, nuts, seeds, etc would all be great in these bars!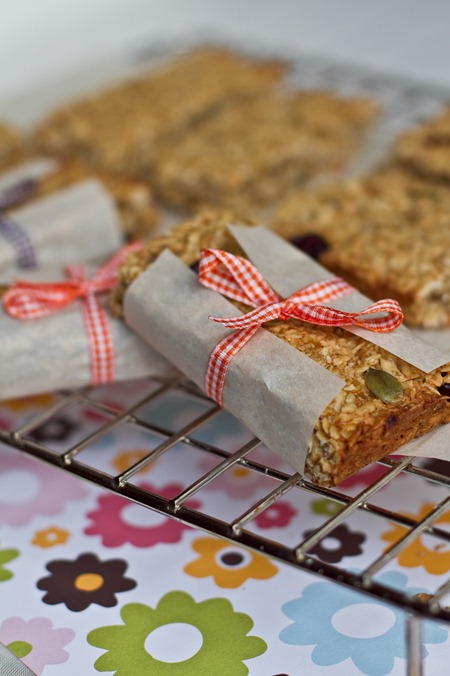 [print_this]
Healthy Banana Cranberry Oat Bars
Breakfast or afternoon powersnack, these bars are healthy, not too sweet, and pack a wonderful banana flavour. They are easy to whip up and make a great healthy option for holiday travel!
Adapted from Sweet Freedom.
Yield: 8-10 bars.
Ingredients:
1/4 cup almond milk (or other)
1/2 cup Sucanat or brown sugar
1 tbsp ground flax seed
1/4 cup coconut oil (or other light tasting oil), melted
1 tsp vanilla extract
2 medium very ripe bananas
1/3 cup cranberries or raisins
1.5 cups regular oats
1/2 cup unsweetened coconut
1/2 tsp cinnamon
1/4 cup whole wheat flour (or other flour)
1/2 tsp baking powder
1/8th tsp kosher salt
Directions:  Preheat oven to 350F and line an 8 inch square pan with parchment.
In a medium bowl, combine the sugar, ground flax seeds, soymilk, oil, and vanilla. Whisk together.
Cut the bananas into chunks and stir into the wet mixture. Grab a fork or potato masher and mash the banana into the wet mixture. It is ok if some small chunks remain. Stir in the cranberries or raisins. Set aside.
In another bowl, mix your dry ingredients. Add the wet mixture to the dry mixture and stir well. Scoop the granola batter into the pan. Smooth out with a spoon or hands and press it down firmly.
Bake at 350F for 35-40 minutes until the edges begin to golden and it is slightly firm to touch. Allow to cool in pan for 10 minutes before transferring to a wire rack and cooling completely. Slice into 8-10 bars.
[/print_this]
Start by mixing the Sucanat (or brown sugar), ground flax, oil, vanilla, and milk: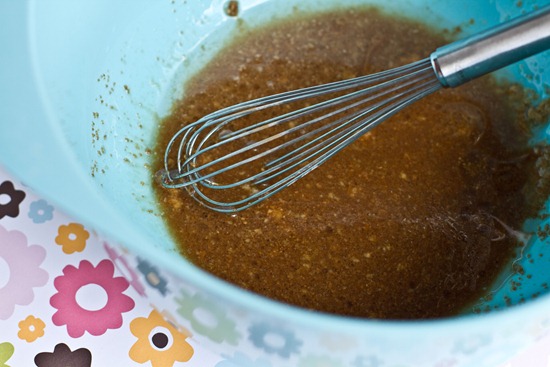 Chop the banana and add it to this wet mixture.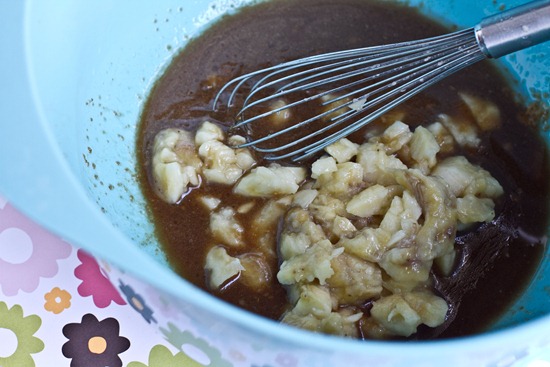 Stir…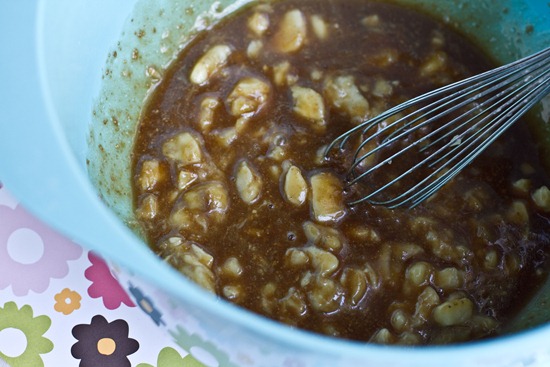 Now mash the banana with a potato masher (or you can use a fork too). You can leave it a bit chunky.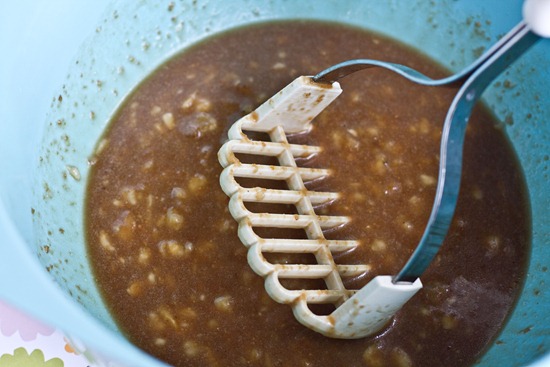 Mix in your dried fruit or other mix-ins!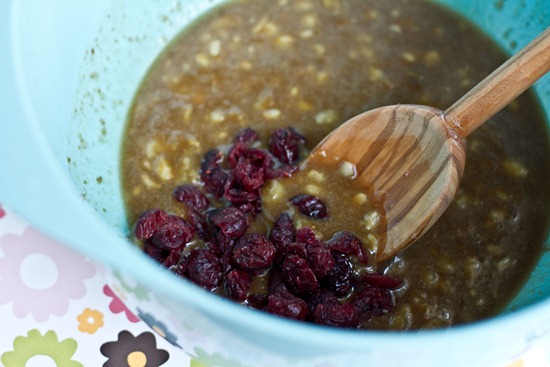 Set this mixture aside.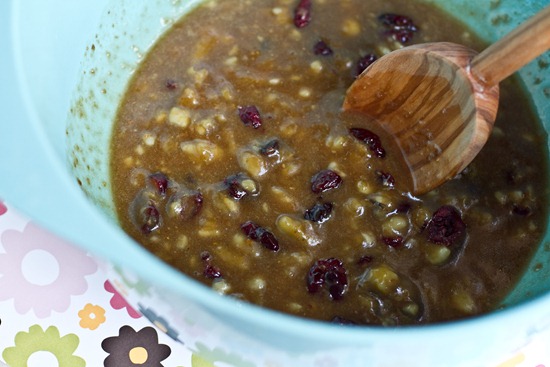 Now stir the dry ingredients.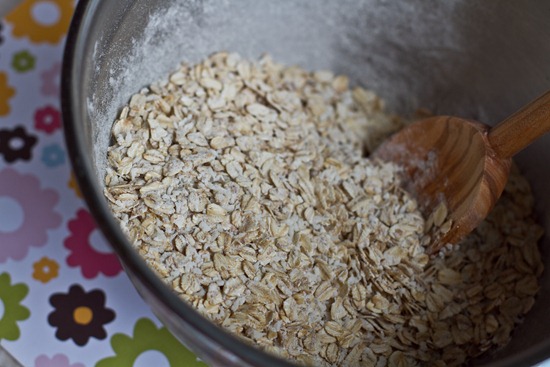 Add the dry ingredients to the wet (or wet to dry) and stir well.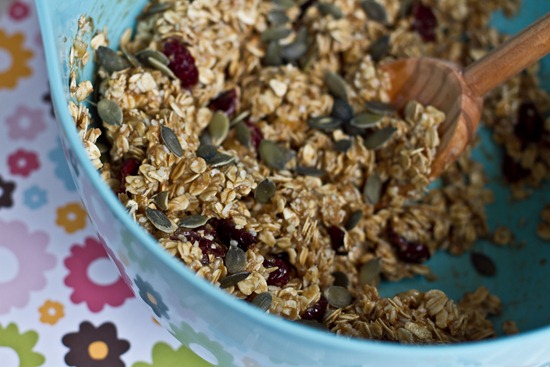 I added 2 tbsp Pepita seeds and cranberries because I thought the red and green looked festive!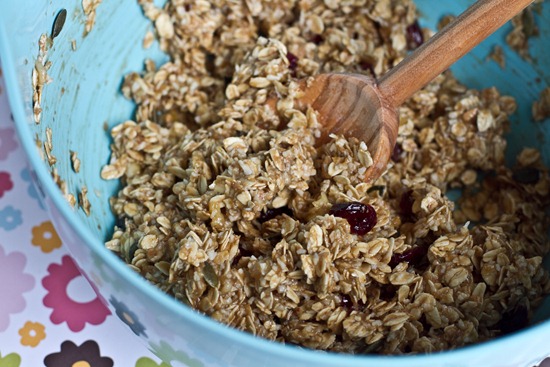 Scoop into an 8 inch square pan lined with parchment paper. Spread out the mixture with a spoon or hands and press it evenly and firmly into the pan, making it as level as possible. The more you pack in the mixture, the better the bars will hold together after baking.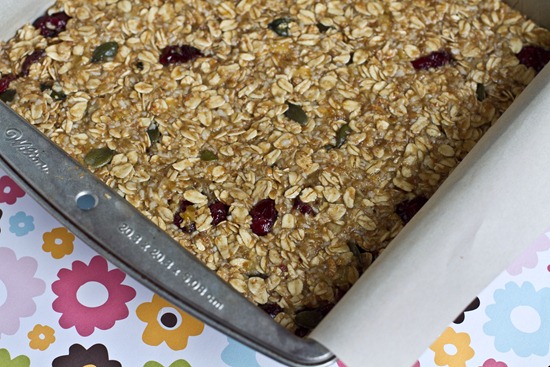 Now bake for 35-40 minutes at 350F and allow to cool in the pan for 10 minutes. After 10 minutes, remove from the pan and place on a cooling rack until completely cooled.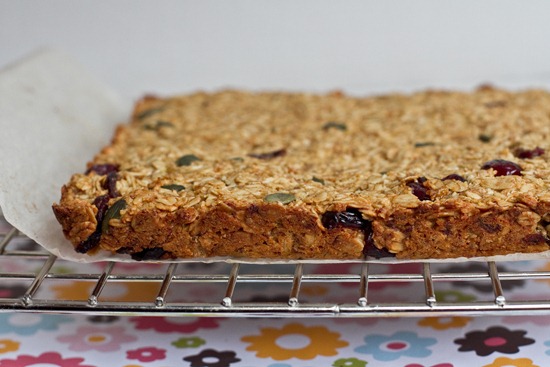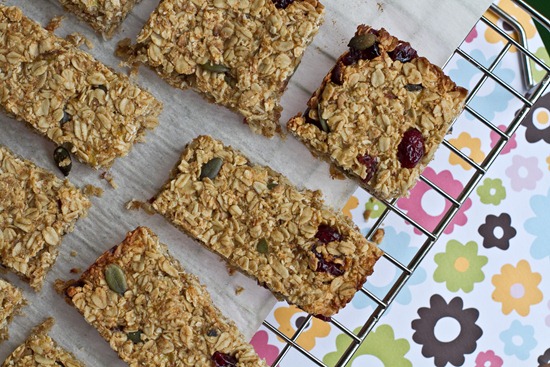 Slice into bars or squares and wrap up with a small piece of parchment paper and ribbon if you wish!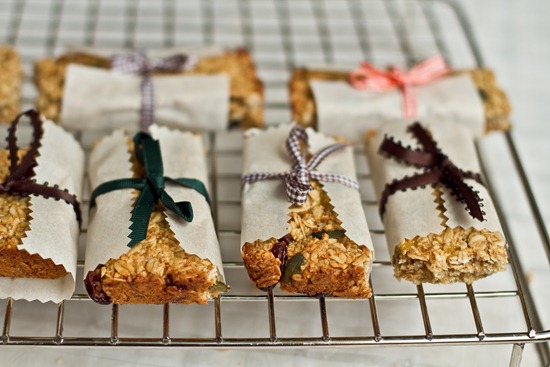 I like cute food.
Especially healthy, cute food.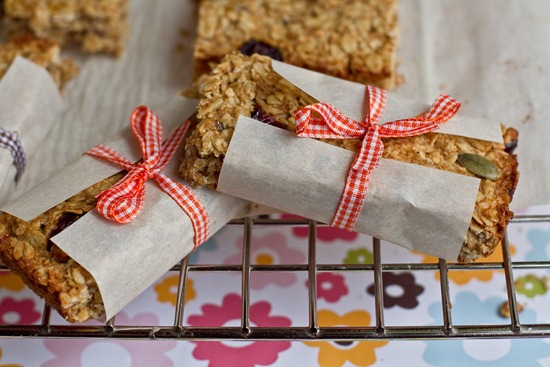 I really enjoy these bars. They are wholesome and not very sweet, but that is what I wanted when I made them. I'm kind of on sweet overload right now and I love that these aren't very sweet. They also have a wonderful banana flavour! Try them spread with nut butter too.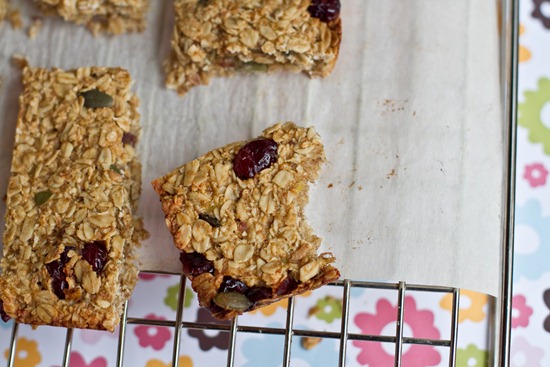 Ok, I think I'm starting to get a bit woozy (I'm blogging in the car!!), so I better sign off.
Merry Christmas from our family to yours! I wish you a safe, happy, and delicious holiday. I'll see you on Christmas day!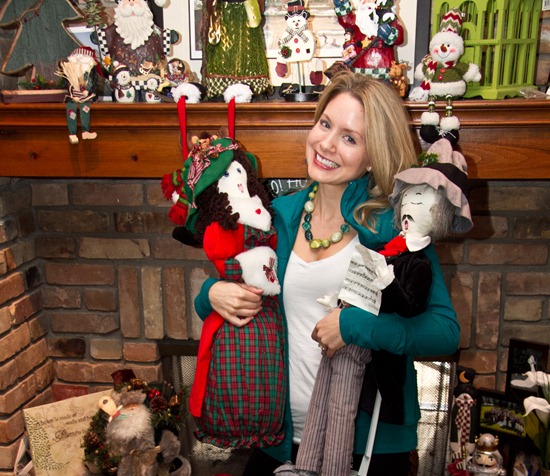 (Don't be fooled by my smile, I'm still scared of the holiday creepers!)