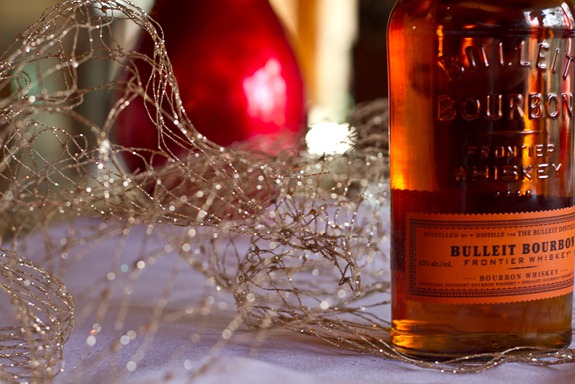 As you can see, my beverage of choice during Project Food Blog has become progressively stronger.
Over the past few months, I went from being a devout Japanese Sencha tea drinker, to a French Press coffee drinker, and now I pour bourbon whiskey into my baked goods.
'Tis the season.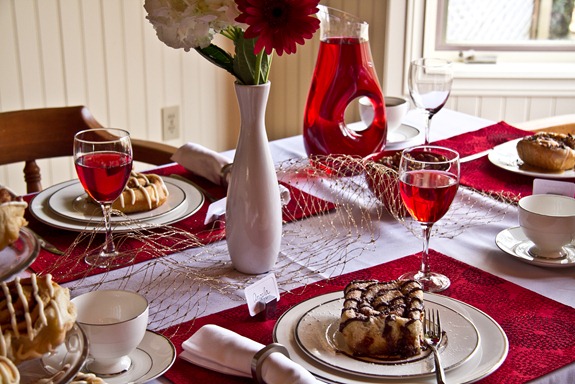 This year, I am preparing a special holiday breakfast for my family on Christmas morning.
Project Food Blog Challenge #8- to make a sweet or savoury baked good containing pumpkin– suddenly became the perfect dress rehearsal for my special holiday breakfast.
I decided to tackle a baked good I had been afraid to make for a long time…
Delicious, irresistible, gooey Cinnamon rolls.
In this post, I will demystify the cinnamon roll baking process in a step-by-step manner and also show you how to throw together an elegant and unique holiday breakfast that you can wow your loved ones with.
Let's ROLL!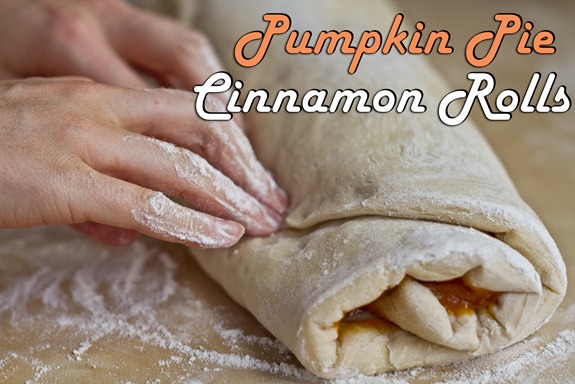 For the recipes, please see the attached PDF.
First, we start off with a baking science experiment. Grab your lab coat apron and let's begin!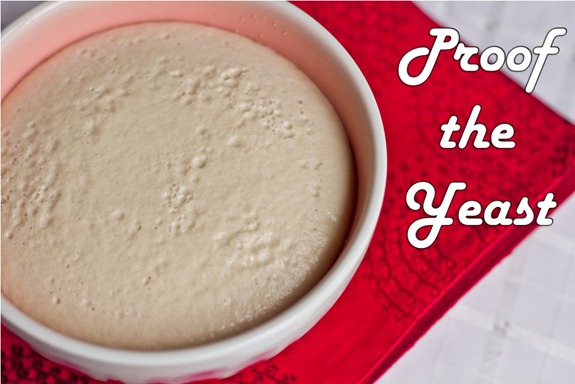 Proofing the yeast means that we activate the yeast by mixing it with warm water and sugar. It is important that the water you use is not too hot or you may kill the yeast. It should be the temperature you would use for a baby's bottle.
When the yeast mixture gets bubbly and foamy, it is active (see above photo).

Meanwhile, grab your largest mixing bowl!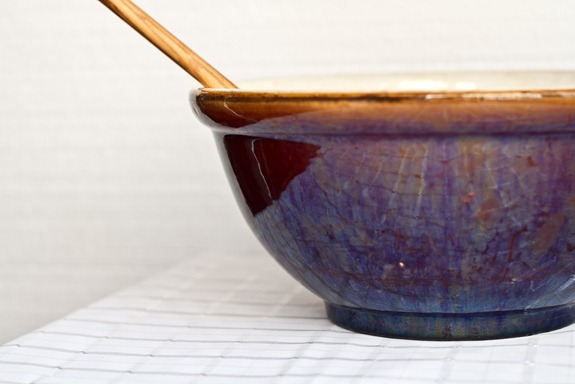 This bowl was originally Eric's grandmother's bowl and my Mother-in-Law recently handed it down to me.
It was a moment.
I polish it about 10 times a day and I refer to it as the lucky baking bowl.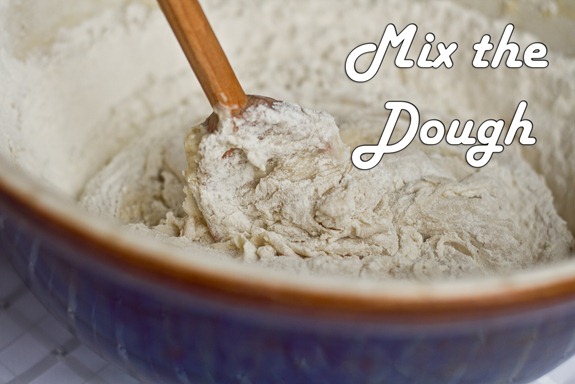 In a saucepan, mix the wet dough ingredients and heat on low until dissolved. Allow to cool for a couple minutes. It should be warm and not too hot to touch. Think- baby bottle!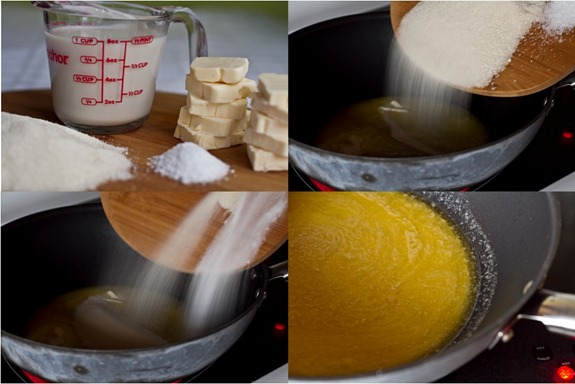 For this recipe, I used all vegan ingredients like vegan butter and almond milk, but it also works with non-vegan ingredients. You can adapt it to how you want it.
This saucepan mixture is sweet, buttery, and smooth. I could drink this stuff it tastes so good.
Gather 4 of the 6 cups of all purpose flour in your large bowl.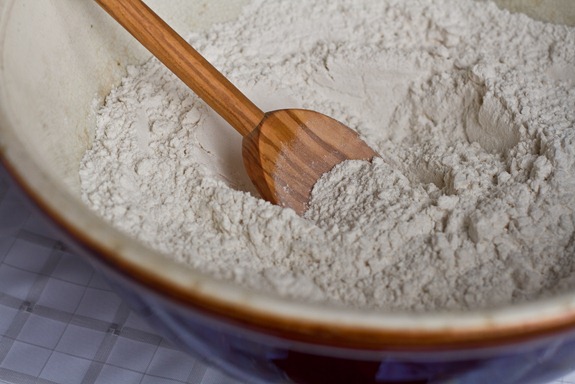 Mix the proofed yeast with the saucepan mixture and add this to the 4 cups of flour.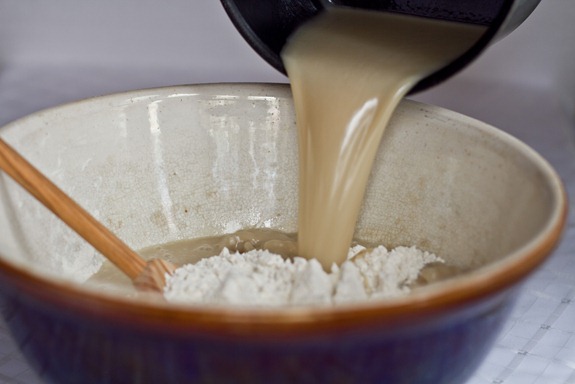 Stir with a big 'ol wooden spoon.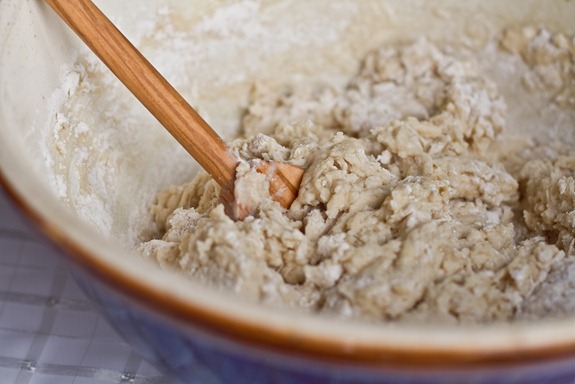 The dough mixture will be very wet and sticky, but have no fear! This is a good thing.
Add in 2 more cups of flour.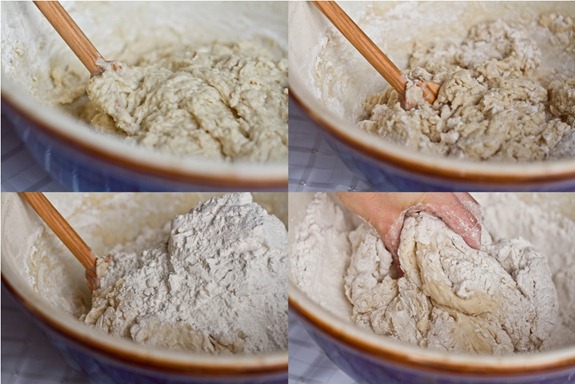 Get in there with your hands and roughly knead it all together. Don't be shy, it won't bite!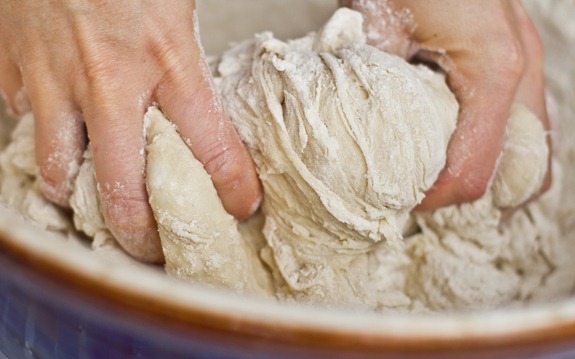 Your dough is now a hot mess.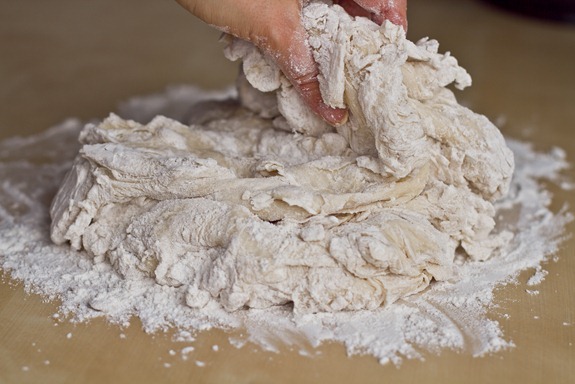 If you think this is bad, wait until you see what your kitchen is going to look like in a couple hours!
Fill your bowl with hot water and soap and let it soak while you knead the dough.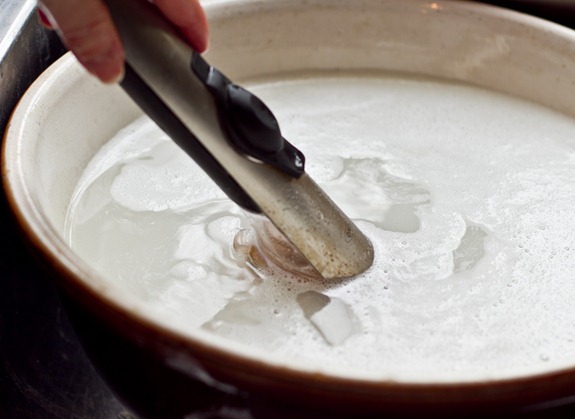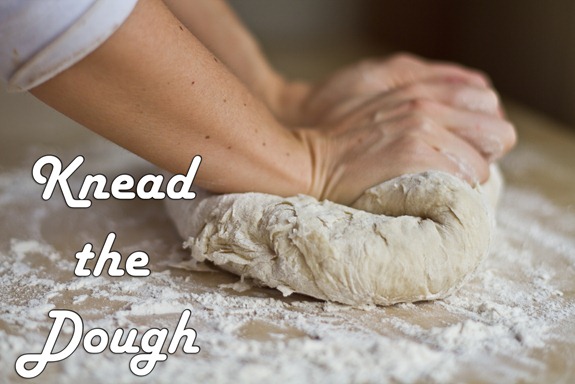 Thanks to Project Food Blog, specifically the Pizza Challenge, I have fallen in love with bread making and I have since made all kinds of bread recipes.
I'm in my happy place when I'm kneading dough!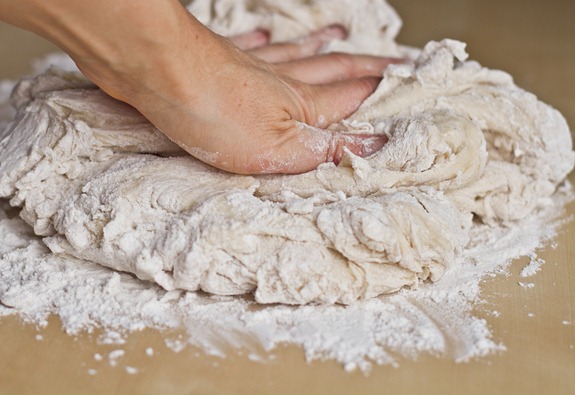 I swear that is not the bourbon talking…
Knead the dough for 8 minutes, but first, crank your favourite music.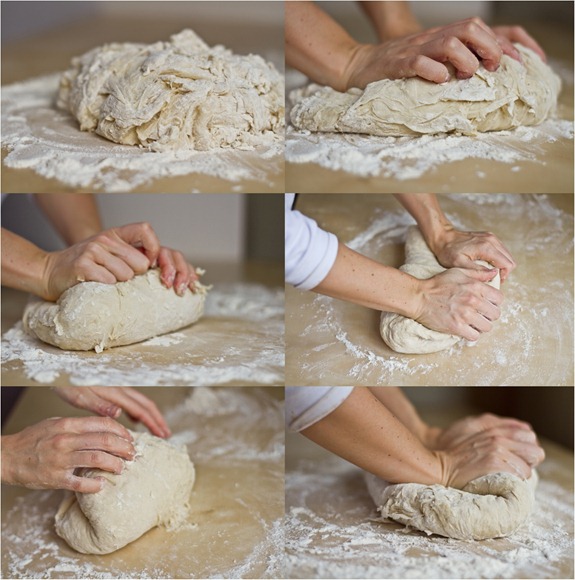 I grant you permission to consider this your workout for the day.
Tomorrow, you shall awake with arms so toned Jillian Michaels will be envious.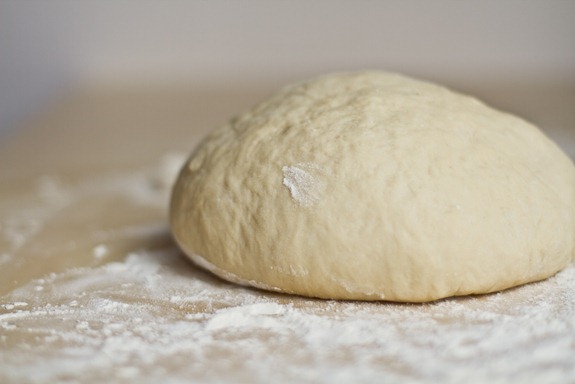 8 minute arms. A future baking workout DVD perhaps? ;)
Now, finish cleaning the bowl and spread some oil all over the interior. This prevents the dough from sticking to the surface as it rises.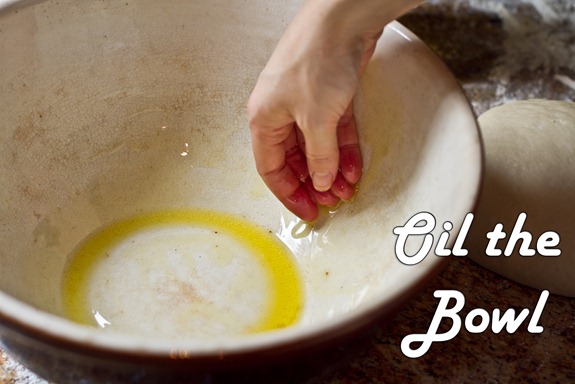 The oil is also a great moisturizer for dry winter hands!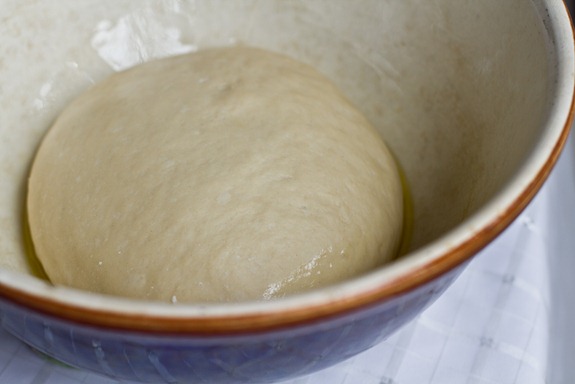 Cover the bowl with plastic wrap.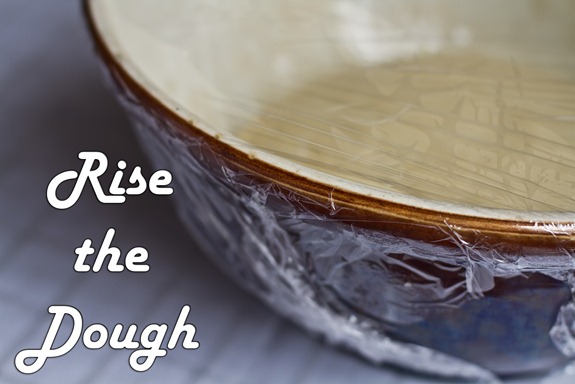 Turn on the light in your oven (it gives off a very slight heat) and leave the bowl in the oven for 90 minutes.
Don't do something silly and turn the oven on to preheat it while the dough is rising in there.
…Not that that has happened to me or anything!
While the dough rises, prepare the frosting, pumpkin pie filling, and pecan cinnamon streusel.
You didn't think you were going to rest did you? This is a workout!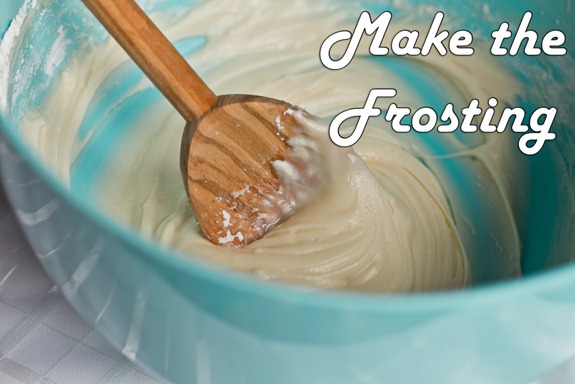 This is an incredibly smooth cream cheese frosting.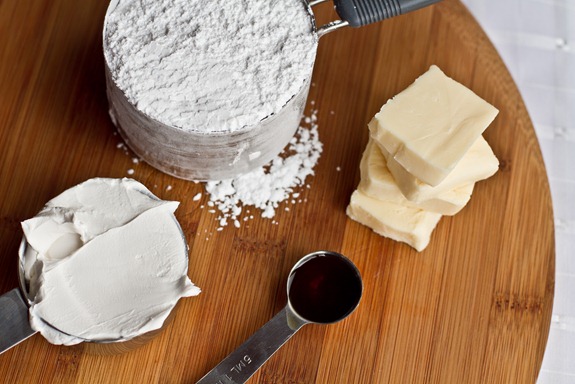 Stir the icing ingredients by hand.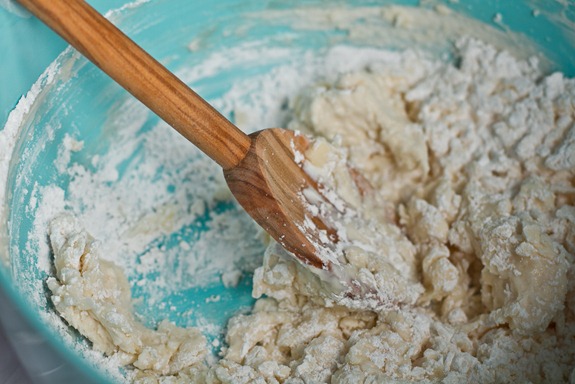 Feel the burn.
Oh, will it burn.
This is the point where you feel like adding milk because your arm is tired, but you must resist every urge to add liquid. Stay strong, my dear bakers, stay strong.
It will all come together with some elbow grease…
See?
Smooth cream cheese frosting with the perfect consistency for piping.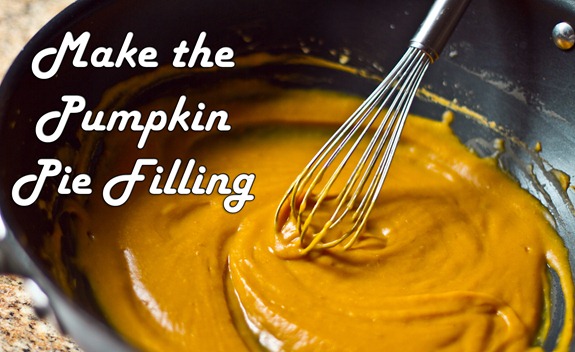 Now get busy with the fillings.
After 90 minutes, you will be left with dough that has more than doubled in size.
This is really exciting.
Poke, poke, poke!
If you poke the dough and it does not spring back up, it is ready!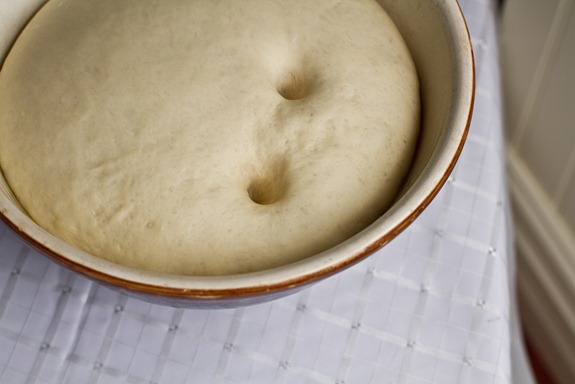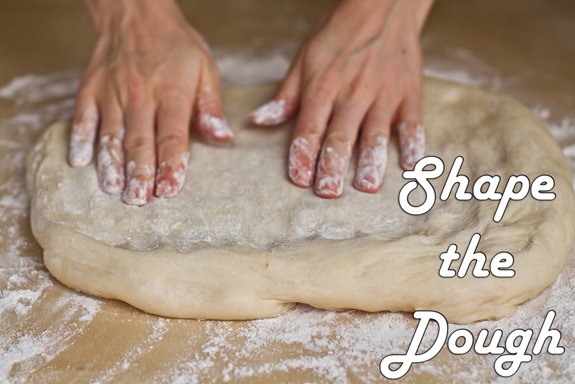 For this next part you can use a rolling pin, but I prefer to use my hands because I'm all rustic like that.
Make sure there is plenty of flour underneath your dough.

Much better.
Now gently and press (or roll out) the dough to form a large rectangle approximately 15 x 20 inches. Be patient as this process moves slowly and you don't want to tear the dough.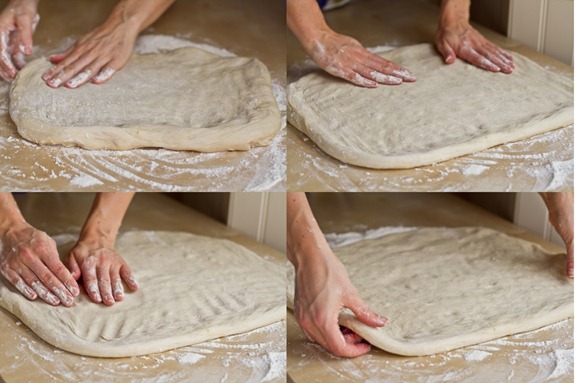 When you have something that looks like an irregular rectangle, you have completed your mission!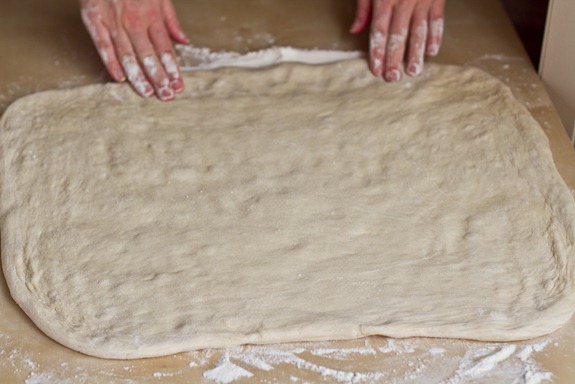 Don't drive yourself crazy trying to get a perfectly shaped rectangle. We have cinnamon rolls to eat and bourbon to drink!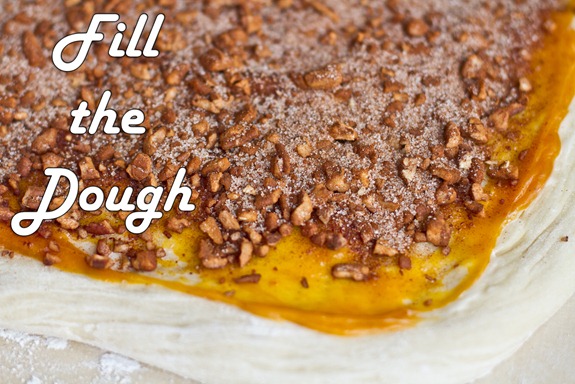 Grab your man's BBQ baster dainty pastry brush and spread on the butter.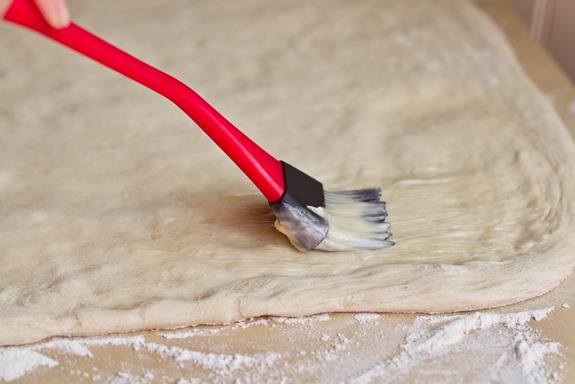 In my first attempt, I tried using fresh puréed pumpkin and my rolls did not turn out because the fresh pumpkin contained too much water. If you are set on using fresh puréed pumpkin, I would try straining it with a cheesecloth overnight to allow the water to drip out. Otherwise, canned pumpkin works perfectly!
Now it is time to spread on the Pumpkin Pie Filling and pour on the Pecan Cinnamon Streusel.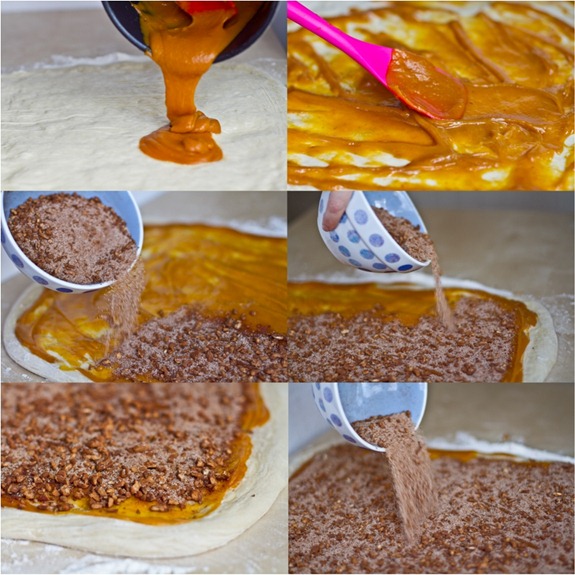 Pumpkin Pie + Cinnamon Roll = Heaven.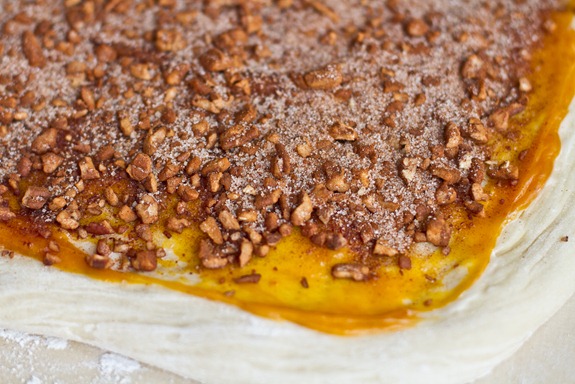 If you aren't a pumpkin fan you can simply leave out the pumpkin pie filling and still have a delicious cinnamon roll.
Or why not try making apple pie, pecan pie, or cherry pie cinnamon rolls? Have fun experimenting with all different kinds of pie flavours!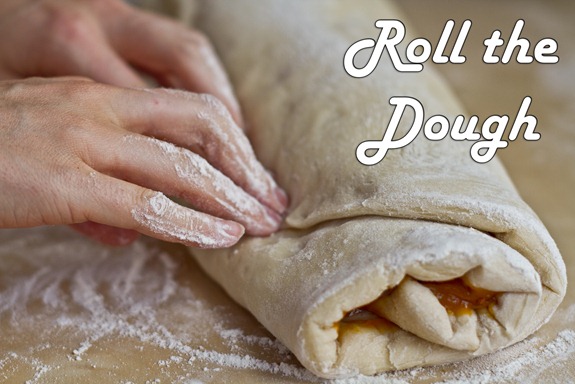 Get your roll on.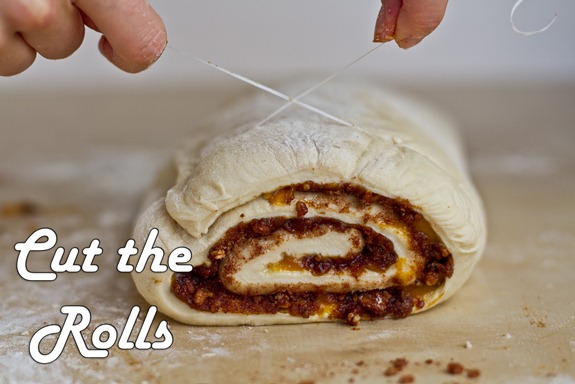 Dental floss isn't just for your teeth anymore!
Using floss is more effective than a knife when cutting the rolls because the string doesn't squish or stick to the dough like a knife does.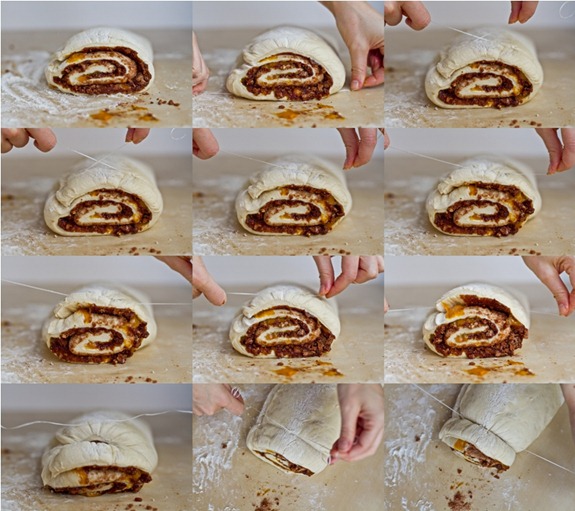 In a desperate moment, I used mint flavoured dental floss.
Our little baker's secret. ;)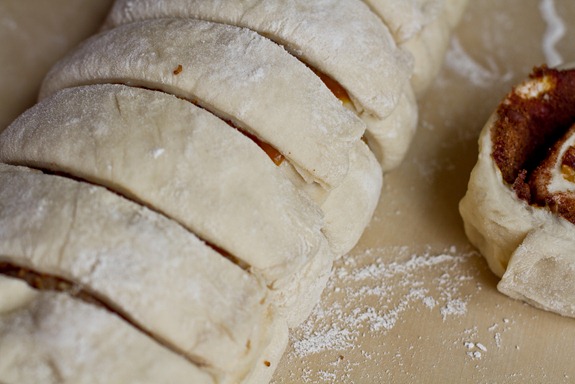 Pumpkin Pie all rolled up.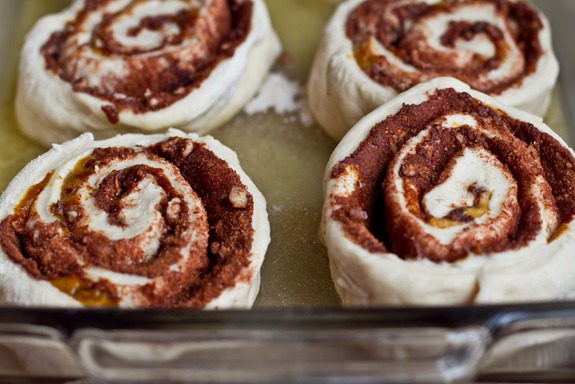 Place the rolls in a large casserole dish and cover with plastic wrap. Let them rise for 45 minutes. They will spread beautifully and cover every nook and cranny in the casserole dish.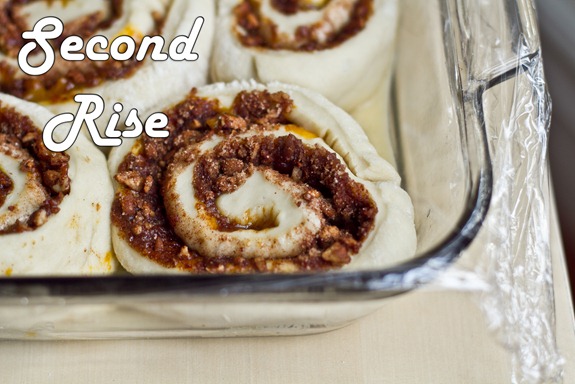 If you are making these for a holiday breakfast, you can prepare the rolls the night before and just pop them into the fridge overnight for the second rise. In the morning, let the casserole dish sit at room temperature for a half hour before baking.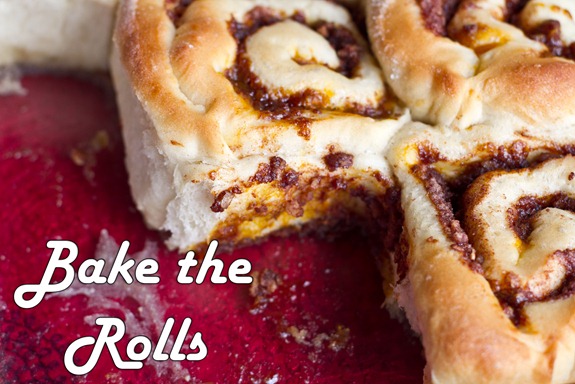 Bake the rolls for 25-27 minutes at 350F until golden in colour.
The house smells so sweet and delicious it is intoxicating.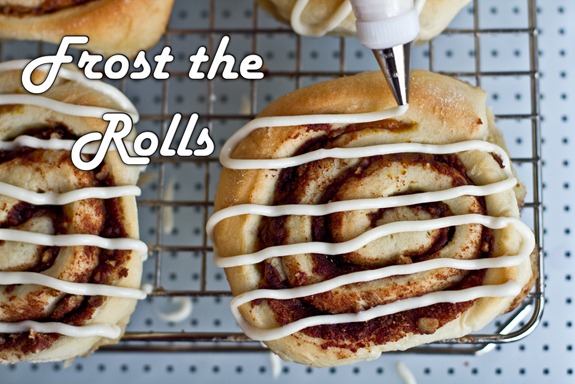 You can frost the rolls several ways: 1) Pipe on the frosting with a pastry bag and round tip, 2) Use a plastic baggie with one corner cut off, 3) Spread on frosting with a palette knife, or 4) Drizzle thinned out frosting with a spoon.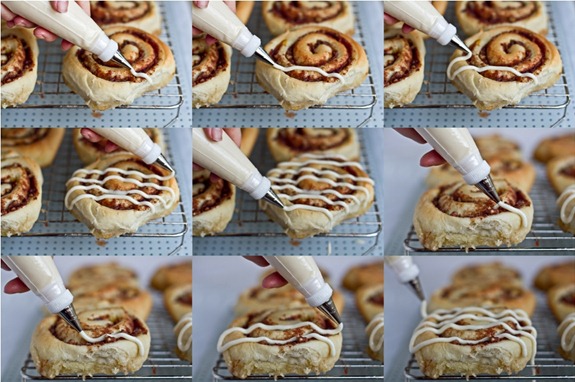 If you want to save time, spread on the frosting while the rolls are still warm in the pan.
It creates a roll that is effortlessly chic…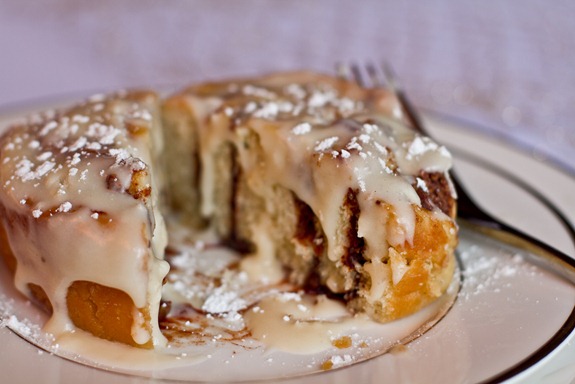 These Pumpkin Pie Cinnamon Rolls are oozing with sweet, creamy pumpkin and crunchy pecan streusel all wrapped up in fluffy warm bread that melts in your mouth.
While the recipe does require some time and leg work, I was blown away by how easy they are to make! I can't believe I waited so long to try making them.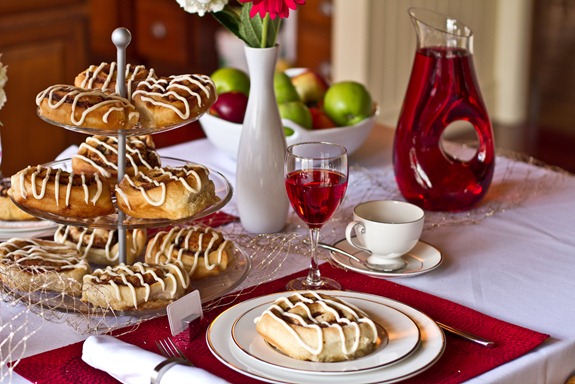 For my holiday breakfast, I decided to make a 'Build Your Own' Cinnamon Roll Party!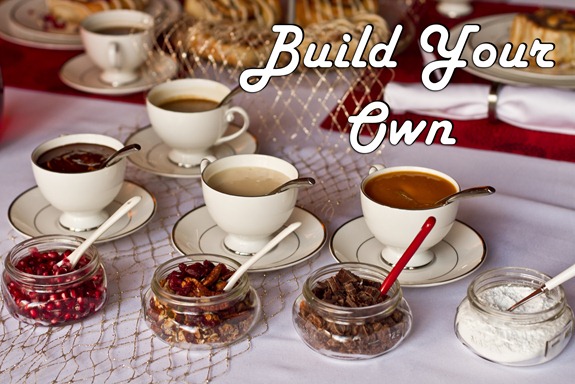 The Frostings: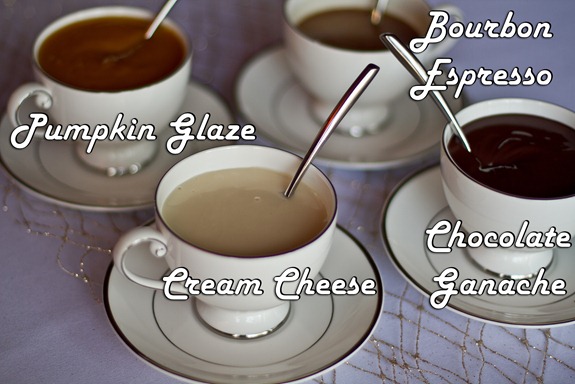 The toppings: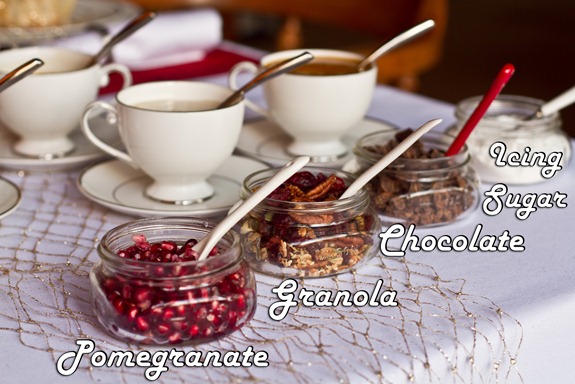 I rounded out my holiday menu with homemade trail mix, tea, cranberry juice, and fruit.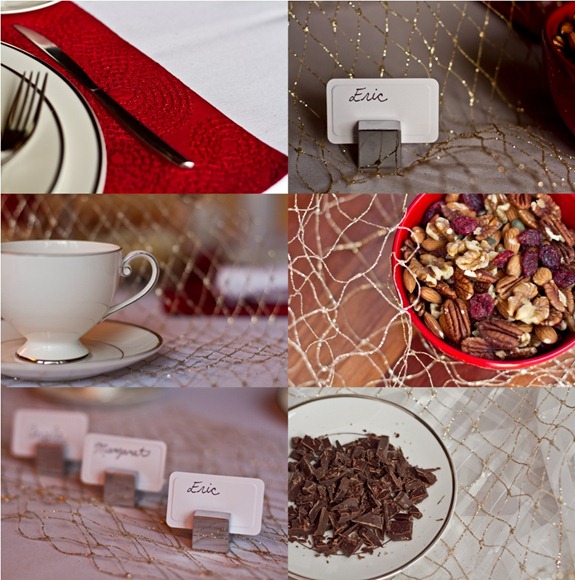 We made all kinds of crazy flavours that were fun to name…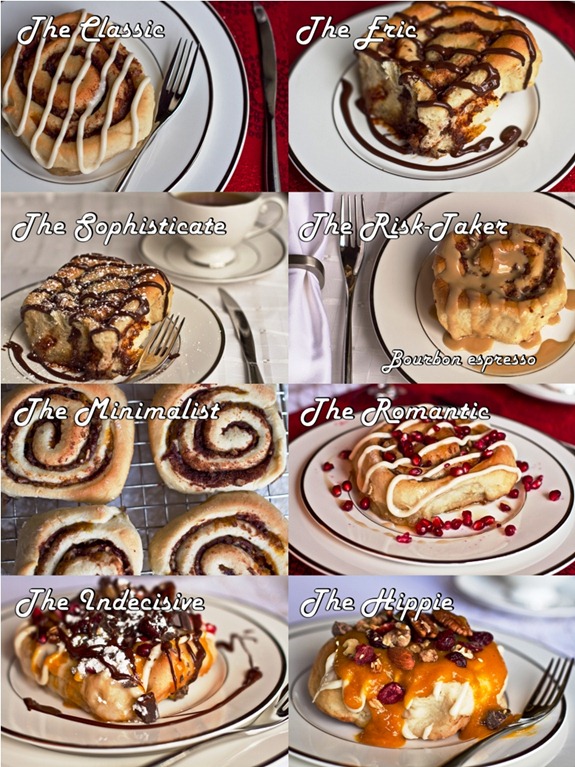 I was The Indecisive, which was no surprise to Eric.
Eric was of course the Chocolate Ganache, which was no surprise to me. I thought he deserved a self-titled roll!
Oh, check out the Sticky bun bottom…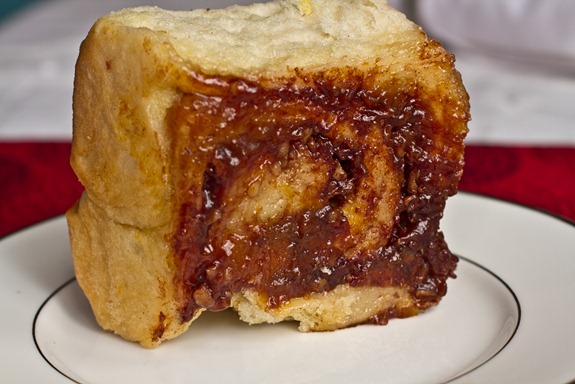 I rest my case.
By the way, if Santa is visiting your house this year be sure to leave one out for him…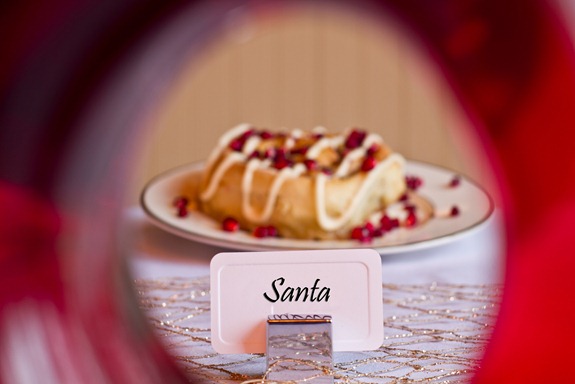 Your stocking will thank you for it. ;)
~~
This is my official entry for Project Food Blog Challenge #8. Voting is now open for Challenge #8. I appreciate your support in advancing me to round 9!