Thank you for your comments on my Project Food Blog video post. It is always a vulnerable feeling being on camera, but thank you for embracing my inner dork. ;)
Voting for Challenge #7 is now open. Thank you for your support!
I also heard from a few of you who have already made the Peppermint Walnut Blondies and really enjoyed them!
Wow…that was fast. ;) Out of the 4 flavours the Peppermint Walnut Crunch Blondies were my favourite and second place goes to the Apple Streusel Butternut.
A few housekeeping notes:
There are

two

sets of blondie directions in the PDF file- one for the jar (on recipe cards) and one if you are simply making them at home. Check out the PDF here.
The new holiday Delight Glo Bar goes on sale tomorrow at noon EST in the shopping cart. Limited quantities will be available.
I am

testing

a couple print functions for my recipes due to many of you requesting this feature. Please stay tuned!
In other news, meet my new holiday tea mug from Whole Foods…
Rudolph and I are going to get along great this season, I can already tell…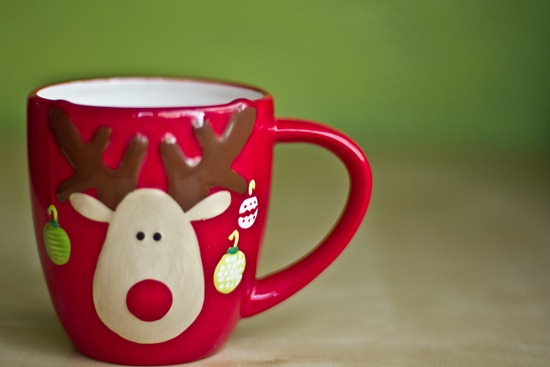 Along with my festive mug of tea, I make an equally festive bowl of Red Quinoa this morning! I also may or may not have played Christmas music…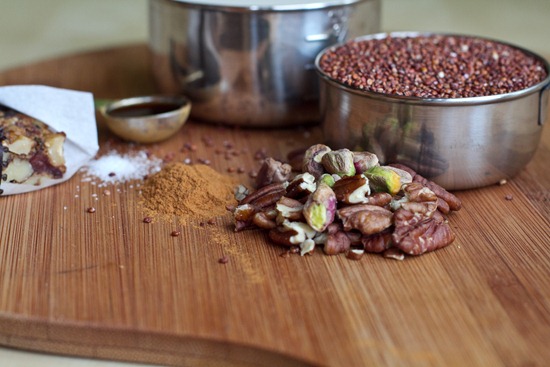 I absolutely love Red Quinoa and I haven't had it in my pantry for a long time. I finally remembered to pick some up at Bulk Barn the other day and boy was I ever glad I did!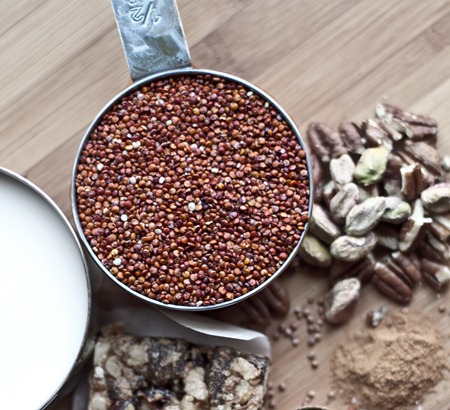 Compared to white quinoa, red quinoa has more of an earthier flavour. I like to slightly undercook red quinoa to give it a chewier texture too. Quinoa is also a complete protein (12-18%), digests easily, and is a good source of fibre, magnesium, and iron!
It also makes a fun breakfast.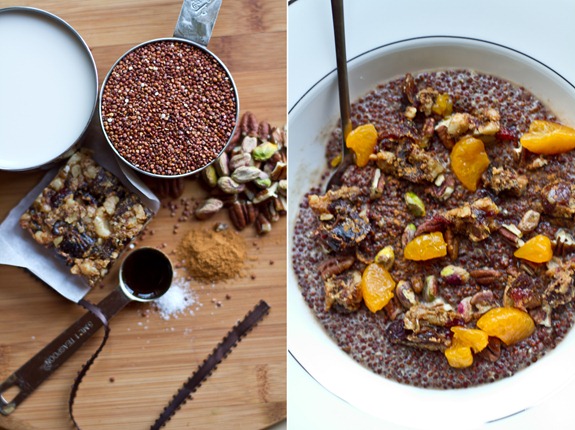 [print_this]
Comforting Red Quinoa Breakfast Bowl
Vanilla, kosher salt, and cinnamon go lovely with the earthier taste of the red quinoa. Have fun with the toppings too…you could use apple, figs, berries, and other types of nuts or even dried fruit.
Adapted from 101 Cookbooks.
Ingredients:
1/2 cup uncooked red quinoa, rinsed
1.25 cups Almond Milk
Pinch kosher salt
1/2-1 tsp ground cinnamon
1 tsp pure vanilla extract
1/2 tbsp pure maple syrup
Toppings:
1 tbsp pistachios, shelled
2 tbsp chopped pecans, toasted if preferred
1/2 tbsp pure maple syrup, drizzled on top
Pinch of Cinnamon, to garnish
Mandarin slices (note: I didn't really love the mandarin here, would use apple or another fruit next time)
Directions: In a medium sized pot, add the quinoa, almond milk, and salt. Bring to a boil and then simmer on low for about 10-15 minutes depending on how fluffy you want it. I left mine a bit chewier and 'soupier' today. The longer you cook it, the more milk it will soak up. A couple minutes before it is done cooking stir in the vanilla, cinnamon, and maple syrup. Adjust to taste. Pour into a bowl and add toppings. Serves 1-2.
[/print_this]
Your lovely ingredients…(plus maple syrup that was not on the scene yet!)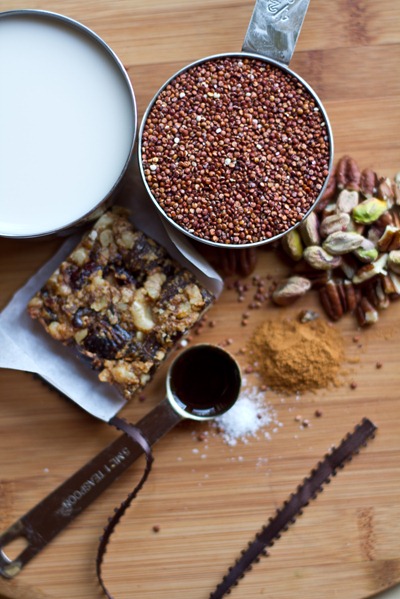 Mmmmm.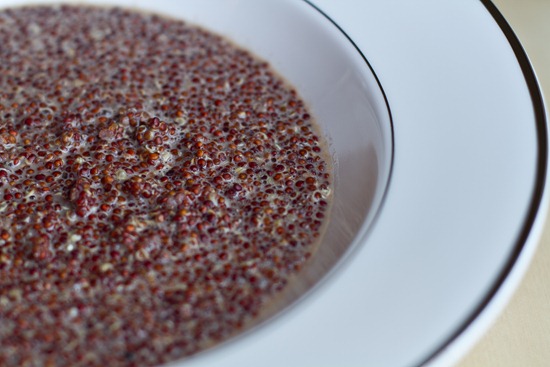 Add your toppings…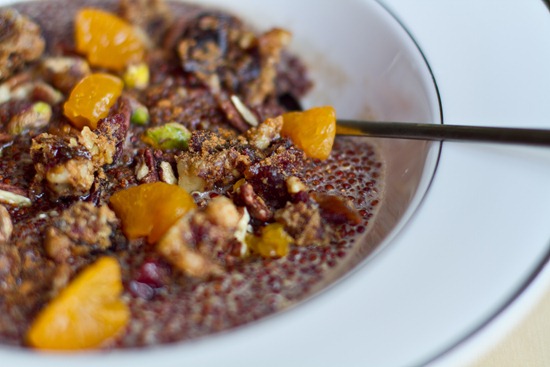 Whatever you desire!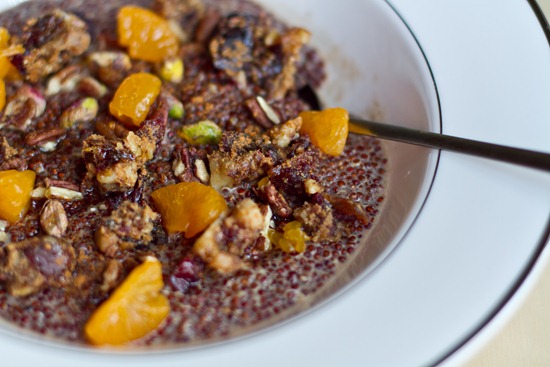 Now enjoy your comforting and festive breakfast bowl with a hot beverage. A great way to change up a regular bowl of oatmeal on those chilly mornings.
I'm off to prepare Glo Bar shipments for tomorrow morning and then Eric and I are going to a movie later. What should we see? :) Anyone see any good movies lately?
It has been so long since we have seen a movie! I don't even know what is playing now…