Breakfast this morning was a fun change.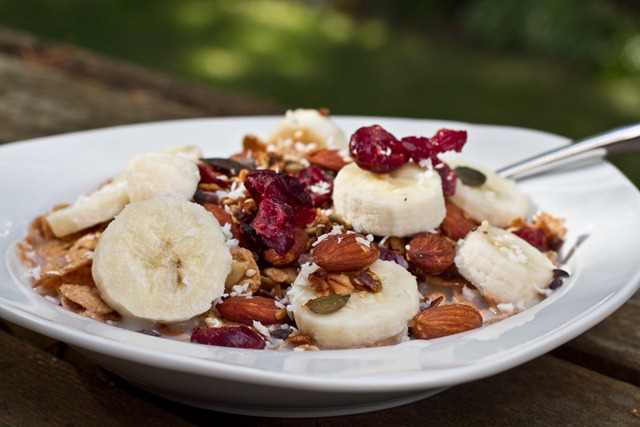 I don't have cereal too often because I find it doesn't fill me up, but this morning I was just craving a bowl with tons of mouth-water toppings.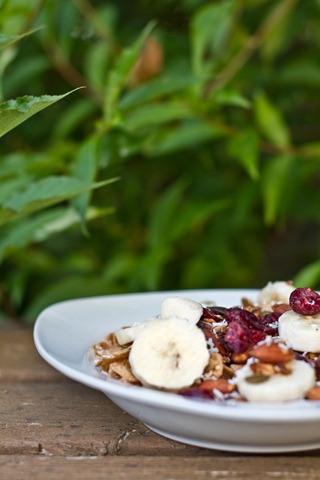 Sometimes only cereal will do!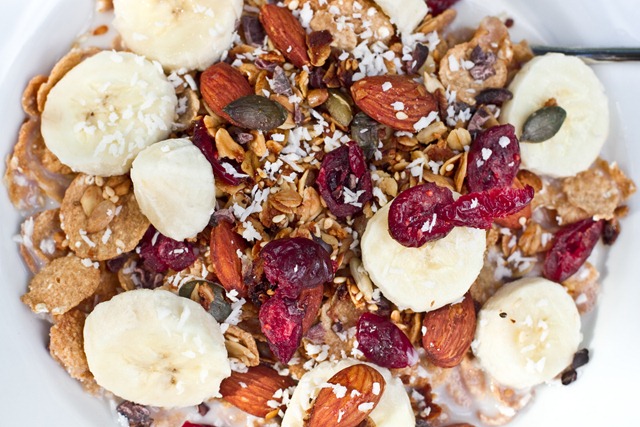 Trail Mix Spelt Cereal
Ingredients:
~1.5 cup Nature's Path Spelt Cereal
1/2 banana, sliced
~1/3 cup Power House Glonola 
Pinch of unsweetened coconut
Almond milk
1/2 tbsp chia seeds
Even though I slightly over-cooked the Glonola, almond milk makes it all better. ;)
Soft and chewy and crispy and comforting.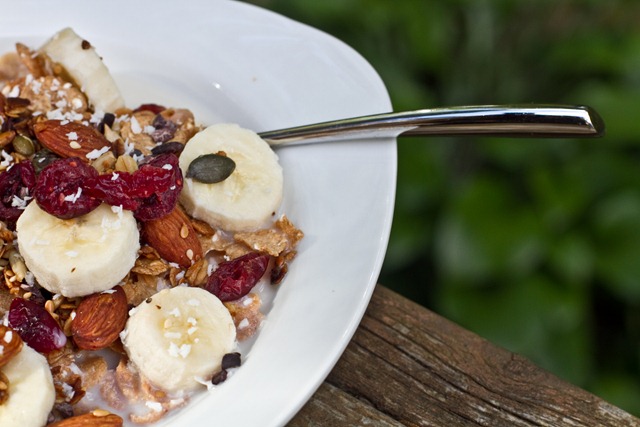 How I found My Passion
[For my full A Year Can Change A Lot Series on Career Changes, See these posts: Part 1, Part 2, Part 3,  Part 4, Part 5, Part 6, Part 7, Part 8, Part 9, Part 10]
The other day I was asked what led me to discover my passion for the blogs and bakery.
I was asked, 'How did you know that it was what you wanted to do?'
For the first 25 years of my life, I had no clue that this is what would make me happy.
Do you remember the Oprah episodes from years and years ago about finding a career that would make you happy?
Those shows were always inspiring yet anxiety provoking for me. I loved hearing about other women's triumphs and how they went from working a horrible job to running their own business or going back to school to get a degree. I could watch story after story after story, but for some reason I would always walk away from it saying to myself, 'I can't do what they did.'
We are talking about an early strike-out here. I remember feeling these thoughts when I was just 15 or 16 years old. I just felt like I would never be able to find the means to follow my dreams like these other successful women did. Sure, I thought I could be happy if I had a well-paying career, but I never thought that I would be able to do something unconventional for a career.
Why did I defeat myself so early on in the game?
Because I simply didn't know what my passions were!
If you don't know what your passions are you surely can't act on them.
For so long, my passion was my eating disorder and it took up all of my free time. I didn't have many real hobbies. I played in sports for many years, but I obviously knew I wouldn't be pitching for the Blue Jays any time soon. ;)
I started the blog on October 31, 2008 which was when I began my journey to health. I was looking for positivity in my life and I wanted to reach out to other women who were struggling with the same things that I was; not just about food and weight, but with all aspects of life.
My blog was my hobby and it brought me great joy, especially during a time when I was quite unhappy with my career. For the first little while I figured that I would be ok if I could keep this hobby on the side. It would keep me going and positive. It would be something I could look forward to when I got up in the morning and got home from work at night.
It kept me sane.
Little did I know that pursuing a hobby I enjoyed would be one of the best wake-up calls I have ever had. I felt alive when I wrote and connected with others, when I cooked in the kitchen, and when I explored photography.
For a while, I dismissed my feelings because I felt guilty about them and I didn't want to admit that perhaps this was what I should be doing. What would people think if I told them? Surely they would laugh in my face and tell me to keep looking for a research job.
One morning I woke up and everything was clear.
I wanted to write. I wanted to open a bakery. I wanted to make healthy recipes. I wanted to help others.
And then I quit my unfulfilling career.
And damnit, I wanted to take a leap of faith for the first time in my life. I wanted to take a chance on ME.
Pursuing a hobby changed my life.
When I am asked how I discovered that this is what I wanted to do, I always thank my blog. It was the hobby that opened my eyes and helped me find my passions.
Passion finding tips:
1) If you have no clue what your passions are, pursue hobbies that you have always wanted to do and go from there. It will feel like you are going on a blind date and you may have to kiss a lot of frogs to find ones you love, but persist on.
2) Not sure what hobbies to pursue? Ask yourself what you enjoyed as a child and as a teenager for clues. Not all of them will be winners, but you will be on your way to finding them. Look at the hobbies you have now and ask if they are telling you clues about your happiness.
Do you currently have any hobbies? Why or why not? Do you know what your passions are in life and what makes you come alive? Do you think you can turn what you love into a career?